Affiliate Disclosure: As an Amazon Associate I earn from qualifying purchases. By purchasing via provided links comes at no additional cost to you. I only recommend products and/or services that are insightful and helpful to readers. For more info please read Affiliate Disclaimer.
Throughout the last 95 years, there are only a few things left unsaid about the most famous Guerlain's creation. That's why it's my responsibility to give this Guerlain Shalimar Review a proper in-depth love letter.
Along with Chanel's No. 5, its the most famous women fragrance of all time. It's also the first oriental fragrance and in fact, one of few woman's fragrances that men could pull off easily.
Believe it or not, after all this time, it's still one Guerlains best sellers. Here's what you'll learn in this article:
Intriguing Gueralain and creation history
Fragrance Notes and My Experience
Packaging Presentation and its history
How and when to wear Shalimar
Its global impact on multiple industries
Scent Grails Official S.P.A. Guide
and more…
So, what's the better way to start this fragrant journey other than to start with its creator quote:
Let's dive into the review and see what made this perfume such a deal. And you know what they say: ladies should never smoke cigarettes, dance the tango and wear Shalimar(they did all of this).
Guerlain Shalimar in three words: OPULENT – ADDICTIVE – SENSUAL
Don't have the time to read the review right now? No worries! Here are my 5 quick takes:
Holy Grail Scent from early 20th century
First Oriental fragrance in the world
Ideal for Fall and Winter in romantic setting
Fragrance suitable for experienced connoisseurs
Created by Jacques Guerlain
Brand and Fragrance History
Guerlain is one of the oldest luxury perfume houses and the creator of the famous "Guerlinade" accord. We will learn about this in the couple paragraphs down below.
We'll also learn about the original release date, the story behind the creation, vintage vs modern versions, and more.
Guerlain History
The Guerlain brand was founded in 1828 by Pierre-François-Pascal Guerlain who opened his perfume store at rue de Rivoli in Paris.
With the help of his two sons, Aimé and Gabriel, Pierre-François-Pascal crafted custom perfumes for famous Parisians.
The first big success came in 1853 with Eau de Cologne Impériale, created for Napoleon III and his wife Eugénie.
Thought the almost 200 last year, there have been three other family generations that succeeded Pierre. Since 1994, other perfumers occasionally create Guerlain perfumes along with family members.
Guerlain is known for these perfumes(beside Shalimar and Cologne Impériale):
Jicky
Mitsouko
Samsara
Vetiver
Habit Rouge
Derby
Heritage
L'Instant de Guerlain(men and women)
The brand was owned and managed by the Guerlain family until 1994 when it was acquired by the LVMH group.
There have been a few scandals and tragedies surrounding the Guerlain brand. The first one is the Jean-Paul Guerlain scandal which you can read about it here.
The second and in my opinion more important is the tragedy of not hiring Patricia de Nicolaï as the in-house perfumer.
She is a wonderful lady who owns the Nicolaï brand and also creates perfumes for the house. Find out about the brand here.
Since May 2008, talented Thierry Wasser is the in-house perfumer. He is the creator of Mon Guerlain, L'Homme Idéal, La Petite Robe Noire, and Guerlain Homme fragrance lines.
Today, Guerlain is more than a fragrance and cosmetic brand. Its a lifestyle, passion, and dedication to the finest things in the world.
Guerlain Shalimar Fragrance History
Shalimar history goes back to 1921 and it was created by Jacques Guerlain.
Unfortunately for Guerlain, another company claimed that they had already created a fragrance under the same name, which resulted in a legal battle and Shalimar's name change.
The company changed its name into No. 90 and was re-released in 1925 at the International Exposition of Modern Industrial and Decorative Arts in Paris. Which would unofficially make Shalimar 99 year old.
The story goes like this. Jacques Guerlain claimed that he was inspired by the love story of Mumtaz Mahal("Jewel of the Palace") and the Mughal emperor of India, Shah Jahan which he heard from a maharaja in Paris.
The fragrance itself was named after Shalimar Gardens in Lahore which was Mumtaz's favorite garden. Unfortunately, this romantic fairy tale ended tragically by Mumtaz passing at the birth of their 14th child.
Being completely devastated by his wife's death, Shah Jahan went into solitary mourning for a year and disappeared from public.
During that time, he planned to build his wife's final resting place. That place is the spectacular Taj Mahal, one of the New 7 Wonders of the World.
Now, back to Jacques. In 1921, he was experimenting with a new organic compound known as Ethylvanillin(synthetic Vanilla).
He was testing Vanillin and mixed it with Jicky which ended as a happy accident. Just like that, the first oriental perfume known as Shalimar was created.
Jacques was more than happy with the result and decided to keep it. Although we cannot know if any of these two stories are true or is this a marketing scheme since Asia was still exotic for westerners, the Shalimars scent profile is still as powerful as it was 95 years ago.
The famous Guerlinade(also a Guerlains discontinued fragrance) accord of Vanilla, Tonka, Jasmine, Rose, Bergamot, Orange Blossom, and Iris were not used until Guerlain's Heritage in 1992, many fragrance enthusiasts coin Shalimar as the first one in this particular genre.
So, what's the difference between the vintage & modern version of Shalimar? Truth is, the fragrance that's this old has gone through more than 70 changes and reformulations. It has to be accepted as reality.
After doing a research I have concluded these things:
If you are not a vintage fragrance collector, go for the new formulation
Vintage smells more dense but the top notes have probably evaporated
Modern version is lighter and lacks the heavy muskiness from past
Shalimar Parfum Extract is the best option for vintage hunters
Modern Shalimar is still a magical scent
To each their own, but expect to pay a pretty penny for vintage and extract versions.
Fragrance Theme
Guerlain's official blurb: "Inspired by the passionate love story between an emperor and an Indian princess, Shalimar, which means "temple of love" in Sanskrit, symbolises the promise of eternal love forevermore. It is a fragrance of desire. With its smouldering and slightly impertinent character, the star oriental fragrance in perfumery embodies skin-caressing sensuality with a hint of the forbidden. "Wearing Shalimar means letting your senses take over," Jacques Guerlain would say."
Notes and Classification
Perfumer: Jacques Guerlain
Fragrance Type: Oriental
Target Audience: Women
Most dominant notes: Bergamot, Vanilla, Incense
Age Group: 25+
Seasons: Fall and Winter
Occasions: Romantic, and Professional
Wearability: Experienced
Longevity and Sillage: 8 to 10 hours of longevity with decent sillage
The recommended number of sprays: 4 to 6
Release Date: 1925
My Bottle's Batch Code: 8M01 – Dec. 2018
OFFICIAL NOTES
Top notes: Bergamot, Lemon, Mandarin, Rosemary
Heart notes: Iris, Jasmine, Rose, Patchouli, Vetiver
Base notes: Vanilla, Musk, Opoponax, Civet, Tonka, Ambergris, Incense, Coumarin, Sandalwood, Leather, Peru Balsam
Fragrance Presentation
We have arrived at the fun(not that the previous parts were not funny 🙂 ) part of Guerlain Shalimar review. I say this because there are so much history and fine details about each and every part.
Without further ado, let's check the enveloping conundrum of Shalimar's bottle and box.
Bottle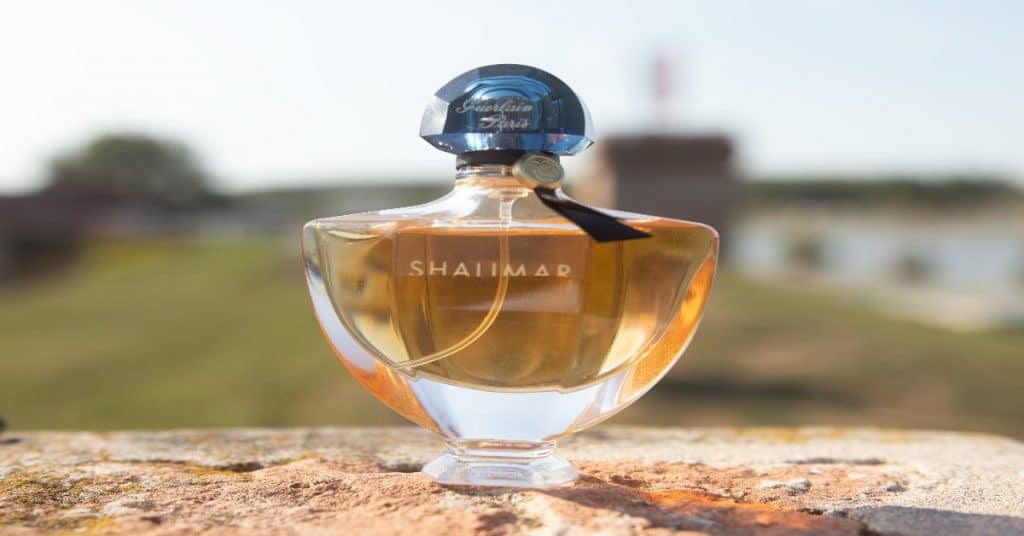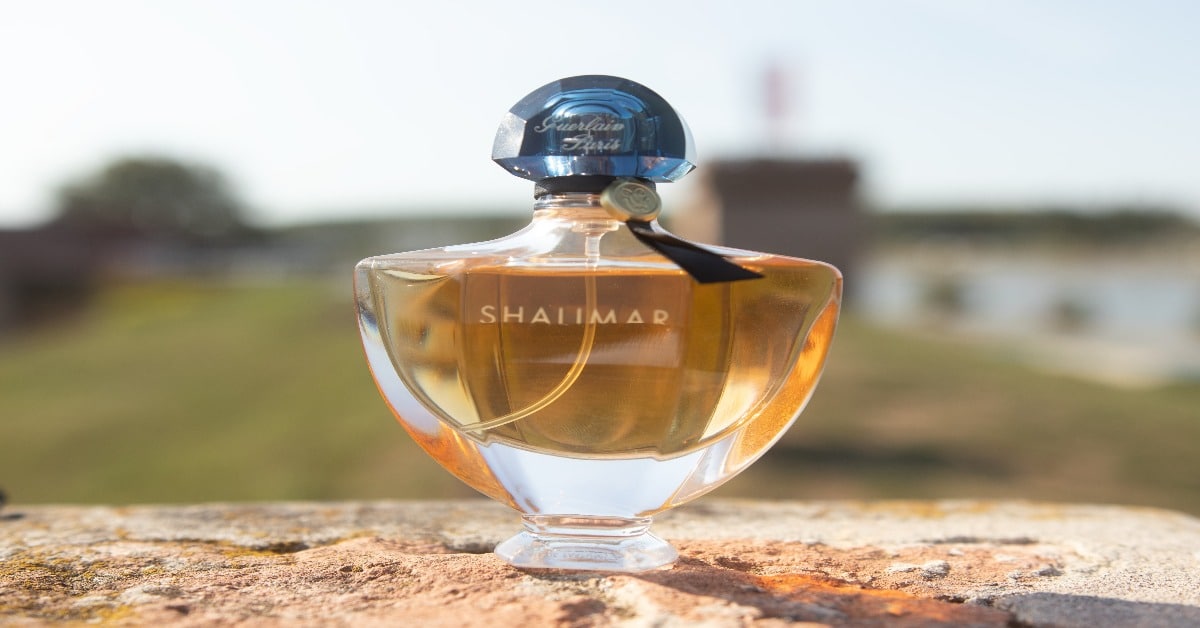 The famous "urn" bottle was created by Raymond Guerlain. He modeled it after the Shalimar eastern gardens and Mongolian stupa art. The bottle was originally produced by Baccarat Crystal and received the Art Deco award in 1925.
The bottle's blue cap is no accident as well. It was inspired by a piece of silverware that was owned by the Guerlain family. Some of the other bottle inspirations include:
Fruit Bowl
Taj Mahal
Water Fountain
Corset
Bat
As with juice, the bottle went through many changes during the last century. While I like the new sleek and modern Jade Jagger's collector's edition design, I hope that one day I'll be able to get my hands on the old-style urn/bat bottle.
If you want to know more about how to date vintage Shalimar bottles, fragrance colleague Kafka has done a great job in his A Guide to Vintage Shalimar article.
Last but not least, the final touch is a black leather ribbon around the neck of the bottle for which gives it that lushness.
Box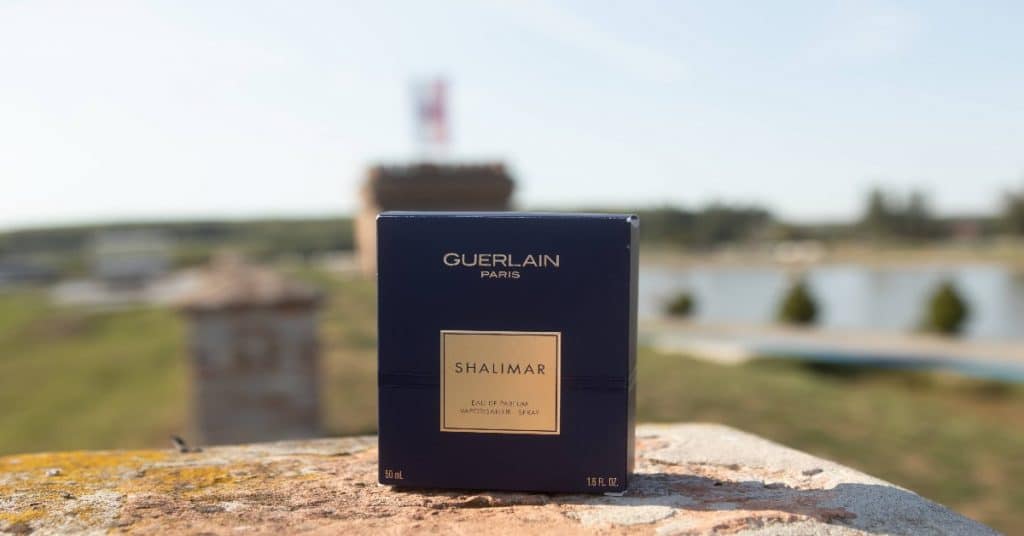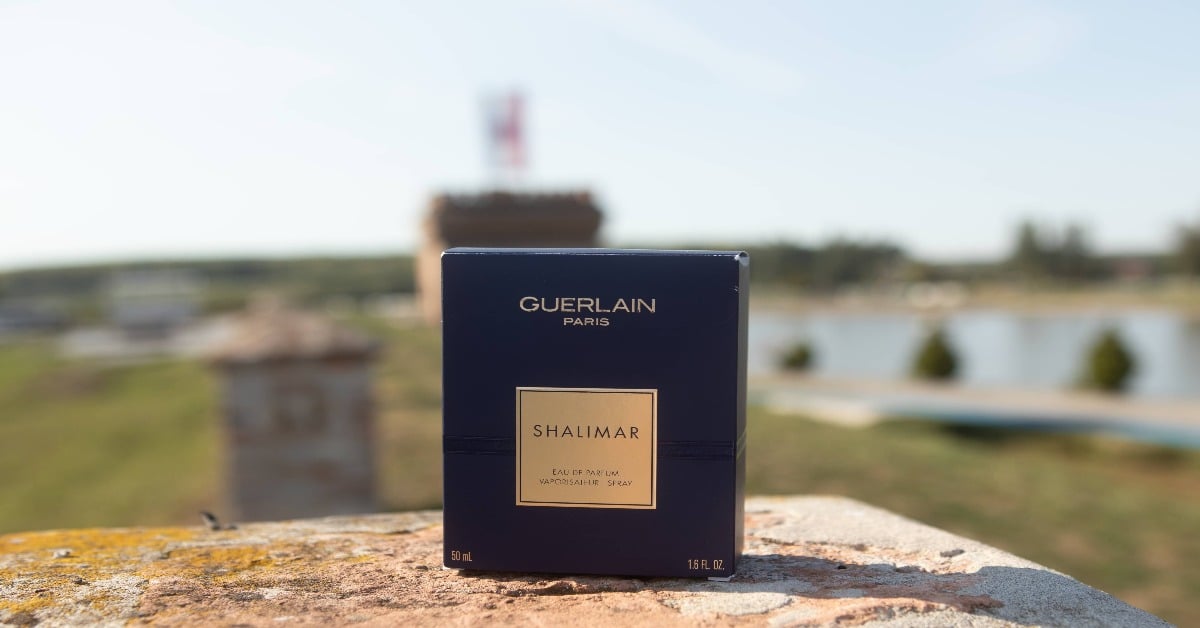 The iconic bottle comes in a blue and gold box with fine details such as the Guerlain logo on the top and on the lower bottom of the bottle we have the famous Guerlain bee bottle design print.
Since the Guerlain is a niche brand(yes, they are niche indeed), I wish their "affordable" stuff also came in higher quality boxes.
The Guerlains letters on the Shalimar box are not so high quality, and they seem to "peel off" as the time goes on.
My Experience With Fragrance
I have known this fragrance though my whole life, yet I cannot remember when it was the first time I smelled it or on whom it was.
My mother used to wear completely different stuff and things like Ysl Opium, Chanel No.5 and Shalimar were not in her rotation.
It had(and still does) a huge cultural impact that every lady(or man) that loves fragrances has either wore it or smelled it at some part of their lives.
My experience is based on the fragrant journey from the last year or so. No rose-colored glasses included.
Opening
Bergamot
Lemon
Mandarin
Rosemary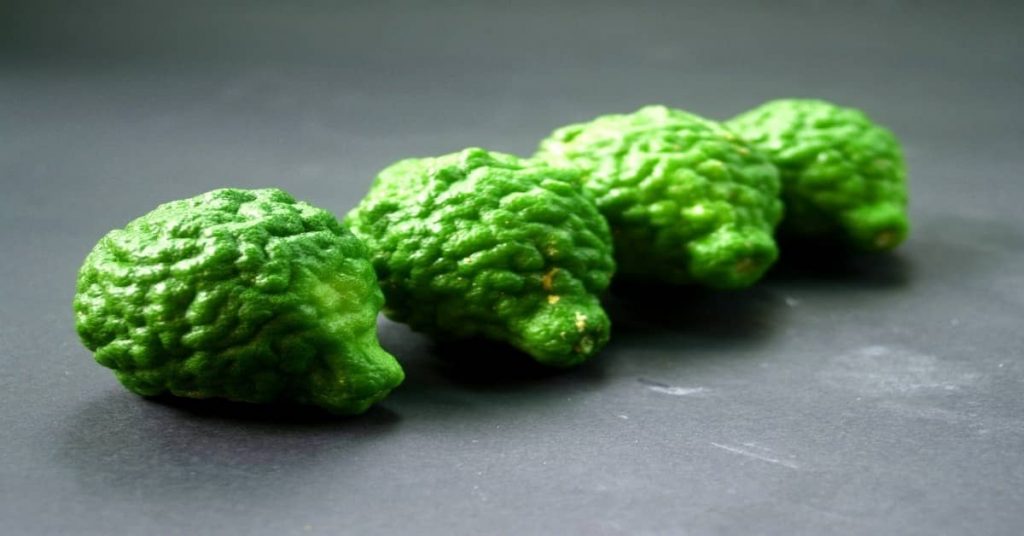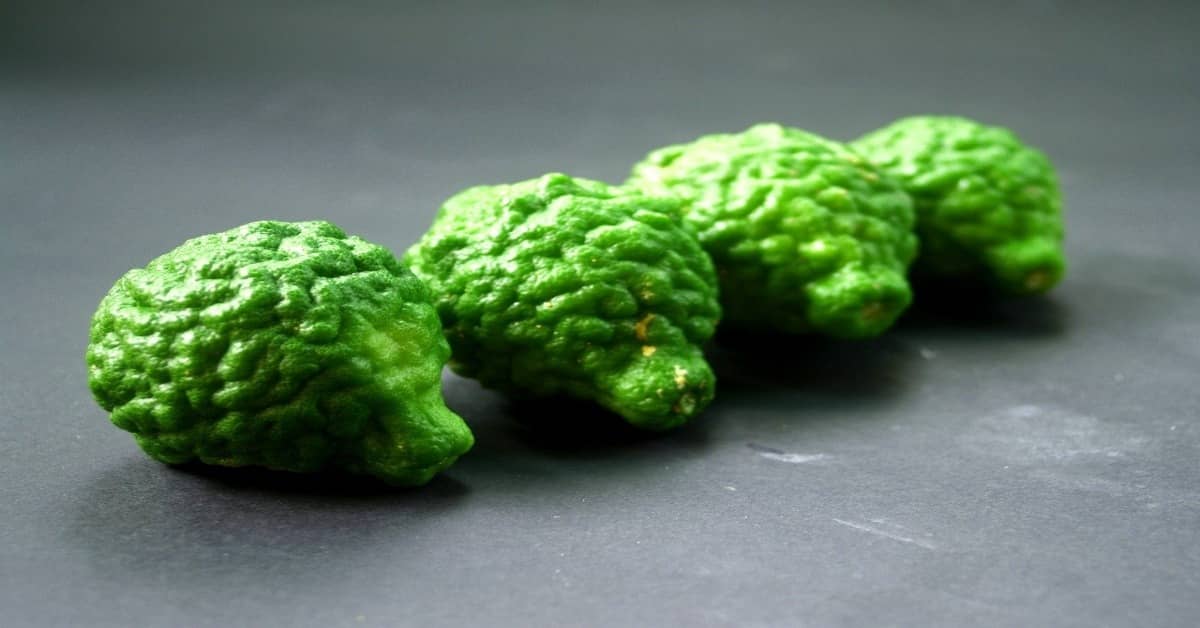 What does Guerlain Shalimar smell like? You may ask yourself. Well, I'm glad you asked.
With all my responsibility and the fact that I'm talking about arguably the most famous fragrance in the world, I have to say that the opening smells timeless. Now, let me explain this.
By saying timeless, I don't mean that it smells like an old lady, but it does in fact smell like a fragrance that survived many things. That older and well-traveled aunt or uncle. Yes, that would be it.
Yet, this could mean two things. One is that the new or inexperienced could be turned off by the unexpected and different scent profile. Since in the end, we tend to be slaves of our habits.
And our habits and scent experiences have changed during the last century. But, the fragrance enthusiasts, oh boy, they'll love it. Full on and 100%.
The perfume opens up with a punchy and powdery Bergamot note. Underneath it, the zesty Lemon stops it going to straight powder, and announces the sensual floral heart.
The first stage of fragrance is quite short and its the part where it will amaze you or you'll give up on it. I recommend waiting for a little bit if it's too strong or strange for you. Those who wait will be rewarded.
Scent Development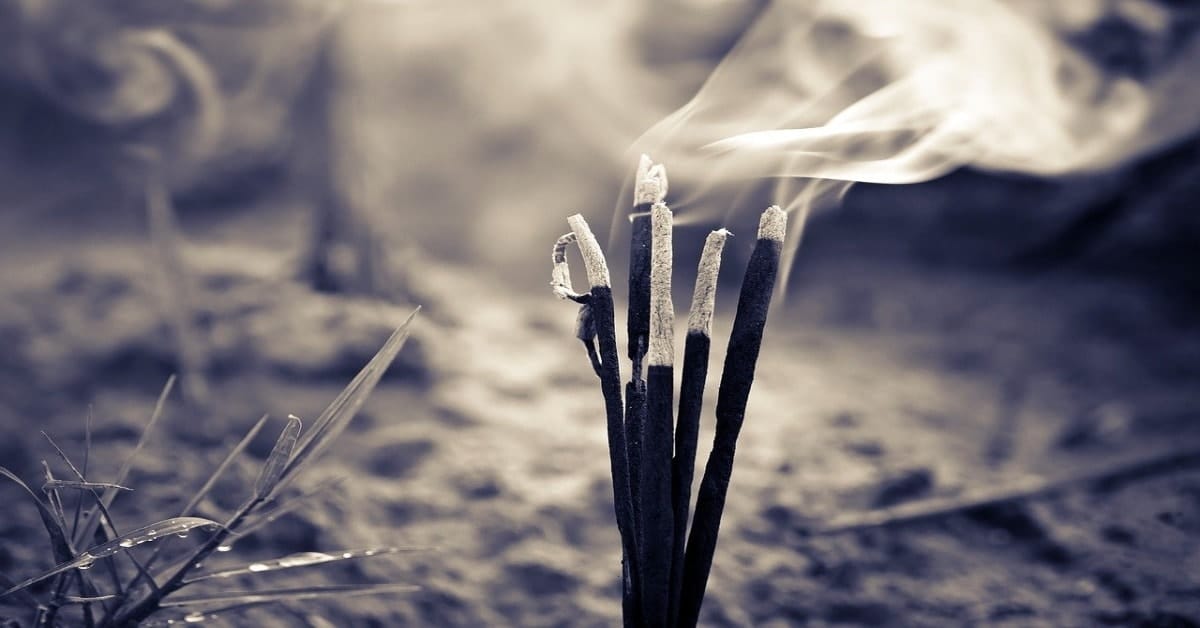 Iris
Jasmine
Rose
Patchouli
Vetiver
The middles stage embraces you with a powdery bouquet of flowers that overtake the fragrance. Iris and Rose play a major role here, and it is the most feminine part of the experience.
If you are a man who is not comfortable wearing flowery scents, don't be. As within the hour or so, the fragrance will change again.
The creamy Tonka Bean note is present in the middle stage, and I'm yet to see someone else mention this. I recommend checking out the classic Nikos Sculpture pour Homme. Same Tonka, more affordable price.
The further we go, they freshness seems to disappear and the dark aspects crawl out like the shadows in the misty night. Not too strong, yet not too light. Yet, this darkness feels comforting like the warm bonfire in the woods.
These messengers are burning Incense, animalic Musk, and rough Patchouli which guides you into the drydown.
Drydown
Vanilla
Musk
Opoponax
Civet
Tonka
Ambergris
Incense
Coumarin
Sandalwood
Leather
Peru Balsam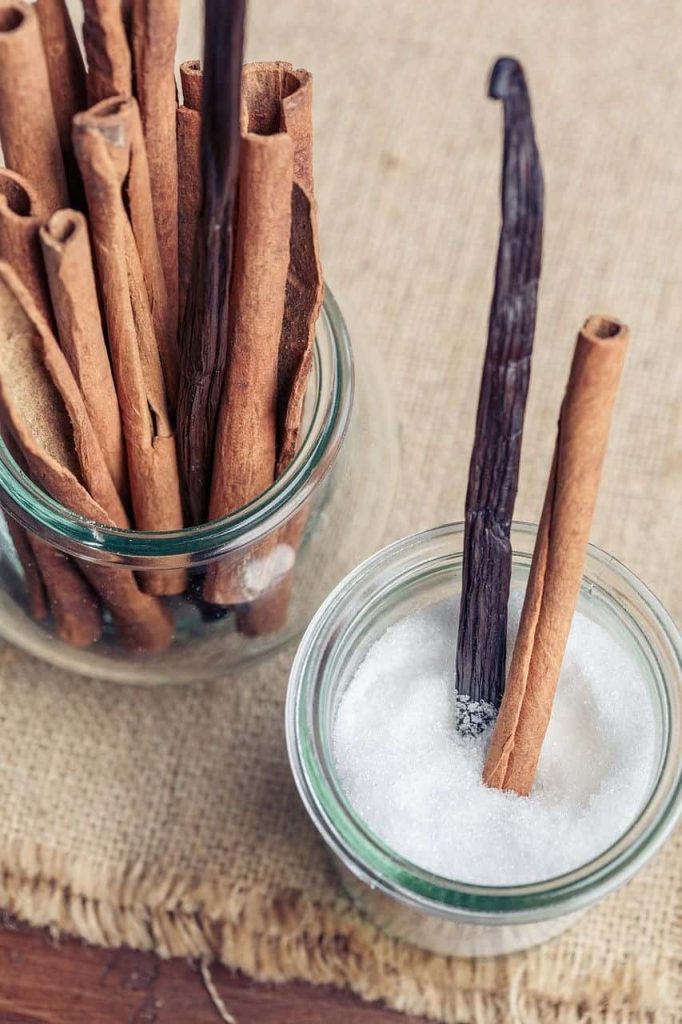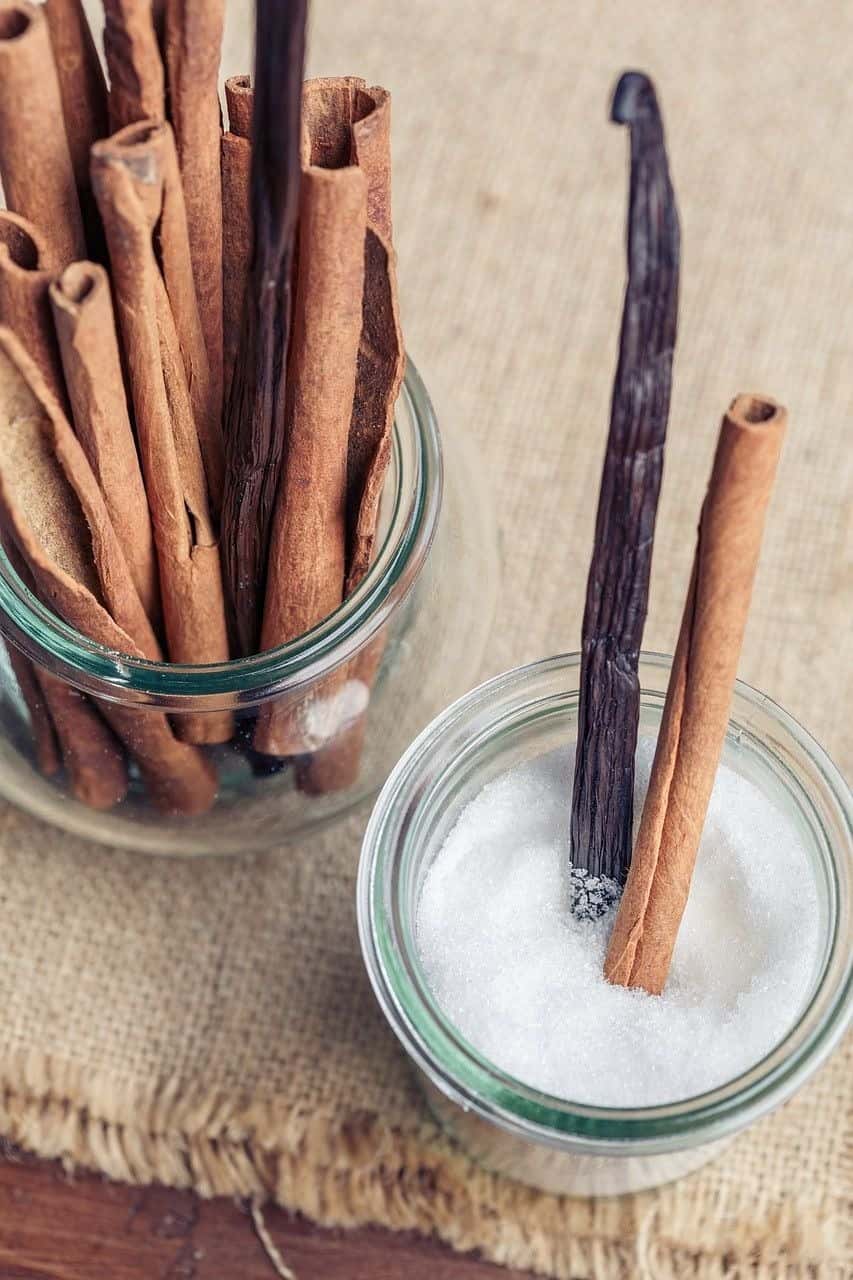 I equally like the opening as I like the drydown of Shalimar. One thing that I haven't mentioned is that thought all the stages, delightful Ambery Vanilla, and Incense is present.
This bold Jacques Guerlain technique of mixing light and dark tones pawed the way for many creations that do the same thing even to this day. This is just one thing of many which Shalimar pioneered or to be fair enough, popularized globally.
This shapeshifter shows many faces, and as the weather changes, you are sure to get the other notes as well. Some are pleasant, while others are not so much. Depending on your current fragrant journey stage.
I tend to wear my fragrances in all seasons and weather conditions to get the full picture. And while I could speak all day about everything that has been already said about this Holy Grail Scent, but one thing is for sure.
Shalimar will either be your best friend or your fiercest enemy. The emotion, unpredictability, history, leather, resins, smoke, and furry musk. Everything is here for those who are ready to find them.
Just try to catch that train before the fragrance settles into its smoky Incense Vanilla stage which lingers for hours on the skin. I just can't get enough of that addictive Christmas cookie scent profile.
Master at complexity, yet easy to understand.
Performance
Guerlain Shalimar Eau de Parfum performs like a beast in Fall and in the Winter. Occasionally I get 12+ plus hours per wear.
I recommend spraying 4 to 6 spray on neck to get the decent sillage trough the day. Also, if you plan to use Shalimar in the warmer weather, go with one of many flankers or Guerlain Shalimar EDT.
Target Audience and Compliment Factor
Can you get compliments with Shalimar? It depends on few factors such as:
your better half fragrance taste
your friends and family taste
and sheer luck
Scent polarizing as Shalimar has always divided the public, thus I recommend wearing and enjoying it for yourself. So far, the only comments I have received are that its good, but too heavy, and musky.
I'm also pleased to confirmed that no one commented that I smell like a woman.
Thus, wear what you want, and not what public says.
If you are under the age of 25 years and is someone who likes modern fragrances, you should at least try it.
Dresscode and Occasions
Fall and winter are your best friends. The cooler, the better would be a rule of thumb in this case.
Wear it in romantic and professional settings, and if you are a man, don't miss this one. I'm gonna be the first to say that Shalimar is a unisex fragrance and no one should be afraid of "smelling like an old lady".
Be a man and try Guerlain Shalimar. You will be pleasantly surprised.
Pros & Cons
Lets see what are in my opinion good and bad Shalimar sides:
PROS
Widely available Holy Grail Scent
First Oriental Fragrance
Complex but easy to understand
Niche Fragrance at the designer price
Great entry point at woman marketed fragrances
Timeless Classic
CONS
Not for beginners(could be a pro as well)
Requires acquired taste
You may get unwanted comments
Availability and Beauty Products
The LVMH has realized a long time ago that the Guerlain brand is a big cash cow. Especially the Shalimar Perfume.
That's why we have seen a tremendous number of its flankers with the Shalimar Eau De Parfum Serie Limitee being the newest one.
Some of the more popular Shalimar flankers you can check out include:
As you may already know, Shalimar comes in many other variations, and just as a perfume. You can find shower gels, body lotions, body creams, and dusting powder among other things.
Shalimar is globally available in most perfume shops, being retail or online. So, don't expect to have any issues when trying to test this famous product.
Shalimar S.P.A. Signature Scent Factor
For those who are new readers on my site, I thank you for taking the time to read my content.
Those who have been with me for some time know that I have introduced my new project in the last review of Montblanc Explorer known as S.P.A. Signature Scent Factor.
With this guide, you will easily find if Shalimar is worth your time. It is the easiest and the most relevant fragrance guide on the web.
Similar Fragrances
Shalimar has been compared to many fragrances due to its nostalgic aroma and I'll cover the most popular ones here. Shalimar flankers not included. So, here are perfumes that are similar to Shalimar.
Frederic Malle Musc Ravageur – In my Musc Ravageur Review I have explained in detail why I think the Musc Ravageur is Shalimar of the 21st century. More wild and even bolder.
Tom Ford Black Orchid – one of the best Tom Ford creations which even made my Top Fall Perfumes list. A modern masterpiece.
Guerlain Habit Rouge – often called a male counterpart to Shalimar, and its an ideal starting point for guys who want to dabble their fingers into Guerlains collection.
Coco Chanel Eau de Parfum – not exactly the same as the Shalimar, yet I find the combination of the notes and scent profile to me very similar, and it takes me to the same place. Great Chanel perfume.
Guerlain Shalimar Review Conclusion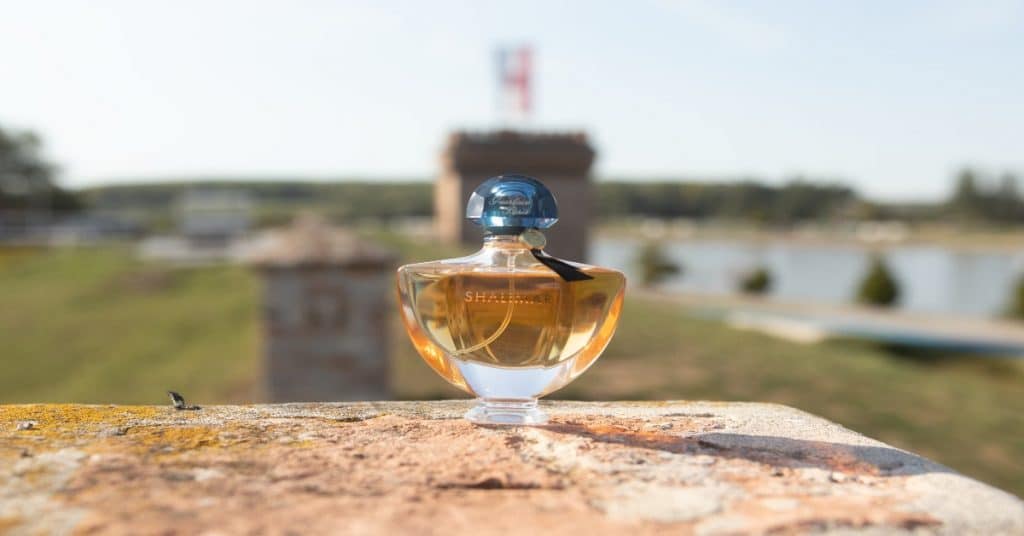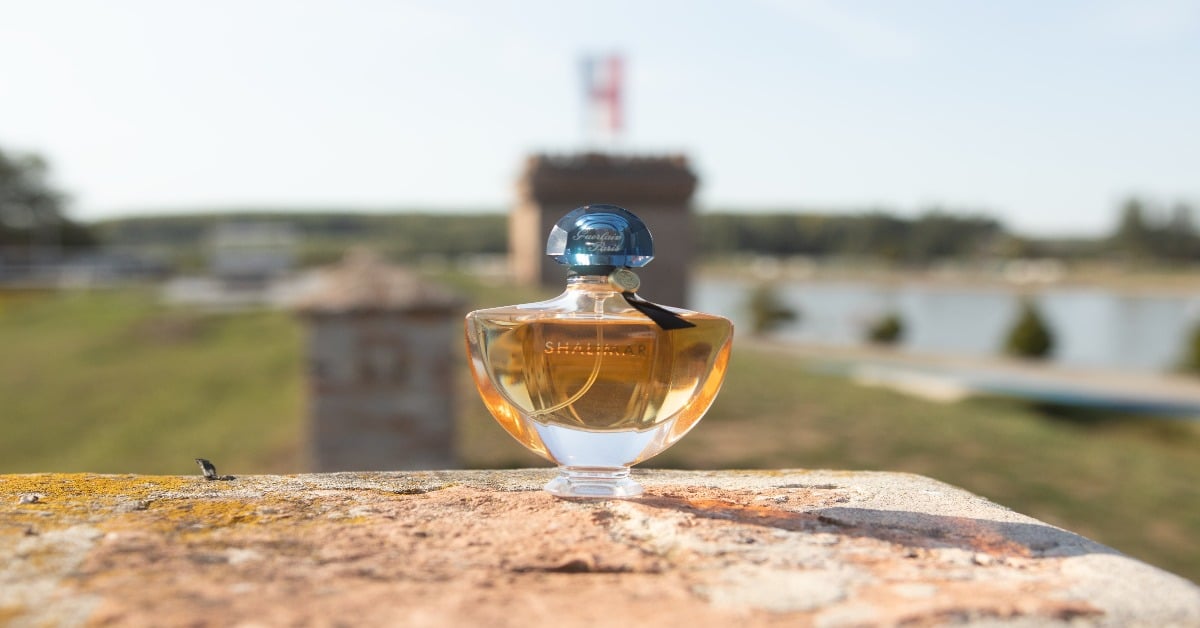 Guerlain Shalimar is hands down the Holy Grail Scent worth your time. A creative masterpiece, and a fragrance which pushed the fragrance industry forward.
It rightfully deserves five out of five stars on Scent Grail which I gave it, and no one who is serious about this hobby shouldn't leave this world without trying it.
I would love to hear your experience with Shalimar and which olfactive memories does it triggers. Leave a comment down below and start a discussion with other members of Scent Grail Tribe.
I would appreciate it if you would subscribe to my newsletter so that you don't miss any of my future projects and new articles.
Also, if you want to help the blog grow, you can do this by "buying me a coffee(big orange coffee button)", or by donating via Paypal. Thank you!
I you love this kind of content make sure to check out some of my other articles:
Best, Marin!
#scentgrail #scentgrailtribe
Your number one resource for Holy Grail Scents.

– Marin Kristic