Oud Wood by Tom Ford is a unisex woody spicy fragrance released in 2007, created by Richard Herpin.
Known for its luxurious and sophisticated scent, it is a part of the original lineup of the Tom Ford Private Blend collection, which is known for its high-quality and exclusive fragrances.
Along with Tuscan Leather, and Tobacco Vanille, this scent has shaped modern 21st-century perfumery, and it is a fragrance everyone should sample.
In this review, I will take a closer look at this composition, including its scent profile, longevity, overall performance, and what makes it stand the test of time.
Tom Ford Oud Wood in three words: VERSATILE – ALLURING – RICH
Affiliate Disclosure: As an Amazon Associate I earn from qualifying purchases. Purchasing via provided links/banners comes at no additional cost to you. Scent Grail only recommends products and/or services that are insightful and helpful to readers. For more info please read Affiliate Disclaimer.
Don't have the time to read the review right now? No worries! Here are my 5 quick takes:
One of the best perfumes of all time
Created by Richard Herpin in 2007
Works best as a nighttime special occasion perfume in milder weather
Lasts between 4 – 6 hours with moderate projection
An expensive fragrance with average performance
Whether you are a long-term fan of Tom Ford perfumes or simply want to try something different than regular designer perfume, I will provide you with all of the information you need to know about whether or not this masterful woody scent is the right option for you.
Fragrance Information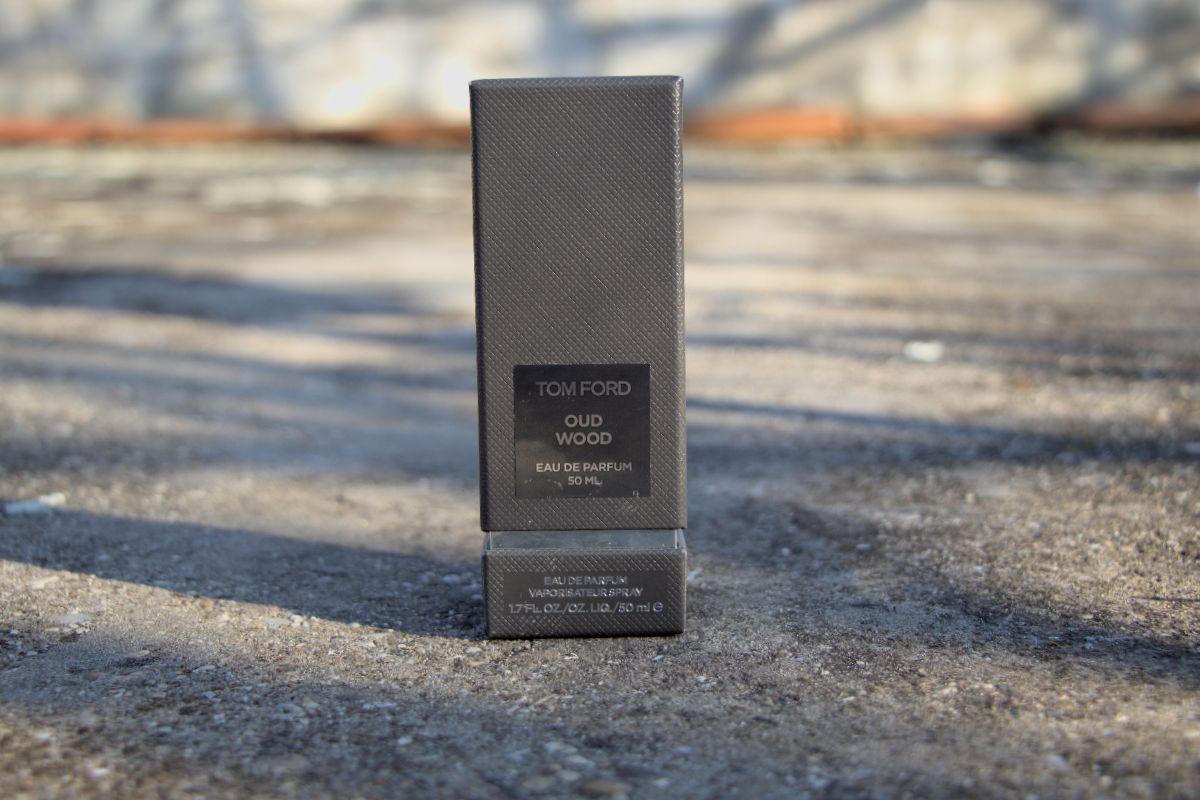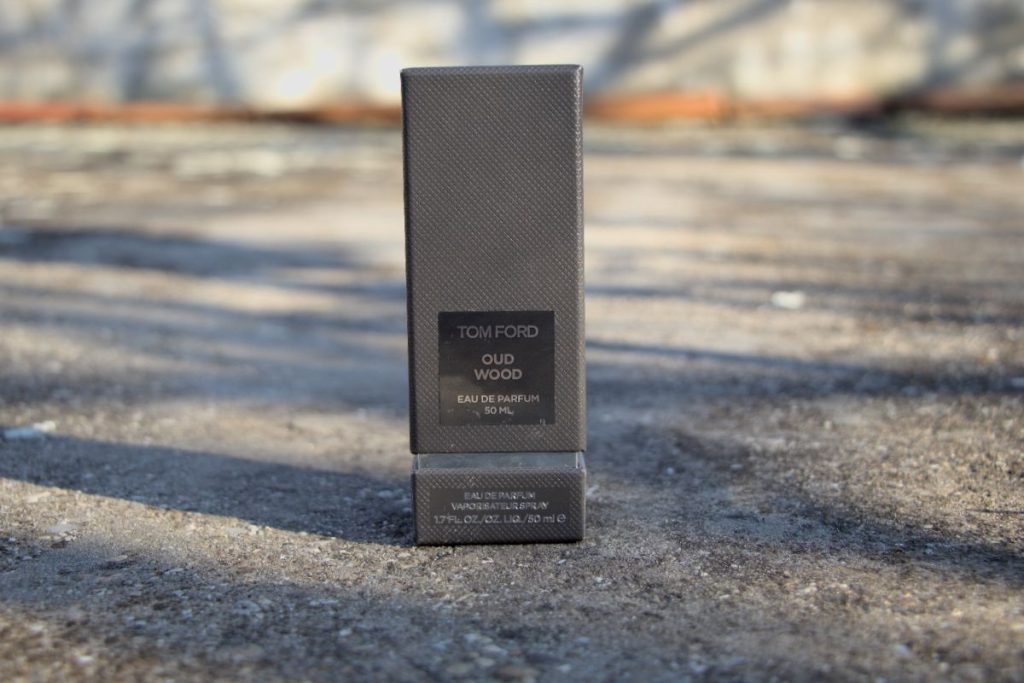 Tom Ford is an American luxury fashion house founded by fashion designer and filmmaker Tom Ford in 2005.
Along with fragrances, the brand also offers cosmetics, footwear, ready-to-wear and made-to-measure, and other offerings.
Ford's breakthrough in the '80s and '90s was working as an in-house designer for Perry Ellis and chief women's ready-to-wear designer for Gucci before being appointed as Creative Director at the same brand in 1994.
Ford's work at Gucci during the early 1990s was mostly behind the scenes, and most of his contributions were overshadowed by Dawn Mello who was Gucci's public face during those years.
Ford's five-year period as the Creative Director at Gucci was remembered as the brand's resurgence to lost glory, and by the time Gucci was acquired by Yves Saint Laurent in 1999, the company was valued at more than $4 billion.
During his time as creative director for Yves Saint Laurent(1999 – 2004), where he was also Creative Director, Ford won numerous Council of Fashion Designers of America Awards, and introduced numerous new styles such as the controversial shaving of the letter G in a model's pubic hair and pulling the classic fashion house back into the mainstream.
In 2007, the Private Blend collection of perfumes was introduced by Tom Ford, a line focusing on the niche side of perfumery. More daring and more complex at a higher price point.
Ford has described Private Blend as his "own personal scent laboratory", suggesting that it is okay to mix two or more fragrances to create your own unique scent.
As of 2017, Tom Ford Beauty is owned by Estée Lauder while the major shareholder of Tom Ford International is still Tom Ford, holding 63.75% of the shares.
Ford has described "the Tom Ford customer" as international, cultured, well-traveled, and possessing disposable income.
Some of the celebrities that Ford dresses are Beyoncé, Jennifer Lopez, Gwyneth Paltrow, Tom Hanks, Johnny Depp, and Ryan Gosling.
Tom Ford Oud Wood Story
This fragrance is not the first time we saw Ford bring out the best in a relatively unknown perfumer until that point.
The nose behind this composition is Richard Herpin, a perfumer who is still best known for Oud Wood, and Amouage Opus VIII.
As already mentioned, Herpin created one of the "Holy Grail" trios in the Private Blend collection, and one of the best fragrances of all time, regardless of its spotty performance.
Continuing with the story of the previously discontinued Yves Saint Laurent M7, this one feels like a natural progression and a successful sequel to bring oud note to the western world.
Oud-based fragrances might not be as big now as they were in the early to mid-2000s, but trust me when I say that releasing this type of fragrance in Europe or Northern America was a big deal then.
Its massive success is due to the genius move from Ford to creatively direct the perfumers and be personally involved in all aspects of every fragrance release in the original line of the Private Blend collection.
The fragrance is available in a variety of sizes, including 30ml, 50ml, 100ml, and 250ml Eau de Parfum bottles.
The Brand also offers a 10ml atomizer, all-over body spray, candle, and conditioning beard oil as part of the collection.
Perfume Theme
A note from the brand: "Smoky, incense-filled temples and a passion for rare, precious oud wood inspire Oud Wood, a pioneering composition of exotic woods and spices. Evoking the enveloping warmth of incense-filled temples, this groundbreaking composition of exotic, smoky woods includes rare oud, sandalwood, rosewood, eastern spices, and sensual amber, revealing Oud Wood's rich and compelling power."
Notes and Classification
PERFUME NOTES
Top notes: Rosewood, Cardamom, Sichuan Pepper
Heart notes: Oud, Sandalwood, Vetiver
Base notes: Tonka Bean, Vanilla, Amber
Perfume Presentation
The fragrance comes in classic Private Blend packaging with a silver sticker indeed of the golden one we usually see in regular "PB" bottles.
The bottle is designed with sleek, clean lines and a minimalist aesthetic featuring dark brown see-through glass.
The bottle cap is made out of classic Tom Ford plastic material with the signature brand's logo engraved onto a metal-looking plack.
All of this gives a vibe of overall elegance and sophistication but in reality, it looks better than it feels in reality. Nonetheless, I absolutely love how Tom Ford's perfume look and brings out that extra chic to my perfume collection.
As for the box, while nice looking, they give no grip at all, and if you don't handle it correctly, it is a disaster in making. I highly recommend keeping the bottle outside the box to be 100% sure nothing gonna happen to your bottle.
PRO TIP: Do not buy Tom Ford Private Blend perfumes for prices that seem too good to be true. This is the most faked brand in the world and is especially the case with Private Blend testers that come with a white cardboard box and a "Tester" sticker on the bottle. They are 100% fake.
My Experience With Perfume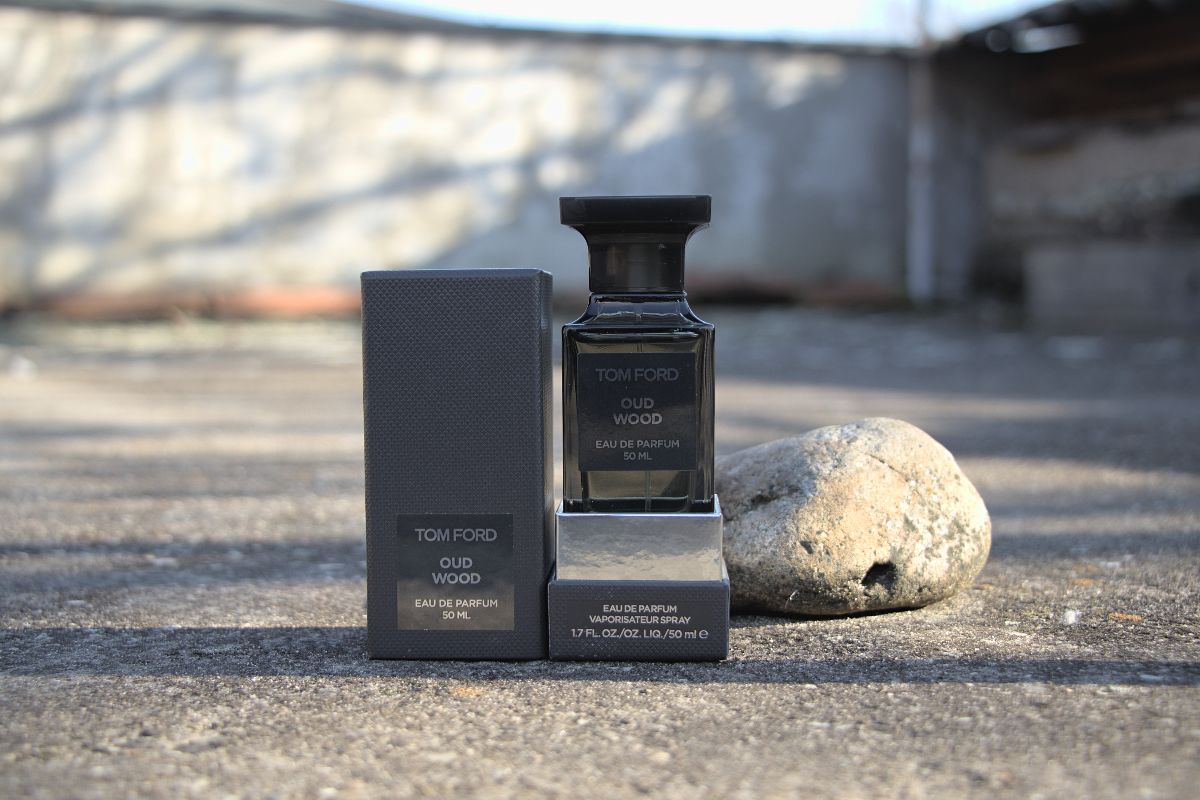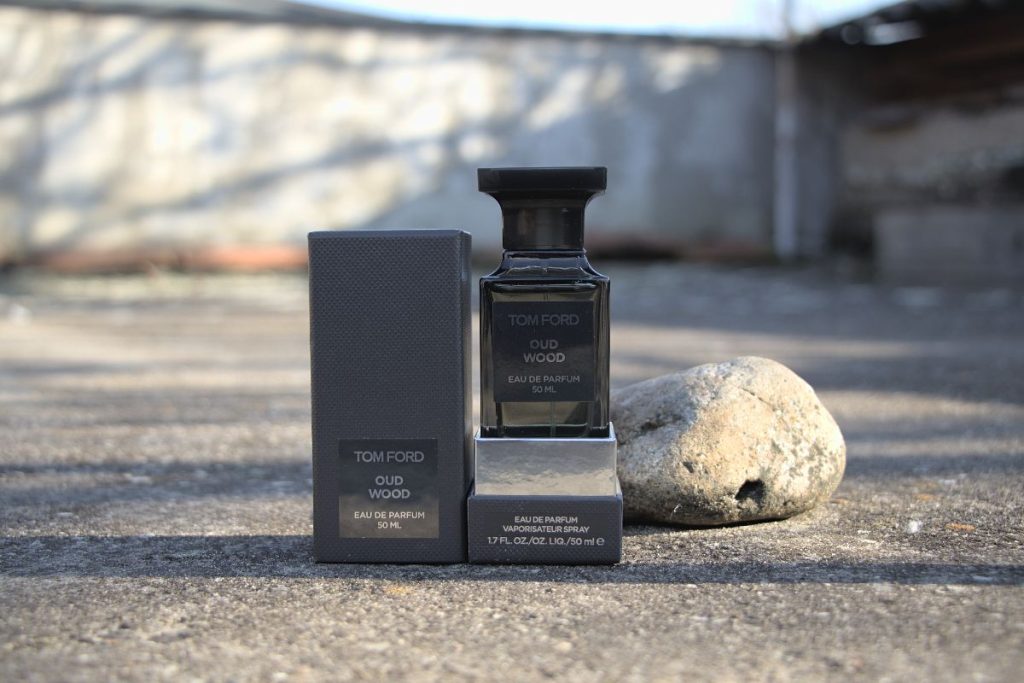 Here's the deal: If you plan to get yourself a bottle of this liquid gold, you need to be realistic and give up your expectations regarding its performance.
It simply doesn't perform well beyond the first two hours. I also have another 50ml bottle of this fragrance with a batch code BC0 (December 2020) which is equally disappointing in terms of its performance.
I guess that some things in life come with a certain price, and speaking of price, it's worth mentioning that Eau de Parfum Private Blend fragrances are expensive. Therefore, it's advisable to test this fragrance on your skin before deciding to spend your hard-earned money on it.
I have always stayed true to myself and my audience and have never suggested buying something that I didn't like.
I love it, and I believe that, based on its smell alone, it is one of the best fragrances of all time for me.
However, tastes are subjective, and what I enjoy may not be the same for you. Therefore, it's recommended to obtain a sample of this fragrance before deciding to spend at least $200 on a 50ml bottle.
Despite its low projection and moderate longevity, I can't believe how good Tom Ford Oud Wood smells each time I wear it.
It's a perfect example of the "Tom Ford X-Factor", something rarely seen from other perfume brands. Don't worry about the rosewood note since it's only a background player, goes well with the rest of the notes, and is most present in the top notes.
Before diving into the scent development, I have to say that if you're generally afraid of the oud note, don't be. This fragrance offers a clean take on this complex note.
Personally, I'm done with the oud trend and probably won't buy anything with a more challenging take on agarwood ever again. However, this doesn't detract from the fact that Oud Wood is a wonderful creation deserving your attention.
Top Notes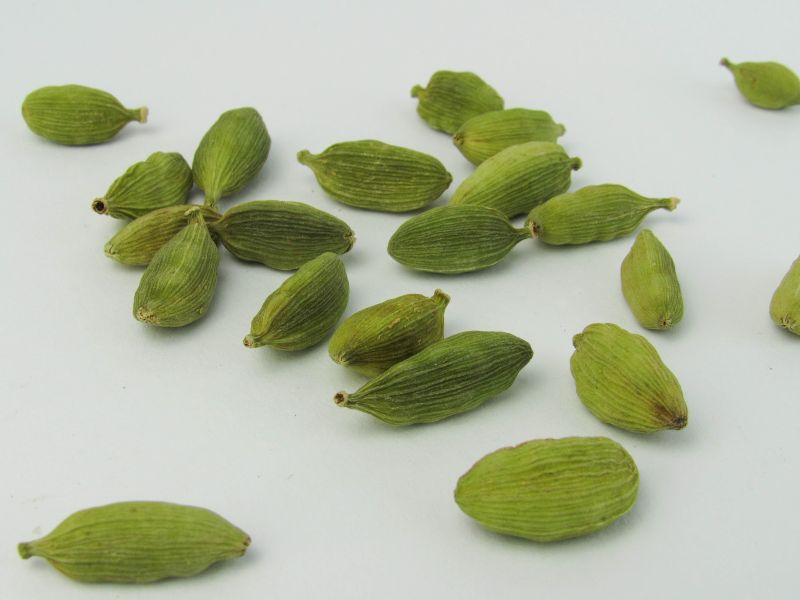 Rosewood
Cardamom
Sichuan Pepper
Oud is a daring note that garners an equal amount of fans and haters. It can be executed in many ways, including animalic, incense-like, smoky/woody, or medicinal.
In my opinion, the oud trend has run its course and should be retired from mainstream releases. We've seen numerous perfumes with only slight variations, and I doubt there's much more that can be achieved with this note.
But, if you love agarwood, more power to you. I've moved on to something else. So, after being completely honest about what I think about oud, why do I love this one so much?
The synthetic oud accord blends well with the rest of the composition and never ventures into the realm of weird-smelling fragrances. It's a modern recreation of this precious perfume ingredient that smells clean with a medicinal hint.
The fragrance bursts open with spices that transport you to a foreign spice bazaar, offering a wonderful recreation of something that's not commonly experienced in Europe.
The cardamom is wonderful and not cold, thanks to the soft and sweet rosewood, clean and rubbery agarwood, and pepper that hints at citruses.
Newcomers to oud may not recognize it at all, but more experienced noses will detect it from the first spray. While it's not natural, it still has a luxurious scent. The fragrance maintains this aroma for about 20 minutes before shifting to its woody heart.
Heart Notes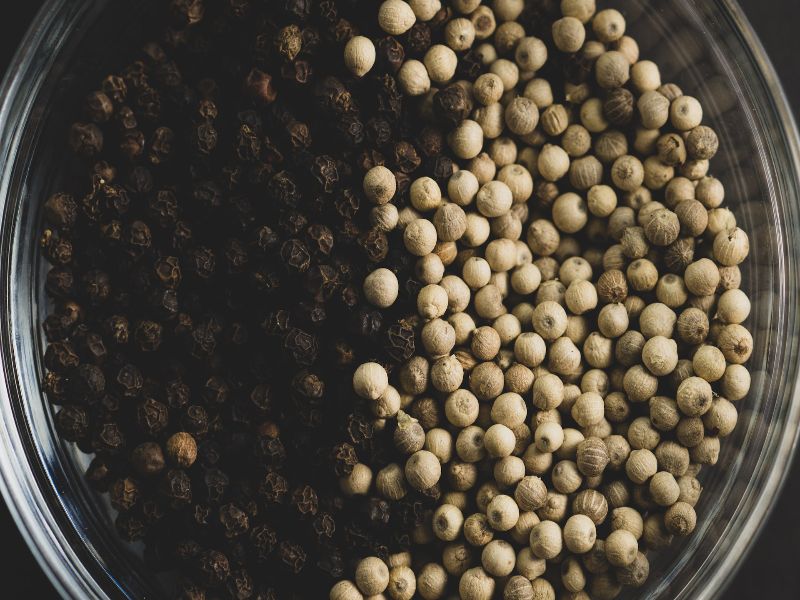 By the time the fragrance shifts into the middle stage, rosewood goes into the background and keeps the composition three-dimensional and alluring.
At this point, the woody notes such as javanol(sandalwood), clean vetiver, and rubbery oud take a primary stage. Sichuan pepper and cardamom are still detectable to my nose, and I like how because of these notes, the fragrance retains a subtle complexity and keeps the wearer engaged.
If you want to experience this wonderful part of the scent the best, I recommend spraying a couple of sprays on paper, leaving it in a room, and coming back after half an hour.
This is how everything stays up until the first hour when we are introduced to the warm and ambery dry down.
Base Notes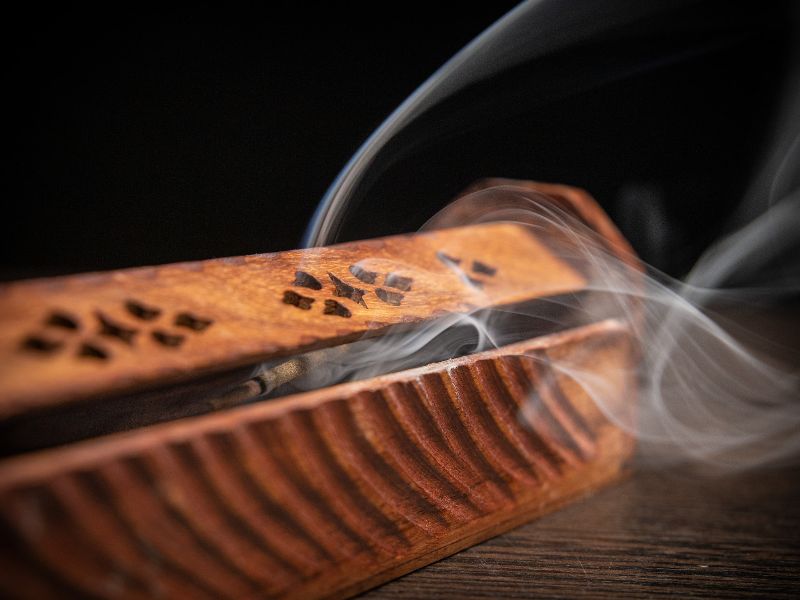 For a fragrance that has been around since 2007, I have to say that time has been kind to it. With all the reformulations, the basic structure and high-quality ingredients are still present here.
I wouldn't bother searching earlier formulations, unless, you want the original formulation with the golden sticker. Just keep in mind that even the first formulations were not super performing.
In the dry down, the fragrance is already a skin scent with occasional signs of soft projection here and there.
In this phase, I mainly get woody notes of sandalwood, oud, and vetiver, with touches of vanillic amber. Although tonka beans are listed as a base note, I didn't really detect that sweet nutty note at all.
For a fragrance with "Oud" in its name, some might find it strange that oud has a supporting role throughout the whole life of the fragrance.
But also, I feel that some other reviewers have missed the point of this fragrance completely and almost trashed this composition for not having more challenging agarwood inside when in reality, it is purposefully created this was so that everyone can enjoy it in a subtle way.
Performance
As you may have already noticed in the previous paragraphs of this review, the biggest concern with this fragrance is its performance.
For an expensive perfume, it is a light to moderate scent with a limited projection but a nice sillage bubble while still detectable.
The longevity is average, lasting 4 to 6 hours on my skin, out of which the first 2 hours have the most projection. I don't know why they decided to make it so soft, but it could have been better.
LONGEVITY: 4 – 6 hours
PROJECTION: Light – Moderate
SILLAGE: Light – Moderate
Target audience and compliments
Marketed as a unisex perfume, but I think it suits men better due to its spicy/woody composition. However, if you're a woman and find it pleasant, don't let that stop you from trying and enjoying it.
Despite being almost two decades old, the fragrance still smells surprisingly modern and professional. Anyone of any age group can feel comfortable wearing this scent.
It's a compliment monster if anyone can smell it on you. Unfortunately, this is a shame since most of the comments you'll receive are within the first two hours, during which the scent projects enough.
AUDIENCE: Unisex
AGE RANGE: 20+
COMPLIMENTS: High
When & Where
This scent exudes classiness and would work best for more dressed-up formal events with serious attire.
The oud note lacks the bite and performance of a true cold-weather fragrance, making it more suitable for moderate weather during spring and fall days.
Due to the limited projection, it may work for summer use on special occasions when you don't plan to stay too long.
Another occasion where this fragrance shines is on a date. The warm and alluring aroma of this composition makes it an excellent choice for a romantic evening.
SEASONS: Spring, and Fall
OCCASIONS: Business, Night Out, Romantic
ATTIRE: Business Formal, Semi-Formal, Black Tie
Uniqueness and value for money
The reason why I gave this one the best score in regard to uniqueness is that it was the first one of its kind to do something like this.
The importance of this release can be seen in numerous clones released each year trying to capture a part of its magic and, of course, the profit.
Truthfully, I would skip all the designer and niche "inspired" versions of this perfume and always go with the original.
As for the monetary value, it would be better if Tom Ford perfumes didn't get more expensive with each passing year. For me, it is well worth the price, and I own two 50ml bottles that will stay in my collection forever.
UNIQUENESS: 5/5
VALUE FOR MONEY: 7/10
Pros and Cons
Here are some better and weaker parts of this perfume:
Pros
One of the best perfumes of all time
Classy, elegant, and versatile compliment magnet
One of the best fragrances you can wear on special occasions
Beginner-friendly oud release
Hasn't been diluted with reformulations
Cons
Expensive
Poor performance
Collection & Similar Perfumes
Tom Ford Oud Wood is a part of the first Private Blend collection from 2007 that includes 12 original releases. This fragrance has seen one Intense flanker released in 2017.
These are some of the fragrances from the line worth checking out:
SIMILAR PERFUMES
Frequently Asked Questions
Here are some answers to the most popular questions asked about this perfume.
Is Oud Wood a unisex fragrance?
Oud Wood by Tom Ford is a woody spicy fragrance for women and men and was released in 2007. The main notes include cardamom, oud, and sandalwood.
What does Oud Wood smell like?
This fragrance smells like the most luxurious combination of spices such as cardamom, and pepper which are combined with precious woods of sandalwood and agarwood.
When to wear Oud Wood?
A versatile perfume that works best during the milder weather during the spring and fall days, but can be worn during the whole year with a lesser number of sprays on special occasions.
Is Oud Wood discontinued?
No. You can easily purchase this fragrance from the official Tom Ford webshop, retail stores, or fragrance discount websites.
Why is Oud Wood so popular?
The alluring spicy and woody composition of Oud Wood is what makes it so a popular and enigmatic modern fragrance. It is also the most popular fragrance from the brand.
Conclusion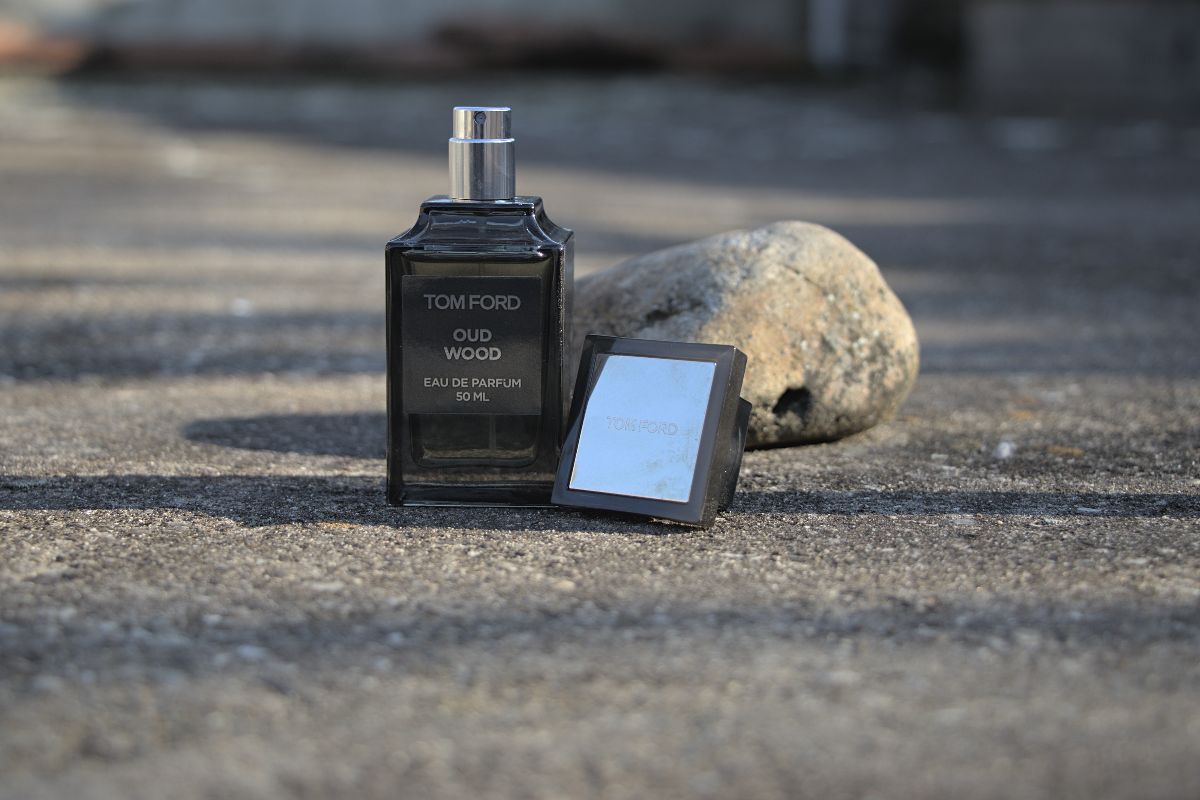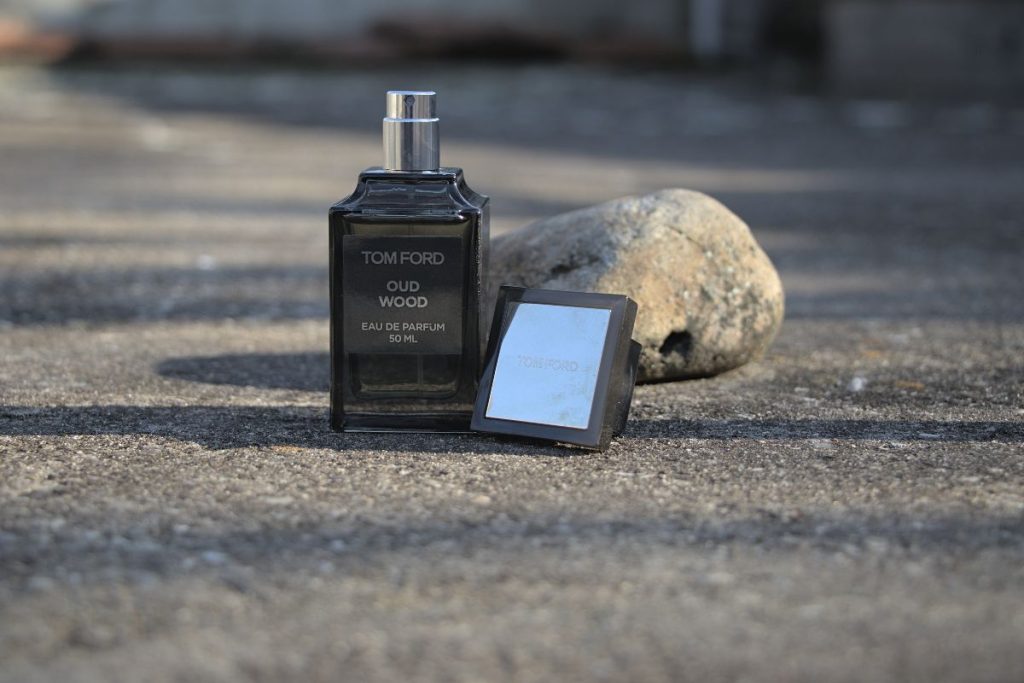 This is an agarwood-based fragrance for people who don't usually wear oud fragrances which also includes me.
It is a masterful blend of woods and spices with that artistic touch Mr. Ford is known for. I like everything about it but would have loved it if the performance was more amped up.
What makes this one a holy grail fragrance is that even after all this time, it still smells unique, which is shown by a ton of admires, celebrities included.
From everything in Tom Ford's upper niche line, this one is the easiest one to love. I guess that says it all. If you have a local retailer that sells Ford's fragrances, do yourself a favor and try this masterpiece.
What are your thoughts about Tom Ford Oud Wood? Have you tried it? Do you like it? Let's start a conversation and let me know in the comment section below.
In case you are in doubt about whether you should consider buying any fragrance, it's always good to take a look at Scent Grail's S.P.A. Signature Factor Guide.
It is easy to use and the most relevant perfume-buying guide on the web. This way, you can check out if a particular fragrance is worth checking out, and potentially find your signature perfume.
Scent Grail content is free for anyone to use without anything hiding behind the paywall. If you would like to help me do more great articles like this, you can donate via PayPal. Much appreciated.
Find out more Scent Grail articles about perfumery, check out top lists, and other helpful reviews via the links below:
REVIEWS
TOP LISTS
SCENT GRAIL LEARNING CENTER
Until next time, have a great time, and keep smelling like a million bucks!
Best, Marin!
#scentgrail #scentgrailtribe
Scent Grail on Social Media: Facebook | Twitter | Instagram | Pinterest
Your number one source for Holy Grail Scents.

– MARIN KRISTIC