Released back in time when perfume flankers were more a novelty than a rule, Jean-Paul Guerlain had an idea to mix and match a couple of their best-sellers and create Guerlain Heritage.
Although I've heard about Heritage a few times, here and there, I wasn't fond enough to get it until recently. This was because of my ongoing love-hate relationship with patchouli based perfumes.
The decision to purchase Héritage Eau de Toilette instead of Eau de Parfum came from previously checking out a couple of reviews that were more in EDT's favor.
There's a strange thing I have noticed with Guerlain and their Eau de Toilettes. Most of them outperform Eau de Parfums by a long shot, so that made the decision even easier.
Guerlain Heritage in three words: POWDERY – GENTLEMANLY – OLD WORLD
Affiliate Disclosure: As an Amazon Associate I earn from qualifying purchases. By purchasing via provided links/banners comes at no additional cost to you. Scent Grail only recommends products and/or services that are insightful and helpful to readers. For more info please read Affiliate Disclaimer.
Don't have the time to read the review right now? No worries! Here are my 5 quick takes:
Fantastic opening and a good dry down
A woody oriental perfume with great longevity
Created by master perfumer Jean-Paul Guerlain in 1992
Best used during colder seasons as a daytime business scent
Feels dated but has a class
Thus, I invite you to read Scent Grail's review to find out what I think about this perfume's hidden gem, and what keeps it from reaching the Holy Grail status.
This review is based on the Guerlain Heritage new bottle which comes in a "uniform" shape.
Brand and Perfume History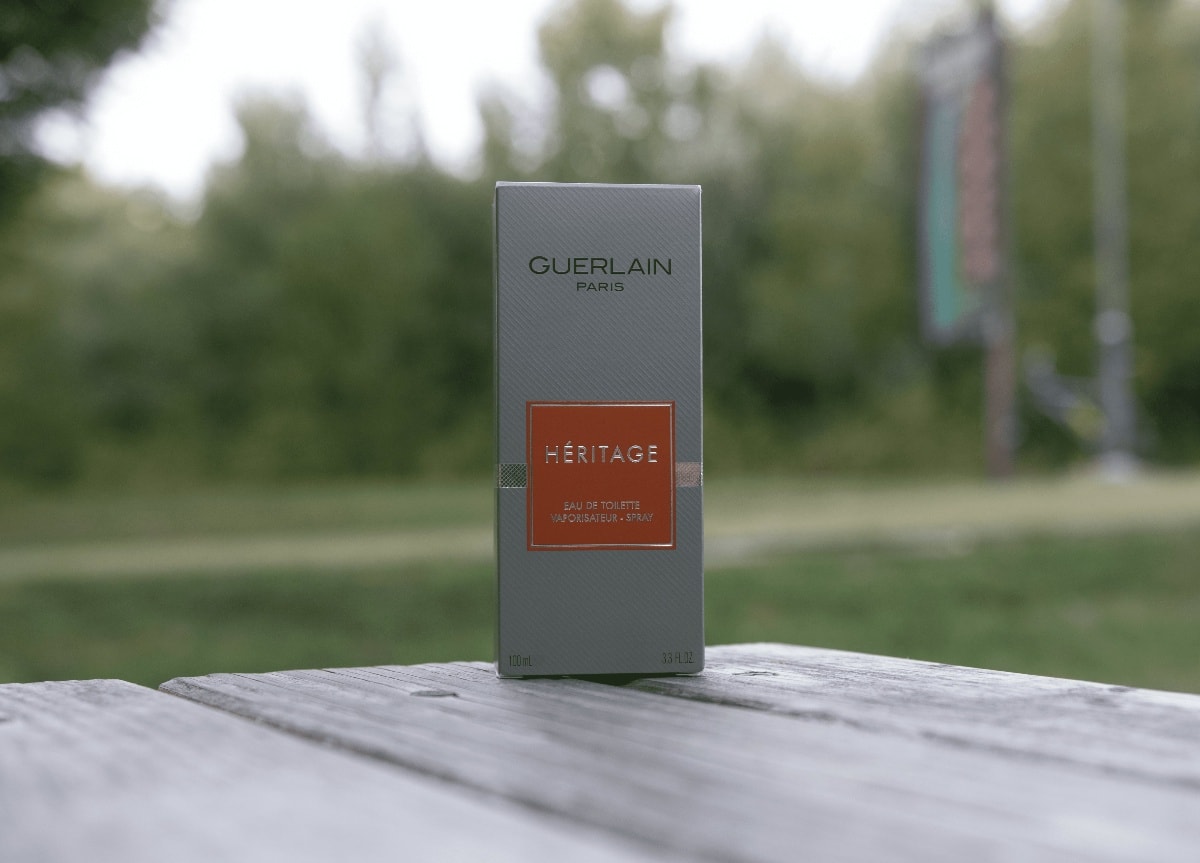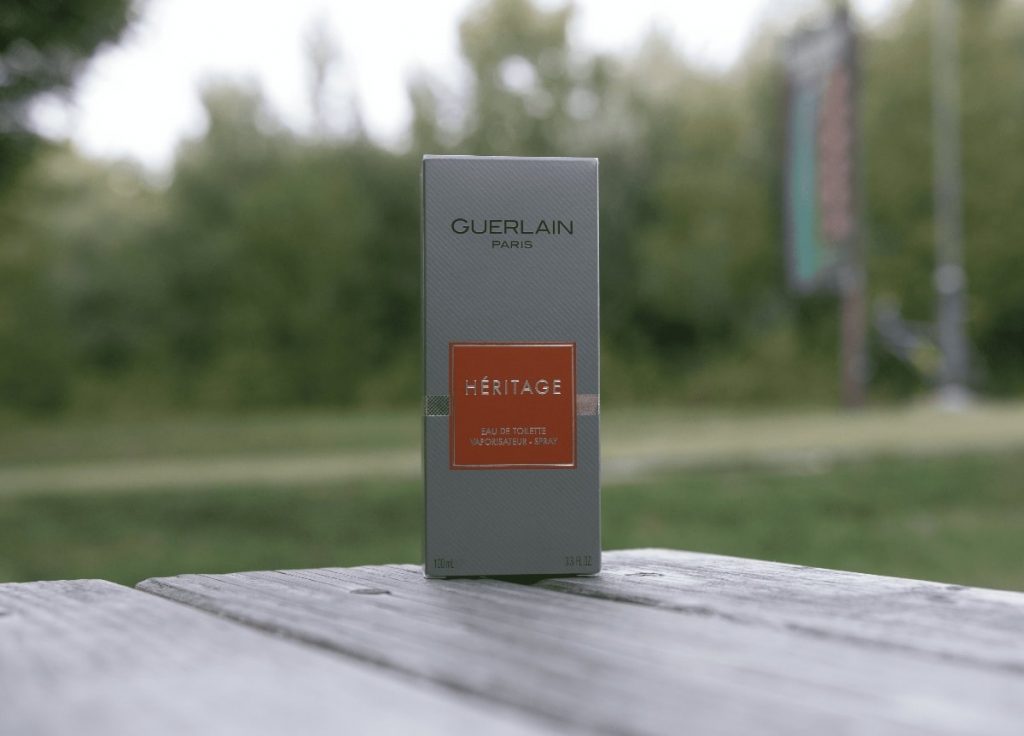 This is my third review based on a Guerlain perfume along with Shalimar and Homme EDP. So, you might say that Guerlain is one of my favorite perfume houses.
You wouldn't be wrong since I love this historical house that has released many industry staples that are still influential and important as they were when originally released.
Guerlain History
The Guerlain French perfume brand was founded in 1828 by Pierre-François-Pascal Guerlain who opened his perfume store at rue de Rivoli in Paris and run the brand as a family-owned business.
Guerlain's most-well known perfumes are:
Jicky
Shalimar
Cologne Impériale
Mitsouko
Samsara
Vetiver
Habit Rouge
Derby
L'Instant de Guerlain(men and women)
L'Homme Ideal
La Petite Robe Noire
Today, Guerlain is owned by the LVMH group and is more than a fragrance and cosmetic brand. It's a lifestyle, passion, and dedication to the finest things in the world.
Check out a more in-depth look at Guerlain's history in my Guerlain Shalimar review.
Guerlain Heritage Story
Héritage EDT was created by Jean-Paul Guerlain and was released back in 1992. One familiar with Guerlains history and their perfumes will unmistakably notice old spirits floating inside of this creation.
By the time this fragrance was released, it was only the fourth men's release, after Habit Rouge, Vetiver, and Derby, and the first release since wonderful Samsara from the 80s.
So, as you imagine, Jean-Paul had much more time to perfect a formula than Thierry Wasser has these days.
As mentioned above, through formula perfecting, paying homage to the Guerlain great ones, Jean-Paul created a composition that contains the best parts of the following perfumes:
Jicky
Shalimar
Habit Rouge
Samsara
What I have also noticed, is that Heritage was the main inspiration for L'Instant de Guerlain pour Homme. In my opinion, Heritage is a superior fragrance.
By combining all of these beloved perfumes, Jean-Paul Guerlain created something familiar, and he pushed the formula further.
Also, Heritage is the first fragrance associated with the term "Guerlinade".
Jean-Paul Guerlain's notable work:
Habit Rouge
Vetiver
Derby
Samsara
Spiritueuse Double Vanille
Aqua Allegoria Pamplelune
Perfume Theme
Guerlain's official blurb: "Inspired by yesterday's generations, Héritage is a fragrance dedicated to the men of tomorrow.
It opens with aromatic freshness, succeeded by the subtlety of a warm spicy accord on a woody dry-down with shades of the orient.
Inspired by Foucault's pendulum, the bottle, and its spherical cap evoke through their architecture the passage of time and the solidity of tradition.
Héritage, for a man who is at once a trustee for tradition and a herald of a new spirit. Héritage marked the first time that the term "Guerlinade" was used, designating the olfactory seal jealously guarded at Guerlain.

Héritage is constructed around favorite raw materials, such as bergamot, patchouli, tonka bean, and vanilla. They can be found in all Guerlain creations, giving them a very identifiable and inimitable trail."
Notes and Classification
Perfumer: Jean-Paul Guerlain
Perfume Oil Concentration: Eau de Toilette
Fragrance Type: Woody Oriental
Release Date: 1992
Target Audience: Men
Most dominant notes: Patchouli, Sandalwood, and Amber
Age Group: 30+
Seasons: Fall and Winter
Occasions: Business
Wearability: Experienced
Longevity and Sillage: 8 – 10 hours with moderate projection
The recommended number of sprays: 4 sprays(neck area)
Reviewed batch code: 9K01 – October 2019
Uniqueness: 3/5
Value for money: 7/10
OFFICIAL NOTES
Top notes: Bergamot, Lavender, Lemon
Heart notes: Pepper, Coriander, Rose
Base notes: Patchouli, Amber, Oakmoss, Sandalwood
Perfume Presentation
Since 2016, Guerlain has unified its men's collection into a "uniform" style of bottles. Some like the change, and some don't. I'm okay with this change.
Other perfumes from this collection are Habit Rouge, Homme, L'Instant, and Vetiver.
Bottle & Box
Heritage bottles sit somewhere mid-range designer style. I know that all that matters is the liquid inside the bottle, but if Hermes can do better, so can Guerlain.
The bottle is slim, tall with the perfume information sticker placed right in the middle. I like the laser-printed information on the bottom, and the cap made from a combination of wood and plastic.
The sprayer is fantastic and it sprays just the right amount of perfume. The original bottle was created by Robert Granai.
The box is grey, made from quality cardboard, and has the same information as the perfume, including ingredients, batch code, and the orange sticker style in the middle, but printed.
On the backside of the box, you'll find this interesting blurb: "While Heritage originated from a tradition, it also heralds a new spirit. This highly nuanced scent speaks to the man of tomorrow."
My Experience With Perfume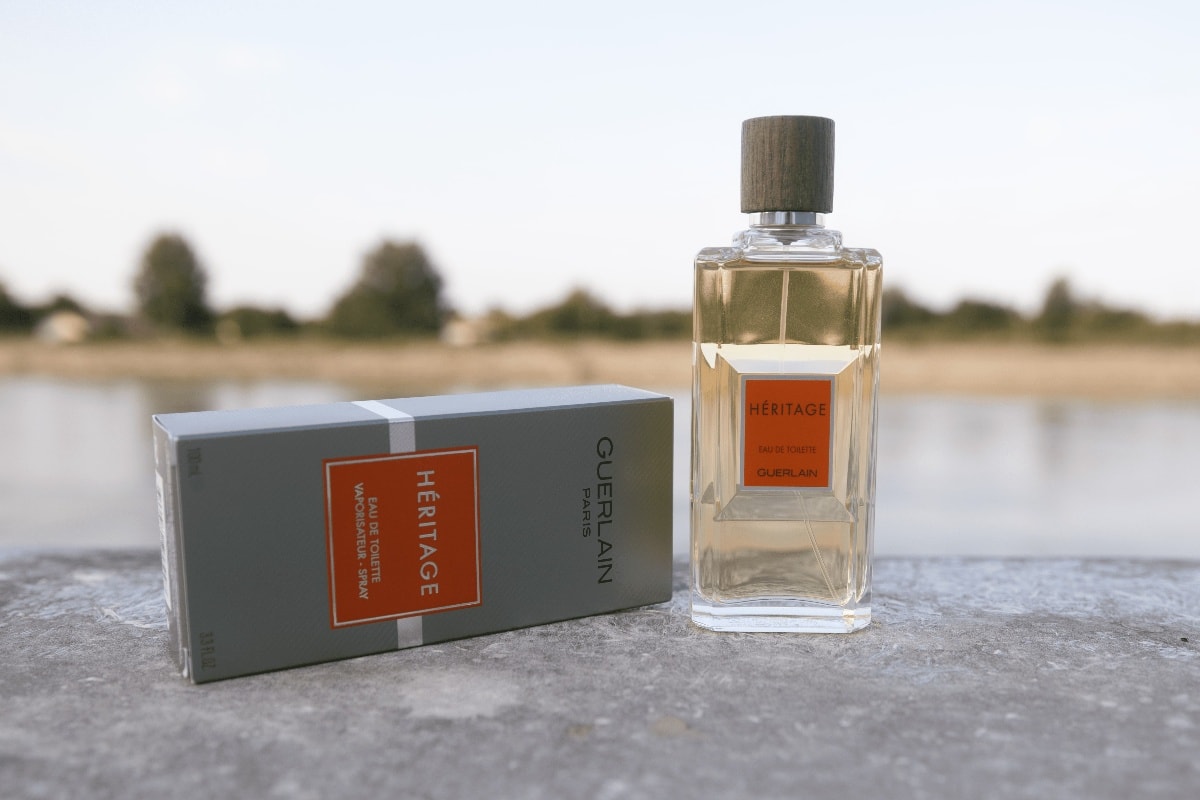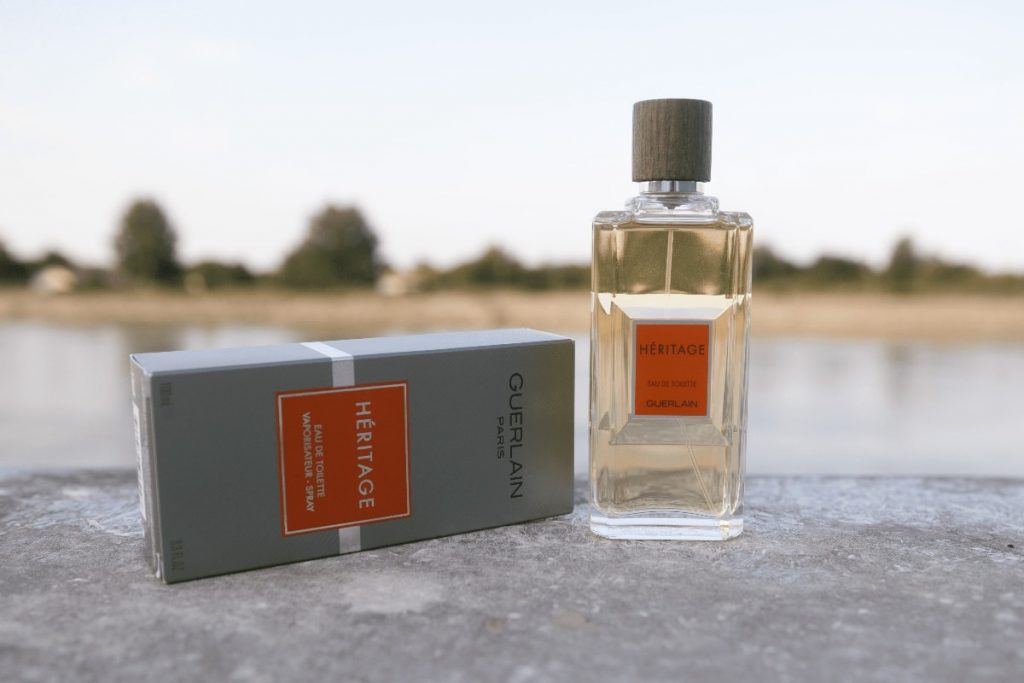 I have tested Guerlain Heritage for a couple of months to form my final opinion. While this kind of creative work might have been something new back in 1992, it is quite questionable how well has it held up with modern trends.
My main drawback from Heritage experience was that it borrowed the best things from many great Guerlain perfumes, and went just a couple of small steps forward. Not bad, but not great as well.
And, that's the main reason why I haven't included it in my Holy Grail Scents section. Unfortunately, for this scent, I have tried Chanel's Coromandel and Jovoy's Incident Diplomatique in the meanwhile.
Nonetheless, I still have a high opinion about it, so continue reading and you'll see why.
Opening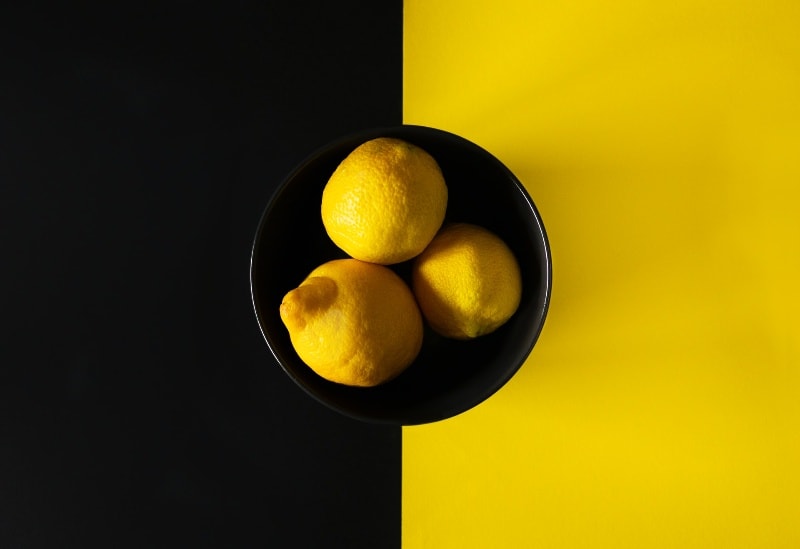 I love Heritage's opening. It is bright, aromatic, and spicy. By feeling contemporary and regal, It screams good taste and quality. As far as Guerlain's perfumes, for me, this one has the best opening.
Classic, while not completely a pure form of vintage masculinity, the scent opens up with breezy Lavender, Bergamot, and Lemon citruses.
I can feel the Coriander, and Pepper from the start, as well as the familiar Patchouli announcing its presence. At this stage, the fragrance is complex enough, without the niche price tag.
While some other websites list the 26 lists of ingredients, I feel like this is certainly not the case with the newest composition.
Those familiar with Davidoff Zino and Tom Ford's Beau De Jour will be right at home with Heritage opening.
Scent development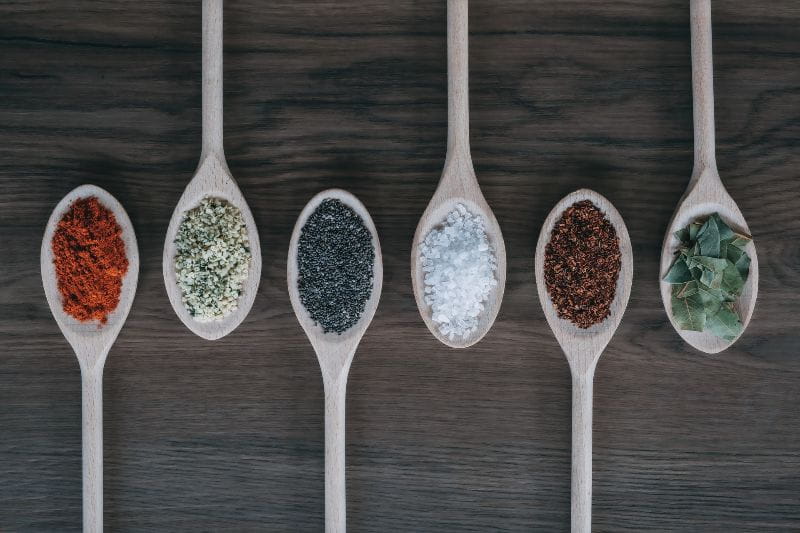 As the opening settles down, the fragrance becomes spicier and powdery. This is the part where you can argue that the usage of real Sandalwood played an important part in the vintage version.
The Pepper and Coriander intensify, backed up with caramelized Patchouli, dusty Rose, and an undertone of Sandalwood.
Those who enjoyed the Lavender will be pleasantly surprised that it doesn't fade away with the opening, regardless of the other notes battling for dominance.
I have seen that some noticed distinct "Coca-Cola" and "medicinal" aspects from Heritage which I don't get at all, but keep this in mind, since experiences may vary.
I feel that due to the many reformulations and restrictions, Heritage has lost some of its former magic, and the initial complexity seems to dry down to a simpler scent.
A touch of real Sandalwood and real Oakmoss would have helped the transition from opening to mid-equally good.
Drydown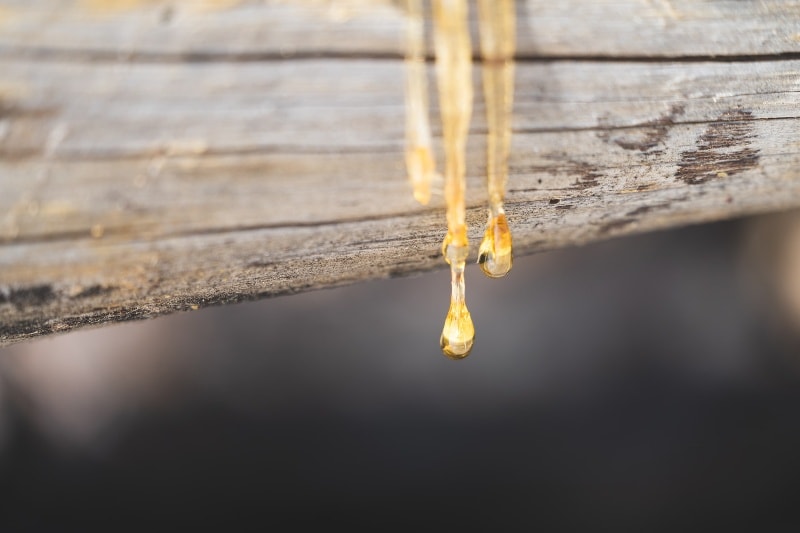 Patchouli
Amber
Oakmoss
Sandalwood
Guerlain Heritage dries down similarly to the heart which is almost non-distinct one from another. I'll guess that it's due to the before-mentioned restrictions and reformulations.
What I love about the dry down is the golden Amber borrowed from Shalimar that shines through other notes to give it an oriental finish.
Just keep in mind that this is a heavy Patchouli scent trough and trough, and at the end, everything else plays a support role.
Other notes I tend to notice from time to time are Cedar, Tonka, and synthetic Oakmoss. When all things considered, drydown is enjoyable, and if you like the vintage version, this one gets a thumbs up from me.
Performance
Heritage lasts for hours without end on my skin. Even better for clothes. I'm yet to find Guerlain's Eau de Toilette that performs better than this one.
I get 8 – 10 hours with moderate projection every time. No matter if it's colder or warmer outside. Thus, those who are still thinking about which version should they buy, go for EDT.
It can get cloying if worn during the warmer seasons. I recommend late Fall and Winter, as your daily scent.
Target audience and compliment factor
Here's the deal. This fragrance feels dated, and there is nothing modern about it. No matter what Guerlain is trying to convince you, it's straight up a product of its time.
That doesn't have to mean you won't enjoy it. On contrary, if you like Patchouli-based perfumes, chances are, you'll like them very much.
Anyone under 30 years of age, should just look the other way, and first test L'Instant de Guerlain pours Homme EDT. That one is much easier to wear and shares almost the same base.
So far, I have received zero comments and compliments, and if you ask me, so should you. This one's a personal scent you wear for yourself.
Dresscode and occasion
If there was such a thing as a business scent, this one's it. I couldn't imagine this fragrance in any other scenario except as a working fragrance. If you are a boss, even better.
Suit and tie work like bread and peanut butter with Heritage, and require a certain attire for such a classy scent.
Avoid wearing on simple T-shirt and jeans, or on tracksuits. You want to wear perfume, not another way around.
Uniqueness and value for money
At the time of its release, I imagine Heritage being unique and a breath of fresh air on the market. These days, it feels nowhere near unique as it was before.
This doesn't mean that the whole composition doesn't stand out from the crowd. Rarely any new release gets everything blended as this got, no matter its shortcomings.
Regarding the value for money, it depends on where you buy it. It's not cheap, but you can easily avoid paying the full retail price by checking out my Best Fragrance Discounters article.
Pros and Cons
The first time I sprayed Heritage on my arm, I was almost cheering for it to meet the high expectations.
While it didn't meet every single one of them, it still has more positive things than bad ones.
Pros
Classy and regal
Affordable niche scent
Hidden gem
Lasts a long time
Great choice as a business scent
Fantastic opening and a good dry down
Cons
Lost complexion due to the reformulations
Dated
Dull middle stage
Not that unique anymore
Mix and mash of the other Guerlain perfumes
Only for perfume enthusiasts
Collection & Similar Perfumes
Heritage fragrance comes in two different variations. Depending on what you want from the fragrance, you can easily narrow down your choice.
Guerlain Heritage Eau de Parfum – a woody oriental fragrance released in 1992. The main notes include Patchouli, Sandalwood, and Amber. The lasting power is 6 – 8 hours with moderate projection.
Similar perfumes:
Roja Parfums Danger – an oriental fragrance released in 2011. The main notes include Lavender, Patchouli, and Ambergris. The lasting power is 8 – 10 hours with great projection.
Tom Ford Beau De Jour Eau – an aromatic Fougere fragrance released in 2020. The main notes include Lavender, Patchouli, and Amber. The lasting power is 8 – 10 hours with great projection.
Davidoff Zino – a woody aromatic fragrance released in 1986. The main notes include Patchouli, Rosewood, and Lavender. The lasting power is 6 – 8 hours with moderate projection.
Conclusion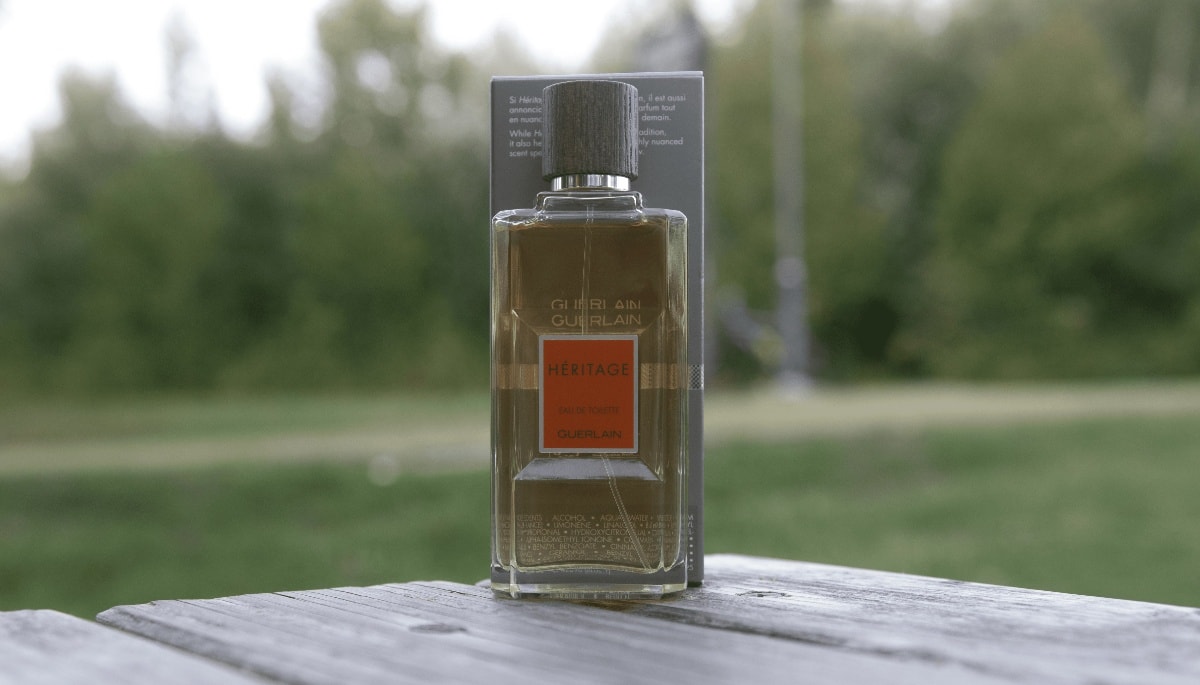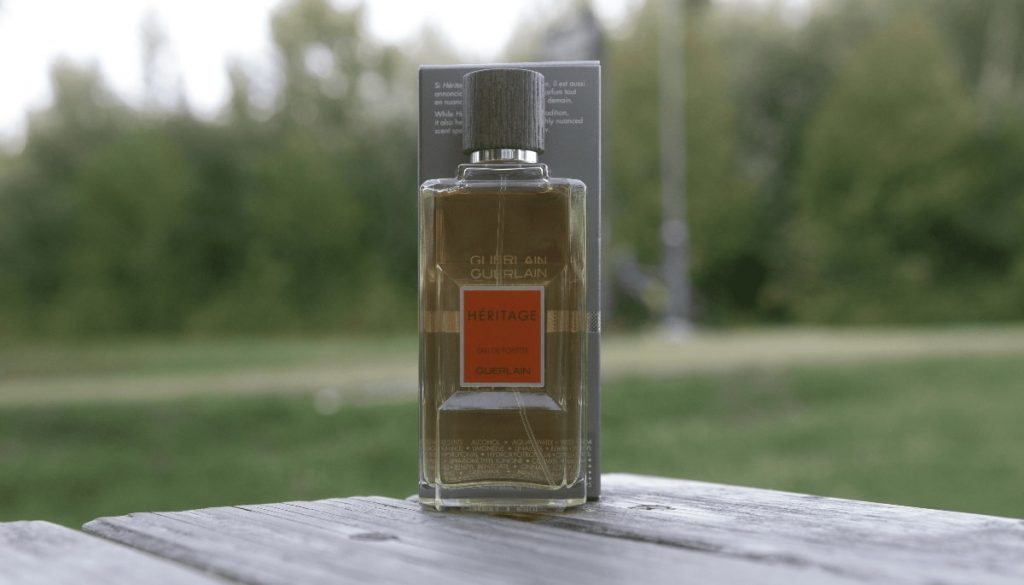 Guerlain Heritage Eau de Toilette is a perfume with mixed feelings. On one hand, it is a hidden gem worth checking out, and on the other, I would only recommend it to perfume enthusiasts.
While every review tends the explain the scent as best as possible, you should always try perfumes on your skin.
That's why I have created an easy and the most relevant S.P.A. Signature Factor Guide that you can check out when searching out for a new fragrance and potential finding your signature perfume.
I have mentioned in my last review that Guerlain doesn't make bad perfumes, and I stand by that. Still, by today's standards, I see this perfume as a great gift for your dad or uncle. Everyone else, test before blind buying.
One thing I've left from the whole review is that I like Heritage the best after taking a shower. Crazy, right? I guess some kind of weird magic happens when this perfume mixes with water, and man oh man.
If the fragrance was this smooth as it is after a shower, it would be one of the best perfumes out there. Guess you can't have it all.
Now, it is your turn to tell me what you think about this Eau de Toilette and about this review. Do you like it, hate it or don't care about it? Let me know in the comment section down below.
If you liked this review and think that this fragrance is for you, you can buy it via the button below:
Find out more Scent Grail articles about perfumery, check out top lists, and other helpful reviews via links below:
REVIEWS
TOP LISTS
SCENT GRAIL LEARNING CENTER
Until next time, have a great time and choose your scent wisely!
Best, Marin!
#scentgrail #scentgrailtribe
Scent Grail on Social Media: Facebook | Twitter | Instagram | Pinterest
Your number one resource for Holy Grail Signature Scents.

– Marin Kristic