Tiziana Terenzi Ecstasy is a floral woody fragrance for men and women launched in 2012.
The first Extrait de Parfum fragrance line from Tiziana Terenzi is inspired by the fire meant to represent the power and beauty of fire in our lives that connects us with the symbolic power of our emotions and to all creation.
These fragrances embody the powerful Faustian desire to try to hold on to a beautiful moment. The fragrances are named Ecstasy, White Fire, Rose Oudh, and XIX March.
Ecstasy evokes a lot of emotions inside of me and paints a couple of olfactive pictures which we will explore together in this review.
In my previous review of Zaharoff's Signature Rose, I talked about how much I have a love/hate relationship with rose-based fragrances, and how difficult is really to make one that stands out from the crowd.
With Zaharoff, I was blown away by the utter artistic expression and genius blending of two different natural rose oils into a magnificent composition that's different from anything else on the market.
Tiziana Terenzi Ecstasy in three words: SPIRITUAL – UNINSPIRING – GREEN
Affiliate Disclosure: As an Amazon Associate I earn from qualifying purchases. Purchasing via provided links/banners comes at no additional cost to you. Scent Grail only recommends products and/or services that are insightful and helpful to readers. For more info please read Affiliate Disclaimer.
Don't have the time to read the review right now? No worries! Here are my 5 quick takes:
A familiar rose-incense fragrance composition that is a great starting point for anyone not yet familiar with this fragrance genre
Created in 2012 by Paolo Terenzi
A versatile rose-incense fragrance best worn during the colder months or milder spring days as a business fragrance
Lasts around 8 – 10 hours with moderate projection
The main note of the rose is flat and bland and there are better options for the similar price
Can Ecstasy compete with other great rose fragrances? Let's find out.
Brand and Perfume History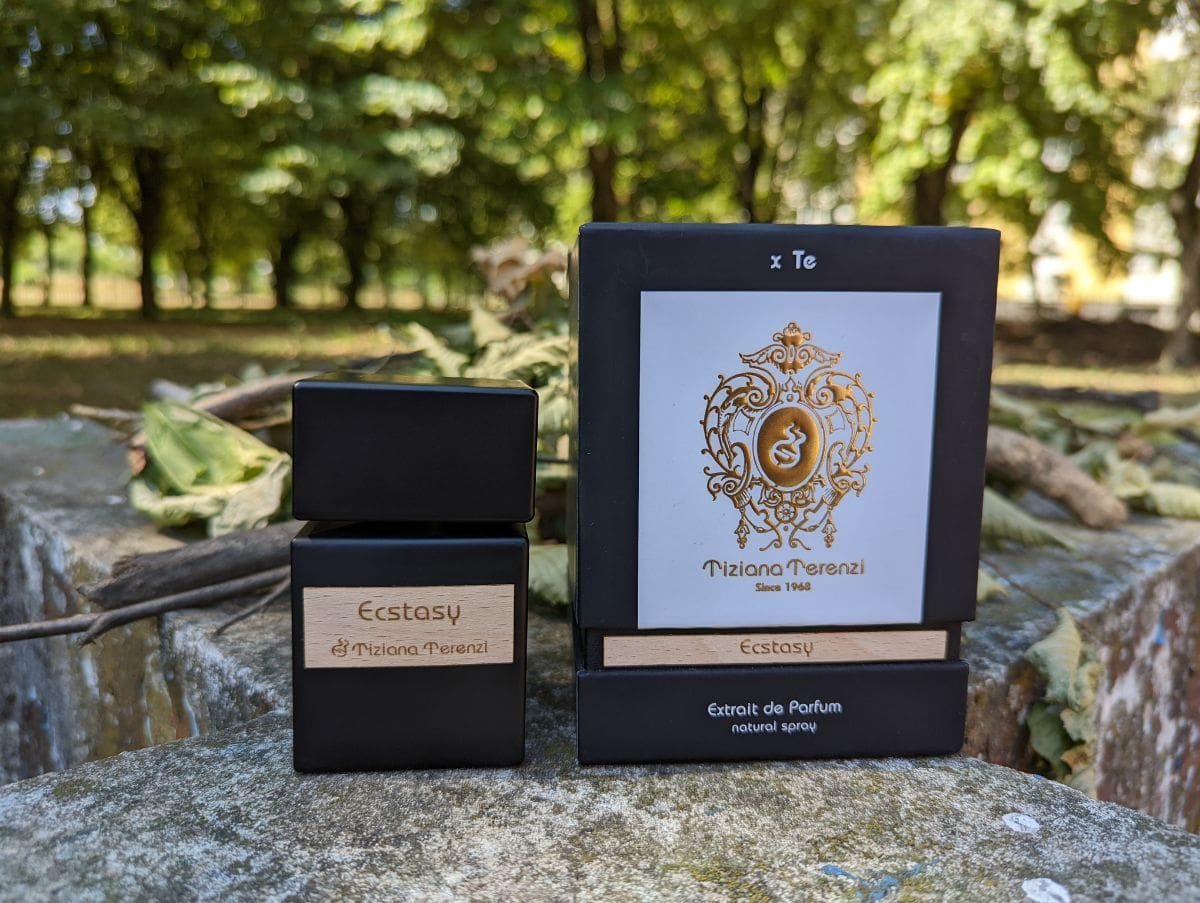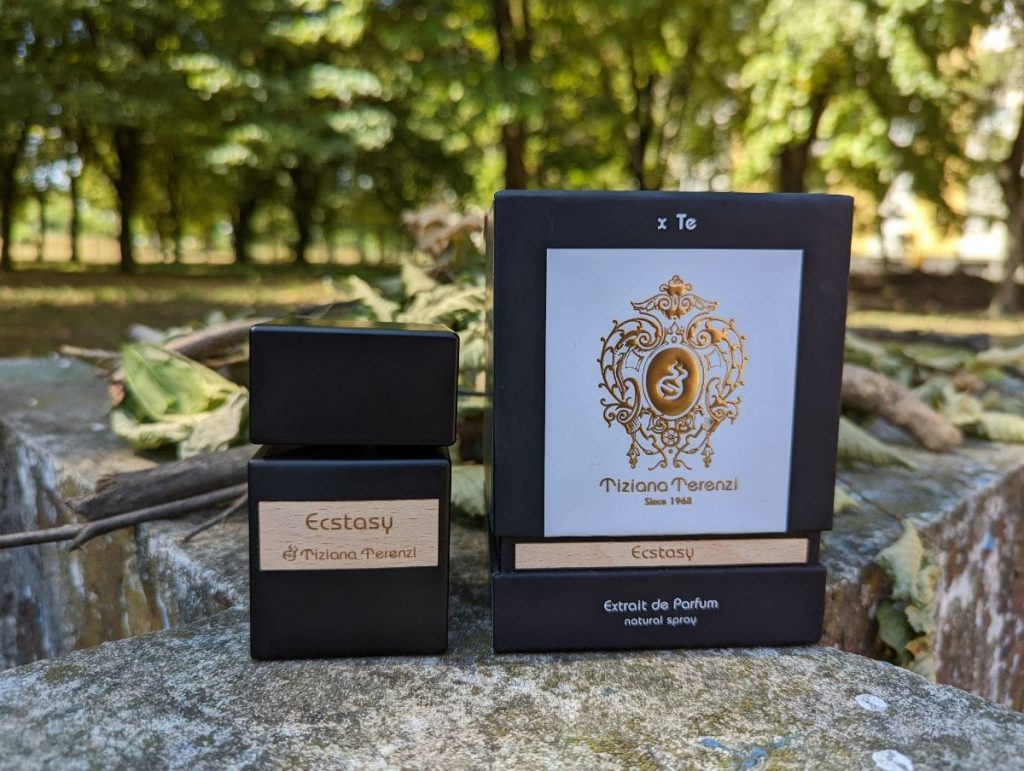 Tiziana Terenzi is a brand I'm yet to explore, and have tried only a couple of fragrances from their broad offering.
The fragrances I would like to sample and explore thoroughly include Laudano Nero, Kirke, Ursa, and Orion. What I do like about them is their different presentation which has been thoughtfully made with an artistic touch.
Tiziana Terenzi History
Story of Tiziana Terenzi from the official website: "The creation of these perfume essences comes from the never-ending quest to depict and capture emotions. These perfumes embody the powerful Faustian desire to try to hold on to a beautiful moment, and the constant exploration of the "self and the non-self". The perfume uses its full power to evoke the experience of being by the fire – moment with represents a life lived to the fullest and intense, squeezing the last drop, living in the moment – the sharing of an intimate moment with the rest of the cosmos.
All the evocative essences of a beautiful memory are trapped inside the precious olfactory molecules, forever etched in our minds. It is not simply perfume, but an actual journey through the emotions and memory. Because of its unique quality, these creations come from their having started out as a series of notes jotted down in old notepads narrating a journey which has yet to draw to a close. As well, the formulation of the molecules does follow the rules of traditional haute perfumery; instead it opens itself up to the freedom of exploring all possible alchemies, through "politically incorrect" actions. It manages to represent the true essence of life, including its imperfections, tensions, dissonances, all of which make the moment simply beautiful. There are no stylistic compromises here; each molecule has been selected because it must exist – almost independently of the author – because these creations are expressions of the truth..
These perfumes cannot be worn like a simple piece of clothing; they are only for those who love to completely immerse themselves in life, fearlessly experiencing its essence to the very core. They are complex creations which do not completely reveal themselves; they require reflection. The notes are continually transforming, often invading the bottom of the heart and exploring uncharted territory. It is a precious alchemy in the making; and one which never stops generating new musical notes because of the continual evolution of our emotions and the way it is perceived. To experience a perfume with this kind of structure requires time, patience, perseverance, and wisdom. In fact, it does not reveal its essence to just anyone. You cannot just decide to wear it. IT will be the one to choose YOU if it feels you have the right soul to truly understand it.."
The owner and main perfumer for the house is Paolo Terenzi, a well-respected Italian perfumer who is also a musician with a degree in law, and philosophy, and studies in chemistry, and physics.
The creative director of the house is Tiziana Terenzi who is a teacher of applied arts, and a designer who has collaborated with top jewelry brands. She is responsible for all the beautiful fragrance designs the house has to offer.
The brand was established in 1968 in Cereria Terenzi in Cattolica, Italy by Evelino Terenzi as a family-run Italian niche brand for fragrances, primarily candles and later on fragrances.
Tiziana Terenzi Ecstasy Story
Ecstasy was created by Tiziana Terenzi owner and main perfumer Paolo Terenzi in 2012., and is a part of the Extrait de Parfum collection.
The fragrance is classified as floral woody and includes notes of pine, spruce, stone powder, incense, patchouli, rose, violet, sandalwood, amber, cistrose, tonka, forest land, and ancient wood.
The fragrance is sold in 100 ml/ 3.4 fl. oz. Extrait de Parfum flacon.
Perfume theme
A note from the brand: "The most intense journey into the "sacred fire" of the soul, in search of total authenticity in the suspended gravity of absolute beauty. It is an encompassing, mystical fragrance: original and with a strong personality. This fragrance was created the most touching and profound day of our lives, in a kind of creative delirium inspired by the power of eternal and surreal feelings.
The emotion and transformation of these moments are captured in an indelible and cathartic memory describing the sudden spiritual transition from boyhood to manhood. It is a fragrance which strikes you immediately and completely, with the same force as a punch in the face.
This is thanks to the powerful, rich top notes of frankincense; immediately after, though, it slowly opens in a loving embrace and inner awareness to the chanting of white floral notes, the mystic power of Bakhoor, and fine wood.
At that moment, you sense the power of the timeless love of someone dear, a love that merges with our soul in a religion of memory that gives a new sense of security and eternal strength. Your ego merges with the great cosmic one. In your soul there is "click" as in an instant you open up to the full dimension of being "grown up"."
Notes and Classification
PERFUME NOTES
Top notes: Pine, Spruce, Stone powder
Heart notes: Incense, Patchouli, Rose, Violet
Base notes: Sandalwood, Amber, Cistrose, Tonka Beans, Forest Land, Ancient Wood
Perfume Presentation
One thing I like about the niche perfume house of Tiziana Terenzi is their presentation. Box both and the bottle, have this unified and straight line look that brings the best out of contemporary look and design while integrating classing Italian architecture style.
The box is made of hard and sturdy black cardboard while the bottle sits in the cushioned bottom, safely secured.
Along the box, Tiziana Terenzi was generous enough to provide us with an additional travel cap, and pamphlets about the perfume and the whole Extrait de Parfum line.
The bottle and the box include a small wooden plank that includes the perfume name which I like a lot and is something different we usually see in other niche fragrance brands.
One great thing about this house is that there are rarely fakes roaming on the internet since the house's popularity is moderate which means you are also safe to buy them almost anywhere.
My Experience With Perfume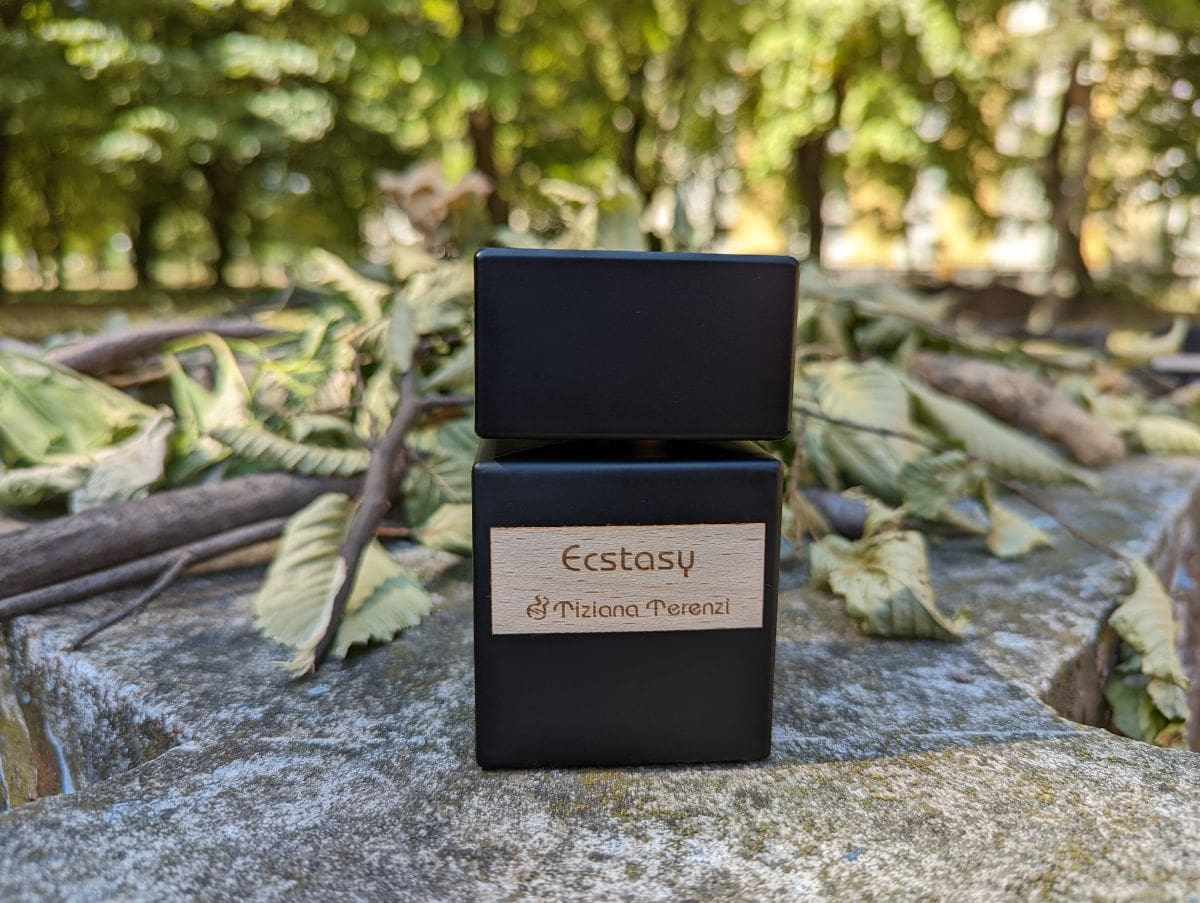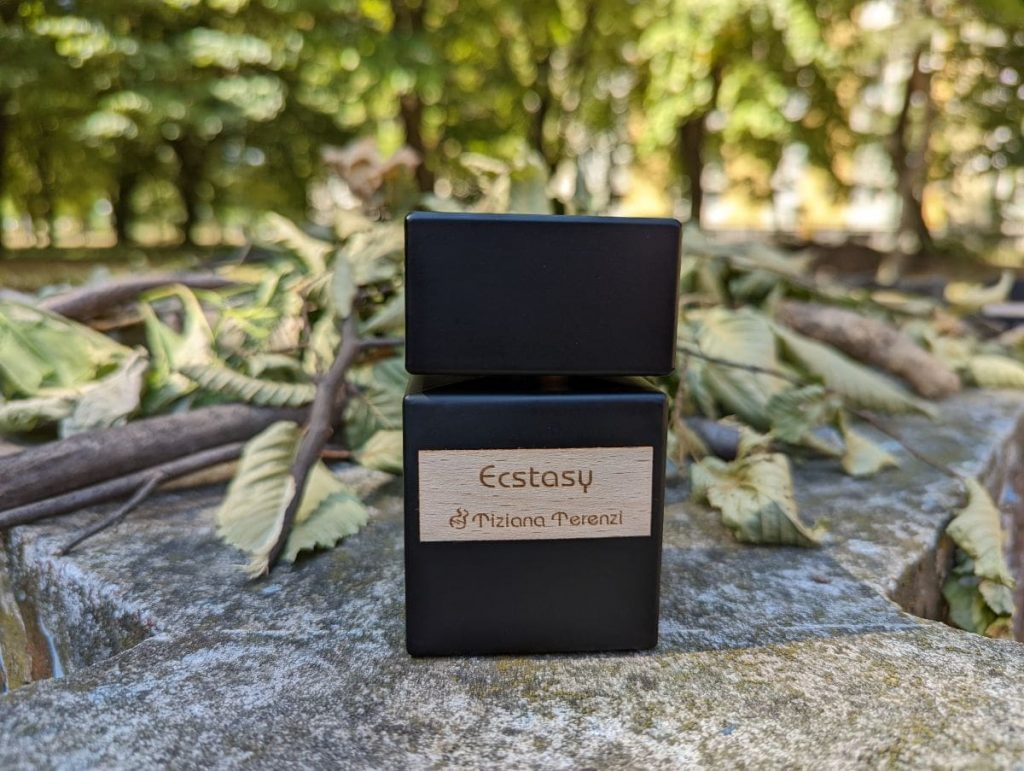 Now, to the personal experience I had while wearing this perfume for a period of over one year. While being completely objective about it, I have also seen a couple of written reviews and YouTube videos about it.
And, something strange is happening. While the YouTubers have mainly dissed this fragrance as a mediocre release from the house, bloggers almost unanimously gave it overly positive scores while mentioning ghost notes that are nowhere to be found here and this begs a certain question in my mind.
Have the bloggers tried other niche rose-based fragrances? I have to ask that question since I'm not sure whether are we smelling the same fragrance or not.
Top Notes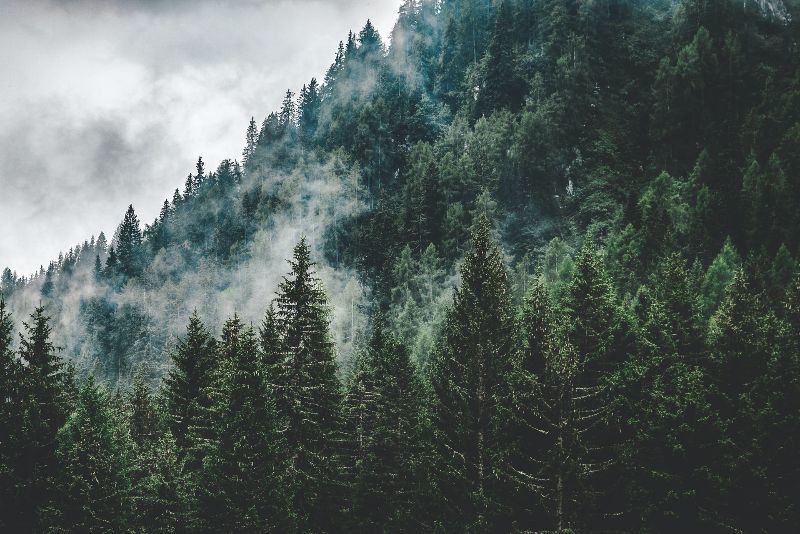 The short answer would be that the scent is somewhere in the middle of the road. I have to say that no matter how much I wore it, I was never impressed enough that I would place it anywhere near the holy grail scent category.
But, the scent on its own is not bad, and there is a saving grace somewhere in this composition. The fragrance opens up with honeyed pine needles and aromatic spruce with gentle undertones of jammy rose.
The combination of pine needles and spruce gives a foresty and resinous type of smell without going too much into the Christmas tree and holiday vibes which thanks to pebble accords gives it more of a watery impression.
Overall, I found that the rose used here is somewhat flat and recognizable from many other scents I have tried in the past, and smells soapy.
To be fair, even in the highly praised and more expensive Amouage Lyric Man, the rose also has a bland experience.
Again, coming back to Zaharoff's release of Signature Rose. After trying that fragrance and seeing how things can be made, everything will be compared to that fragrance for years to come.
Heart Notes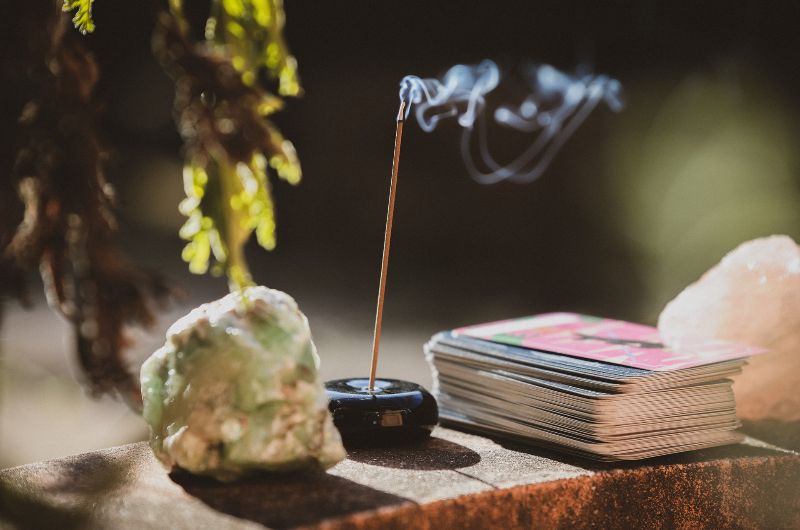 Incense
Patchouli
Rose
Violet
The change in the heart notes is quite obvious and a nice change of pace. The greens turn into a flowery and earthy smell thanks to the woody patchouli and lingering violet.
The rose is still prominent here, but softer due to the sweet smokiness from incense which becomes stronger, and the church smell starts to top above the other notes and accords.
It certainly reminds me of my youth and church ceremonies in the colder months of the year which is nicely captured here.
I have to praise fragrance for the realistic incense note inclusion and one of the best you can find in the perfumery, and while the heart notes are still present, this is where the fragrance is most enjoyable.
Base Notes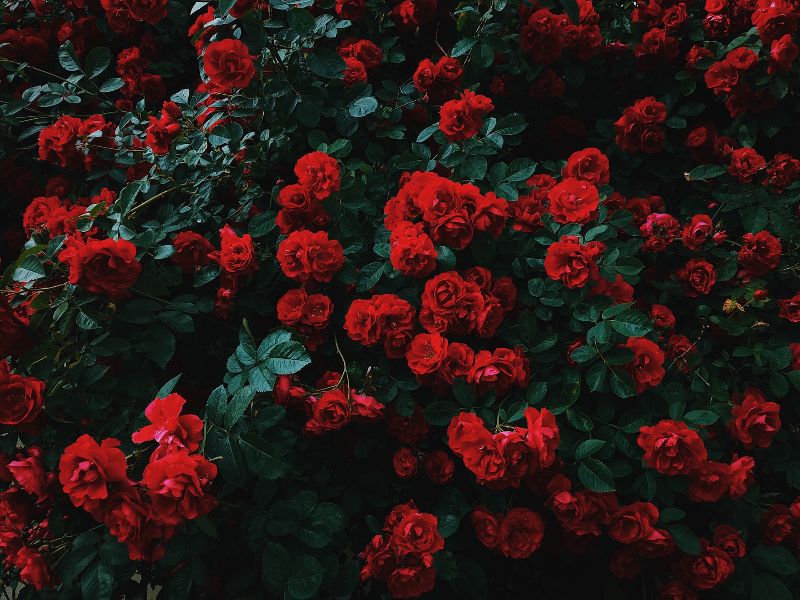 Sandalwood
Amber
Cistrose
Tonka Beans
Forest Land
Ancient Wood
By the time Ecstasy dries down, the soapy base gives it a nostalgic smell of realistic nature which is beautiful, but unfortunately uninspiring.
The semi-wet woods thrown into the campfire, somehow slightly burning is what the left of the fragrance
when it reaches the full dry down, and all the other notes had left their presence.
To my nose, the lack of amplified sandalwood, amber, and tonka beans could have made this into something more unique, and given it, a nice twist as the fragrance could have used a warmed and more of a sweeten oriental base which aforementioned notes and accord usually give.
Performance
On my skin, Tiziana Terezni Ecstasy performs well, but not on an Extrait de Parfum level. You can expect anywhere from 8 – 10 hours with mild to moderate projection which is good enough for this type of fragrance.
You will be good enough with spraying 4 – 6 times, and it will be noticeable to other people passing near you.
Due to the Extrait de Parfum concentration, I highly suggest avoiding wearing this perfume when wearing lighter clothes since it may leave an unwanted stain.
An alternative to this is to spray it for at least 30 minutes before putting on anything you plan to wear on that particular day.
LONGEVITY: 8 – 10 hours with moderate projection
PROJECTION: Medium
SILLAGE: Low – Medium
Target audience and compliments
Tiziana Terezni Ecstasy is a unisex release and in theory, it could be worn by both genders, but since it reminds me of older rose-incense fragrances from the past, men would be much safer than ladies.
The old-fragrance vibes I get from this one also mean, that the generations below 40 years of age might also find it difficult wearing this one in case you aren't interested in wearing something more classic, which also ain't a bad thing at all.
Besides the fragrance community and someone older that appreciates old-world perfumery, don't expect compliments. These types of perfumes are made for consumers that enjoy a personal and intimate experience with their fragrances. Again, not a bad thing, but it depends on what you expect from the perfume.
AUDIENCE: Unisex
AGE RANGE: 30+
COMPLIMENTS: Low
When & Where
It could see Ecstasy worn on many different occasions with its green, floral, woody, and resinous qualities. For me, it has been best used as an office fragrance and when I want to meditate at home for my personal experience.
Unexpectedly it is also a versatile fragrance regarding the seasons. It has worked equally well on warmer spring days, as it was in fall and winter when it's chilly outside.
SEASONS: Spring, Fall, and Winter
OCCASIONS: Casual, Business
DRESS CODE: Formal, and Smart Casual
Uniqueness and value for money
This is the place where I deducted the most point from this perfume. The familiar composition besides superb incense note doesn't offer anything more unique than we haven't seen so far.
Thus, the value for money is not that great, and is better to sample it before opting for a full bottle experience.
Yet, I have to say that if this would be your first fragrance of this type, then you can ignore what I said and give it a go. There is nothing bad here, and the transition from the top to the bottom is nice and detectable.
UNIQUENESS: 3/5
VALUE FOR MONEY: 7/10
Pros and Cons
Here are some better and weaker parts of this perfume:
Pros
A familiar rose-incense fragrance that is a great starting point for anyone not yet familiar with this fragrance genre
Great presentation with additional travel cap included in the package
Very good performance that works in multiple seasons
Sublime incense note saves the composition
Cons
The main note of the rose is flat and bland
Nothing new we haven't seen so far
The performance is not on an Extrait de Parfum level
Many better options for the similar price
Collection & Similar Perfumes
Tiziana Terenzi Ecstasy is a part of six fragrance "Black" collection currently available to purchase. These also include:
Similar perfumes:
Conclusion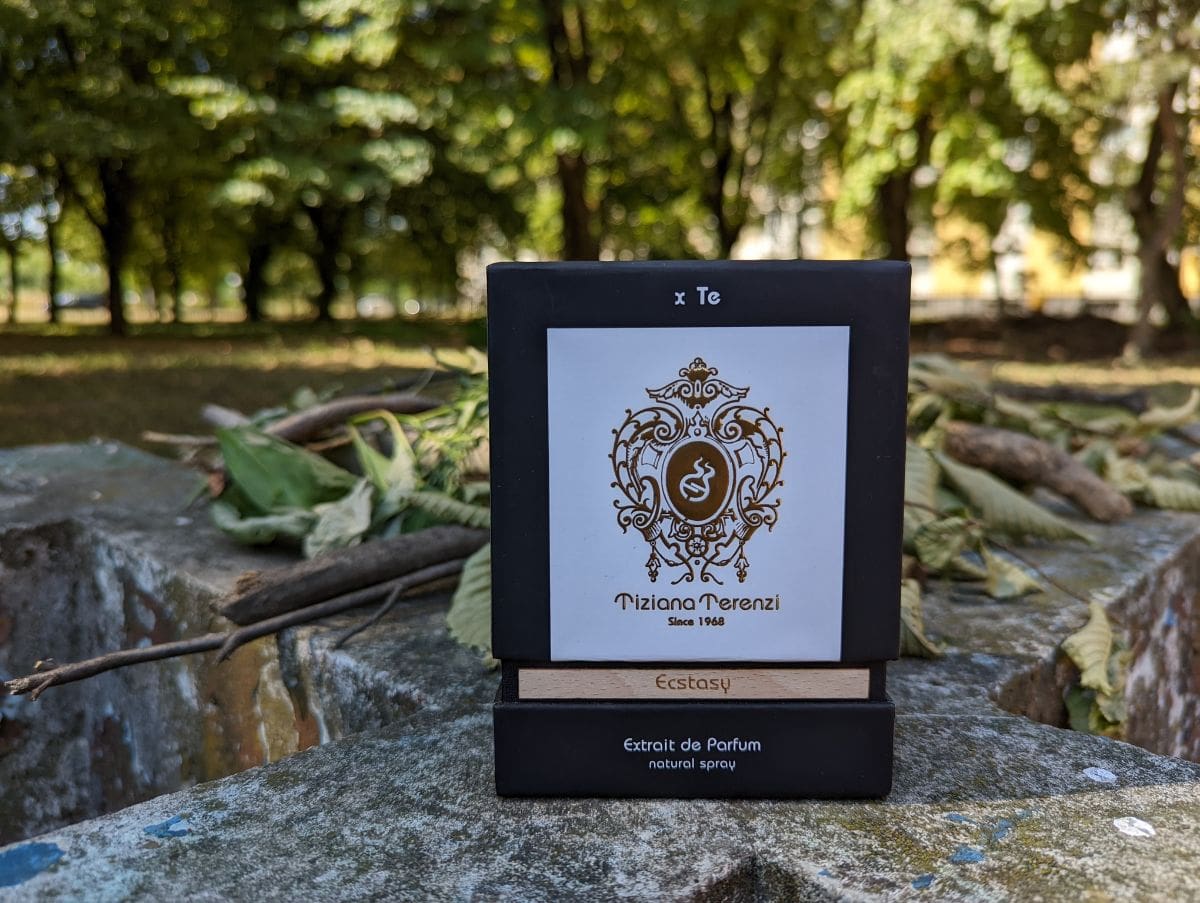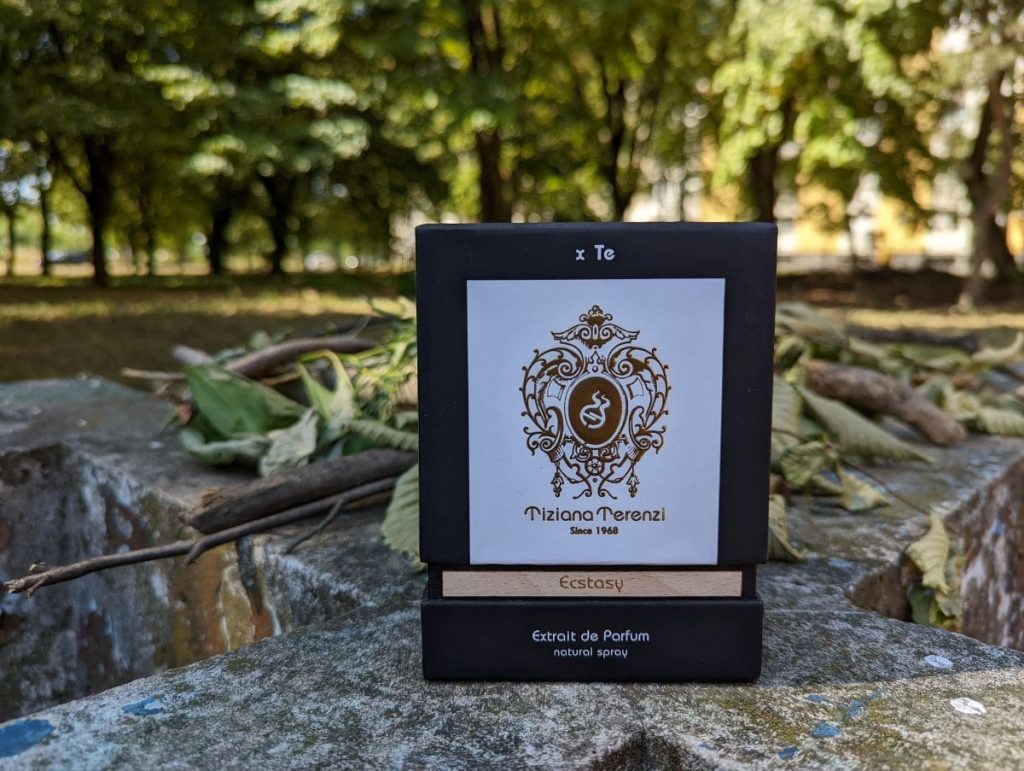 As you might already seen from the review, unfortunately, I was not impressed by this fragrance. When something is trying to portray a niche perfumery and often expensive story, I expect more.
I want to see that artisanal quality, and the ingredients cannot be on the cheaper side. In case when a fragrance is made from a familiar and well-known composition, we, the fragrance enthusiasts want something that will shake that genre and sweep us from our feet.
Unfortunately, here is not the case. Yet, I'm not willing to give up on this house and I'm sure that the next fragrance I try from Tiziana Terenzi will meet my expectations and deliver promised olfactive experience.
What are your thoughts about Tiziana Terenzi Ecstasy? Have you tried it? Do you like it? Let's start a conversation and let me know in the comment section below.
In case you are in doubt about whether you should consider buying this fragrance or not, it's always good to take a look at Scent Grail's S.P.A. Signature Factor Guide.
It is easy to use and the most relevant perfume buying guide on the web. This way, you can check out if a particular fragrance is worth checking out, and potentially find your signature perfume.
Scent Grail content is free for anyone to use without anything hiding behind the paywall. If you would like to help me do more great articles like this, you can donate via PayPal. Much appreciated.
Find out more Scent Grail articles about perfumery, check out top lists, and other helpful reviews via the links below:
REVIEWS
TOP LISTS
SCENT GRAIL LEARNING CENTER
Until next time, have a great time and keep smelling like a million bucks!
Best, Marin!
#scentgrail #scentgrailtribe
Scent Grail on Social Media: Facebook | Twitter | Instagram | Pinterest
Your number one source for Holy Grail Signature Scents.

– Marin Kristic