Even as a young child, I always liked the scent of oranges in the summertime. This is why I have been super excited to snatch Hermes Concentre D'Orange Verte at an affordable price.
Even before I had purchased this perfume, I knew that its weakest points were poor projection and longevity, but I couldn't care less. Finding out just how natural was the aroma of green oranges couldn't get out of my mind.
Concentre is a flanker of the original Eau D'Orange Verte from 1979 that some might say about smelling more like the original than the original itself.
Before we even begin with this review, I have to say that Jean Guichard followed the formula to the point to preserve what was good in the original creation.
Hermes Concentre D'Orange Verte in three words: GREEN – ZESTY – CLASSY
Affiliate Disclosure: As an Amazon Associate I earn from qualifying purchases. By purchasing via provided links/banners comes at no additional cost to you. Scent Grail only recommends products and/or services that are insightful and helpful to readers. For more info please read Affiliate Disclaimer.
Don't have the time to read the review right now? No worries! Here are my 5 quick takes:
The best orange-based perfume of all time
A citrus aromatic fragrance with average longevity
Created by Jean Guichard in 2004
Best used during warmer seasons on any occasion
Poor performance keeps it from getting a bigger appreciation
Read the rest of Scent Grail review to find out what are my thoughts and experience with Concentre D'Orange Verte which is still one of the best-seller perfumes of Hermes.
Brand and Perfume History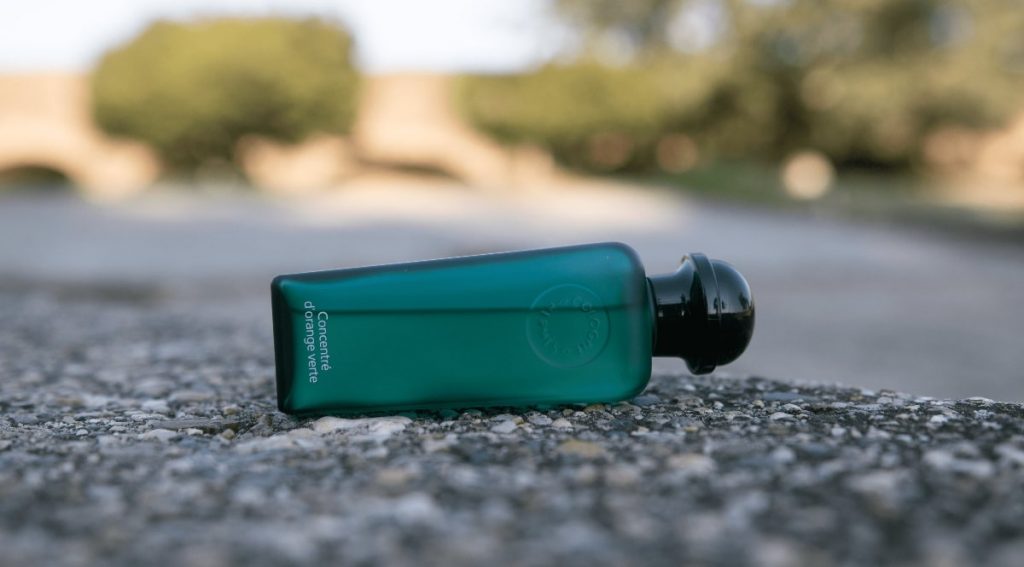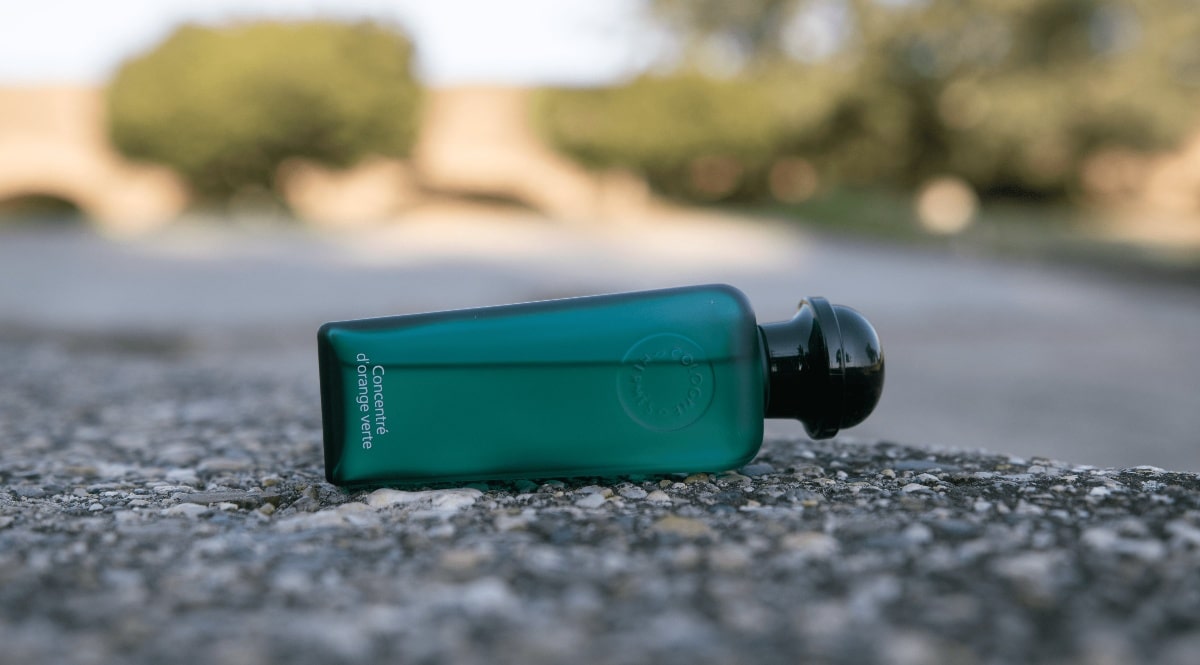 When it comes to perfume Hermès is up there in the same league as Dior or Chanel. They rarely launch new lines, but when they do, it makes a lasting impact.
After fifteen years(2006), Hermès has launched a new line officially dedicated to men, called H24(2021). In my eyes, this proves the dedication to products and puts brands' values ahead of profit.
Hermès history
Hermès was founded by French businessman Thierry Hermès in 1837 a harness workshop in Paris, France made to serve the European elite.
During his lifetime Thierry (1801 – 1878) created high-quality wrought harnesses and bridles for the carriage trade which brought him a couple of prestigious awards.
From 1951. Hermès had created multiple perfume lines, both for men and women, and divided them into two distinct lines. Designer and highly-priced niche selection.
Today, they specialize in leather, jewelry, watches, perfumery, home furnishing, and ready-to-wear. Read more about Hermès history here.
Hermès most-well known perfumes are:
Terre d'Hermes
Un Jardin Sur Le Nil
Eau des Merveilles
Twilly d'Hermès
Ambre Narguile
Bel Ami
Rocabar
Equipage
Hermes Concentre D'Orange Verte Story
Concentre D'Orange Verte was created by master perfumer Jean Guichard in 2004. It is a flanker to the classical release Eau D'Orange Verte, done by Francoise Caron, that is still on store shelves even after 40 years of production.
According to Hermes, "the original version was inspired by the smell of undergrowth moist with morning dew", and I have to agree with this.
While the fragrance(flanker and original) is simple in note breakdown, it still manages to be complex and deep. This kind of masterful perfumery only comes from knowing how to mix natural oils with aromatic compounds.
Concentre D'Orange Verte belongs to the "designer-level" collection and should be affordable enough for most wallets. Especially if you are buying from discounters.
Jean Guichard notable work:
Cacharel Eden
Cacharel LouLou
Calvin Klein Obsession Women
Cartier So Pretty
Perfume Theme
Hermes official blurb: "The founding cologne, created by Françoise Caron in 1979 and inspired by the smell of undergrowth moist with morning dew, Eau d'orange verte has since asserted itself as an emblem of Hermès, standing out through its distinctive freshness. Conceived as an explosion of citrus notes, orange plays the main part, supported by zest and leaves, lemon, mandarin, mint and blackcurrant bud. The fragrance reveals its complexity in a unique sillage composed of oak moss and patchouli.
The Colognes collection reflects the house of Hermès' art of living. Generous, figurative expressions of simple, sparkling pleasures, each Hermès cologne is an olfactory snapshot."
Notes and Classification
Perfumer: Jean Guichard
Perfume Oil Concentration: Eau de Toilette
Fragrance Type: Citrus Aromatic
Release Date: 2004
Target Audience: Unisex
Most dominant notes: Orange, Basil, and Cedarwood
Age Group: 20+
Seasons: Spring, Summer, and Fall
Occasions: Any ocassion
Wearability: Easy
Longevity and Sillage: 3 – 5 hours with light projection
The recommended number of sprays: 6 – 10 (pulse points)
Reviewed batch code: n/a
Uniqueness: 5/5
Value for money: 8/10
PERFUME NOTES
Top notes: Orange
Heart notes: Basil
Base notes: Patchouli, Amber, Cedarwood
Perfume Presentation
This orange heavy scent in an "old-cologne" style comes in a beautiful green frosted glass, and I love it. The artistic style going throughout the whole collection is instantly recognizable as Hermes.
The lovers of detail-oriented perfume bottles will be right at home.
Bottle & Box
There is a charm in Hermes bottles that is not found anywhere else. Each perfume has its own variation on the same theme, being the color or the glass type.
Hermes Concentre D'Orange Verte comes in a tall and somewhat slim dark green frosted glass bottle with a black cap that looks like it would fit a gentleman from the 1930′ and 1940′.
Details like the "cologne" and "Hermes" logo can be found on the upper part of the bottle, while the name of the fragrance is printed on the lower part.
This review is based on the tester bottle of Concentre D'Orange Verte thus, I don't own the respective box, but since I owned Equipage, and from looking at the pictures online, I can safely say that Hermes produces the best perfume boxes out there.
My Experience With Perfume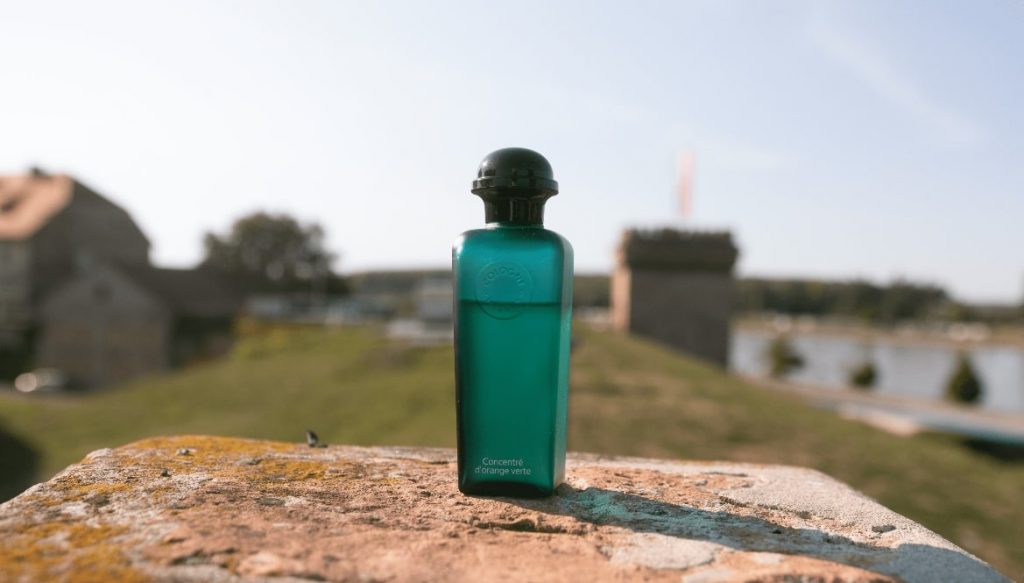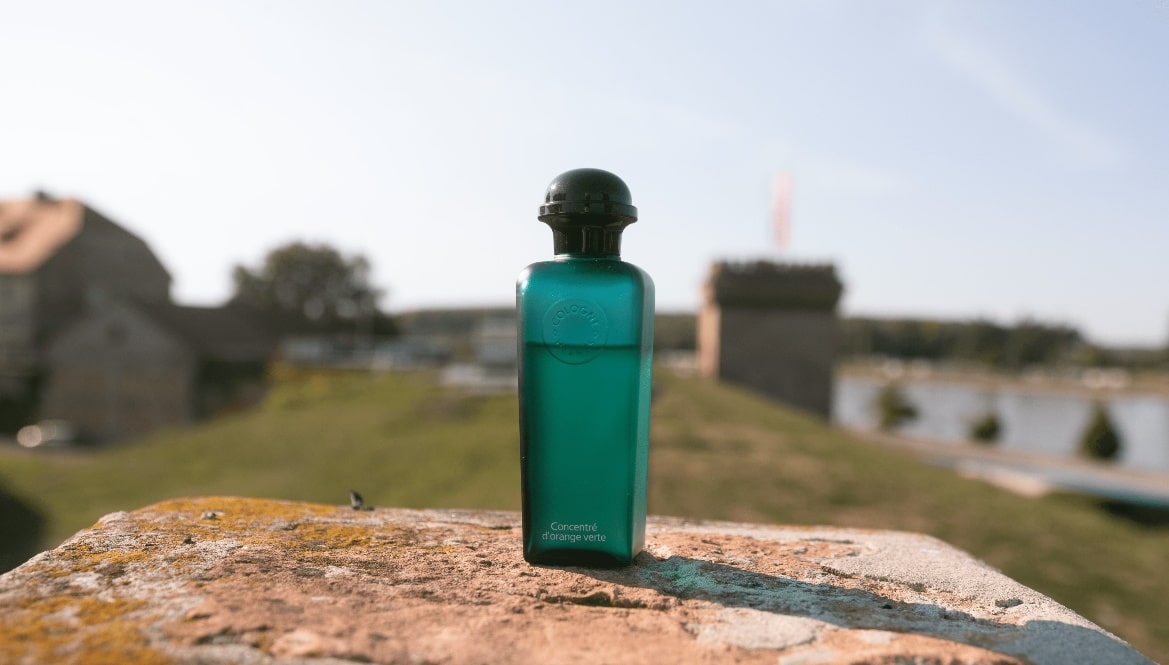 I won't keep this secret from you any longer. This Eau de Toilette is the best green orange-based perfume on the market, and it's not that expensive.
There is no need to pay 200$ or up to 400$ to get this experience of natural-smelling oranges. You have my blessing to sample this scent.
Hermes is widely available in almost any perfume shop, so there shouldn't be an issue to try this one out.
Opening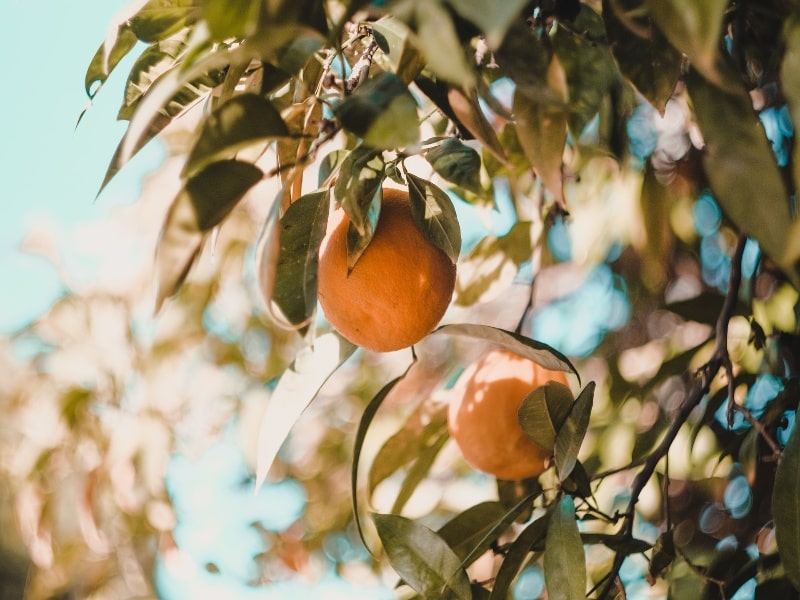 Imagine taking a vacation in Greece where the best oranges in Europe grow. It is December and you take a walk in the early morning in the orange grove.
The sun is just rising, and the soil is still damp from the morning dew. You can decide that instead of first-morning coffee, taking an alternative by squishing orange leaves through your fingers, and smelling them will boost your mood and your mind.
The intense combination of petitgrain with zesty orange is what you are gonna get from the opening. It is blended masterfully, and when I smelled Concentre D'Orange Verte my first thought was, this was Terre d'Hermes but on steroids.
I know that I'm not the only one who had noticed this, and it is clear as a day that Jean-Claude Ellena took inspiration from here during the time of creating Terre d'Hermes.
And, let me tell you a little secret. Orange here, it's way better and more natural-smelling than found in Terre.
If you are someone who likes singular notes and doesn't care about performance and projection, this is all you need to get this perfume. Yes, it's that good. For everyone else, continue reading.
Scent development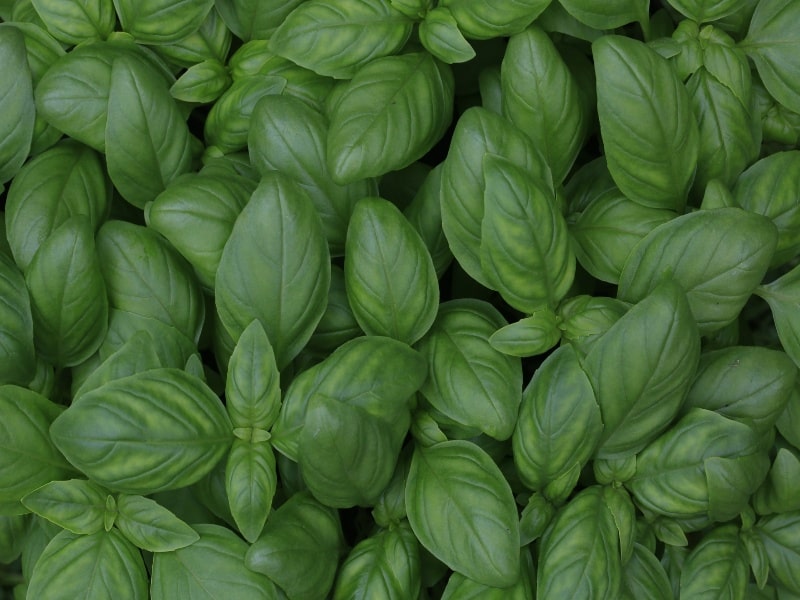 The top note of green orange progresses through the opening and continues to ride along as we are introduced to another green note of basil.
It is done in an old-school way, but yet, it feels timeless. Refreshing and invigorating, this combination may feel strange but it smells great, classy, and sophisticated.
At the 15-minute time mark, the fragrance starts to lose steam and gets close to the skin, which may come disappointing to those who like to be able to smell the fragrance they are wearing.
Drydown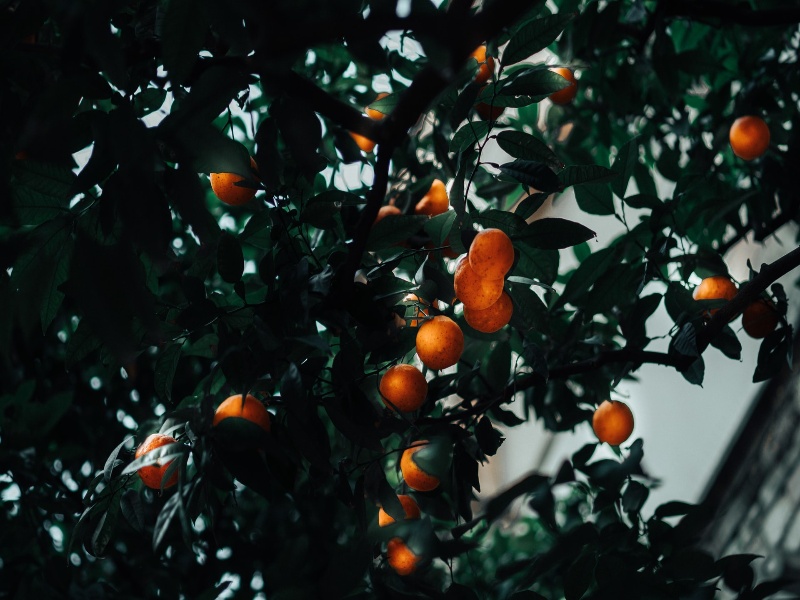 Patchouli
Amber
Cedarwood
As we approach the dry down which occurs within the first hour of application, the citrus gets less prominent in this fragrance, and dry cedar and patchouli are what you are left with.
Just keep in mind that by the time the fragrance gets to dry down, it is already soft and almost non-projecting. It's just too bad that it is like that, but the concept of feeling refreshed in the morning is here.
It is good enough for me, but everyone else should consider what they want and expect from a perfume.
Performance
The performance of this perfume is not good, no matter how good is your skin. Some days I get 2 hours, while other times I get around five.
It doesn't push from your skin and stays just a couple of inches from your body, so don't be surprised if no one can smell you. This one you wear for yourself, and it shouldn't be a bad thing.
Target audience and compliment factor
Almost anyone and any age can wear this variation to Eau D'Orange Verte since citruses will never go out of style.
As for the compliments, I have received none, but as mentioned before, this one is hard to get a whiff of. I recommend layering this one with Juliette Has A Gun Not A Perfume to enhance the performance.
Dress code and occasions
Extremely versatile, and works in any scenario, but there is a catch. I wouldn't recommend wearing this Hermes to any activity lasting longer than two to three hours if you don't plan to take a decant with yourself to reapply.
During the winter, the performance is going to take an even bigger hit, and it's even not a great performing perfume to start with. As for summer, only summer nights since the heat during the day will eat it up within 30 minutes.
Vacation, doing random chores, taking a walk with your dog, or enjoying your free time is where is see this fragrance.
Uniqueness and value for money
Depending on who you ask, it is the best or worst deal of all time. I stand firm by saying this is the best orange scent of all time, but I'm also considering the performance, bland dry down, and price point.
If you can get a tester for around 50$, take it just for the sake of the experience. Above that, I would consider sampling it first.
Pros and Cons
Let's see what are the strongest and the weakest points of this perfume:
Pros
The best orange-based perfume on the market
Affordable
Natural smelling
Does exactly what is supposed to do
The bottle looks and feels fantastic
Cons
Poor performance
Base notes are bland
Collection & Similar Perfumes
There are a couple of perfumes from this line worth checking out if you liked this one:
Eau D'Orange Verte 1979 – a floral citrus fragrance released in 1979. The main notes include Mandarin Orange, Bergamot, and Lemon. The lasting power is 1 – 2 hours with poor projection.
Eau d'Orange Verte – a citrus fougere fragrance released in 2009. The main notes include Orange, Oakmoss, and Lemon. The lasting power is 1 – 2 hours with poor projection.
Alternative perfumes:
Christian Dior Eau Sauvage – a citrus fougere fragrance released in 1966. The main notes include Bergamot, Lemon, and Basil. The lasting power is 4 – 6 hours with moderate projection.
Atelier Cologne Trefle Pur – a citrus floral fragrance released in 2011. The main notes include Clover, Bitter Orange, and Neroli. The lasting power is 4 – 6 hours with moderate projection.
Xerjoff Fiero – a citrus aromatic fragrance released in 2010. The main notes include Lemongrass, Lemon, and Bergamot. The lasting power is 8 – 10 hours with great projection.
Conclusion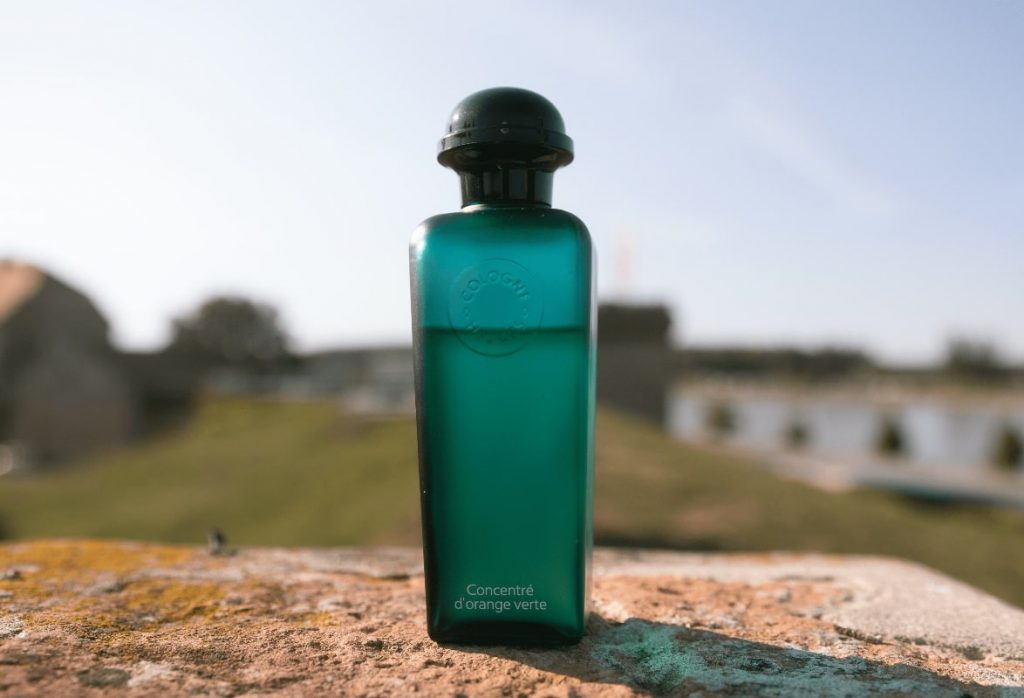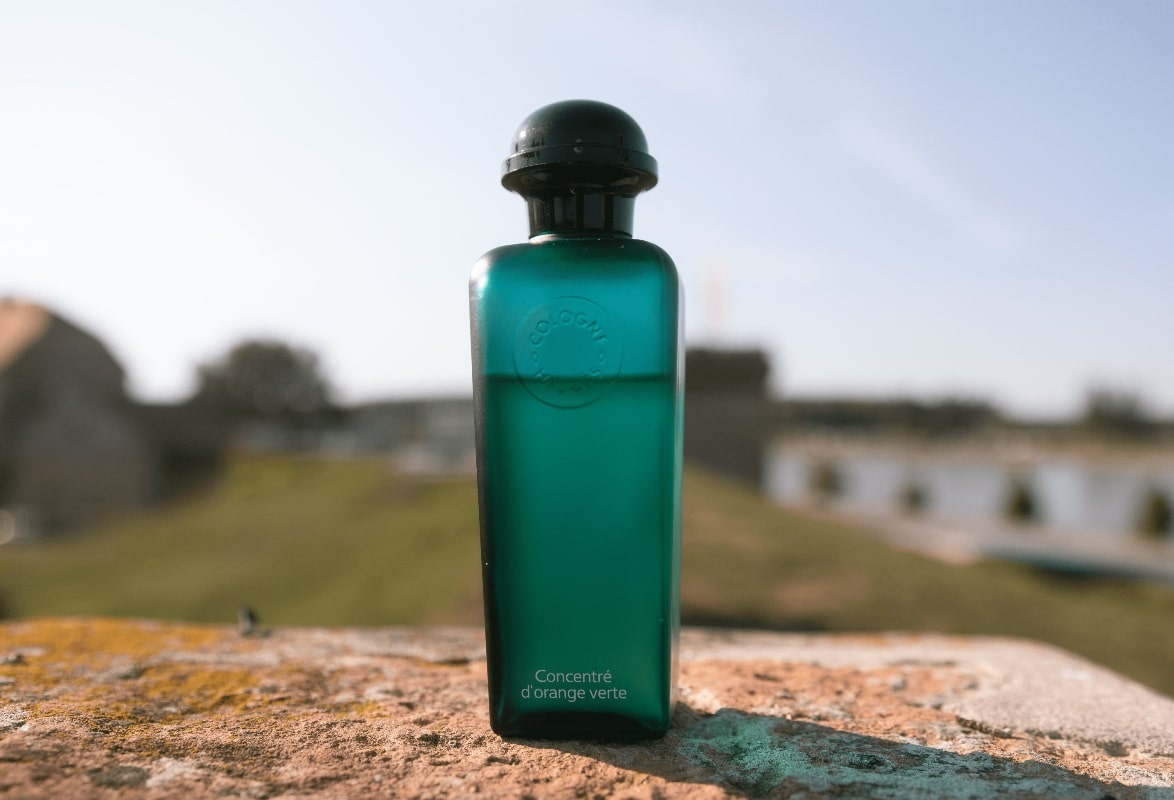 Hermes Concentre D'Orange Verte is a great citrus-based fragrance for an affordable price, but with poor performance.
I believe that those who enjoy the art of perfumery will enjoy this perfume the most, as it tells a beautiful story, and refreshes your mind.
In case you are in doubt whether you should consider buying Concentre D'Orange Verte or not, it's always good to take a look at Scent Grail's S.P.A. Signature Factor Guide.
It is easy to use and the most relevant perfume buying guide on the web. This way, you can check out if a particular fragrance is worth checking out, and potentially find your signature perfume.
If you liked this review and think that this fragrance is for you, you can buy it via the button below:
What are your thoughts about this perfume? Let's start a conversation and let me know in the comment section below.
Find out more Scent Grail articles about perfumery, check out top lists, and other helpful reviews via links below:
REVIEWS
TOP LISTS
SCENT GRAIL LEARNING CENTER
Until next time, have a great time and choose your scent wisely!
Best, Marin!
#scentgrail #scentgrailtribe
Scent Grail on Social Media: Facebook | Twitter | Instagram | Pinterest
Your number one resource for Holy Grail Signature Scents.

– Marin Kristic