Once in a while, a perfume sneaks up into your life and changes your perspective about a certain perfume group. For me, that group was fresh florals. That's why it's my utmost responsibility to make this Acqua Di Parma Colonia Essenza review the best that I can.
Based on the extensive research, and the online materials I could find, I did something that I usually stay away from. And that was blind buying perfume.
As you can see, the Colonia Essenza review ended up in my Holy Grail Scents category which means that it was a full blow success. By the way, this is my first experience with Acqua di Parma house and hopefully, one of many.
It's quite an unusual thing for me to experience such a well-known house so late in my fragrance journey, but I have to give this to the general unavailability of Acqua di Parma products in my country.
Thankfully, that had changed recently. So, what can you expect from this review of the modern take on the classic perfume? In this review, you will discover Colonia Essenza with a focus on the following topics:
Perfume Brand and Perfume History
Perfume Presentation
Colonia Essenza Development and Performance
Personal Impression and Feedback
Colonia Essenza S.P.A. Signature Factor Guide
Similar Fragrance and Value for Money
Now, let's start this review by exploring the Italian pride known as the precious house of Acqua di Parma.
Colonia Essenza in three words: TIMELESS – SMOOTH – CONSERVATIVE
Affiliate Disclosure: As an Amazon Associate I earn from qualifying purchases. This way, I get commissions for purchases made through links in this post. By purchasing via provided links comes at no additional cost to you. I only recommend products and/or services that are insightful and helpful to readers. For more info please read Affiliate Disclaimer.
Don't have the time to read the review right now? No worries! Here are my 5 quick takes:
An excellent choice for classy gentleman
Fresh and Floral scent family
Created by master perfumer Michel Almairac
Long lasting eau de cologne best used in warmer weather
Youngsters should sample it before purchase
Brand and Perfume History
Acqua di Parma is one of the oldest perfume brands in Italy, and are well-known for their everlasting Colonia perfume line.
Thus, this makes Colonia Essenza a flanker of their most successful fragrance of all time. It is a quite big heritage.
Acqua di Parma history
Many don't know that this house alongside perfume and accompanying perfume products, also sells bathrobes, grooming products, and leather goods.
Which like it or not, makes them a kinda-ish designer brand. Like Hermes. But in the ADP defense, I'll leave them in the niche side of things due to their exclusivity.
Acqua di Parma was founded in 1916 by the Italian baron Carlo Magnani. Like all great stories, it all started in a small laboratory in the city of Parma.
Inspired by barons travels across the globe, and encapsulating Italian lifestyle, skillful chemists created a fresh and modern scent called Colonia.
As you may guess, the fragrances from that era were much denser and had a heavier note construction. With its Art Deco bottle style and unusual fragrance composition, Colonia became the most-know fragrance of its time and the first Italian cologne.
Throughout the last century, its popularity grew even more and spawned many successful flankers. The Colonia was so influential that it's not unusual to pick its unmistaken scent profile in various other beauty, skin-care, and hygiene products.
The company was acquired by LVMH in 2001. Since then, they have opened luxury Blu Mediterraneo Spa in Sardinia and in Venice.
Colonia Essenza perfume history
Colonia Essenza Eau de Cologne was created in 2010 by the master perfumer Michel Almairac.
Acqua di Parma states that the fragrance embodies the traditional values of the Colonia while embracing a modern perspective which I agree with.
In 2015 Acqua di Parma released a special edition of Colonia Essenza which remained the same in the composition, but the bottle was a little bit changed.
The limited-edition black bottle was inspired by tuxedo and bow tie with a luxurious motif, done by Italian master glass-makers.
As for Michel Almairac, he is an all-star name in the perfume world. He was born in Grasse, in 1953. He was a student at Givaudan(previously Roure Bertrand Dupont).
Almairac has worked for Drom, Creations Aromatiques and Takasago and is Roberter since 90's.
He has created more than 160 perfumes and his most famous creations include:
Michel has done many other perfumes which are well worth checking out.
Perfume theme
Acqua di Parma's official blurb: "Discover a reinterpretation of the original Colonia fragrance. The cologne Colonia Essenza is a citrus-scented and woody fragrance with a strong personality. Its classic freshness becomes even more vivacious with the addition of floral scents like grapefruit, mandarin, and petitgrain notes, all brought together by a vibrant woody patchouli base. The sophisticated woody notes lend an elegant sober touch to this cologne."
Notes and Classification
Perfumer: Michel Almairac
Perfume Oil Concentration: Eau de Cologne
Fragrance Type: Citrus Floral
Release Date: 2010
Target Audience: Unisex(Scent Grail's opinion)
Most dominant notes: Bergamot, Neroli, and Musk
Age Group: 25+
Seasons: Spring and Summer
Occasions: Professional, and Leisure
Wearability: Experienced
Longevity and Sillage: 6 – 8 hours of longevity with moderate sillage
The recommended number of sprays: 4 to 6
My Bottle's Batch Code: 2539X
OFFICIAL NOTES
Top notes: Lemon, Orange, Bergamot, Mandarin, Grapefruit, Neroli, Petit Grain
Heart notes: Rosemary, Lily of the Valley, Rose Accord, Jasmine Accord, Cloves
Base notes: Vetiver, Patchouli, White Musk, Amber
Perfume Presentation
Acqua di Parma Colonia Essenza Eau de Cologne's presentation is directly inspired by original Colonia from 1916 and comes in Art Deco style flacon.
The black and white colors could mislead potential customers since there is nothing black and white in this perfume.
Bottle
The perfume is secured in a cylindrical shaped bottle with a opaque black glass mat finish.
The black and white label with product information is distinct and elegant at the same time. I think that this color scheme gives you a nice hint of what kind of juice you can expect.
That's of course the formal affair with the most expensive Armani suit. The cap is plastic but heavy, and the atomizer is one of the best in the game.
Probably for the best since in this case, more is actually better.
On the bottom of the bottle, you'll find your standard sticker with information such as:
Batch Code
Perfume Oil Concentration
Bottle Size
Box
The beautiful and heavy bottle is accompanied by a black and white cylindrical "cardboard-like box". I feel that this design separates Acqua di Parma from many other companies, but I'm not sure do I like it that much.
Thing is, this kind of "box" has a high chance of getting damaged if not handled correctly.
What is your experience with ADP boxes? Since this is a niche brand(I'll give them the pass for other products), the box should be better crafted and secured.
And let's not forget that the bottle has a high chance of slipping out if you accidentally take the box turned upside down. So yeah, please be careful.
My Experience With Perfume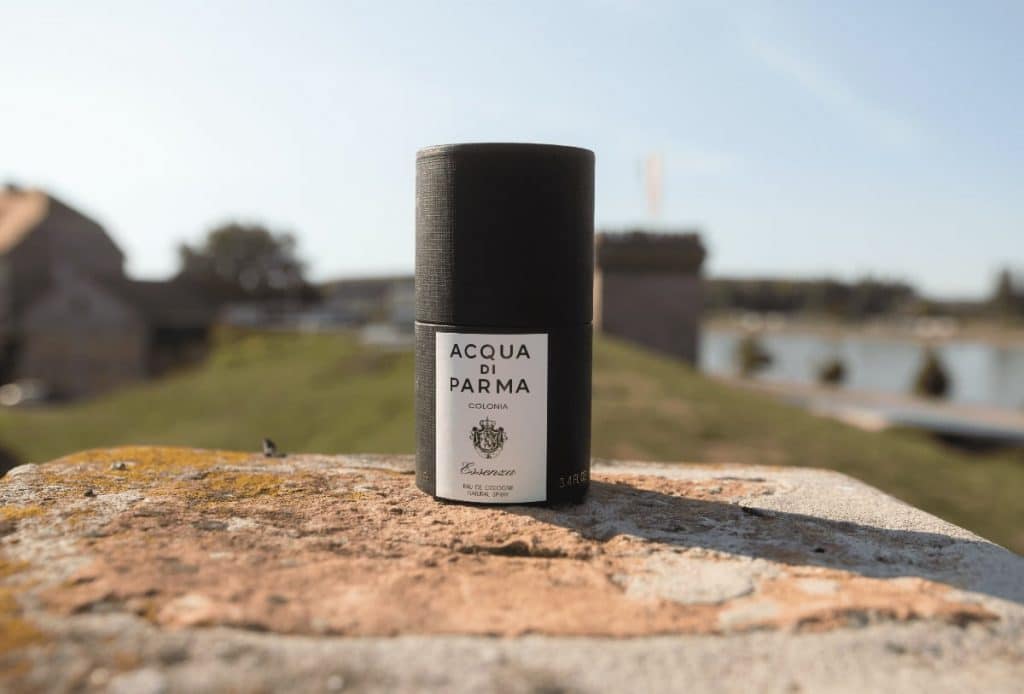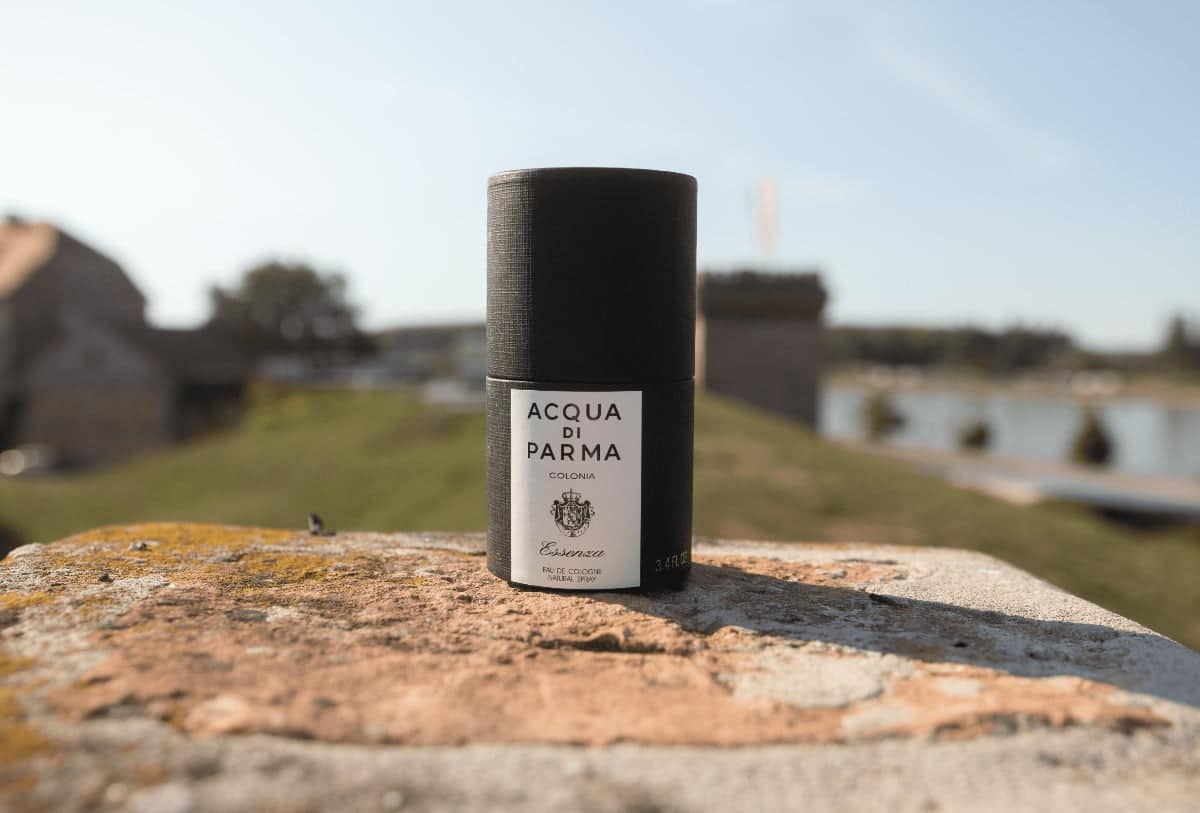 Now we come to my favorite part of the Acqua di Parma Colonia Essenza review, and that's the perfume smell and development.
I'm gonna be straight with right now. I think that Colonia Essenza is a masterpiece and a signature perfume for those who don't mind Neroli and few other flowers in their perfume.
It doesn't smell feminine, and there is nothing wrong with that even if it did. I rock Shalimar, Black Orchid Chanel No.5, and Ysl Opium proudly, and I'm yet to receive a "you smell like a girl" comment.
Still, I do think that it requires a more let's say "timeless taste". Neroli is usually associated with well-groomed gentlemen from the bygone days.
But please, don't let that fool you, for me, Essenza is the smell of the Adriatic coast, summer heat in July, and casual walks at the sunset.
Opening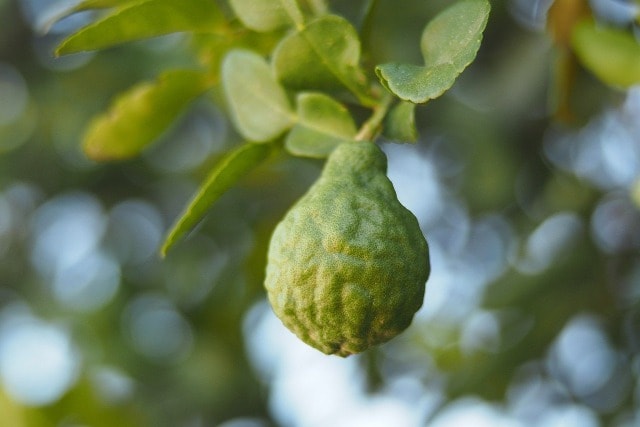 Lemon, Orange, Bergamot
Mandarin, Grapefruit
Neroli, Petit Grain
The scent opens up with the burst of mature Lemons, and Grapefruits. The backbone of fresh mandarin orange blossom keeps the perfume crisp.
The sharp citrus opening is created to invigorate you for the day ahead of you. The light, green, and citrusy combination of Petit Grain and Neroli are working together gently and are inviting you to Colonia Essenza's mid-development.
Keep in mind that the classical feel which you are getting both from Bergamot and Neroli will change as the perfume progresses.
Classical but not old-fashioned opening enters the mid-stage at around 5 minutes.
Scent development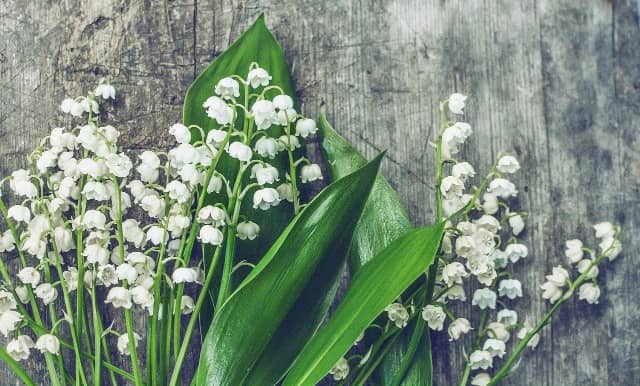 Rosemary, Lily of the Valley
Rose Accord, Jasmine Accord
Cloves
The floral heart gives variety and is a modern interpretation of original creation with few changes here and there.
Unfortunately, I feel that a large number of youngsters could potentially give up on Essenza during this stage. And, its a shame and a crime.
Because at this stage Colonia Essenza is showing its wholehearted glory with a bouquet of various flowers. Which, individually you may dislike, but together, nothing can stop this creation.
Expensive smelling combination of Rosemary, Lily of the Valley, Rose, and Jasmine shine here. The lily of the valley doesn't smell like a grandmother from the 1920s and is less obvious.
For modern-day standards, less feminine than it's the originator. Cloves are non-existent in this perfume, so those cannot stand this note will be pleased to hear this.
All-in-all the mid-development phase is well-rounded, balanced, and the perfume has lost its sharpness. As the drydown approaches, the fragrance settles down by giving Neroli the forefront.
Drydown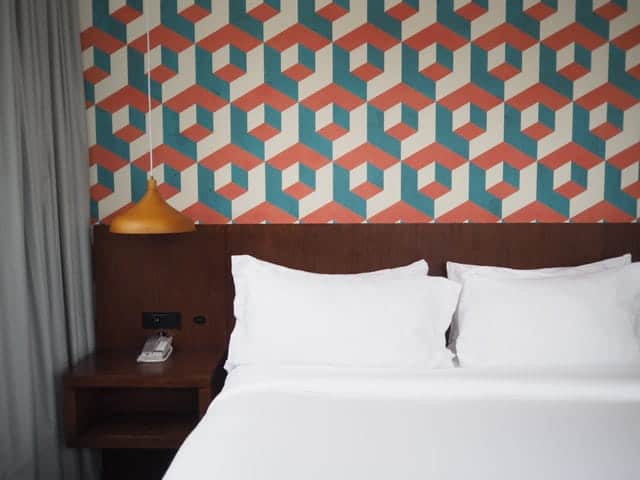 Vetiver
Patchouli
White Musk
Amber
After about two hours, the perfume has settled down. Beautiful White Musk and Neroli give the overall feel of modern luxury soaps and clean sheets.
At this stage, flowers from the mid are completely gone and this is the best part of Essenza. I can imagine a well-dressed and groomed man with a white shirt walking into the sunset as the waves gently kiss the beach.
As the bottle suggests, Colonia Essenza is not black and white perfume, and it has distinct stages. More experienced noses will also pick Patchouli and Oakmoss hiding beneath that gentle sea.
Performance
Colonia Essenza longevity is about 6 – 8 hours with moderate sillage. That kind of performance is something many other EDC would wish to have. And truthfully, many of ADP's as well.
I recommend using this fragrance in heat during the day on white clothing, as its best parts tend to shine in those conditions. In the colder weather, fragrance gets more muted and "wet".
Target Audience and Compliment Factor
Essenza is a conservative perfume, fresh, and cool character. It is a perfume which you wear for yourself to enjoy. I'm yet to receive a compliment for it, but that doesn't bother me.
Sometimes, we need to wear this kind of perfume to remind us what's truly important. Men over 30 years will be right at home with this one. As for ladies, please skip all the marketing nonsense, and give Essenza a try.
It is a complete unisex perfume in my opinion.
Dresscode and Occasions
Professional and casual occasions are your best friend here. While its a conservative fragrance, summer vacation is made for Essenza.
Enjoying your time at the beach, short trips to National Parks to feel the nature, and family lunch at the expensive restaurant.
It is insanely versatile and would fit right into any of those occasions and more. It goes well with a white shirt and blue jeans.
Pros & Cons
Let's check out some pros and cons of Essenza.
PROS
Incredibly Versatile
One of the best summer perfumes on the market
Affordable and natural smelling juice
The bottle looks fantastic and distinct
Made by master perfumer Michel Almairac
CONS
Can feel "old" to younger noses
Spotty sillage
Shines only in the hot weather
Questionable box quality
Availability and beauty products
Colonia Essenza perfume and accompanying products are widely available. Unfortunately, this wasn't the case in some parts of the world until a few years ago.
Here are some Essenza products in which you may be interested:
Colonia Essenza S.P.A. Signature Factor Guide
As with every perfume that gets reviewed on the Scent Grail perfume blog, Essenza is getting the Signature Factor Guide treatment.
For those who are new and not yet familiar with this guide, this guide was created to ease your life in search of signature perfume.
S.P.A. Signature Factor is the easiest and the most relevant perfume guide on the web. By answering simple 10 questions, you'll get the idea if you should check out the particular perfume.
So, feel free to download the guide and share your results in the comment section below.
Similar Perfumes
Neroli is widely used perfume note, and I guess, most of us have experienced this scent aroma during our life.
While this statement is true, not all Neroli-oriented perfumes are equal, nor do they have the same quality. Essenza is in that 1% top tier echelon of Neroli perfumes and as the years pass by, it only gets more popular.
Now, let's see the popular alternatives to Colonia Essenza:
Tom Ford Neroli Portofino – the most popular alternative to Essenza and in the same quality range as ADP. African Orange Flower is the most dominant note.
4711 by Muelhens – the granddaddy of the Neroli splash colognes. Due to its affordability, I would highly suggest that you start your Neroli journey with this one.
John Varvatos Artisan Pure – if you like sharp, woody, and citrusy oranges, this one is worth trying out. Also stands as one of the fragrance community most hyped summer perfumes.
Ferrari Bright Neroli – Bright Neroli is also one of the most cherished fragrance community summer alternatives to Colonia Essenza and Neroli Portofino with an affordable price tag.
Acqua di Parma Colonia – the list couldn't be completed without the original that started it all. The composition is somewhat different, but Colonia's DNA runs strong tough Essenza.
Acqua di Parma Colonia Essenza Review Conclusion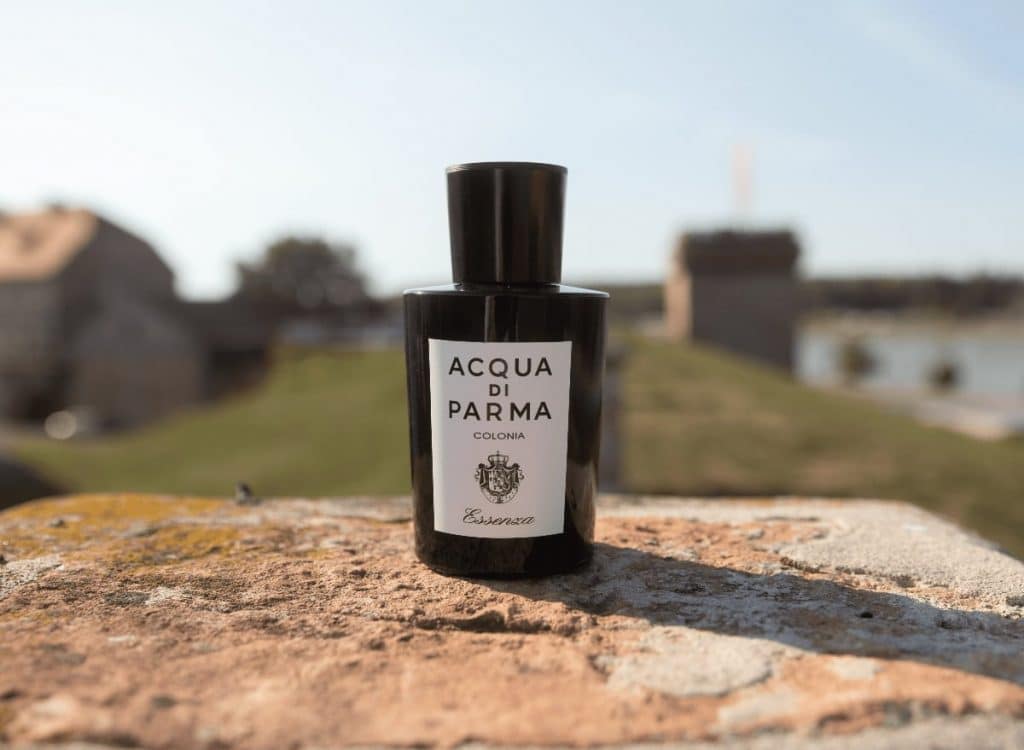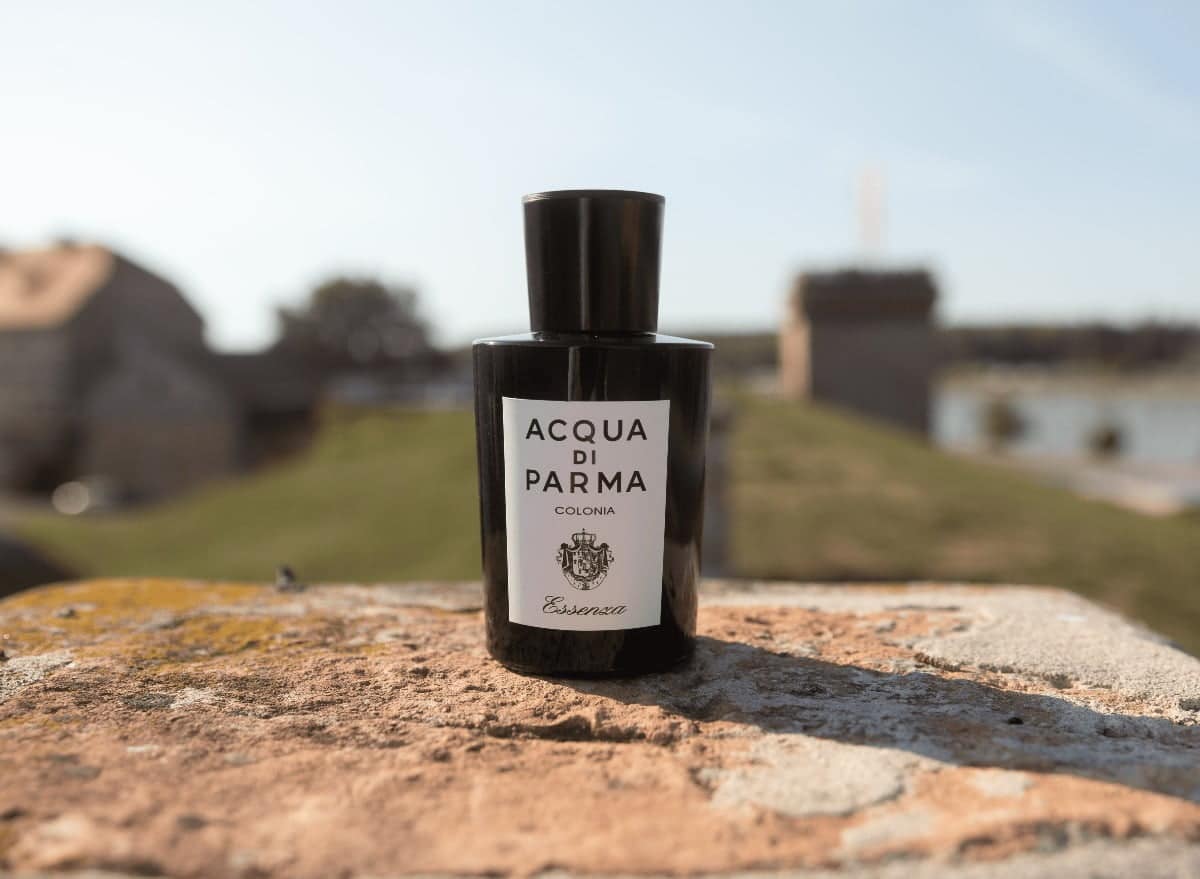 I hope that you have enjoyed this review as much as I did while creating it. Acqua di Parma Colonia Essenza is a perfume that every man(and woman) should at least try out.
A masterpiece and true holy grail signature perfume. What are your thoughts about Colonia Essenza? And hey, please share have you used any other perfumes from Acqua di Parma house.
Feel free to check some of my other recent articles:
You can purchase Acqua di Parma Colonia Essenza via the button below.
Best, Marin!
#scentgrail #scentgrailtribe
Your number one resource for Holy Grail Signature Scents.

– Marin Kristic