It is no secret that Tom Ford perfumes and Tom Ford clothing have taken over the fashion world in the last decade and a half.
Thomas Carlyle Ford has done it all. One of the most celebrated American fashion designers, and the biggest designer name in the 21st century is associated with luxury, bold and controversial commercials, and most importantly – exclusiveness.
When it comes to Tom Ford perfumes, the story is the same. It is no secret that the Tom Ford fragrances are the most sought and loved fragrances in the world.
The secret – high-quality ingredients, unified and recognizable Tom Ford bottle design, and the right kind of marketing. Even with his clothing, Tom Ford has always played on the card of sexual fantasies or better said, provocation and the desire itself.
The guy has even dressed Daniel Craig in the last couple of James Bond movies. Can you get cooler than that? I guess not.
You simply cannot go wrong with Tom Ford fragrances, and as someone who has always tried to keep this blog on a more personal and grounded level, I'm not gonna hide and openly say that I believe the Tom Ford brand is to the fragrance world what Chanel used to be in the 20th century.
Here's what you will learn in this ultimate guide:
Top 10 list – men's, women's, and unisex selection
Tom Ford Brand History
Tom Ford Perfume Collection
How to buy Tom Ford perfumes
How to wear perfumes
Different fragrance families
Besides the obvious suspects, I have added a couple of the best-hidden gems from the brand that are often overlooked. Come and see why should you join the exclusive Tom Ford Club of sophistication.
Affiliate Disclosure: As an Amazon Associate I earn from qualifying purchases. Purchasing via provided links/banners comes at no additional cost to you. Scent Grail only recommends products and/or services that are insightful and helpful to readers. For more info please read Affiliate Disclaimer.
Top 10 Best Tom Ford Fragrances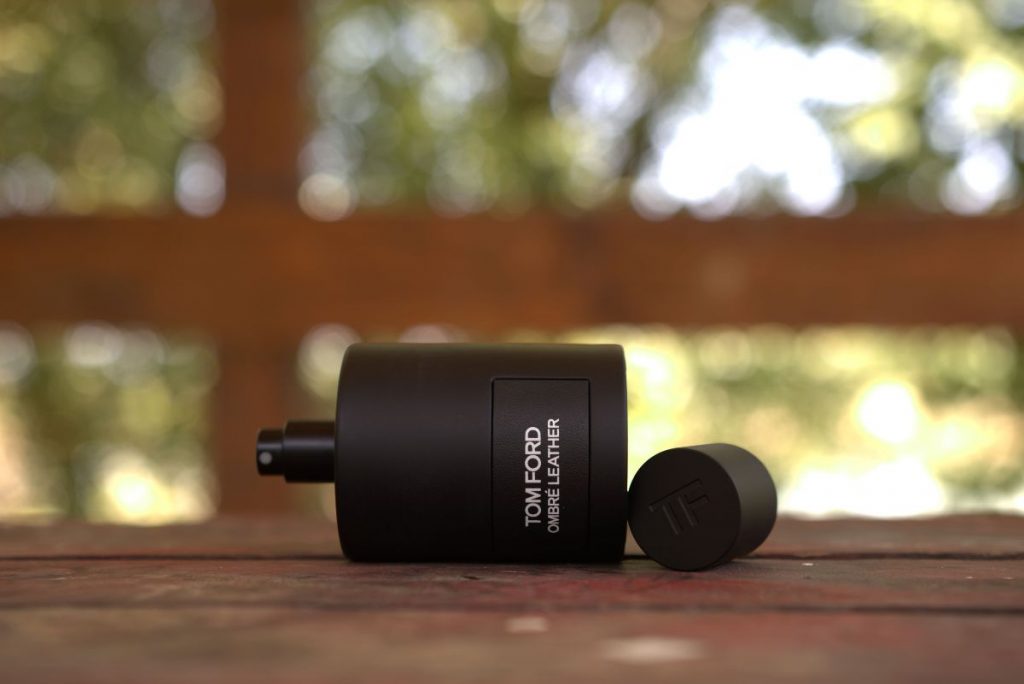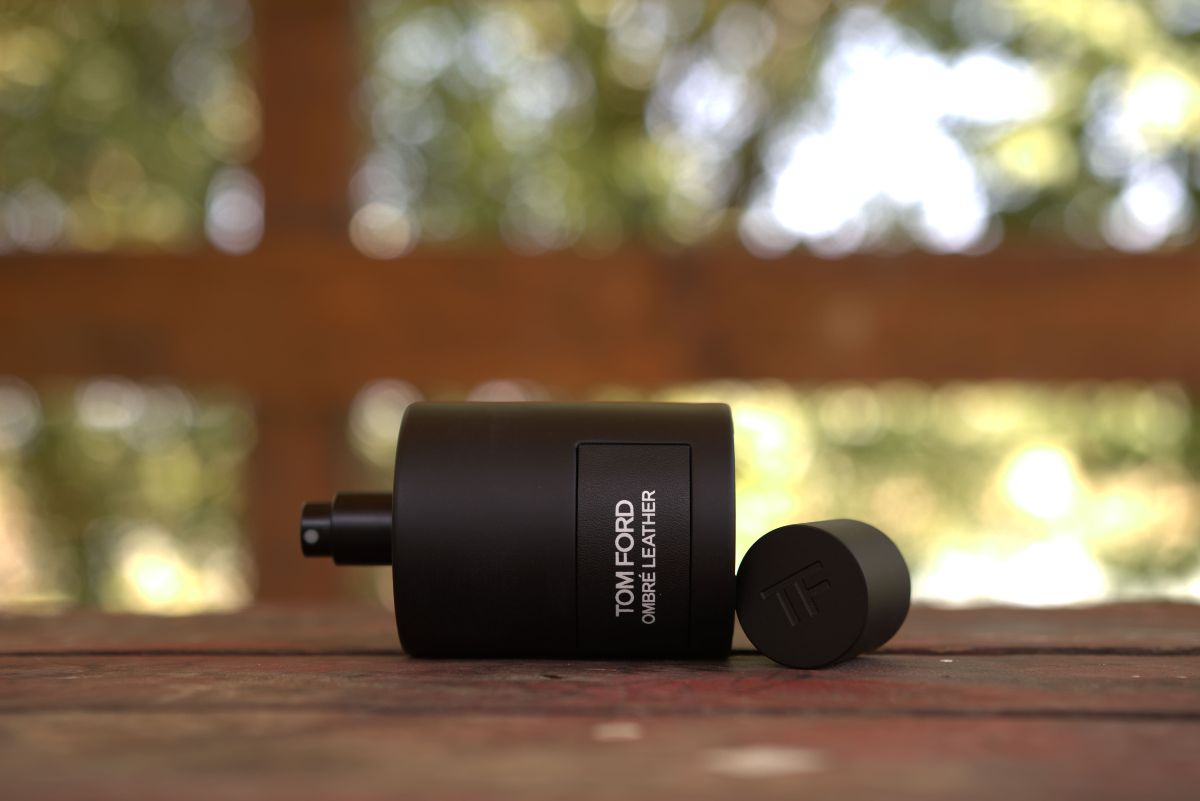 It is hard to include only 10 fragrances and call them the best from a brand that makes such big and bold creative decisions.
I have been rarely disappointed with Tom Ford, and after a serious amount of time of testing numerous Tom Ford fragrances, here are my top 10 everyone should try out.
10. Tom Ford Soleil Blanc
A note from the brand: Tom Ford's Soleil Blanc is an addictive solar floral amber and coco de mer-infused perfume. Alive with seductive cardamom and refreshingly decadent ylang-ylang, Tom Ford's Soleil Blanc unapologetically exudes the endless pursuit of sun and luxury.
Who would like Soleil Blanc: anyone interested in a high-quality fragrance that is an ideal companion to take with you during the summer vacation.
Fresh and floral, the scent will remind you of sunscreen with tuberose as the main note.
This sensual and sun-drenched scent takes the whole idea of summer, lazy beach days, and cocktail nights, and infuses it into a liquid. Genius.
Perfumer: Nathalie Gracia-Cetto
Perfume Oil Concentration: Eau de Parfum
Fragrance Type: Sweet Floral
Release Date: 2016
Most dominant notes: Coconut, Ylang-Ylang, andTuberose
Target Audience: Unisex
Age Group: 18+
Seasons: Spring and Summer
Occasions: Leisure, Vacation
Longevity and Sillage: 4 – 6 hours with moderate projection
Compliments: High
Likeability: High
Uniqueness: 4/5
Value for money: 8/10
Accords: Sweet, White Floral, Oriental
9. Tom Ford Metallique
A note from the brand: Forged with elegant brilliance, Tom Ford Metallique mesmerizes its admirers with a pulsating flash of modern, resolute femininity, willful, luminous and in full bloom. A high-shine armor of addictive aldehydes envelop its reverberating core of sensuous white flowers, like a metal venus in fleurs.
Like an armored embroidered dress, the metallic sheath of lighter-than-air aldehydes opens the scent like a second skin, the collision of crisp vert de bergamote and pink peppercorn further steeling the insatiability of the first impression.
Beneath its cool veneer, Metallique's floral heart is amplified by juxtaposing delicate white blossoms of aubepine and muguet with the narcotic-like nectar of heliotrope.
An aura of ambrette seed imparts warmth with woody inflections of Peru balsam. The soft scent of vanilla and creamy sandalwood layer an addictive, contrasting finish that further drives the metallic suiting of the open.
Who would like Metallique: An vanilla-dominated oriental scent with an aldehydic twist. Aldehydes became popular with Chanel No. 5 and give off a "second-skin" type of smell combined with airiness and a touch of oranges.
Bursting with elegance, refinement, and vigor, Metallique will appeal to modern women looking for something unique and wearable as a daily scent.
Due to the transparent but lasting nature of this fragrance, ladies who want to leave an impactful first impression with this likable but odd perfume.
Perfumer: n/a
Perfume Oil Concentration: Eau de Parfum
Fragrance Type: Floral Aldehyde
Release Date: 2019
Most dominant notes: Aldehydes, Vanilla, and Ambrette
Target Audience: Women
Age Group: 30+
Seasons: Spring, Fall, and Winter
Occasions: Leisure, Business, Night Outs
Longevity and Sillage: 6 – 8 hours with moderate projection
Compliments: Medium
Likeability: Medium
Uniqueness: 4/5
Value for money: 8/10
Accords: Aldehydic, Oriental, Powdery
8. Tom Ford Grey Vetiver Eau de Parfum
A note from the brand: With its elegant and refined heart of natural vetiver superbly blended with sun-drenched citrus, rich spices and prized woods, Tom Ford Grey Vetiver captures the essence of debonair, charismatic and provocative masculinity.
Who would like Grey Vetiver: One of if not the best vetiver-based fragrances on the market.
Fits anywhere and is wearable during the whole year as a signature scent. Grapefruit infused with spices slowly transitions to the masculine and modern vetiver and oakmoss base.
Professionally elegant vetiver that never becomes sweet or juvenile. Minimalistic and austere in a pleasant way, and versatile scent for the workplace with a perfect amount of longevity and projection.
Perfumer: Harry Frémont
Perfume Oil Concentration: Eau de Parfum
Fragrance Type: Citrus Woody
Release Date: 2009
Most dominant notes: Grapefruit, Vetiver, and Oakmoss
Target Audience: Men
Age Group: 30+
Seasons: Any season
Occasions: Leisure and Business
Longevity and Sillage: 10 – 12 hours with moderate projection
Compliments: Medium
Likeability: Medium
Uniqueness: 4/5
Value for money: 9/10
Accords: Citrus, Woody, Aromatic
7. Tom Ford Lost Cherry
A note from the brand: Lost Cherry's candy-like gleam of exotic black cherry and liqueur, touched with teasing almond, gives way to a Turkish rose and jasmine sambac blend that penetrate the senses. The full-bodied perfume attains fantasy-like levels of insatiability.
Like the plump fruit waiting to be eaten, Lost Cherry is powerful and insatiable. Notes of cherry liqueur and a touch of bitter almond drip into its heart, glossing it with candy-like gleam. –Tom Ford
Who would like Lost Cherry: Well, that name almost says it all. Bitterly sweet with cherry-covered almonds, the fragrance transitions into the warm and full-bodied vanillic and underlying touch of the boozy base.
The scent itself is not as long-lasting as some other Tom Ford offerings, yet while it lasts it's one of the most beautiful clubbing scents you can wear today.
To my nose, the scent comes more feminine than masculine and is very addicting. The most interesting and intriguing fragrance I smelled lately. Use it carefully and use it well.
Perfumer: Louise Turner
Perfume Oil Concentration: Eau de Parfum
Fragrance Type: Fruity Oriental
Release Date: 2018
Most dominant notes: Sour Cherry, Bitter Almond, and Liquor
Target Audience: Unisex
Age Group: 18+
Seasons: Fall and Winter
Occasions: Leisure and Night Outs
Longevity and Sillage: 4 – 6 hours with moderate projection
Compliments: High
Likeability: High
Uniqueness: 5/5
Value for money: 9/10
Accords: Fruity, Sweet, Oriental
6. Tom Ford Neroli Portofino
A note from the brand: To Tom Ford, this scent perfectly captures the cool breezes, sparkling clear water and lush foliage of the Italian Rivera. His reinvention of a classic eau de cologne features crisp citrus oils, surprising floral notes and amber undertones to leave a splashy yet substantive impression.
Who would like Neroli Portofino: A classic take on the familiar Colonia and 4711 splash colognes with Tom Ford quality. Neroli, musk, and citruses blossom with
One spritz from Neroli Portofino immediately takes me back to my summer vacations on Adriatic, enjoying an easy and carefree life.
There is truly something special about this kind of cologne that can make such a transportive impression. Fresh and clean, it makes me smile each time.
Perfumer: Rodrigo Flores-Roux
Perfume Oil Concentration: Eau de Parfum
Fragrance Type: Citrus Floral
Release Date: 2011
Most dominant notes: African Orange flower, Bergamot, and Neroli
Target Audience: Unisex
Age Group: 25+
Seasons: Spring and Fall
Occasions: Any occasion
Longevity and Sillage: 4 – 6 hours with moderate projection
Compliments: Low
Likeability: Medium
Uniqueness: 3/5
Value for money: 8/10
Accords: Aromatic, Green, Floral
5. Tom Ford Costa Azzurra
A note from the brand: Costa Azzurra captures the easy sensuality of a purely uninhibited escape. The exhilarating aroma of sea air, fresh aromatic notes, evergreens and citrus set the scene and mingle with deeper woody scents – a crisp medley of cypress, oaks and aromatics.
Who would like Costa Azzurra: The latest re-issue of Costa Azzurra has to be one of the finest perfume surprises I had in the last couple of years.
Forget the notes, this is how you do a proper semi-aquatic summer perfume. The scent is composed of juicy citruses at the top, gentle woods in the heart, and sea-salty incense in the base.
If I had to compare Costa Azzurra to other fragrances and what it reminds me of, it would be a mix of Giorgio Armani Acqua di Gio Profumo and Tom Ford for Men but done better.
The latest signature version of this scent is the same deal as the old and now discontinued Private Blend edition. Get it, and prepare yourself for the summer of your lifetime.
Perfumer: Yann Vasnier
Perfume Oil Concentration: Eau de Parfum
Fragrance Type: Citrus Aquatic
Release Date: 2014
Most dominant notes: Driftwood, Lemon, and Seaweed
Target Audience: Unisex
Age Group: 20+
Seasons: Spring and Summer
Occasions: Any occasion
Longevity and Sillage: 6 – 8 hours with moderate projection
Compliments: High
Likeability: High
Uniqueness: 4/5
Value for money: 10/10
Accords: Aromatic, Woody, Aquatic
4. Tom Ford Black Orchid Eau de Parfum
A note from the brand: A luxurious and sensual fragrance of rich, dark accords and an alluring potion of black orchids, and spice, Tom Ford's Black Orchid is both modern and timeless. Bottled in fluted, black-glass, black orchid makes an unforgettable statement of iconic style and worldly glamour.
Who would like Black Orchid: Black Orchid is different from every other fragrance in the world and instantly recognizable by fragrance lovers.
It will leave an opinion on you. Good or bad. Personally, I think that Black Orchid is the best women's fragrance of all time, and potentially, in the Top 5 of all time as well.
It's for an elegant, classy woman with a firm hold on her life, and is not afraid to make tough decisions.
Chocolate, truffles, patchouli, and orchid make it a fantastic combination without smelling like typical designer perfume.
This super-performing fragrance is not for everyone, and neither should be. Smooth, powerful, and one of those boss-type scents that should be discovered and enjoyed. For hedonists only.
Perfumer: David Apel
Perfume Oil Concentration: Eau de Parfum
Fragrance Type: Floral Oriental
Release Date: 2006
Most dominant notes: Dark Chocolate, Truffle, and Patchouli
Target Audience: Women
Age Group: 25+
Seasons: Fall and Winter
Occasions: Business and Night Out
Longevity and Sillage: 12+ hours with great projection
Compliments: High
Likeability: High
Uniqueness: 5/5
Value for money: 10/10
Accords: Spicy, Floral, Oriental
3. Tom Ford Oud Wood
A note from the brand: A composition of exotic, smoky woods including rare oud, sandalwood, rosewood, eastern spices, and sensual amber, revealing oud wood's rich and compelling power.
Smoky, incense-filled temples and a passion for rare, precious oud wood inspire Tom Ford's pioneering composition of exotic woods and spices. "Oud wood envelops you in rare oud, exotic spices and cardamom then exposes its rich and dark blend of sensuality." – Tom Ford
Who would like Oud Wood: Possibly the most popular Tom Ford fragrance of all time, Oud Wood is a Western take on the Oud genre that used to be very popular back in the 2010s.
The main reason why Oud Wood retained its popularity is because of not really being an Oud fragrance, but rather an impression of sacred wood.
Cardamom and tamed oud run through this magnificent and addictive composition mixed with romantic elements of vanilla and Brazilian rosewood that sits on the bed of creamy sandalwood.
Oud Wood is best worn on colder days of spring, autumn, and milder winter days as a signature scent.
Perfumer: Richard Herpin
Perfume Oil Concentration: Eau de Parfum
Fragrance Type: Woody Spicy
Release Date: 2007
Most dominant notes: Cardamom, Sandalwood, and Oud
Target Audience: Unisex
Age Group: 20+
Seasons: Fall and Winter
Occasions: Business and Night Outs
Longevity and Sillage: 6 – 8 hours with moderate projection
Compliments: High
Likeability: High
Uniqueness: 4/5
Value for money: 10/10
Accords: Woody, Spicy, Aromatic
2. Tom Ford Tobacco Vanille
A note from the brand: Tom Ford reinvents classic tobacco with creamy tonka bean, vanilla, cocoa, dry fruit accords and sweet wood sap – for a modern, opulent and heady impression of confidence and power.
"Tobacco Vanille is opulent, warm and iconic. Reminiscent of an English gentleman's club and blended with rich spices, vanilla and tobacco flower, it leaves a powerful impression." –Tom Ford
Who would like Tobacco Vanille: A unique and revolutionary vanilla fragrance, unlike anything you have smelled before.
The rich bourbon vanilla will leave you breathless. Warm with just the right amount of sweetness. Tobacco is not your typical green or cigarette smoke type, but rather pipe tobacco that gives vibes of the rich and full-bodied scent of a sweet and cured type of smell.
A number one Christmas and winter holiday perfume with out-of-this-world performance. What struck me the most is the scent's ability to teleport me to Christmas Fairs and all associated with them. Vanilla-rich pastries, hot wine, and that general feeling of warmth.
Perfumer: Olivier Gillotin
Perfume Oil Concentration: Eau de Parfum
Fragrance Type: Spicy Oriental
Release Date: 2007
Most dominant notes: Tobacco, Vanilla, and Spices
Target Audience: Unisex
Age Group: 20+
Seasons: Fall and Winter
Occasions: Romantic, Clubbing, Night Outs
Longevity and Sillage: 10 – 12 hours with great projection
Compliments: High
Likeability: High
Uniqueness: 5/5
Value for money: 10/10
Accords: Oriental, Sweet, Woody
1. Tom Ford Ombré Leather
A note from the brand: The tactile sensuality of rich black leather, textured with addictive patchouli and vetiver, envelops like second skin. The perfume's floral tones of jasmine sambac conjure wild desert beauty, while layers of amber and moss mimic the heat of rock and sand.
"Ombré Leather is a deeply textural scent that imprints you with a tactile sensuality. It makes one feel different, beautiful and desired." – Tom Ford
Who would like Ombré Leather: Alright, hear me out. I know there is no Tuscan Leather here on the list, and we all know that Tuscan Leather is probably the best fragrance Tom Ford has ever released, but here's why:
I believe that Ombre Leather is the best marketing decision Tom Ford has ever done. First, Ombre Leather 2016 was very close to Tuscan Leather with the same price point, and it got discontinued in favor of placing it into a new release as a Signature line fragrance for an affordable price.
Thus, we have Ombre Leather 2018. A cleaner Tuscan Leather with better performance than the original. What can you ask more? You can read my full review here to find out why everyone should own Ombre Leather in their collection.
Perfumer: Sonia Constant
Perfume Oil Concentration: Eau de Parfum
Fragrance Type: Leather Spicy
Release Date: 2018
Most dominant notes: Leather, Cardamom, and Amber
Target Audience: Unisex
Age Group: 20+
Seasons: Fall and Winter
Occasions: Business and Night Outs
Longevity and Sillage: 24+ hours with great projection
Compliments: High
Likeability: High
Uniqueness: 5/5
Value for money: 10/10
Accords: Leather, Amber, Spicy
Tom Ford Brand and Perfume History
Tom Ford is an American luxury fashion house founded by fashion designer and filmmaker Tom Ford in 2005.
Along with fragrances, the brand also offers cosmetics, footwear, ready-to-wear and made-to-measure, and other offerings.
Born August 27, 1961, in Austin, Texas, U.S.A., Thomas Carlyle Ford studied at Bard College at Simon's Rock and art history at New York University from which he both dropped out to focus on acting in television commercials.
He graduated in 1986 with a degree in interior architecture from Parsons School of Design at the New School in New York City.
Ford's breakthrough in the '80s and '90s was working as an in-house designer for Perry Ellis and chief women's ready-to-wear designer for Gucci before being appointed as Creative Director at the same brand in 1994.
Ford's work at Gucci during the early 1990s was mostly behind the scenes, and most of his contributions were overshadowed by Dawn Mello who was Gucci's public face during those years.
Ford's five-year period as the Creative Director at Gucci was remembered as the brand's resurgence to lost glory, and by the time Gucci was acquired by Yves Saint Laurent in 1999, the company was valued at more than $4 billion.
During his time as creative director for Yves Saint Laurent(1999 – 2004), where he was also Creative Director, Ford won numerous Council of Fashion Designers of America Awards, introduced numerous new styles such as controversial shaving the letter G in a model's pubic hair and pulling the classic fashion house back into the mainstream.
Ford was also creatively involved in creating the two brands most famous fragrance releases that are still praised as one of the best fragrances ever released and now discontinued:
Gucci Pour Homme 1
Gucci Pour Homme 2
Gucci Envy for Men
Gucci Rush for Men
Yves Saint Laurent M7
Yves Saint Laurent Rive Gauche Pour Homme
Tom Ford departed Yves Saint Laurent in 2004 to start his own brand named Tom Ford SA in 2005 as a venture between Ford and his business partner Domenico De Sole with the launch of a cosmetics line.
During the same year, Ford announced his partnership with Marcolin Group to produce and distribute optical frames and sunglasses.
The first Tom Ford flagship boutique opened at 845 Madison Avenue in New York City in 2007. In September 2010, Ford debuted his label's women's ready-to-wear collection with celebrities such as Beyoncé, Julianne Moore, and Lauren Hutton attending the event.
Tom Ford Black Orchid was the first perfume launched under the Tom For Beauty umbrella in 2006. An opulent mix of truffles, orchid, patchouli, and dark chocolate.
A fragrance much praised by women and men all around the world, placing it in the same level of quality as Chanel No. 5 and Guerlain Shalimar.
In 2007, the Private Blend collection of perfumes were introduced by Tom Ford, a line focusing on the niche side of perfumery. More daring and more complex at a higher price point.
Tom Ford has described Private Blend as his "own personal scent laboratory", suggesting that it is okay to mix two or more fragrances to create your own unique scent.
The three most popular creations from that line are:
As of 2017, Tom Ford Beauty is owned by Estée Lauder while the major shareholder of Tom Ford International is still Tom Ford, holding 63.75% of the shares.
Ford has described "the Tom Ford customer" as international, cultured, well-traveled, and possessing disposable income.
Some of the celebrities that Ford dresses are Beyoncé, Jennifer Lopez, Gwyneth Paltrow, Tom Hanks, Johnny Depp, and Ryan Gosling.
Tom Ford has directed A Single Man and Nocturnal Animals.
Tom Ford perfume collection
Tom Ford's fragrance line is divided into two distinctive collections. The more creative and expensive Private Blend and more affordable, yet still original Signature Collection.
In this ultimate guide about Tom Ford perfumes, I'll also cover the sub-collections within those two lines so as to make it easier to choose which Tom Ford fragrance path you wish to tread on.
One thing's for sure, the price range varies and depending on which fragrance line you choose, the price goes from anywhere from 60$ to more than 900$.
Does it mean that if something is expensive it's better? Not always, and my number one choice comes from the Signature line.
Please keep in mind that you can wear whatever you want. No matter what it says on the perfume sticker. To put it plain and simple, that's just marketing. Man or woman, you can wear each and every fragrance from this list.
I don't think any other fragrance brand has come so close with their scents being unisex, as Tom Ford did. One more reason for you to try them out.
Let's take a closer look at Tom Ford's perfume range.
THE PRIVATE BLEND

The Private Blend range was introduced in 2007 in Tom Ford's own words: "Private Blend is my own personal scent laboratory; it's where I have the ability to create very special, original fragrances that are unconstrained by the conventions of mainstream scent-making."
The original collection consisted of the following fragrances:
Oud Wood
Noir de Noir
Tobacco Vanille
Tuscan Leather
Amber Absolute
Velvet Gardenia
Black Violet
Purple Patchouli
Bois Rouge
Moss Breches
Neroli Portofino
Japan Noir
This unisex range is meant to be layered one with another and thus, creating your own distinguish scent profile.
Highly-priced and targeted to perfume connoisseurs and to all who want to experience true niche perfumery, The Private Blend will amaze you and open your eyes to what can be achieved in modern perfumery.
Praised by fragrance lovers, actors, musicians, and people in all other sorts of industries, Private Blend fragrances just work.
High-quality ingredients, exclusive, sophisticated, open-minded ideas blended into fragrances, superb complexity, and much more. There is something for everyone here.
What's even better, you can find this range in almost any high range fragrance department store. It is all in the name of the fragrance. Each fragrance begins with the extract from a single note such as leather and vanilla.
If we want to go even further, Oud Wood, Tuscan Leather, and Tobacco Vanille are widely regarded as the best fragrances ever released.
THE SIGNATURE COLLECTION
Fragrances from the Signature Collection bring Tom Ford luxury to a wider mainstream audience and are more approachable in some cases.
This doesn't mean that these fragrances are of lower quality or not worth seeking out, but sit in the designer price range to compete with the other big fragrance brands such as Dior and Hermes.
The compositions are tight, blended to perfection, and punch way above the price point. I recommend starting with this collection if you are new to the brand to get the gist and idea of where to go next.
The first-ever released fragrance from Tom Ford was Black Orchid in 2006 and comes from the Signature line. It was developed by having a grower create the darkest flower possible and then adding black truffle, lotus wood, bergamot, and vanilla.
To this day, Black Orchid stands as the pinnacle of modern women's perfumery.
EXCLUSIVES
The even highly-priced Private Blend of exclusive fragrances are composed of currently four perfumes, usually found in Tom Ford boutiques, some duty-free shops, and on Tom Ford web site:
Bitter Peach
Lost Cherry
Rose Prick
F*cking Faboulos
No, you are not imagining it. It is a play on words.
NOIR
In the Signature line, the Noir sub-collection has four different seductive fragrances: Noir Eau de Toilette, Noir, Eau de Parfum, Noir Extreme for Men and Women, and Noir Anthracite. Suitable for nightwear, glamorous black-tie events, and business wear.
EDT and EDP are dark, woody, and floral fragrances, while both Noir Extreme's are sweet and spicy scents. Anthracite is smokier with exotic characters.
OUD
Spicy and woody Oud Wood is Tom Ford's most popular fragrance and the scent with its own line within the Private Blend. Other three fragrances that make the line are Oud Minerale with an aquatic take on the woody formula, and Tobacco Oud, the most daring of the three, focusing on the dark tobacco note and oud. Oud Fleur takes a different approach with the inclusion of florals and focusing on the rose note.
PORTOFINO
Purely designed as the option for summer usage, vacations, and those good times when you want to be reminded of the most relaxed part of the year.
Neroli Portofino, Neroli Portofino Acqua, Fleur de Portofino are composed of citruses, herbs, and light musks to made your day sunny and bright. It is also the only range in the Private Blend that's more affordable.
How to buy Tom Ford perfumes
Tom Ford has released more than 100 fragrances, and you may find yourself overwhelmed to pick the best one from the bunch.
Here are my tips on how to narrow down the list:
Think about how much you wish to spend
Around 100$ – 150$ – start with the signature line/Noir EDP
More than 150$ – start with the private blend/Tobacco Vanille
Interested in woody scents? Sample fragrances from Oud line and include Grey Vetiver
Interested in fresh scents? Sample Costa Azzurra and Neroli Portofino line
Love floral perfumes? Your best bet are Rose Prick and Black Orchid
Don't stop exploring, and enjoy the wonderful aromas of each fragrance. None of them are dull, and each brings something new to the table.
How to wear perfumes
At the first glance, perfume may seem like scented alcohol-water you spray onto yourself and that's it. Still, it takes a little finesse to learn how to wear perfume correctly.
If you have ever wondered why your perfume may only last about an hour or two, the reason may be that you are not wearing your perfume the best way. Here are my favorite tips&tricks on how to wear your favorite fragrances:
1. CHOOSE THE RIGHT CONCENTRATION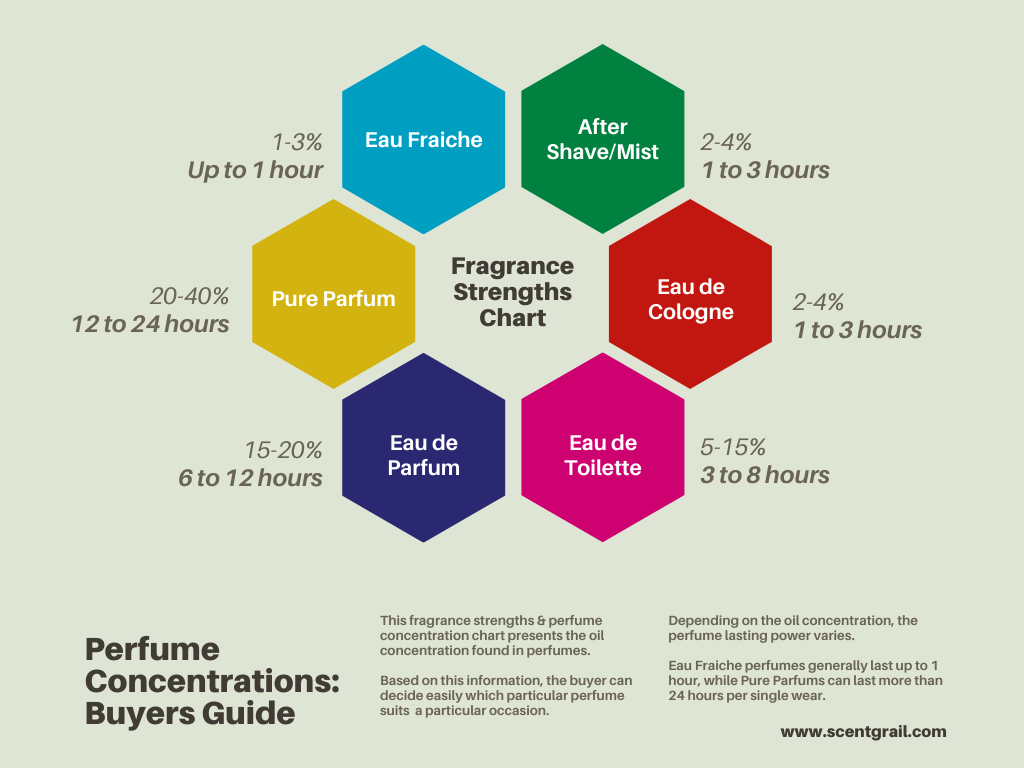 One of the most important things to do when you find your favorite perfume is to choose the right perfume concentrations and learn more about fragrance strengths.
These two terms refer to raw material oil concentration. By knowing that, these concentrations vary from perfume to perfume and affect sillage and projection, along with some other subtle things.
All fragrant products fall into some of these main categories:
Eau Fraiche 1-3%
After Shave/Mist/Splash 1-3%
Eau de Cologne 2-4%
Eau de Toilette 5-15%
Eau de Parfum 15-20%
Pure Parfum/Extrait de Parfum 20-40%
Thus, you'll be pleased to know that most of your perfumes come either in Eau de Toilette or Eau de Parfum concentrations.
2. FINDING A PERFECT FRAGRANCE FOR THE RIGHT SEASON AND OCCASION
Another important point you should consider before buying a perfume is choosing the right perfume for particular occasions and seasons.
This will greatly depend on your lifestyle, workplace, and in which part of the world you live in. Daytime fragrance usually is lighter, citrusy, effervescent, and lasts less. We usually associate these types of scents with Spring and Summer.
On the other hand, nighttime fragrances are stronger and denser with "heavier" notes. Heavier fragrances and usually associated with the Fall and Winter seasons.

3. SPRAY THE FRAGRANCE ON CLEAN SKIN
The ideal way of wearing the perfume is by applying it directly to the skin. Perfume products are made to best interact with our skin and our body heat.
That's why I don't recommend testing fragrances on test strips that don't show the real picture. The warmest parts of your body will produce the best results and here are six recommended places to spray your perfume:
Spray on top of your ears
Spray behind the ears
Spray on the neck and around the neck area
Spray down your back
Spray down your chest
Spray inside your elbows
4. LESS IS MORE
You have found your favorite perfume, and you are enjoying it to the fullest. Spraying liberally surrounds you with the most beautiful scented cloud. You are happy.
But one day, you notice that the scent bubble has shrunk so much that you barely smell your perfume and now you wonder has your perfume has gone bad or what could be the issue.
If this has happened to you, don't worry you are alone. Many people overspray their perfume, and block their scent receptors. The solution is to not spray more than 2 to 4 sprays maximum.

5. MOISTURIZE DRY SKIN
As we know, oily skin holds onto fragrance better than dry skin. That's why it is a good idea to rub unscented lotion onto your pulse point and the rest of the body before applying perfume.
A small amount is enough and preferably, you should apply oily moisturizer after a shower. This takes us to other great alternatives just below.
Read more about how to wear perfumes here.
Different Fragrance Families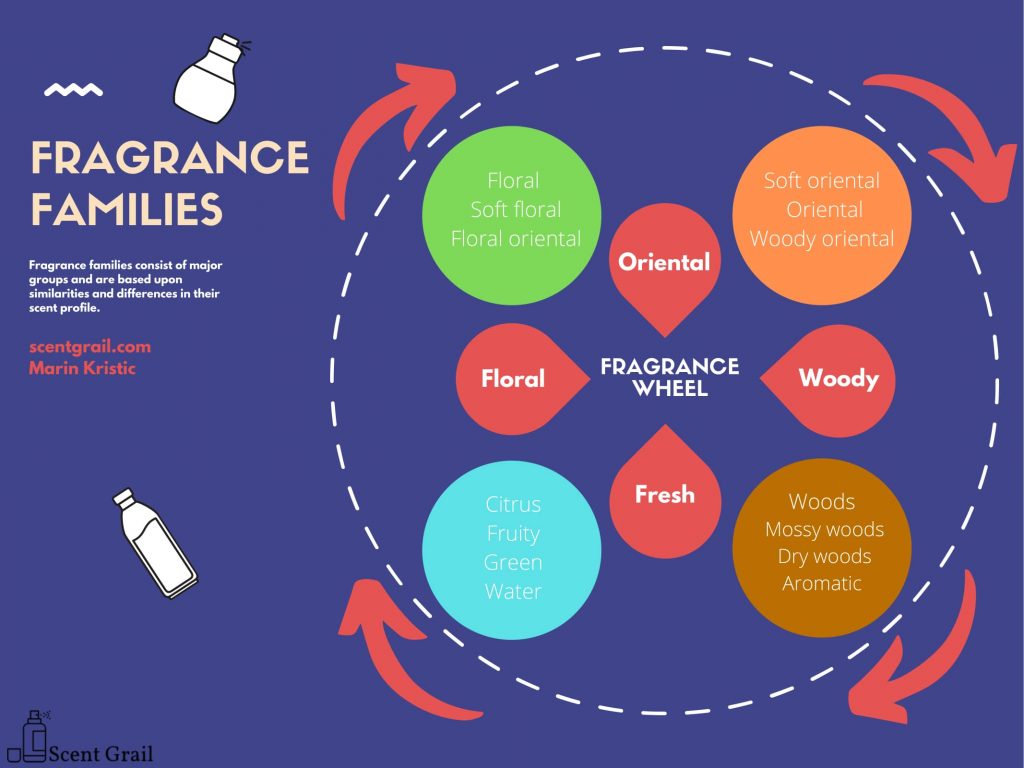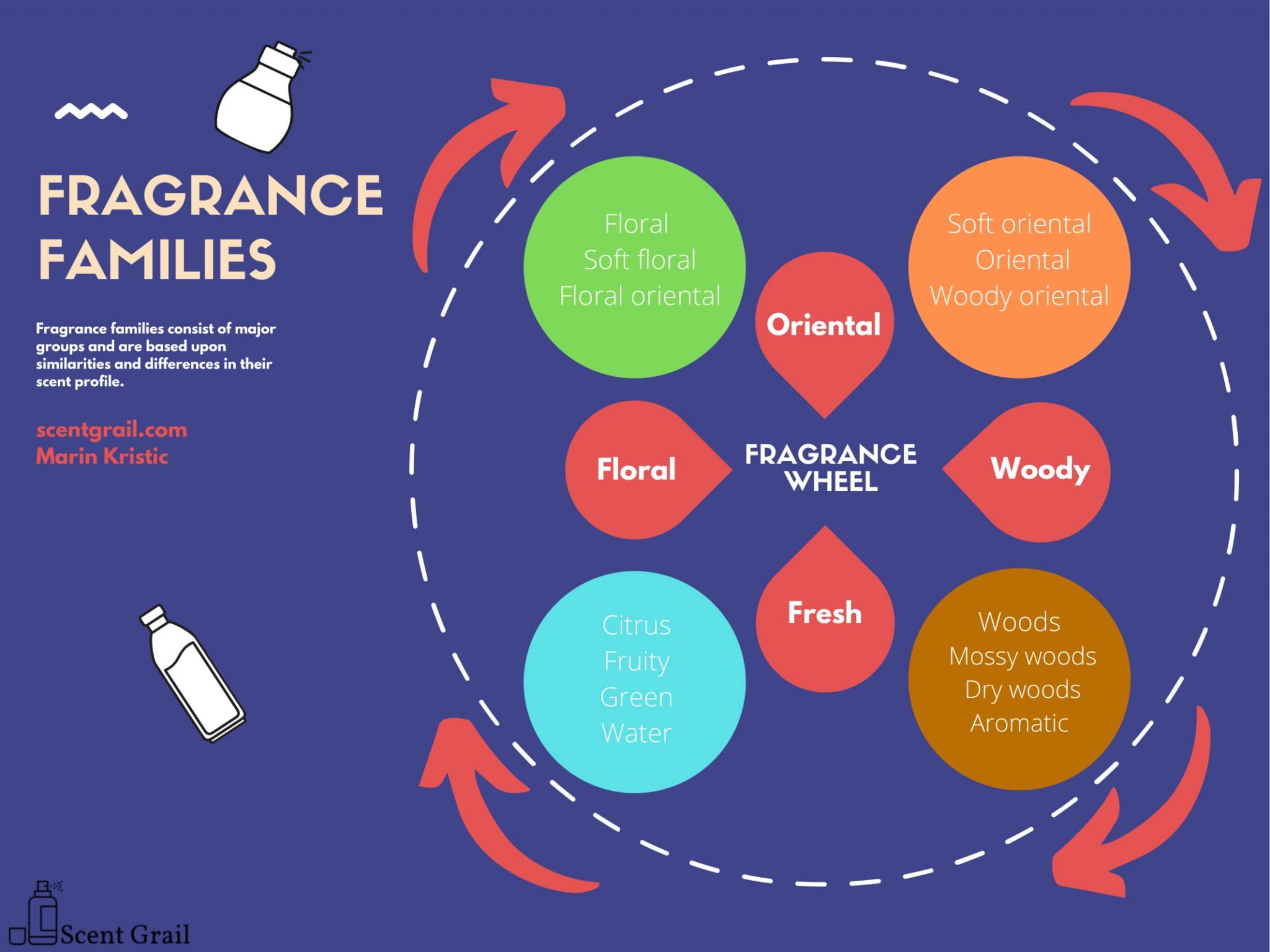 Fragrance families are a classification system used by the perfume industry in order to place different scents into olfactive groups.
These families have evolved through centuries with ever-going technology discoveries the fragrance wheel has been changed multiple times that help you narrow down your favorite perfume choice and distinguish scents.
FRAGRANCE NOTES AND ACCORDS
Simply explained, notes are perfume indigents, and accords are "fantasy" notes made from several other notes to get one distinct accord(note) that couldn't be recreated otherwise.
Such accords are leather, amber, and marine notes, while notes can be bergamot, rose, and vanilla. But, while it may sound as simple as this, there are some other things to consider as well.
Smelly alcohol-water known as perfumes are made from multiple notes and accords which are made from a mixture of natural and aroma-chemical indigents to form a general scent profile.
These notes and accords are separated into three different classes known as perfume pyramid:
Top Notes
Middle Notes
Base Notes
Each of the separate pyramid stages is carefully created by perfumes to evaporate accordingly.
For example, top notes such as citruses evaporate faster than for instance, Sandalwood and Agarwood found in the middle or base stage of the perfume.
In modern perfumery, accords are a vital part of creating a harmonious blend of two or more notes into a distinctive smell.
While this process is more complex than it may sound, it's always good to know how are your perfume composed and when can you expect more natural indigents rather than synthetics.
So, to conclude the fragrance term referred to as "notes" and "accords" are often used as marketing to explain approximately what consumers may expect when smelling a particular perfume.
These are the four different fragrance families:
FLORALS
Floral scents can be either made from single flower notes(soliflore) or many flowers(bouquets). Nature has provided perfumers a number of variety of ingredients, thanks to many different flowers all around the world.
Both classic and as old as citrus(Fresh) family, it leans more to the feminine side, but recently, many floral dominating scents such as Black Orchid have proven that even men can wear floral family scents and smell great.
ORIENTAL
Oriental fragrance family is equally popular among men and women. Orientals have been dominating on fragrance market in the 21st century and they are not going to stop any time soon.
Rich spices such as vanilla, cinnamon, cloves, and balmy resins such as benzoin, myrrh, incense, amber are just some of the prominent notes found in this broad family.
It is not uncommon for oriental perfumes to feature gourmand properties("edible" notes). Thus, this fragrance family is often sweet, dense, sensual, powdery, and inspired by eastern cultures.
WOODY
The woody family leans more toward men and is usually composed of warm, and rich compositions. If you are a fan of forest, sawdust, earthy, and dry type of smells, this family might be just for you.
Woody perfumes are split into three main categories but have many more variations since it is a fragrance family that tends to overlap with others the most with the combination of fresh and resinous notes.
Woody perfumes also tend to be long-lasting, blended for various seasons, and due to their warm heart, more and more unisex.
FRESH
Fresh family is the most crowd-pleasing of them all, and the only one that equally leans both on the masculine and feminine side. Perfumes have never been more affordable and accessible than they are now, and fresh scents are dominating the market since the early 90s.
Of all the fragrance families we have covered, fresh family spans across the most varieties of sub-categories of all the different fresh combinations that seem to work like bread and butter with others.
They are easy to wear, often fresh and airy uncomplicated scents. Fresh perfumes are also the only fragrance family group that's wearable in any season, and in most occasions.
Fresh scents tend to have a mix of sparkly fruits, aromatic herbs, lighter woods and musk's in their composition.
Read more about the fragrance families and fragrance wheel here.
Frequently Asked Questions
Here are some answers to the most popular questions asked about Tom Ford perfumes and brand.
Which Tom Ford perfume is the best?
The best Tom Ford perfume is Tom Ford Ombre Leather. A leathery and spicy fragrance that was released in 2018 with the most prominent notes being cardamom, raspberry, and suede leather. A unisex fragrance with great performance, ideal for nightwear.
Is Tom Ford a luxury brand?
Tom Ford SA is a luxury fashion house founded by American fashion designer and movie producer Tom Ford in 2005. Its product line features ready-to-wear and made-to-measure offerings, perfumes, and cosmetics.
Which Tom Ford perfume lasts the longest?
The most longest-lasting Tom Ford perfume is Ombre Leather that lasts for more than 24 hours with great sillage and projection. The perfume is classified as leather spicy and features notes such as suede leather, cardamom, and amber.
Is Tom Ford a designer brand?
Tom Ford is a designer perfume brand that offers affordable and expensive perfumes. Signature collection targeted to a more mainstream audience, while Private Blend line is more expensive with higher-quality ingredients and is loved by fragrance enthusiasts.
Why are Tom Ford perfumes so expensive?
Tom Ford offers both affordable and more exclusive and expensive perfumes. Due to the brand's popularity, good marketing, and most importantly, high-quality perfumes, Tom Ford brand is able to charge high prices for their fragrances. Tom Ford is also one of the rare perfume brands that is actually worth the price and paying a high amount of money for a perfume. The most expensive Tom Ford perfume is Black Orchid Lalique Edition that costs 990$ for 15ml.
Are Tom Ford perfumes good?
Tom Ford perfumes are generally considered the best in the perfume world and are highly sought after. What makes Tom Ford perfumes different from any other is the ability to give you a taste of niche perfumery while still being ultra-wearable. An achievement rarely seen in other fragrance brands.
Which Tom Ford perfumes are discontinued?
The most popular discontinued Tom Ford perfumes are Ambre Absolute, Japon Noir, Purple Patchouli, Velvet Gardenia, Bois Marocain, Oud Minerale, Venetian Bergamot, Costa Azzurra 2014, and Ombre Leather 2016.
Conclusion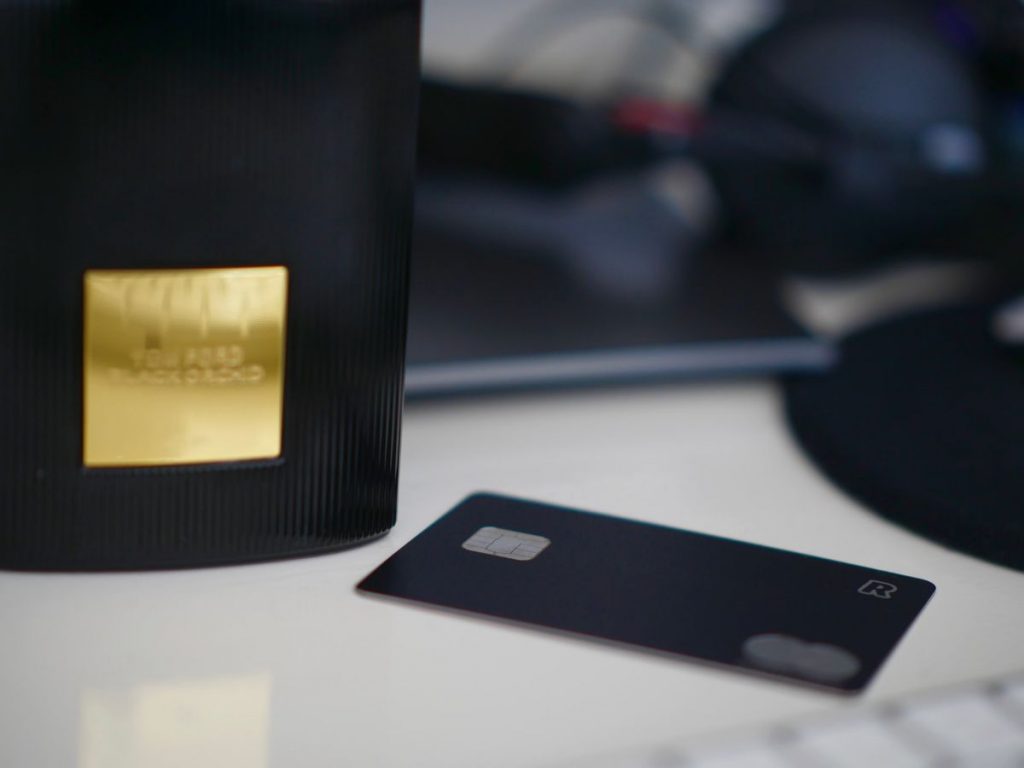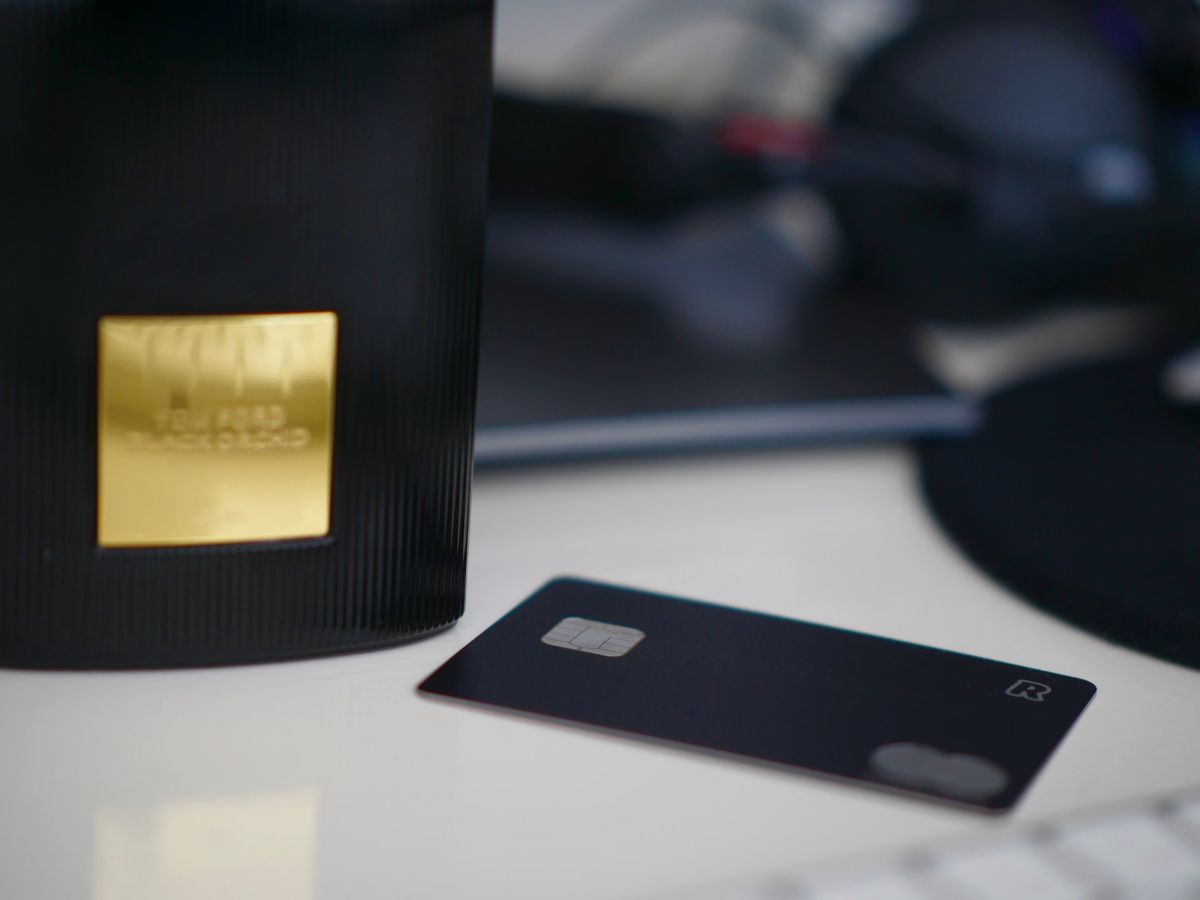 With more than 100 scents to choose from, some of the popular Tom Ford perfumes didn't make the cut. Here are some honorable mentions I believe you should also check out:
Hopefully, you have enjoyed this list and found something new to try out. These are my favorite Tom Ford scents, and I cannot wait to try out new releases as well.
What are your favorite Tom Ford perfumes? Let's start a conversation and let me know in the comment section below.
In case you are in doubt whether you should consider buying this fragrance or not, it's always good to take a look at Scent Grail's S.P.A. Signature Factor Guide.
It is easy to use and the most relevant perfume buying guide on the web. This way, you can check out if a particular fragrance is worth checking out, and potentially find your signature perfume.
Scent Grail content is free for anyone to use without anything hiding behind the paywall. If you would like to help me do more great articles like this, you can donate via PayPal. Much appreciated.
Find out more Scent Grail articles about perfumery, check out top lists, and other helpful reviews via links below:
REVIEWS
TOP LISTS
SCENT GRAIL LEARNING CENTER
Until next time, have a great time and keep smelling like a million bucks!
Best, Marin!
#scentgrail #scentgrailtribe
Scent Grail on Social Media: Facebook | Twitter | Instagram | Pinterest
Your number one source for Holy Grail Signature Scents.

– Marin Kristic