Nasomatto Pardon is a spicy woody fragrance for men and was released in 2011. The creator of this perfume is Alessandro Gualtieri.
With the oud trend in perfumery fading away and finding myself switching to more easy-to-wear fragrances with superb quality, I found this time to be perfect to review one of the most praised fragrances of this genre.
Better known as the "crazy nose", Alessandro Gualtieri is not your typical perfumer, and is no stranger to putting complex and abstract fragrances on the market that will challenge your perfume expectations, and how should they smell like.
While this ain't the first fragrance I have tried from his Nasomatto and Orto Parisi brands, it is his magnum opus work so far.
I just wanted to express myself. Nasomatto was meant to be an experimental platform. And now, I'm happy and grateful that people understood me and my intentions through my creations.

ALESSANDRO GUALTIERI
Nasomatto Pardon in three words: DARK – MYSTERIOUS – ALLURING
Affiliate Disclosure: As an Amazon Associate I earn from qualifying purchases. Purchasing via provided links/banners comes at no additional cost to you. Scent Grail only recommends products and/or services that are insightful and helpful to readers. For more info please read Affiliate Disclaimer.
Don't have the time to read the review right now? No worries! Here are my 5 quick takes:
The best fragrance from the Nasomatto brand and one of the best fragrances of all time
Created by Alessandro Gualtieri in 2011
One of the most wearable spicy woody perfumes based on oud and patchouli notes
Lasts around 10 – 12 hours with moderate to very good projection
Not for beginners and is expensive for a 30 ml bottle
As someone who has tried almost every popular oud-based fragrance on the market, here's what Scent Grail readers should know about this unusual creation that made me think twice about whether oud perfumes are still worth it.
Fragrance information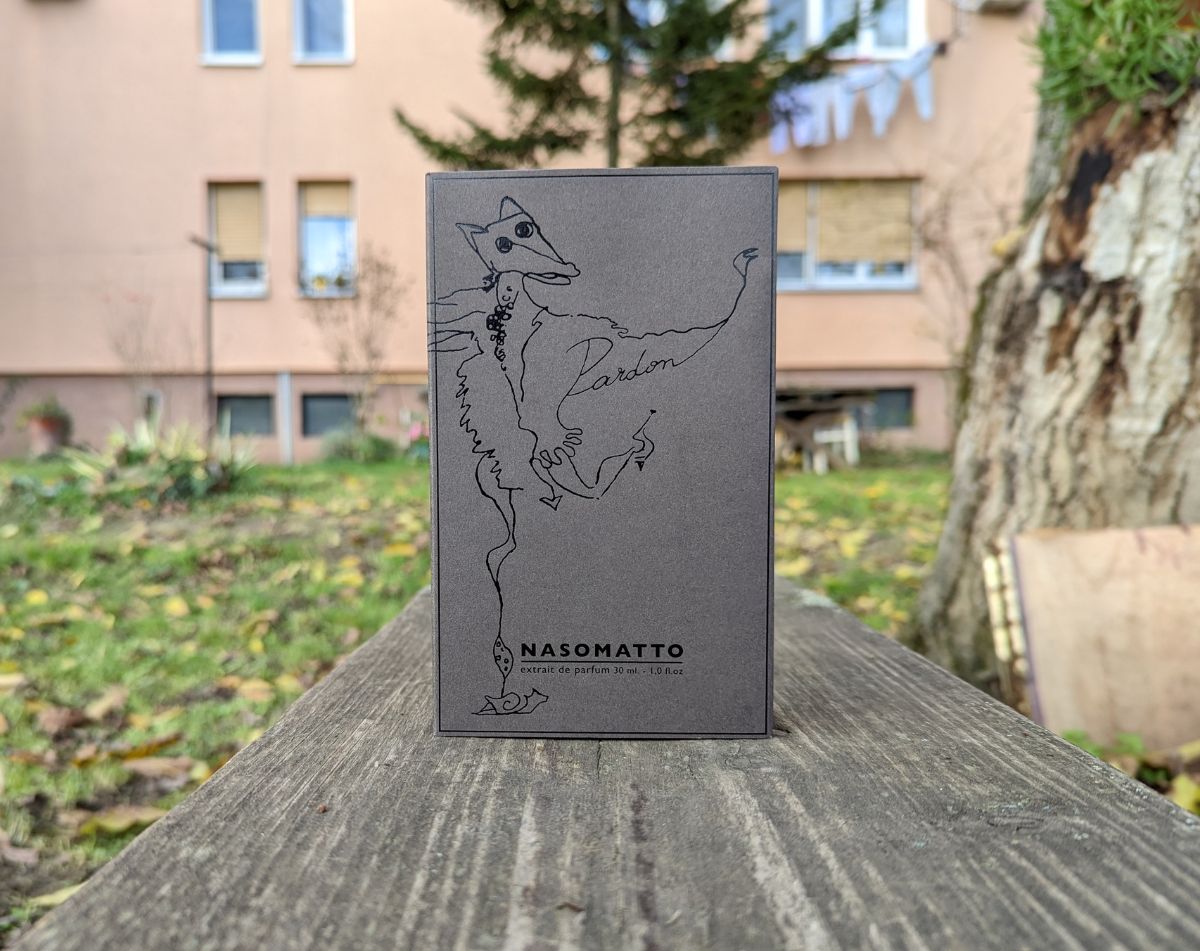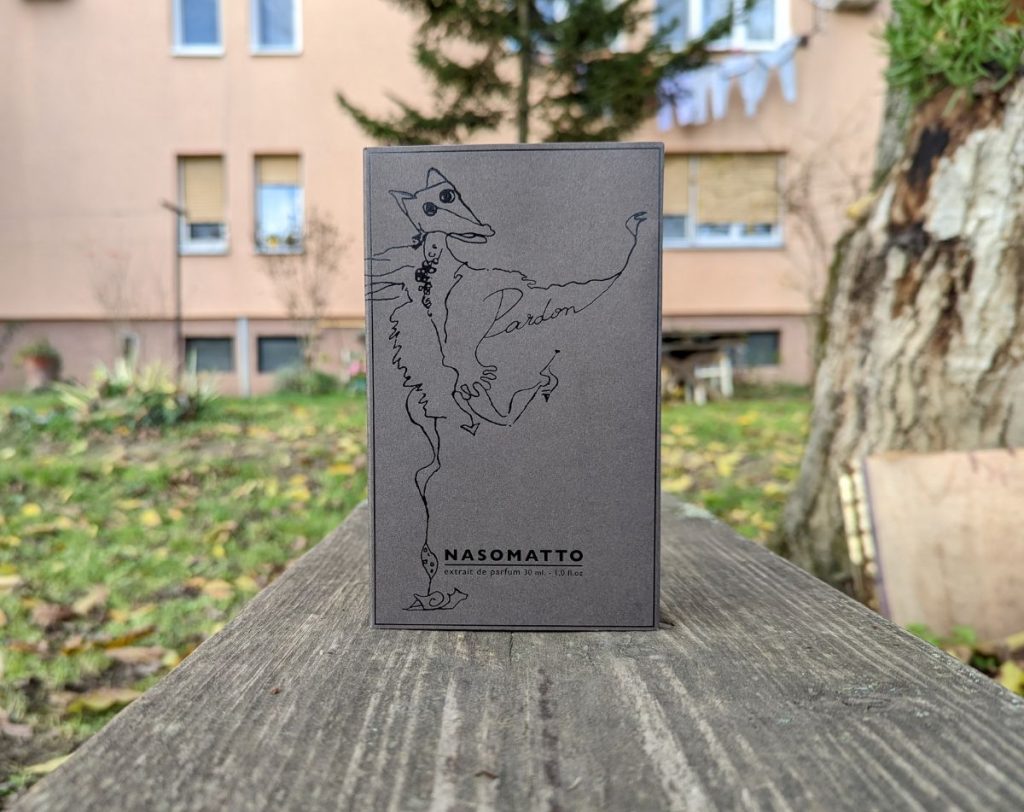 Nasomatto is an experimental niche fragrance house founded in 2007 by Alessandro Gualtieri after working for about 20 years at an international level in perfumery.
Each Nasomatto fragrance represents an artistic and personal expression of the creator that breaks usual perfume conventions.
The brand wants its customers to forget typical perfumes and common and revealing names with reassuring smells. Those with a strong personality that remains unhidden are the perfect Nasomatto customer.
Ingredients of the highest quality, sourced from various parts of the world, play an important role in the larger picture of every composition.
Alessandro is one of a kind perfumer that believes that our senses are the primary tools through every instinctive reaction is generated during the process of judging and choosing.
Nasomatto Pardon Story
Pardon for Men was launched in 2011 by the Nasomatto project, and the nose behind this fragrance is Alessandro Gualtieri.
The notes are magnolia, flowers, dark chocolate, tonka beans, cinnamon, oud(agarwood), sandalwood, and patchouli.
The fragrance comes in 30 ml extrait de parfum, and 4 ml oil-based extrait de parfum flacons and it is still available to purchase.
The fragrance is designed to leave the impression of flawless masculine elegance and charm. This fragrance is produced by hand in small batches and contains a mix of natural and synthetic ingredients.
Perfume Theme
A note from the brand: "This bottle of perfume is part of the project Nasomatto. The fragrance aims to evoke the persuasion of the utmost masculine elegance and charm."
Notes and Classification
Perfumer: Alessandro Gualtieri
Perfume Oil Concentration: Extrait de Parfum
Fragrance Type: Spicy Woody
Release Date: 2011
Target Audience: Men
Masculine/Feminine: 70% – 30%
Most dominant notes: Oud, Dark Chocolate, and Patchouli
Age Group: 25+
Seasons: Fall and Winter
Occasions: Special events, Business, and Night Out
Longevity and Projection: 10 – 12 hours with moderate to very good projection
The recommended number of sprays: 1 – 2
Compliments: Medium
Likeability: Medium
Uniqueness: 4/5
Value for money: 10/10
Accords: Spicy, Woody, Sweet
Reviewed batch code: n/a
Holy Grail Scent Rating: A+
Sample/Buy/Pass: Buy
Production: Available
PERFUME NOTES
Top notes: Magnolia, Flowers
Heart notes: Tonka beans, Dark chocolate, Cinnamon
Base notes: Oud, Patchouli, Sandalwood, Vanilla
Perfume Presentation
The fragrance comes in a small 30 ml flacon that looks stunning, and high-class. As with this product, each Nasomatto fragrance differs only in cap material, and liquid color, with one exception being Blamage which comes with painted glass in a woody design.
Since Nasomatto products have been faked increasingly during the last couple of years, I highly recommend watching the following video to make sure you are buying authentic Nasomatto products.
The sprayer is of the highest quality and is more than enough to spray one to two sprays per wear since the fragrance has exceptional lasting power, sillage, and projection.
But, the more impressive detail about this product is undoubtedly its wooden cap. The cap is made out of briarwood, a material used for making luxury car interiors and smoking pipes.
The making of these costly and unique briarwood caps require at least 1,5 year of work.
One neat detail about this product is the artistic representation of a fox found on the box which also includes a smaller travel cap, and the rest information about the product.
In regard to the unprovided batch code, unfortunately, the batch code on my bottle wore off in places, and I guess that what I have is the latest formulation that still smells divine.
My Experience With Perfume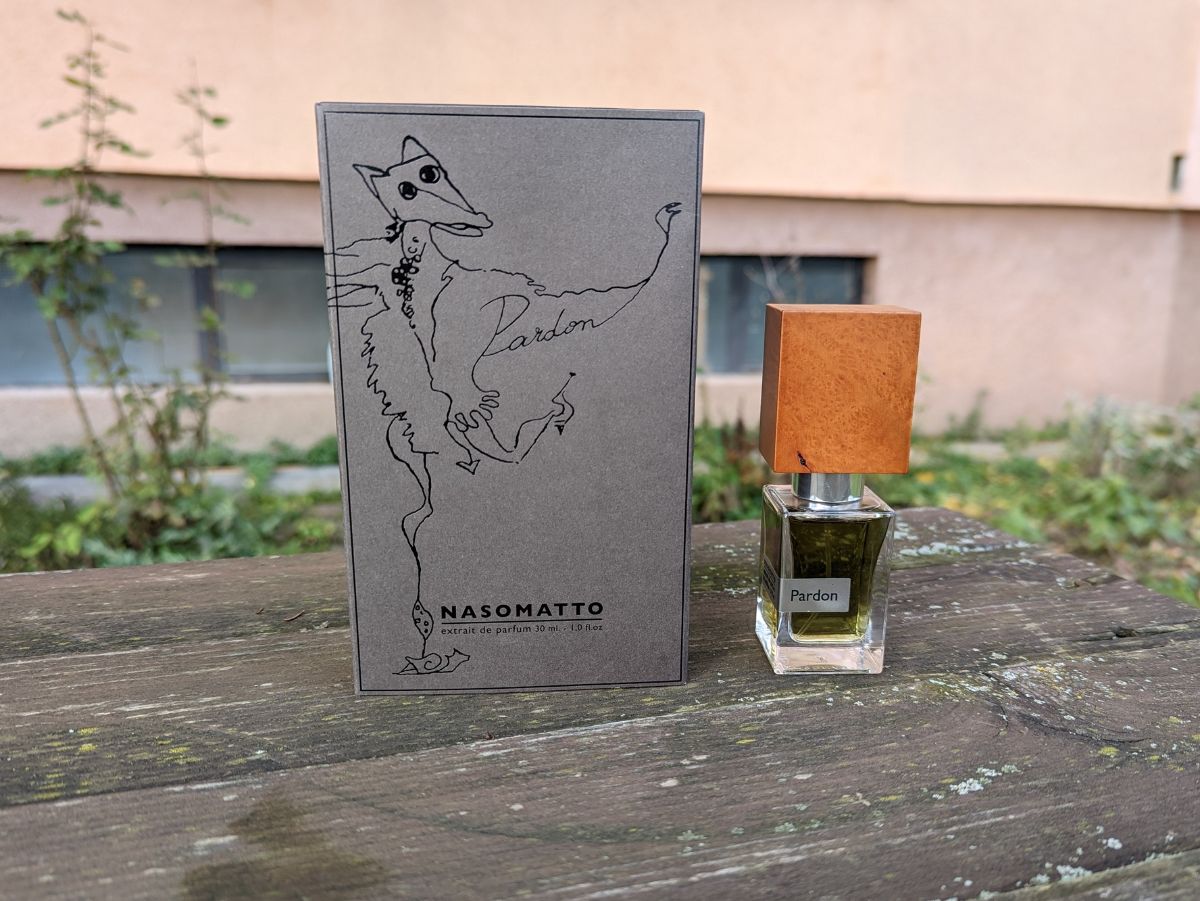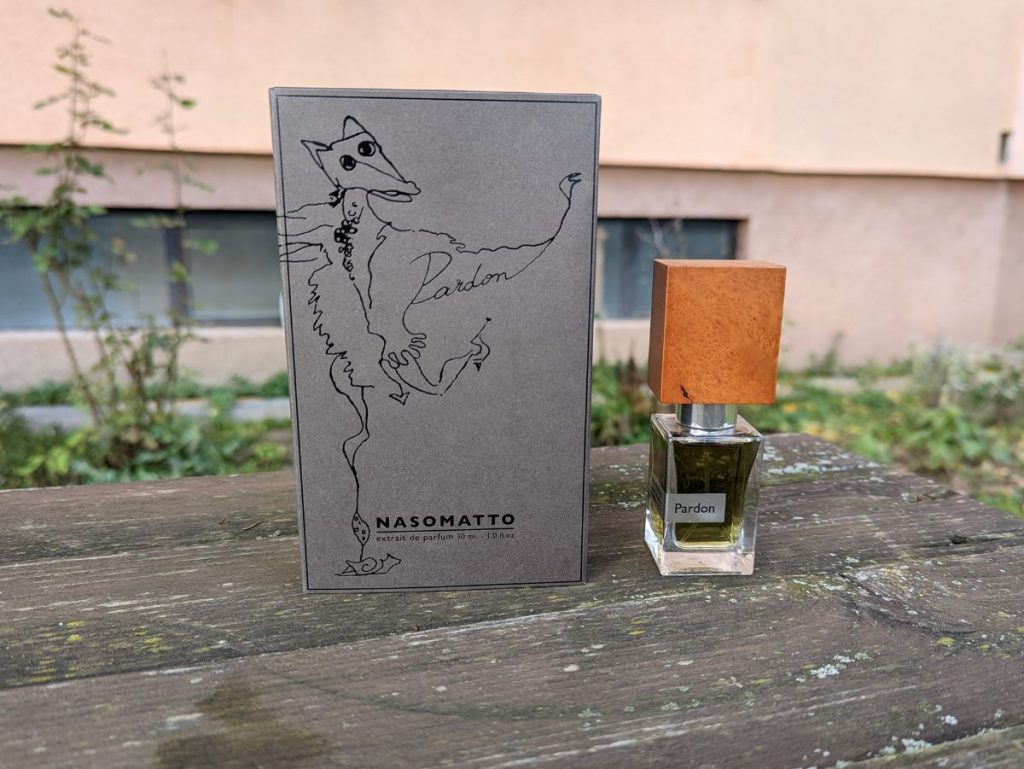 Pardon has been on the market now for more than a decade and has proven its well-deserved hype and praise.
With more and more niche brands being established each day it is quite a feat and accomplished to stay on top of the game for so long.
So what made it stand the test of time? First, the departure of the typical holy grail combination of including saffron, amber, and rose into the combination with agarwood.
Second, it is not really an oud fragrance, and I would easily say it is more of a spicy chocolate patchouli fragrance which means it tackles two different genres in one composition.
Thirdly, it does all of this while remaining original, and keeping the signature Nasomatto DNA in the base notes as most of Gualtieri's fragrances do.
And the final fourth point is about being a perfect successor to the long-discontinued and never forgotten Yves Saint Laurent's M7 which it resembles greatly.
With all of that in mind, this is not a beginner's fragrance I recommend you buy blindly without giving it a proper test.
This being its complexity, mysteriousness, dark and rich composition. Not everyone is going to like it, but this serves as an advantage more than a drawback.
What makes it more wearable than many Nasomatto offerings is the touch of gourmand accords, and spicy character.
By wearing Pardon, one can expect to project a gentlemanly and stylish aura with "boss-type" interpretations of its personality.
All in all, everyone who still hasn't smelled this one and has been into the fragrance hobby for a long time should definitely and as soon as possible get a sample of this one. Now, onto the fragrance notes, and everything else.
Top Notes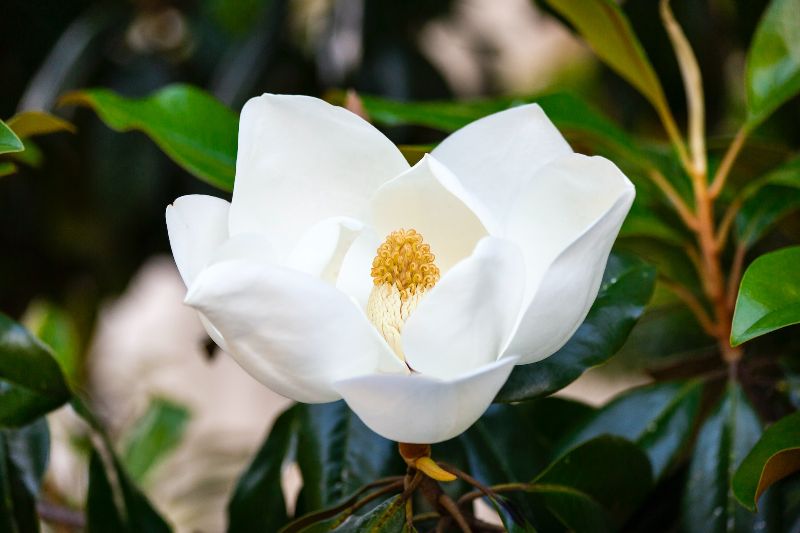 Pardon by Nasomatto opens up with top notes of magnolia with undertones of citruses, and medicinal oud in a vein of Yves Saint Laurent M7 that remains present until the fragrance fades away from the skin.
Nasomatto never reveals the included notes of a fragrance, so it is up to us to guess based on our perfume knowledge what's really inside.
More fun I guess, and in the reality, no one could actually smell all the notes in any fragrance, and I feel that this way, we get to experience a certain fragrance without being subjective about what we read online.
What I also like about this scent, in general, is how patchouli is evident from start to end, and what's even better, this patchouli actually feels like it's made out of natural raw oils, unlike oud which is clearly an accord here. What do I mean by this?
In the opening, patchouli is raw with a throwback aroma that reminds the wearer of the great masculine fragrance from the 70s and the 80s gradually transforming into that spicy and gourmand woody note included only in the best niche fragrances of this type.
The opening is wild and sublime at the same time just like Alessandro would like to experience it but yet, much more wearable than many oud-based fragrances out there.
Also, for everyone scared of floral fragrances, let me assure you that the florals inside act only as supporting notes, and fade after a couple of minutes.
Heart Notes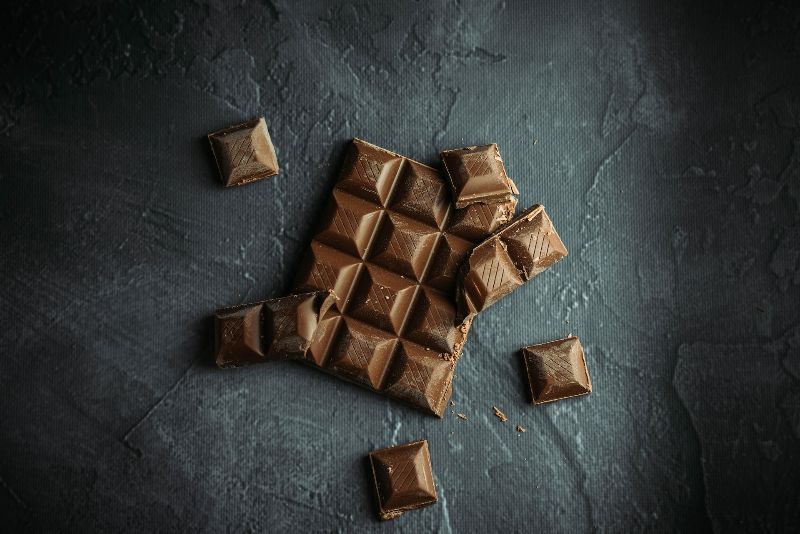 Tonka beans
Dark chocolate
Cinnamon
With the florals and citruses fading away, the perfume enters the heart notes and welcomes the wearer with delicious notes of chocolate, cinnamon backed up with hints of quality tonka beans that smell nutty and with hints of marzipan.
At this stage, Pardon also kinda reminds me of pieces of Tom Ford's Black Orchid which is in my personal opinion the best feminine fragrance of all time.
The medicinal nature of composition keeps on going, and that is not a bad thing since by now, most of us have adjusted to this western style of oud accord found in almost every designer and niche fragrance out there.
Additionally, I have previously mentioned how the composition is complex, but, keep in mind that the three main notes of oud, dark chocolate, and patchouli are the main notes here, and the rest is here to bring together everything else.
Base Notes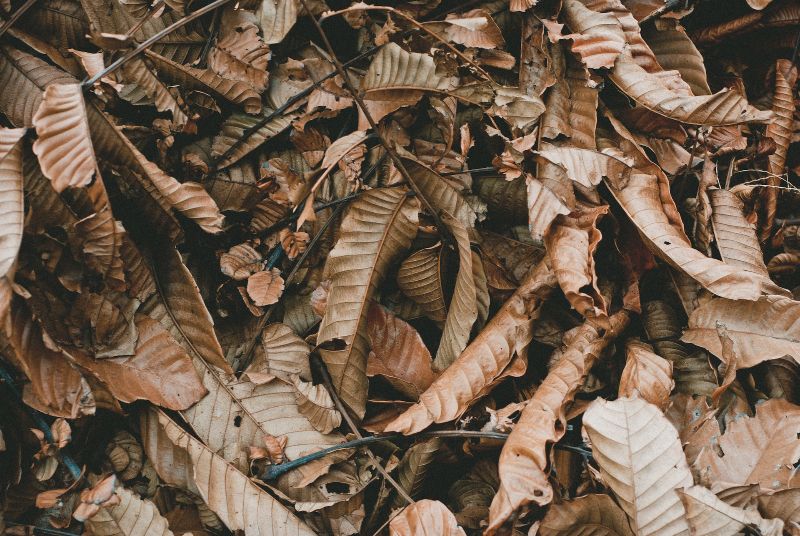 Oud
Patchouli
Sandalwood
Vanilla
In the dry down which takes ages to reach, we are left with a detectable combination of oud, patchouli, soft spices, dusty vanilla, and sandalwood. The same sandalwood molecule has been used in Gualtieri's other work – Orto Parisi Bergamask.
As a lover of woody and spicy perfumes, I have never felt that the oud was out of place here, and I'll say first that I don't buy or explore any sort of oud-based fragrances anymore.
This is the most pleasant phase of perfume worth waiting out if you found it challenging through the opening and middle stages.
Pardon is an experience and a journey that should be done over time to get a full picture and a grasp of what it really is. It tells a story of beauty and masterful execution of one talented perfumer that strays away from conventional perfume traditions by offering us something new and exciting.
Performance
With Pardon, less is more, and by over-spraying, the performance doesn't get better than it is with what you would get with one to two sprays.
In my experience, I get around 10 – 12 hours each time, and the same performance was achieved even during the summer nights wearing it in crowded music festivals.
Keep it light on the trigger, and enjoy the experience.
LONGEVITY: 10 – 12 hours
PROJECTION: Very Good
SILLAGE: Medium
Target audience and compliments
Marketed as a masculine fragrance, but realistically, this is a unisex perfume anyone could wear. Due to the notes that would work more efficiently with mature audiences, I see this one as suitable for more older men and women.
Don't let that statement stop you from trying it out, since everyone with a more distinguished fragrance taste could pull it off easily as well.
Fun fact, after reading everything one would think that compliments would be on the lower side, but let me tell you that each time I wore Pardon, there was always someone who complimented me about my perfume.
It is something here that is unseen and unspoken that draws people near to, and enjoy your fragrance as well.
AUDIENCE: Men
AGE RANGE: 25+
COMPLIMENTS: Medium
When & Where
In my experience, this is a versatile fragrance during the colder seasons, and could also work during the colder summer nights.
With versatility in mind, I cannot see how anyone could pull this one in casual situations with its mysterious and complex composition.
Special occasions such as attending weddings or even your wedding, night outs, business meetings, and occasional spray during the normal office day are where Pardon fits entirely.
Wearing it during the warmer days might amp up the "skanky" notes which stay hidden when it's cold outside. Keep this as a fair warning.
SEASONS: Fall and Winter
OCCASIONS: Special events, Business, and Night Out
ATTIRE: Professional, Smart-Casual, Black tie, Evening wear
Uniqueness and value for money
Nasomatto Pardon Extrait de Parfum will be familiar to fragrance enthusiasts and an eye opener to everyone who is just starting to dip their toes into the niche perfume game.
I cannot say that it is a completely unique product, and it does remind me of a couple of great designer fragrances but the quality is much better here.
But with everything said and more the main question of whether is it worth over $125 USD in official web shop carriers is upon the customer to decide.
I paid around $90 USD for my bottle from a friend who barely used it, and for that amount of money, you can't get a better fragrance.
UNIQUENESS: 4/5
VALUE FOR MONEY: 10/10
Pros and Cons
Here are some better and weaker parts of this perfume:
Pros
The best fragrance with an oud and patchouli combination
Long-lasting that comes with a great performance
One of the best fragrance presentations out there
Versatile and complex
Cons
Overpriced for a 30 ml bottle which is the only one a customer can buy
Not for beginners
Collection & Similar Perfumes
Both Nasomatto and Orto Parisi stay away from releasing flankers, and the Pardon is the only fragrance brand released in 2011.
Similar perfumes:
Guerlain L'Instant de Guerlain pour Homme Eau Extreme – is a spicy woody fragrance released in 2005. The main notes include cacao, patchouli, and star anise. The lasting power is 10 – 12 hours with great projection.
Jovoy Paris Psychedelique – a woody oriental fragrance released in 2011. The main notes include patchouli, amber, and vanilla. The lasting power is 10 – 12 hours with great projection.
Other Nasomatto fragrances worth sampling:
Nasomatto Black Afgano – a woody aromatic fragrance released in 2007. The main notes include oud, incense, and cannabis. The lasting power is 24+ hours with great projection.
Nasomatto Duro – a woody spicy fragrance released in 2007. The main notes include woody notes, leather, and spices. The lasting power is 24+ hours with great projection.
Conclusion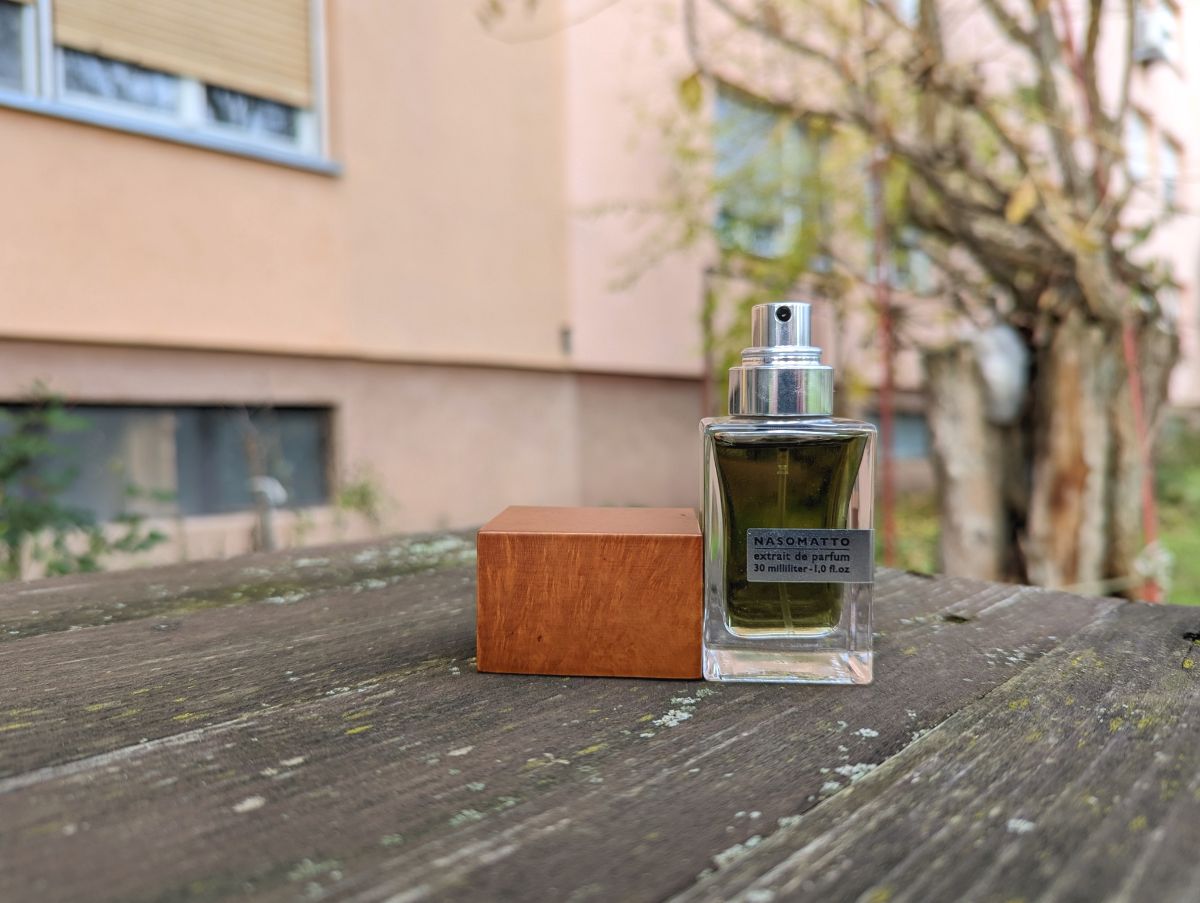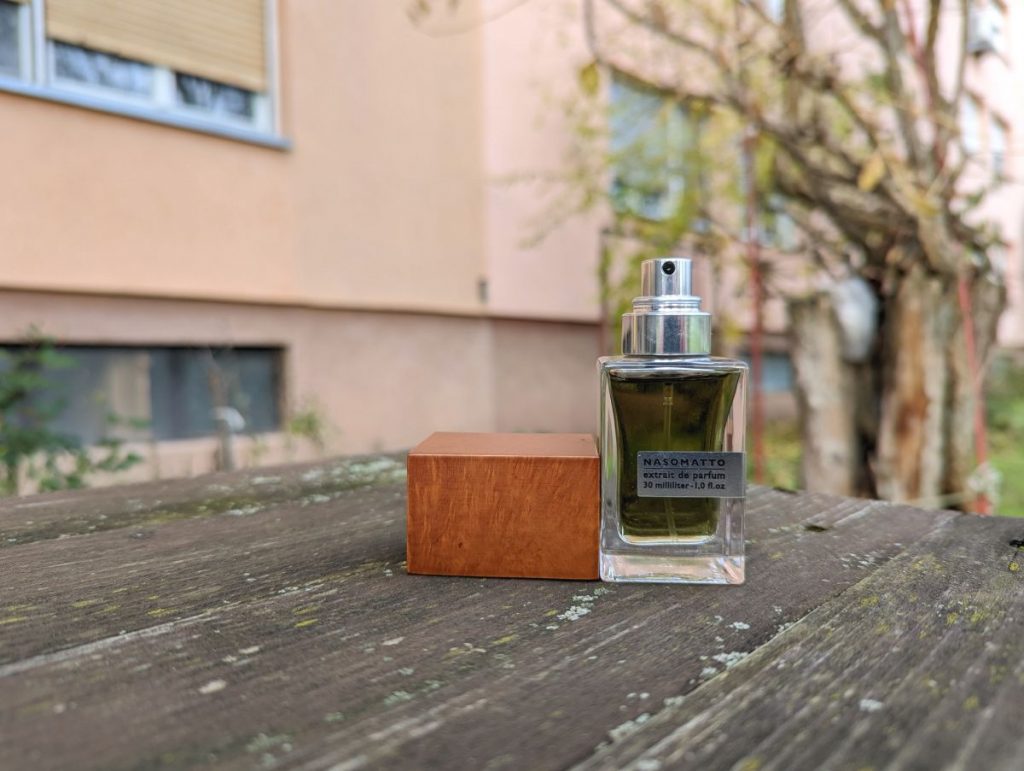 Nasomatto Pardon takes the best from the oud and patchouli worlds and combines it into one fragrance, and what a fragrance it is.
Besides Tom Ford Oud Wood, it is the only other fragrance in my collection that tackles this popular woody note.
As with everything, always sample a product before deciding to buy it, but if you ask me, Pardon is one of the best niche fragrances of all time.
What are your thoughts about Nasomatto Pardon? Have you tried it? Do you like it? Let's start a conversation and let me know in the comment section below.
In case you are in doubt about whether you should consider buying any fragrance, it's always good to take a look at Scent Grail's S.P.A. Signature Factor Guide.
It is easy to use and the most relevant perfume-buying guide on the web. This way, you can check out if a particular fragrance is worth checking out, and potentially find your signature perfume.
Scent Grail content is free for anyone to use without anything hiding behind the paywall. If you would like to help me do more great articles like this, you can donate via PayPal. Much appreciated.
Find out more Scent Grail articles about perfumery, check out top lists, and other helpful reviews via the links below:
REVIEWS
TOP LISTS
SCENT GRAIL LEARNING CENTER
Until next time, have a great time, and keep smelling like a million bucks!
Best, Marin!
#scentgrail #scentgrailtribe
Scent Grail on Social Media: Facebook | Twitter | Instagram | Pinterest
Your number one source for Holy Grail Signature Scents.

– Marin Kristic