Tom Ford Ombré Leather is a leather fragrance for men and women released in 2018. The perfumer behind this ecstatic perfume is Sonia Constant who also stands behind the creation of predecessor Ombré Leather 16.
Well, my my. I haven't been this excited to talk about the designer fragrance release in a long time. The marketing decision to shelf Ombré Leather 16 and bring it back as a signature line release is the best move Tom Ford has done in years.
With a couple of minor twists here are there that made the composition more clean and wearable, Ombré Leather basically smells like Tuscan Leather.
The difference in the price tag between the two is big enough for me to recommend you go straight for this release in case you want to save some bucks and still smell practically the same.
By reading the whole Scent Grail review, and my experience during the whole year of wearing it on almost any occasion, you'll get the chance to learn why I think Ombré Leather is the best fragrance release of the last decade and why now is the time to own it.
Tom Ford Ombré Leather in three words: SEXY – UPSCALE – RAW
Affiliate Disclosure: As an Amazon Associate I earn from qualifying purchases. By purchasing via provided links/banners comes at no additional cost to you. Scent Grail only recommends products and/or services that are insightful and helpful to readers. For more info please read Affiliate Disclaimer.
Don't have the time to read the review right now? No worries! Here are my 5 quick takes:
The best suede leather fragrance on the market
Created by Sonia Constant in 2018 as a replacement for the discontinued Ombre Leather 16
The best fragrance release of the 2010s and one of the best designer releases ever
Best worn during the colder months in business, night outs, and dating scenarios
Pricey for a designer
Brand and Perfume History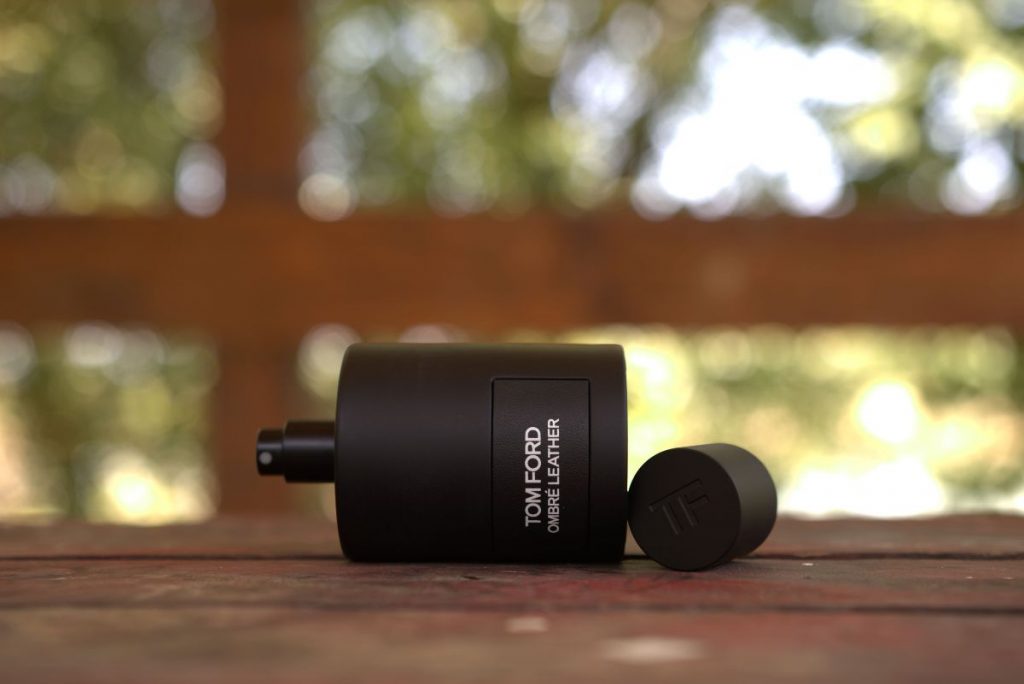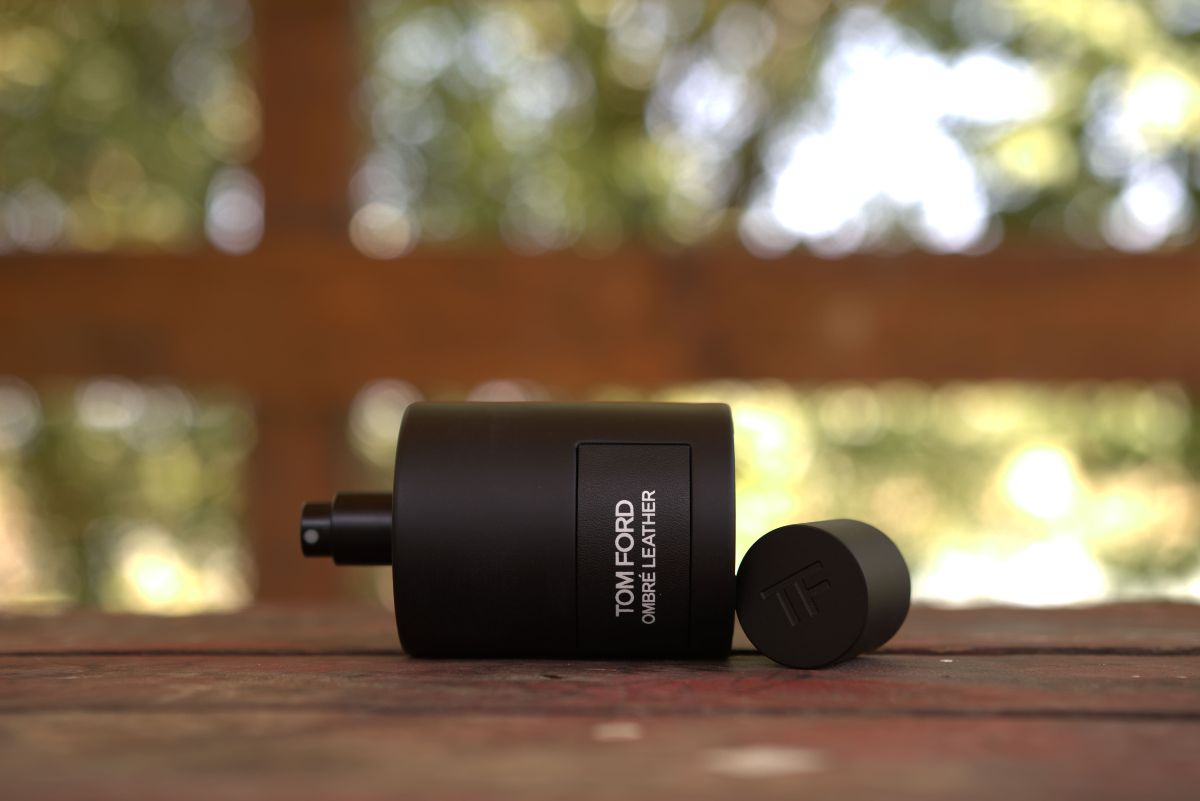 Tom Ford is an American luxury fashion house founded by fashion designer and filmmaker Tom Ford in 2005.
Along with fragrances, the brand also offers cosmetics, footwear, ready-to-wear and made-to-measure, and other offerings.
Born August 27, 1961, in Austin, Texas, U.S.A., Thomas Carlyle Ford studied at Bard College at Simon's Rock and art history at New York University from which he both dropped out to focus on acting in television commercials.
He graduated in 1986 with a degree in interior architecture from Parsons School of Design at the New School in New York City.
Ford's breakthrough in the '80s and '90s was working as an in-house designer for Perry Ellis and chief women's ready-to-wear designer for Gucci before being appointed as Creative Director at the same brand in 1994.
Ford's work at Gucci during the early 1990s was mostly behind the scenes, and most of his contributions were overshadowed by Dawn Mello who was Gucci's public face during those years.
Ford's five-year period as the Creative Director at Gucci was remembered as the brand's resurgence to lost glory, and by the time Gucci was acquired by Yves Saint Laurent in 1999, the company was valued at more than $4 billion.
During his time as creative director for Yves Saint Laurent(1999 – 2004), where he was also Creative Director, Ford won numerous Council of Fashion Designers of America Awards, and introduced numerous new styles such as the controversial shaving of the letter G in a model's pubic hair and pulling the classic fashion house back into the mainstream.
Ford was also creatively involved in creating the two brands' most famous fragrance releases which are still praised as one of the best fragrances ever released and are now discontinued:
Gucci Pour Homme 1
Gucci Pour Homme 2
Gucci Envy for Men
Gucci Rush for Men
Yves Saint Laurent M7
Yves Saint Laurent Rive Gauche Pour Homme
Tom Ford departed Yves Saint Laurent in 2004 to start his own brand named Tom Ford SA in 2005 as a venture between Ford and his business partner Domenico De Sole with the launch of a cosmetics line.
During the same year, Ford announced his partnership with Marcolin Group to produce and distribute optical frames and sunglasses.
The first Tom Ford flagship boutique opened at 845 Madison Avenue in New York City in 2007. In September 2010, Ford debuted his label's women's ready-to-wear collection with celebrities such as Beyoncé, Julianne Moore, and Lauren Hutton attending the event.
Tom Ford Black Orchid was the first perfume launched under the Tom For Beauty umbrella in 2006. An opulent mix of truffles, orchids, patchouli, and dark chocolate.
A fragrance much praised by women and men all around the world, placing it at the same level of quality as Chanel No. 5 and Guerlain Shalimar.
In 2007, the Private Blend collection of perfumes was introduced by Tom Ford, a line focusing on the niche side of perfumery. More daring and more complex at a higher price point.
Tom Ford has described Private Blend as his "own personal scent laboratory", suggesting that it is okay to mix two or more fragrances to create your own unique scent.
The three most popular creations from that line are:
As of 2017, Tom Ford Beauty is owned by Estée Lauder while the major shareholder of Tom Ford International is still Tom Ford, holding 63.75% of the shares.
Ford has described "the Tom Ford customer" as international, cultured, well-traveled, and possessing disposable income.
Some of the celebrities that Ford dresses are Beyoncé, Jennifer Lopez, Gwyneth Paltrow, Tom Hanks, Johnny Depp, and Ryan Gosling.
FUN FACT: Tom Ford has directed two movies up to this date. A Single Man in 2009 was nominated for the top award the Golden Lion at the 66th Venice International Film Festival, and Nocturnal Animals 2015.
Tom Ford Ombré Leather Story
Ombré Leather was created by Sonia Constant in 2018. This perfume was previously launched in 2016 with the name Ombré Leather 16, which is now officially discontinued.
With the re-release came the new bottle, the same high-quality composition inside with a lower price point. Ombré Leather now stands as a pillar release in Tom Ford's Signature Line.
Ombré Leather is available as an Eau de Parfum spray in two sizes of 50 ml and 100 ml.
Perfume Theme
Tom Ford's official blurb: "The tactile sensuality of rich black leather, textured with addictive patchouli and vetiver, envelops like second skin. The perfume's floral tones of jasmine sambac conjure wild desert beauty, while layers of amber and moss mimic the heat of rock and sand.
Ombré Leather is a deeply textural scent that imprints you with a tactile sensuality. It makes one feel different, beautiful and desired." – Tom Ford
Packaged in a matte black flacon with a faux leather plaque, the Ombre Leather flacon captures the bold, tactile sensuality of the spicy leather scent."
Notes and Classification
Perfumer: Sonia Constant
Perfume Oil Concentration: Eau de Parfum
Fragrance Type: Leather Spicy
Release Date: 2018
Target Audience: Unisex
Most dominant notes: Leather, Cardamom, Amber
Age Group: 20+
Seasons: Fall and Winter
Occasions: Business and Night Out
Longevity and Sillage: 24+ hours with great projection
The recommended number of sprays: 2 – 4
Compliments: High
Likeability: High
Uniqueness: 5/5
Value for money: 10/10
Accords: Leather, Amber, Spicy
Reviewed batch code: S60 – June 2020
Holy Grail Scent Rating: A+
PERFUME NOTES
Top notes: Cardamom, Saffron, Raspberry
Heart notes: Jasmine Samac, Suede Leather
Base notes: Oakmoss, Amber, Patchouli, Vetiver
Perfume Presentation
The simple, matte black cylinder bottle looks simply outstanding, and on par with the more expensive Private Blend line.
The fine touch of adding a faux leather patch with the white letter fragrance brand and name with a matching and heavy cap is the minimalistic design I have been spoiled with.
The box is made of simple black cardboard following the bottle design.
I highly suggest skipping buying Ombré Leather from dodgy sources since Tom Ford is probably the most faked fragrance brand in the world.
Paying a little extra from your legit fragrance discounters, retail shops, Amazon, or directly via Tom Ford's website will in long run save you a lot of money and nerves. No one wants to end up with a fake fragrance in a perfume collection.
I have mentioned a couple of times that I believe everyone in the designer realm of perfumery should step up their game with magnetic caps, but if a bottle is done well as here, I'm going to bite my tongue and say I'm fine with a non-magnetic cap.
My Experience With Perfume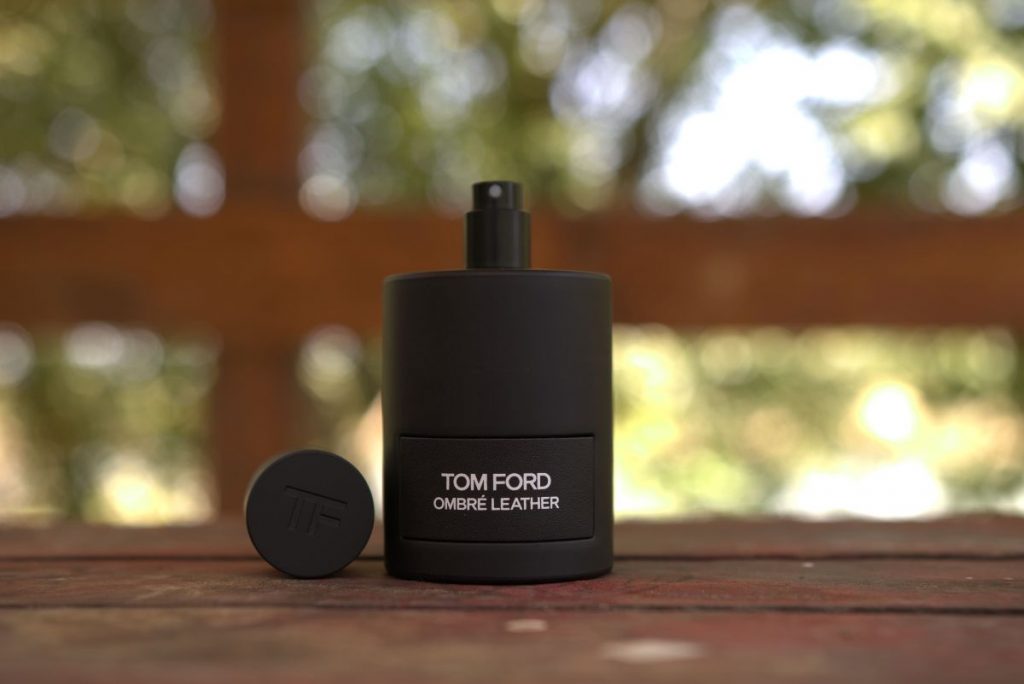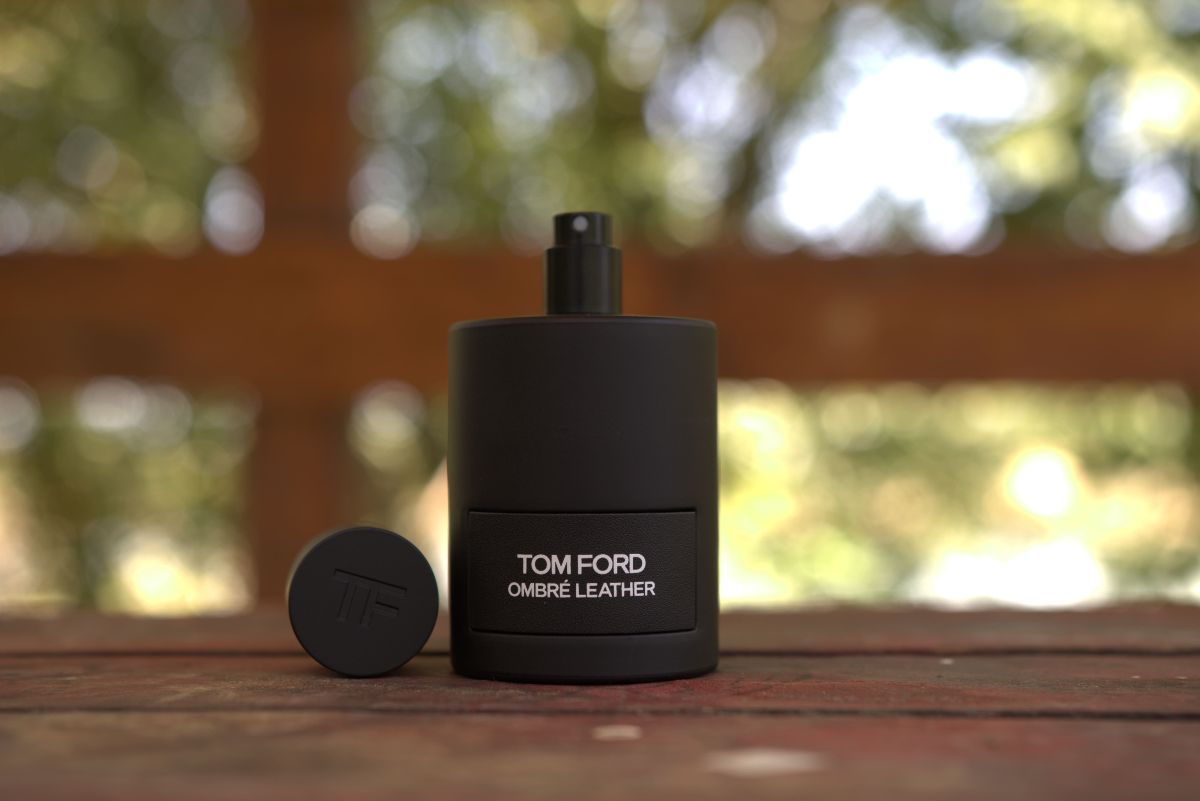 Tom Ford's Tuscan Leather was my favorite leather perfume until I purchased this masterpiece.
During the time I lived in Dublin, Ireland back in 2016 – 2017 it was my go-to scent, and the one I generously applied each time I visited Brown Thomas.
It captured perfectly Dublin's way of life. Streets crowded with people from all around the world, packed pubs with a hint of malt in the air, foggy nightclubs, and everchanging weather.
But what reminds me most of my time in Ireland was the people. All those cheerful girls and guys with positive and relaxed ways of thinking, new and interesting stories just about to be heard and often laugh about.
The years have gone by, and if not reminded, our memories start to get a little bit fuzzy. This was the case until I heard about this perfume, and how close it was to Tuscan Leather.
Fast forward to the year 2020, in Zadar, Croatia, and a perfume shop in the dead heat of summer. The bottle of Ombre Leather is in my hands and I'm thinking "this cannot be true", and "it cannot be that close".
While not exactly a "cheap" perfume, it sure is not as expensive as Tuscan Leather. I spray the fragrance on my hand and inhaled, and just in that singular moment, everything came back.
All the good and bad things I went through during my stay in Ireland. The wonderful people I'm still in touch with, and especially, my trip to Belfast to see Titanic Museum.
It is all here. The perfect successor to Tuscan Leather that kept the best parts of that fragrance. I was amazed, and I knew I had something special in my hands.
Scent memory can be so vivid that it is amazing how something like a familiar scent from the past can transport us to a different place and time.
Yes, this review is going to be at least 80% biased and is based on my experiences from the past decade, but if there is one fragrance that would be a crime not to try, it would be this one.
Top Notes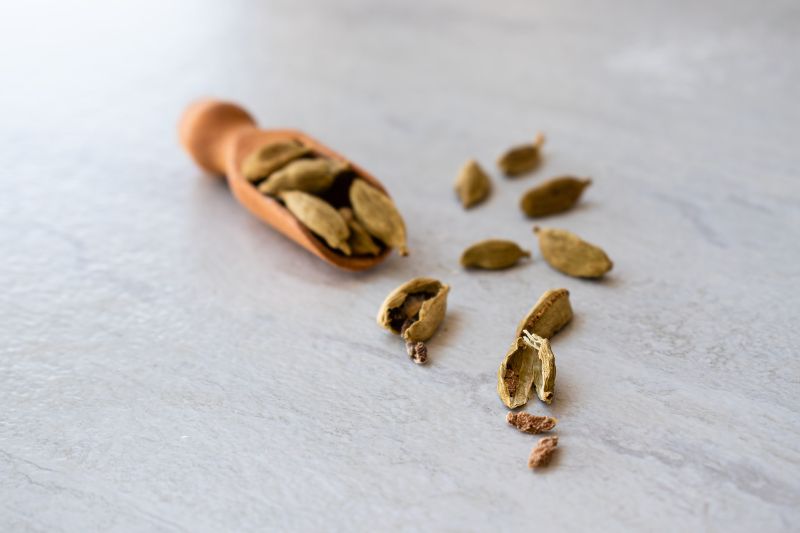 Cardamom
Saffron
Raspberry
Upon smelling the Ombré Leather for the first time, you will be reminded of Tuscan Leather and Ombre Leather 16.
No matter what the brand is trying to push saying there is no raspberry here, it is well present, although, less pronounced than in Tuscan Leather. That familiar fruitiness is unmistakably here.
One more "hidden" note that seems to be avoided from mentioning is saffron. Numerous high-end fragrances use it, and anyone experienced with the aforementioned note will sense it straight away.
The scent opens up with the spicy and aromatic cardamom, never pushing too much to get overwhelming and surrounded by the fruitiness of raspberry and that fine suede leather that is present for the whole life of the fragrance.
Many have already mentioned the following which I agree with – the interior of a brand-new car with leather seats. This has to be the easiest and the most accurate explanation of how it smells like.
To my nose, I also get the scent of Chanel's handbags and leather jackets, but let me correct myself – the scent of a brand new brown leather jacket.
The leather here is dark, smooth, expensive-smelling, and refined. This new generation of leather smell will be a reference point for all future leather-based fragrances. It is simply just amazing smelling.
The blending has been done to perfection, and the scent gently transitions to the middle stage where gentle jasmine shows its light touches.
Heart Notes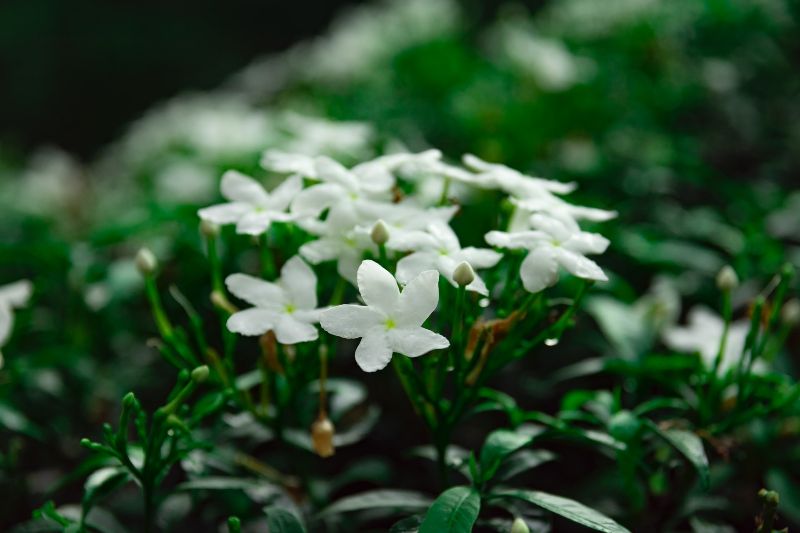 Jasmine Sambac
Suede Leather
The fragrance warms up in the heart notes with the introduction of jasmine Sambac and dusty amber. The floral sweetness feels addictive and is on the same level of quality as in Chanel perfumes.
Being the pure leather scent, the classy floral aspect never takes the center stage, and the fragrance dances on the perfect line of being completely unisex while I do feel like it leans just a bit more on the masculine side.
Who would say that leather plus jasmine contrast would work so stunningly and fit so perfectly? But please, don't get scared of florals if you are a man, the composition is done in a way anyone could wear it.
Base Notes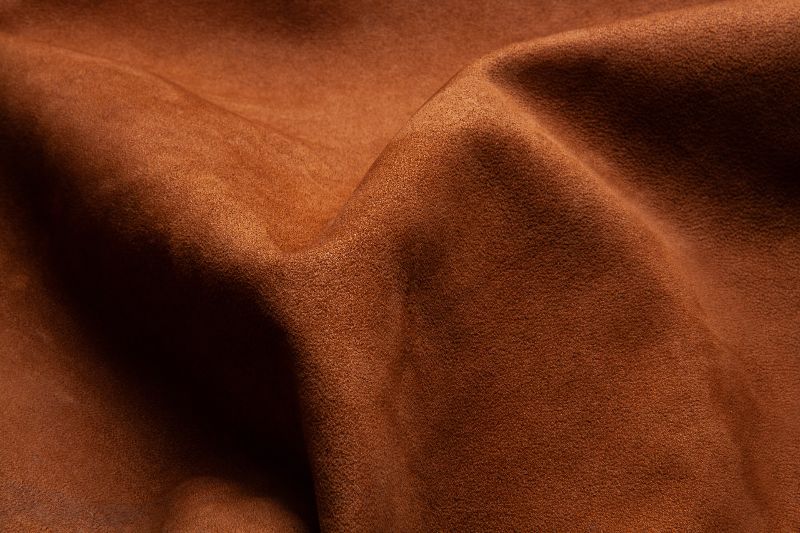 Oakmoss
Amber
Patchouli
Vetiver
Progressing from the top to the base, the scent is clean and well-blended, and it can get difficult to distinguish different notes except that "to die for" leather.
In the dry down, it is closest to how Tuscan Leather smells thanks to the lack of "ashy" note found in Tuscan Leather.
Along with suede leather, I do get a gentle whiff of amber, and oakmoss that is blended amazingly. Patchouli and vetiver are just supporting the scent from the background and rarely make a presence.
In my opinion, what makes this creation timeless and something people will still buy 100 years from now is the combination of smoky and smooth leather that never becomes oily or smelling like petrol like in Dior's Fahrenheit, paired with the freshness of cardamom and sweet nature of jasmine.
If the ingredients weren't top-notch as they are, and the perfumer wasn't talented as Sonia Constant, none of this would be possible.
Performance
The performance of this scent shatters almost anything you'll find today. An Eau de Parfum that act like Extrait and lasts literally until the next time you take a shower, and even then, it still remains present.
The powerful sillage will make people notice you each time you come close to them, yet it keeps the projection under the appropriate level of not offending anyone.
Two to three sprays are all you need to last you for the whole day and are one of the few fragrances where less is more.
PRO TIP: As of 2022, the scent has not yet gone through any reformulations, and the performance is out of the roof. Future reformulations might impact the performance.
LONGEVITY: 24+ hours
PROJECTION: High
SILLAGE: Medium
Target audience and compliment factor
Target to men and women of any age, the fragrance makes people turn around you to ask what you are wearing and where can they buy it.
It is probably one of the rare few leather-based fragrances that will garner so many compliments and is very easy to wear and easy to love. With the exclusion of that "cigarette smoke" note found in Tuscan Leather, it has become more of a unisex scent and anyone can rock it. To my nose, it does learn more on the masculine side.
AUDIENCE: Men and Women
AGE RANGE: 20+
Dress code and occasions
Ombré Leather is a classy expensive-smelling fragrance that shouldn't be worn casually. It oozes prestige and luxury, and an appropriate dress code should follow it.
Suits or smart casual attire is the way to go to wear it well. Office, night outs, and dates are where it shines the most.
Even with the sweet undertones, the scent does not feel juvenile and gives an impression to others that you know what you want from your life.
PRO TIP: Fall and winter seasons will bring the best from the combination of sweet, oriental, spicy, and leathery notes.
SEASONS: Fall and Winter
OCCASIONS: Business, Night Outs
DRESS CODE: Suits, Night Dresses, Smart Casual, Leather Jackets
Uniqueness and value for money
For a scent that was originally released back in 2007, it feels as modern as it was released today. During the years, we have seen a couple of "reinterpretations" of the original from other brands, but if you are planning to wear a "copy" then it's better to get it "straight from the horse's mouth".
Depending on your income and what you want to get out of a particular perfume, I believe that this presents the best value for money in the genre. Rather than buying clones and inspirations, I would save money, skip Tuscan and skip the now-discontinued Private Blend edition in favor of this fragrance.
UNIQUENESS: 5/5
VALUE FOR MONEY: 10/10
Pros and Cons
Here are some better and weaker parts of this perfume:
Pros
The best leather perfume on the market
Great longevity and projection
Unique and easy to wear
The best alternative to Tom Ford's Tuscan Leather
Confidence booster
Cons
Expensive for a designer release
Might be too sweet for some
Collection & Similar Perfumes
Tom Ford Ombre Leather is part of a fragrance line composed of two perfumes with the latest being:
Tom Ford Ombre Leather Parfum – is a leather floral fragrance released in 2021. The main notes are Leather, Violet, and Jasmine Sambac. The lasting power is 8 – 10 hours with moderate projection
Ombre Leather is often compared to these perfumes:
TOM FORD OMBRE LEATHER VS TOM FORD OMBRE LEATHER PARFUM
The difference between the Eau de Parfum and Parfum versions of Ombre Leather is in the longevity, with Eau de Parfum being the strongest one, and Parfum leaning more on the feminine side with dominant notes of orris, jasmine Sambac, and violet.
TOM FORD OMBRE LEATHER VS TUSCAN LEATHER
Both fragrances have spicy qualities, whilst Ombre Leather is airier due to the inclusion of jasmine and cardamom, and Tuscan Leather emphasizes more on raspberry and saffron notes. Nonetheless, that fine suederol molecule is present in both perfumes.
TOM FORD OMBRE LEATHER VS RASASI LA YUQAWAM
For consumers that want to buy a replica of Tom Ford's Tuscan Leather, La Yuqawam gets close enough for a fraction of the price with better performance than Tuscan Leather itself. Ombre feels like a lighter, more wearable, and cleaner take on Tuscan Leather while still having a better performance than the originator. The even cheaper alternative to Rasasi's La Yuqawam would be Al Haramain's Leather Oud.
Here is my suggestion what else you should check out if you liked this perfume:
Frequently Asked Questions
Here are some answers to the most popular questions asked about this perfume.
How long does Ombre Leather last?
Ombre Leather is a powerful Eau de Parfum fragrance that lasts 24+ hours with moderate projection. Ideal to wear during the colder months of years in the office or as a date scent.
Which Tom Ford perfume is the best?
The best Tom Ford perfume is Tom Ford Tobacco Vanille. A sweet and oriental fragrance based on the notes of spices, vanilla, and pipe tobacco. This fragrance is ideal to wear during the winter holidays or during the colder months of the year.
Is Tom Ford Ombre Leather good?
Ombre Leather is the best Tom Ford perfume from the Signature line. The scent is based around suede leather, backed by sweet amber, cardamom, and raspberry.
What does Tom Ford Ombre Leather smell like?
Tom Ford Ombre leather smells like a brand new car's leather seats. It is often compared to the other great Tom Ford fragrance – Tuscan Leather. The fragrance is easy to wear, enjoyable, and targeted to men and women.
Is Ombré Leather 16 discontinued?
Ombré Leather 16 is officially discontinued since 2018. Ombre Leather 2018 is a direct successor and comes in a new bottle while keeping the fragrance untouched.
Conclusion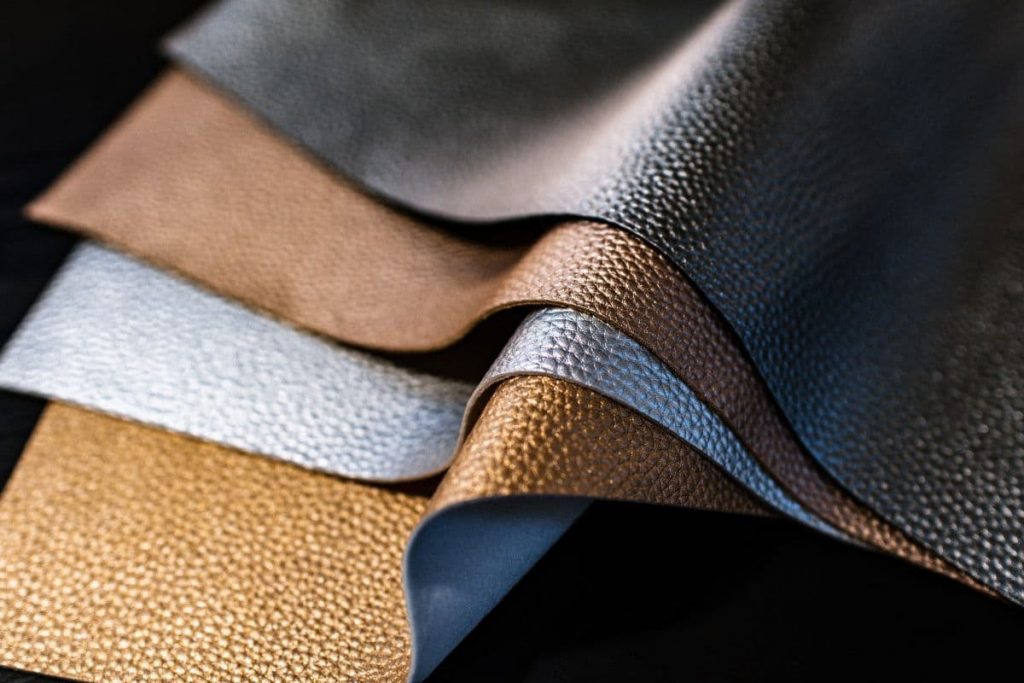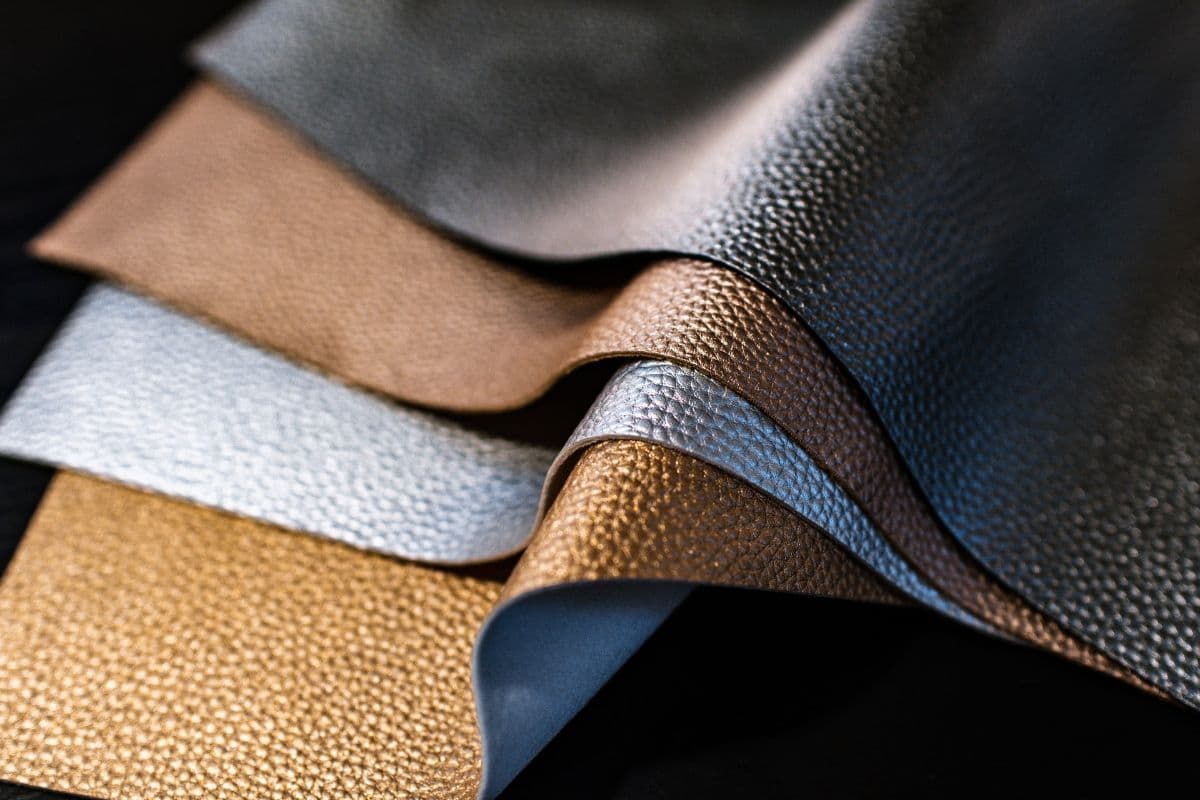 Hope this review finds you well in your search for a perfect leather fragrance which this one is. For all the mentioned reasons through this review, I find it personally the best suede leather fragrance on the market.
The one I have the most experience with, and the one I could see almost anyone wear. Tom Ford Ombre Leather comes with the biggest buying recommendation so far on Scent Grail. Get it while still available in its first formulation.
What are your thoughts about this Tom Ford perfume? Have you tried it? Do you like it? Let's start a conversation and let me know in the comment section below.
In case you are in doubt whether you should consider buying this fragrance or not, it's always good to take a look at Scent Grail's S.P.A. Signature Factor Guide.
It is easy to use and the most relevant perfume buying guide on the web. This way, you can check out if a particular fragrance is worth checking out, and potentially find your signature perfume.
Scent Grail content is free for anyone to use without anything hiding behind the paywall. If you would like to help me do more great articles like this, you can donate via PayPal. Much appreciated.
Find out more Scent Grail articles about perfumery, check out top lists, and other helpful reviews via links below:
REVIEWS
TOP LISTS
SCENT GRAIL LEARNING CENTER
Until next time, have a great time and keep smelling like a million bucks!
Best, Marin!
#scentgrail #scentgrailtribe
Scent Grail on Social Media: Facebook | Twitter | Instagram | Pinterest
Your number one source for Holy Grail Signature Scents.

– Marin Kristic