Dior Homme Intense is a floral oriental fragrance for men, released in 2011. The creator behind DHI is former Dior in-house perfumer Francois Demachy.
Before I wrote this review, I took the time to think about if there was any other "bigger than life" fragrance that actually fulfilled customer and fragrance enthusiasts' expectations as DHI did.
Rarely there are, few and usually released far from each other. The pressure is even bigger when considering what I have here for you is the best and now discontinued version of Dior Homme Intense.
What I did here was trying to stay objective as much as possible, and keep in mind what versions of DHI are currently available on the market.
Please keep in mind that this fragrance is one of the most highly rated on any fragrance website, and on YouTube as well. Even before you continue reading, let me just tell you, yes, it does live up to its expectations.
The impact the whole Dior Homme line had on me and my fragrance journey is clearly shown in my perfume collection, where most fragrance bottles I own are exactly from that line.
Dior Homme Intense 2011 in three words: WARM – INVITING – METROSEXUAL
Affiliate Disclosure: As an Amazon Associate I earn from qualifying purchases. By purchasing via provided links/banners comes at no additional cost to you. Scent Grail only recommends products and/or services that are insightful and helpful to readers. For more info please read Affiliate Disclaimer.
Don't have the time to read the review right now? No worries! Here are my 5 quick takes:
The best iris-based men's fragrance on the market
Created by Francois Demachy in 2011 as an update to the original 2007 formula
Best used during the fall and winter as an elegant clubbing, romantic, and business fragrance
Lasts 8 – 10 hours with very good projection and gentlemanly sillage
Risky blind buy due to being not overly a masculine composition
Probably the most personal review I wrote on Scent Grail, and I invite you to read and find out why Dior Homme Intense 2011 is better known as The Mighty.
Brand and Perfume History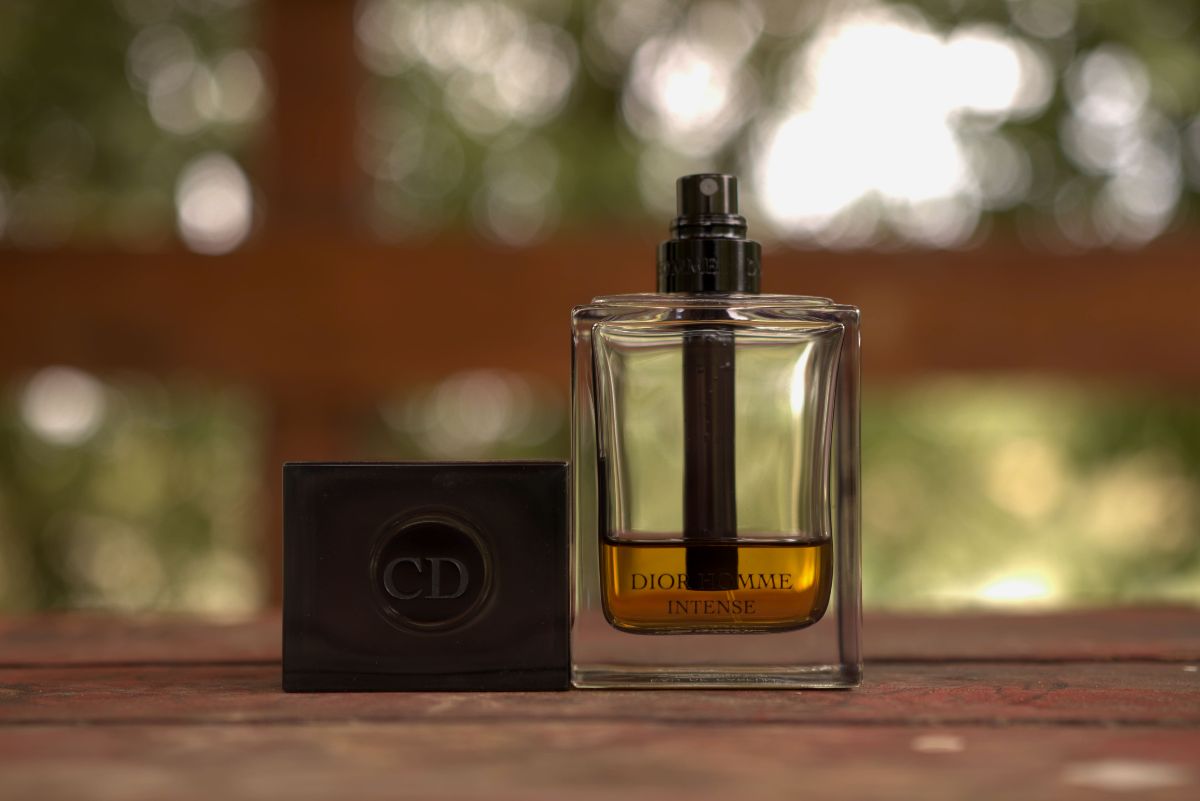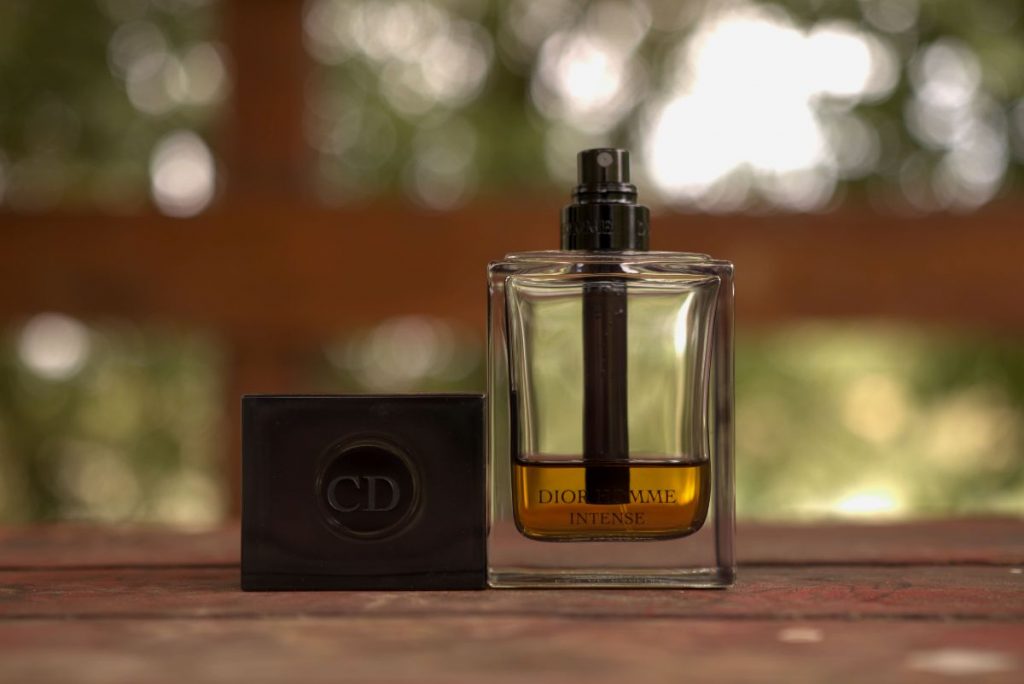 The house of Dior was founded by the late Christian Dior more than 70 years ago in Paris, France. In February 1947, Christian Dior launched his first fashion collection for Spring–Summer 1947 named the "New Look".
Christian Dior Parfums branch was established in 1947 or 1948, and the first perfume they ever released was the popular Miss Dior.
Eau Sauvage, Fahrenheit, Dior Homme, and Sauvage have been the major players and trend shifters in men's perfumery, and are all still available on the market.
Today, Dior is owned by LVMH and controlled by French businessman Bernard Arnault(also a chairman of LVMH). Their wide variety of products is sold throughout retail stores worldwide, as well as through Dior online store.
Read more about Dior's brand history here.
Dior Homme Intense Story
This perfume has gone through a couple of re-releases and reformulations which were confirmed by Dior. My review is based on the legendary 2011 edition.
These are the various editions of DHI:
2007 version – Created by Francois Demachy, and a flanker to the original Dior Homme from 2005(Olivier Polge). This edition has been officially discontinued in 2011, and included amber accord, famously known as the "ghost" note in 2011 edition.
2011 version – The most well-known, and most sought edition of DHI. Until 2011, DHI was mildly hyped, and with Demachy's genious blending talent, and the inclusion of lavender, pear, and ambrette, the fragrance found the optimal balance of powdery and woody notes.
2015 – 2019 reformulations – DHI era of the downfall in performance and longevity. The fragrance composition stayed the same, but with the lack of performance, and the latest version avaiable on the market, I recommend skipping this edition.
2020 version – The current edition of DHI, and return to the form. The fragrance is again better performing, and reformulated in way to please a broader market. The powdery notes are still present, but the fragrance is more emphasised on the woodier side of the spectrum.
One thing Dior is known for is the notorious need to reformulate their perfumes and try to reinvent the wheel every couple of years. We are yet to see another fragrance company admit reformulations openly as Dior does.
Thankfully, besides the 2015 – 2019 years, Homme Intense has maintained its quality much better than so many other recent fragrances.
At that time, the face behind Dior Homme's line and commercials was the actor Jude Law, who was succeeded by Robert Pattinson as the current Dior Homme face since 2013.
The 2011 edition was specially made for men who like flowery and woody-scented perfumes and was described as intensive and sophisticated.
Making the iris-based fragrance for men was nothing short of revolutionary, and the effect of DHI's importance is still felt today.
Perfume Theme
Dior's official blurb: "Dior Homme is worn the way you wear an elegantly sharp, modern suit. Dior Homme Intense Eau de Parfum reveals the extreme grandeur and sophistication of a generous and powerful Eau de Parfum. The olfactory intensity of Iris is enhanced by a sensual Ambery facet and precious wood base. A scented, sensual script whose trail calls to you.
Dior Homme Intense is a 'dry' and persistent oriental. Its full, round notes are wrapped in wood to give the composition a drier character. It has a clear, unrestrained manliness about it."
Notes and Classification
Perfumer: Francois Demachy
Perfume Oil Concentration: Eau de Parfum
Fragrance Type: Floral Oriental
Release Date: 2011
Target Audience: Men
Most dominant notes: Iris, Vanilla, Cacao
Age Group: 25+
Seasons: Fall and Winter
Occasions: Night Outs, Romantic, Business
Longevity and Sillage: 8 – 10 hours with very good projection
The recommended number of sprays: 4 – 6
Compliments: Low – Medium
Likeability: Medium
Uniqueness: 5/5
Value for money: 10/10
Accords: Floral, Powdery, Warm Oriental
Reviewed batch code: 3S02 – May 2013
Holy Grail Scent Rating: A+
PERFUME NOTES
Top notes: Lavender, Bergamot, Sage
Heart notes: Iris, Pear, Ambrette
Base notes: Vanilla, Amber, Cacao, Virginia Cedar, Vetiver, Tonka Beans
Perfume Presentation
Dior Homme Intense bottle is a piece of art that will go down in history as one of the best fragrance bottle designs of all time. The clean and straight edges represent modern artistry and artisanal knowledge at its finest.
The same goes for the whole Dior Homme line with which Intense shares the same shape with slight variations in color and other minor details.
The thick and heavy glass, accompanied by an embossed perfume name, and that fine touch of barely visible Dior name directly spelled on the atomizer stem inside the bottle is a good way to know if your bottle is legit or not.
The cap is made of heavy plastic and has been improved with the 2020 edition, and the fragrance name is written inside the cap.
The pressured "CD" sprayer is a good way to control how much perfume you want to spray on yourself, and along with Dior Sauvage, it is my favorite atomizer in any fragrance out there.
Some have noticed that the 2020 reformulation bottle feels lighter, yet I'm one of those that actually believe that the bottle looks even better now than before.
Just don't mind the lighter fragrance color in the latest reformulation, the fragrance performance is still here.
Dior Homme Intense comes in 50 ml, 100 ml, and 150 ml Eau de Parfum sizes.
My Experience With Perfume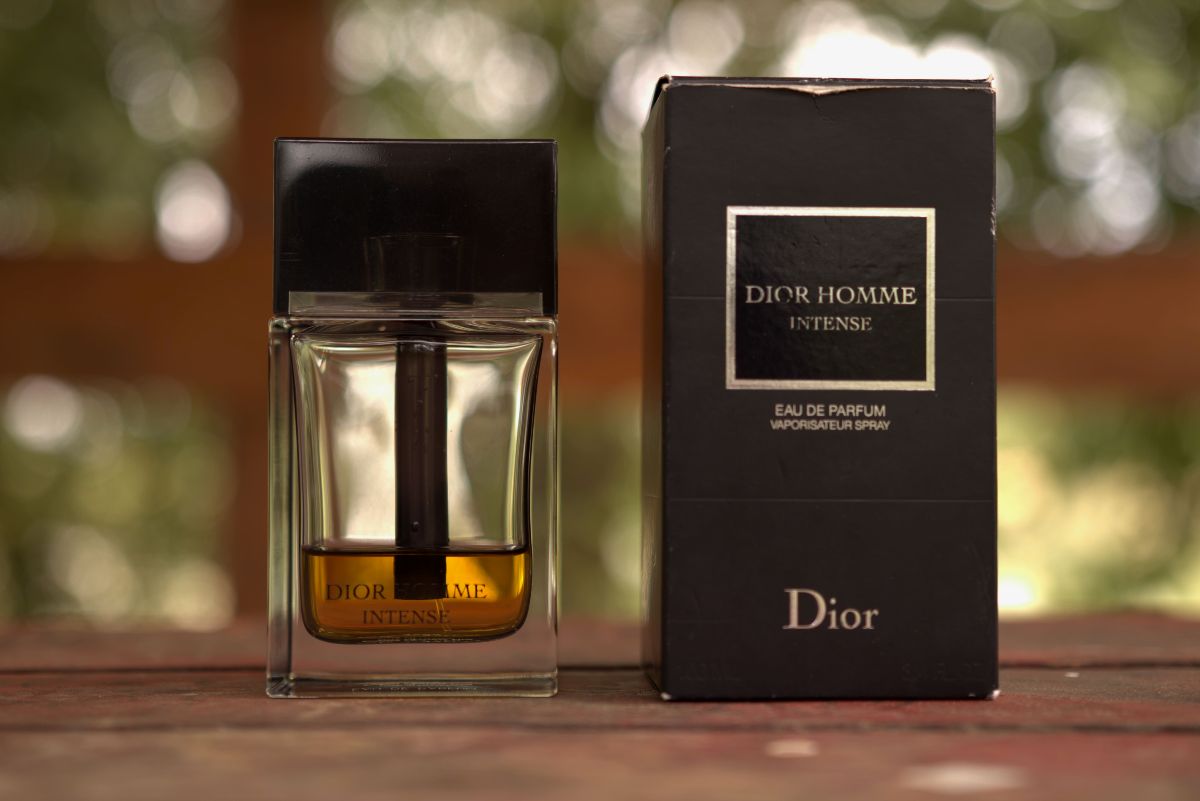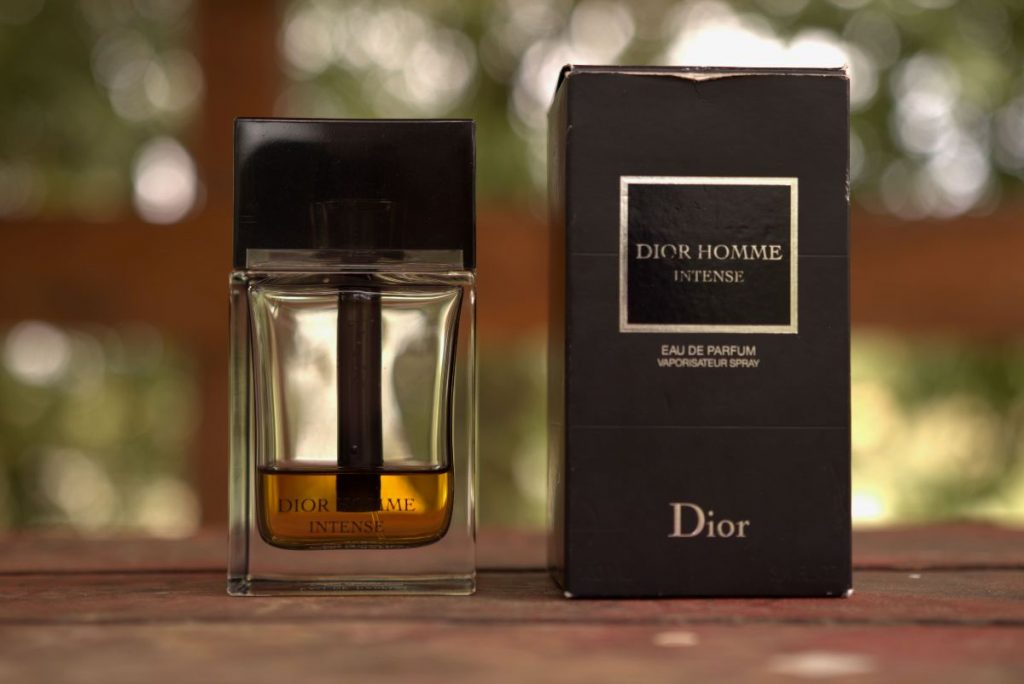 I cannot tell you how much I'm happy when something creative like this gets deserved recognition while maintaining its lasting appeal.
Homme Intense holds the ninth place, or the second one if counting only the designers on the Basenotes 500 Greatest Modern Perfumes list.
One of my Holy Grail Scents, Homme Intense, regular Homme, and Homme Parfum have been with me during most of my fragrance journey.
Each telling their own story, and following me in good and bad times of my life. No other fragrance line had such an important impact and created so many vivid memories. Today, I am a proud owner of the following scents from the same line:
Dior Homme Intense
Dior Homme Sport
Dior Homme Cologne
Regarding the Parfum flanker, I'm still thinking should I buy it again or not. I feel that the older 2014 version is too heavy and slightly harsh for my taste at this moment.
As for Homme 2011, even if the sole composition is richer than Intense, the general lack of performance is what keeps me from buying it again, but that might change.
So, why Homme Intense and not numerous other fragrances? What keeps it at the top of almost every fall and winter fragrance list for men?
The only two other designer fragrances I have seen that kept so much popularity over the years are Hermes Terre D'Hermès and Yves Saint Laurent La Nuit De L'Homme.
In 2005, when the original Dior Homme came out, there was nothing like it on the market. Who would have thought men would start wearing an iris-based fragrance that smells like a woman's makeup bag.
The target audience was metrosexuals, businessmen, and young professionals. Logically, with the initial hype, Dior expanded the collection with additional Cologne, Sport, and Intense variations that sold like hotcakes.
All was good and great, and it seemed like we are entering the 2010s with high hopes of other fragrance brands doing something as creative as Dior did.
That was until Chanel Bleu de Chanel came out, and changed the whole perfume world. Like it or not, Bleu is directly responsible for the creation of each and every "blue fragrance" that is still a favorite genre in men's perfumery.
It seems like men and women like "shower gel" scents so much that everything creative took the backseat. Is that good or bad? Well, that's up to each individual to decide.
If you ask me, I like that we are finally seeing a shift in change from blue scents to more woody and musky creations such as Hermes H24.
Going back to the lasting popularity of Dior Homme Intense, if it weren't for the fragcomm and the internet, who knows if your favorite iris-based fragrance would be in production now.
The two most popular clones of DHI, Givenchy Gentleman Eau de Parfum, and Valentino Uomo Intense probably wouldn't even exist if it weren't for the fragrance community.
Thus, I'm glad to be a part of it, and keep the legend alive by giving something back in return. Now, on with the review.
Top Notes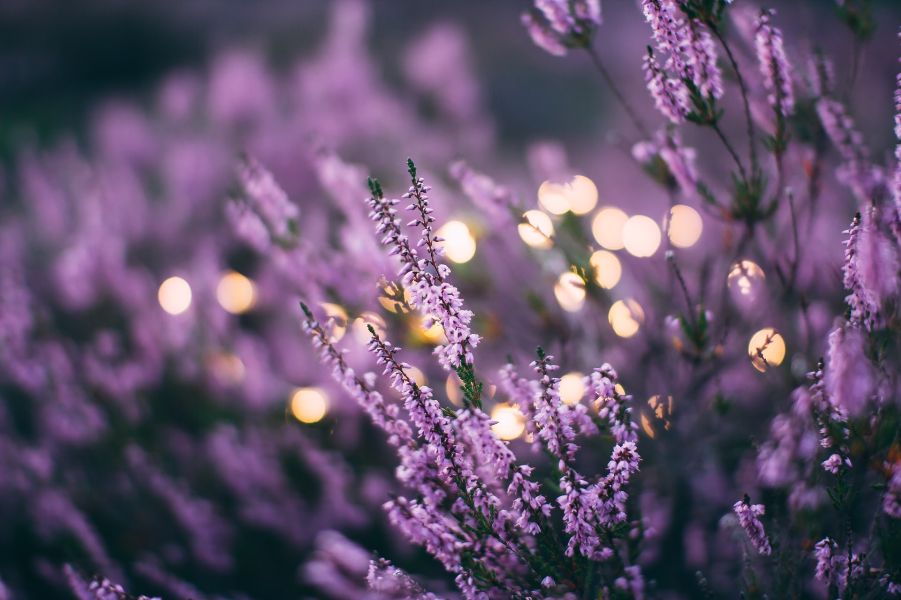 Everything I wrote so far won't prepare you for the first spritz in case this is your first time experiencing Dior Homme Intense.
This is the reference fragrance for men's iris/makeup perfumes, and I am fully aware that the official note breakdown contains fewer notes and accords seen here, but they are all here.
Like its older brother, Dior Homme, this unique fragrance opens up with the aromas of powder, lipstick, makeup, aromatic herbs, and bitter citruses lurking in the background.
The bitter bite combing from sage envelops the lavender and amplifies it with the same bergamot found in the Dior Eau Sauvage Parfum 2017.
Many have mentioned how natural the lavender note is here, but I disagree. It serves more a purpose to gently guide you into the heavy floral and oriental heart than actually being something fully natural.
Those wishing to experience a perfect lavender-based perfume should try Caron Pour Un Homme de Caron.
Judging by the opening, you will be either disappointed or pleasantly surprised. Since we are already in the 2020s, this kind of semi-sweet, and powdery scents probably won't shock you as they would back in the 2000s.
DHI's masterful opening is probably one of my favorites and is instantly recognizable. I cannot tell you how much each time I get excited when the transition into the big and bold heart notes starts to happen after a couple of minutes.
Heart Notes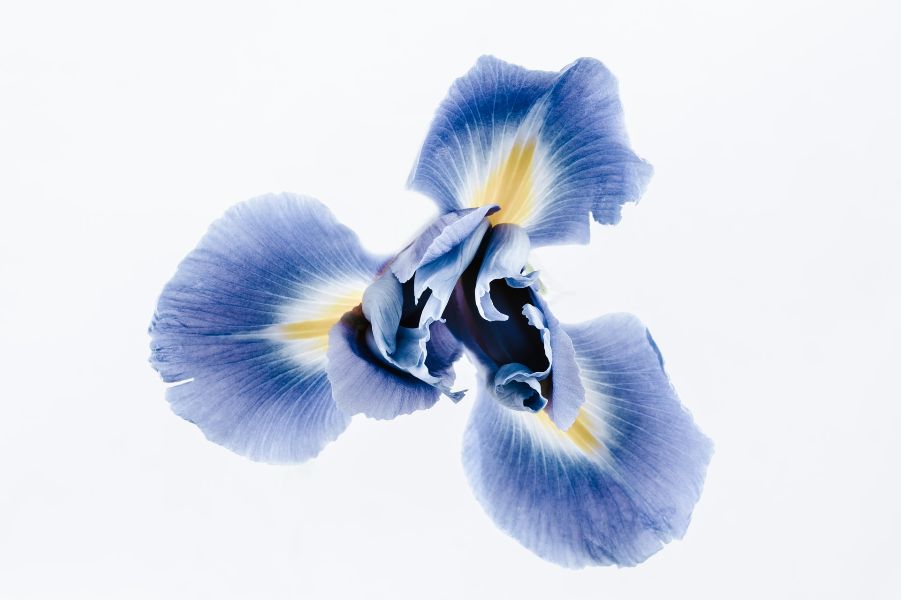 The scent warms up, the powdery iris overtakes almost everything experienced in the opening, and the fragrance starts to project even more. This note is present almost until the fragrance fades away from your skin.
Something buttery keeps the iris from never going fully into the feminine side, and you know what that is? It is something often mistaken for cacao that's also found in the base notes.
That note is none other than pear. Pears' flavor ranges from tangy to sweet, and buttery. The genius move from Demachy to include this show-stealing fruit is probably the sole reason why DHI is more popular than any other Dior Homme fragrance.
Do a simple test, and next to your spray yourself with Homme Intense, take a bite of pear. That is it. The secret of DHI's success. That "ghost" and overlooked note keeps everything together.
As the scent slowly dries down into the base, we are greeted with ambery vanilla, dusty cacao, and musky ambrette. By this time, the pear has faded into the aforementioned notes.
Base Notes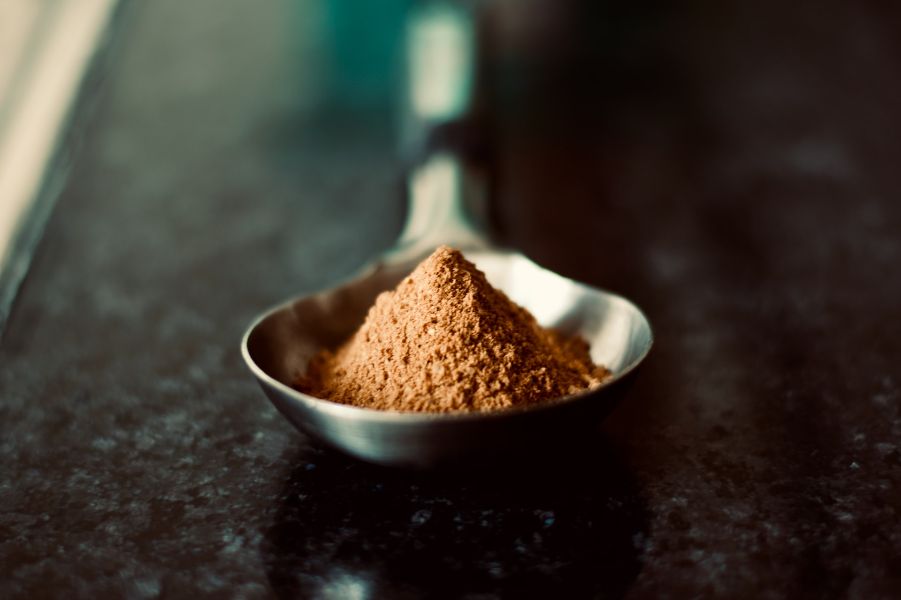 Vanilla
Amber
Cacao
Virginia Cedar
Vetiver
Tonka Beans
One thing I wish it stayed longer would be the iris. By the time the fragrance reaches the dry down, the floral aspects are gone and don't get me wrong the dry down remains great, but it would have been nice if that floral edginess stayed during the whole wake of the scent.
Do you like trendy oriental perfumes full of amber, vanilla, and tonka beans? Then, you are in luck. The further DHI dries down, what is left is warm and musky vanilla with hints of chocolate, and is great.
To my nose, cedar and vetiver are non-existent here, which is a good thing in a powder beast like this. I have noticed that almost everyone liked DHI's dry down, even those who cannot stand floral fragrances.
Please keep in mind that the latest edition of this scent is slightly different in composition and may come as easier to wear scent with a couple of notes missing, and more emphasis on the woody notes absent from here.
Performance
Dior Homme Intense old formulation performs like a beast for the first couple of hours. I usually get big projections and big sillage bubble in the first 2 – 3 hours until the fragrance starts to settle down.
When this came out, getting 8 – 10 hours of consistent performance was something new in this clubbing scent genre, but today, with fragrances such as Tom Ford Ombré Leather that push from your skin until the next time you take shower, DHI seems a little restrained.
In any case, I'm satisfied with the overall performance, even with 2020 of Intense, and I believe you will be too.
LONGEVITY: 8 – 10 hours
PROJECTION: Very good
SILLAGE: High
Target audience and compliments
Homme Intense is not your typical masculine fragrance and works both on men and women. If this was released today from a big niche brand, I would have been classified as a unisex scent for sure.
Anyone over 25+ years should give DHI a try and see how it works on their skin. Strangely, the fragrance still feels unique, and not so often will you smell it on anyone else which will probably gain you a couple of unsolicited compliments and comments about how good you smell.
From everything in the Dior Homme line, I have received the most compliments for Dior Homme 2020(the no iris version), and for Dior Homme Parfum.
DHI sits somewhere above average and is more of a fragrance for personal enjoyment than for compliments due to the elegant nature of the composition.
AUDIENCE: Men
AGE RANGE: 25+
COMPLIMENTS: Low – Medium
Dress code and occasions
Oriental and powdery fragrances shine the most in fall and winter. Although it is mainly a clubbing and romantic perfume, Dior Homme Intense also works great in the workspace.
Never did I feel that it was out of the place where I wore to the office. Of course, the attire should follow the scent. That means avoiding casual clothing and dressing up smart.
Those in fear of potentially offending coworkers can get the regular Homme version(Dior Homme Original) since it projects less.
SEASONS: Fall and Winter
OCCASIONS: Business, Night Outs, Romantic
DRESS CODE: Suits, Smart Casual, Leather Jackets, Coats
Uniqueness and value for money
This DNA has been cloned here and there, with more and less success. The blend feels fresh, and if it came out today, it still would have been praised as it was in 2007, and 2011 respectively.
If you can get the reviewed version for up to 120$, get it without thinking. It is a slightly better version than what we have today, otherwise, the value for money is great even for the latest edition.
Also, I recommend skipping Givenchy and Valentino variations on DHI. This is the one to get, and the one with the best ingredients and blending.
UNIQUENESS: 5/5
VALUE FOR MONEY: 10/10
Pros and Cons
Here are some better and weaker parts of this perfume:
Pros
The reference Iris men's perfume
One of the most creative men's perfume of all time
Great value for money
One of the best romantic and night outs options
Niche composition in a designer bottle
Cons
The new 2020 Intense version is fresher and lasts less
Not safe for blind buying
Some might not like the floral aspects of Dior Homme Intense
Weak on compliments
Collection & Similar Perfumes
Thankfully, almost every fragrance from the Dior Homme line is still in production and is regularly available at retail shops.
Dior Homme Original – a floral woody fragrance released in 2020. The main notes include Iris, Cardamom, and Vetiver. The lasting power is 4 – 6 hours with moderate projection.
Dior Homme 2020 – a woody fragrance released in 2020. The main notes include Bergamot, Pink Pepper, and Iso E Super. The lasting power is 8 – 10 hours with moderate projection.
Dior Homme Parfum – a leather fragrance released in 2014. The main notes include Iris, Leather, and Sandalwood. The lasting power is 12+ hours with great projection.
Dior Homme Cologne – a citrus musk fragrance released in 2013. The main notes include Bergamot, Grapefruit blossom, and Musk. The lasting power is 4 – 6 hours with moderate projection.
Dior Homme Sport 2017 – is a citrus woody fragrance released in 2017. The main notes include Blood Orange, Pink Pepper, and Sandalwood. The lasting power is 6 – 8 hours with moderate projection.
Dior Homme Intense is compared to these perfumes:
DIOR HOMME INTENSE VS DIOR HOMME INTENSE 2020
The differences between the two are small but noticeable to anyone who has tried older formulations before. The latest 2020 version smells airier, and fresh, and touches aromatic herbal notes but keeps the iris as the main tasting note. The color of the perfume of the 2020 edition is slightly more transparent and lighter than before.
DIOR HOMME INTENSE VS VALENTINO UOMO INTENSE
Valentino Uomo Intense smells more leathery and has a weaker performance than Homme Intense. It is also more versatile with less focus on iris note, and sweeter with the inclusion of Tonka Beans. The overall composition is that VUI had a more synthetic character.
DIOR HOMME INTENSE VS GIVENCHY GENTLEMAN EAU DE PARFUM
Givenchy Gentleman EDP focuses on the note of Tonka beans, and Tolu Balsam that making it an interesting variation on the floral-oriental fragrance genre. Gentleman's composition is compact and dense and suited to a mature man. Lacks the refinement that DHI possesses while still being a great fragrance.
If you liked Dior Homme Intense, you might want to try these fragrances:
Amouage Imitation Man – a floral leather fragrance released in 2018. The main notes include Iris, Rose, and Suede Leather. The lasting power is 10 – 12 hours with great projection.
Prada L'Homme Intense – a floral leather fragrance released in 2017. The main notes include Iris, Leather, and Tonka Beans. The lasting power is 10 – 12 hours with moderate projection.
Frequently Asked Questions
Here are some answers to the most popular questions asked about this perfume.
What does Dior Homme Intense smell like?
Homme Intense from Dior smells like a sophisticated makeup bag. A unisex fragrance targeted to men, yet, women can easily pull off this one. The most dominant notes are Iris, Cacao, and Vanilla. This floral oriental fragrance lasts 8 – 10 hours with moderate projection.
Is Dior Homme Intense masculine?
This fragrance is targeted at men but has a unisex aura which makes it a great choice for women who would like to try out something from men's perfume selection, and smell great as well. DHI is a smooth, warm, luxurious fragrance, with the Iris note being the most dominant one.
When did Dior Homme Intense get reformulated?
Dior Homme Intense went through four major reformulations: 1. The original fragrance was created by Olivier Polge in 2007; the 2011 reformulation by Francois Demachy; the 2015 reformulation which has weakened the performance and the latest 2020 formulation with a fresher and woodier composition while retaining the recognizable Iris note.
How long does Dior Homme Intense last?
The fragrance lasts for 8 – 10 hours with great projection and sillage for the first couple of hours and then sits close to the skin. This is a great perfume to wear to work, clubbing, and date nights.
Conclusion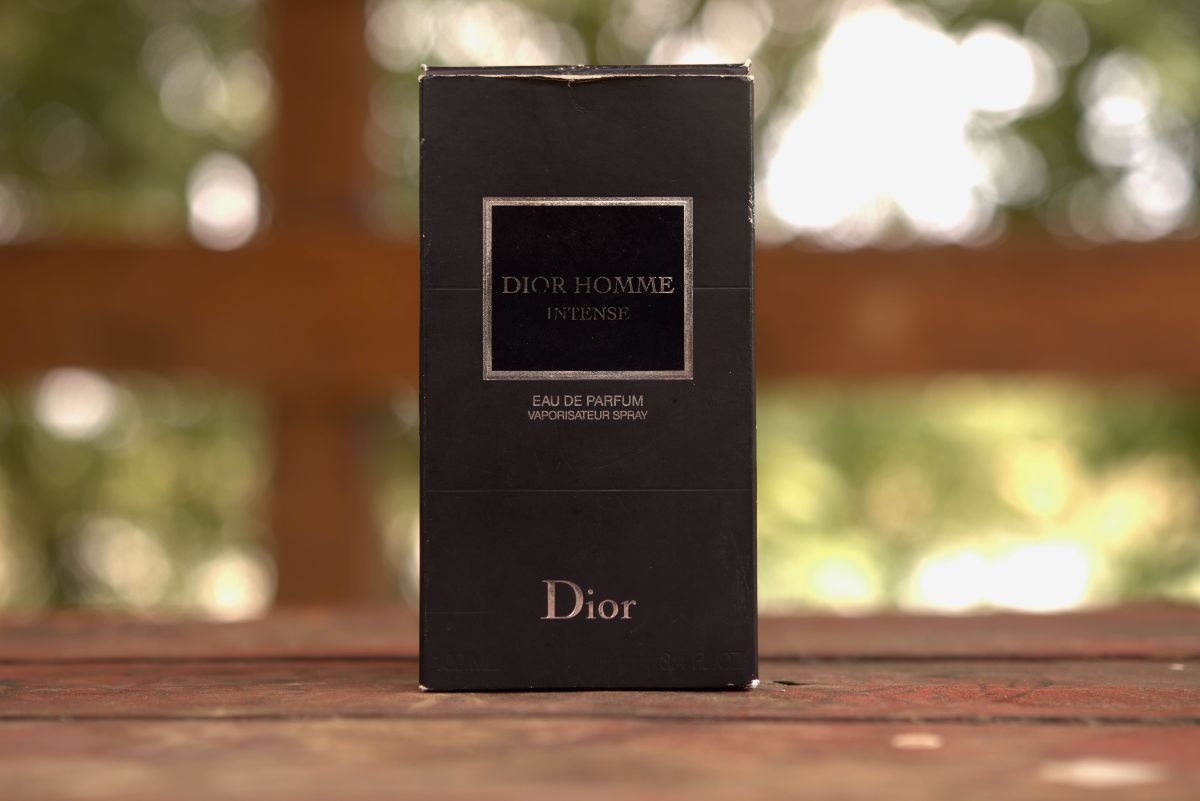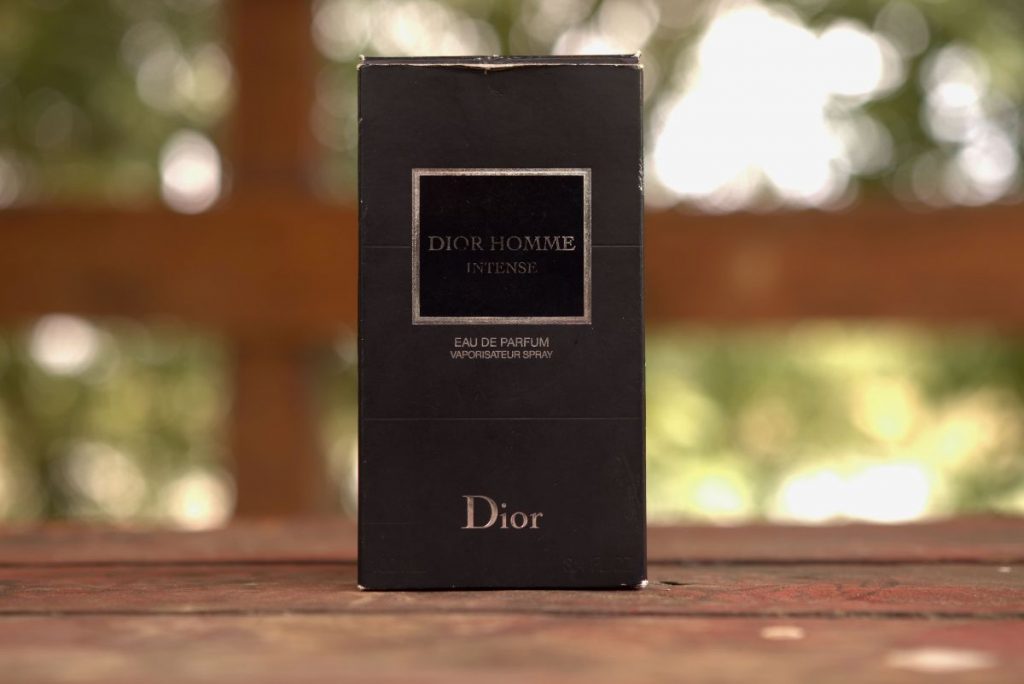 The fragrance community loves this fragrance, and it has always been one of the best-rated men's fragrances out there.
I'm glad that the scent is widely available to check it out without dabbling with blind buys. A truly niche fragrance that feels better composed than most of the niche scents from the same fragrance family.
I am pretty sure that my fragrance would have been different if I haven't crossed paths with DHI, and is one of the main reasons I opened my eyes to more daring and complex perfumes.
Do I recommend it? 100% yes!
What are your thoughts about this Dior Homme Intense? Have you tried it? Do you like it? Let's start a conversation and let me know in the comment section below.
In case you are in doubt about whether you should consider buying this fragrance or not, it's always good to take a look at Scent Grail's S.P.A. Signature Factor Guide.
It is easy to use and the most relevant perfume-buying guide on the web. This way, you can check out if a particular fragrance is worth checking out, and potentially find your signature perfume.
Scent Grail content is free for anyone to use without anything hiding behind the paywall. If you would like to help me do more great articles like this, you can donate via PayPal. Much appreciated.
Find out more Scent Grail articles about perfumery, check out top lists, and other helpful reviews via the links below:
REVIEWS
TOP LISTS
SCENT GRAIL LEARNING CENTER
Until next time, have a great time and keep smelling like a million bucks!
Best, Marin!
#scentgrail #scentgrailtribe
Scent Grail on Social Media: Facebook | Twitter | Instagram | Pinterest
Your number one source for Holy Grail Signature Scents.

– Marin Kristic