I have prepared perfume shopping tips article in a way that one can have everything that is essential in one place, without being overwhelmed with unnecessary and confusing information.
Everything you will find here is based on my experience and the way I purchase fragrances so that when you actually come to the perfume store, you already know what to look for.
Throughout the years, I have heard about fragrance shopping tips from other people such as don't trust other people's fragrance opinions or perfumes don't smell differently on different persons(yes, they do), and many more "tips" you don't really need.
Neither, will I bother you with scientific perfume terms or poetic descriptions of everything perfume-related we perfume enthusiasts tend to do since when you get to the perfume shop, they don't mean a thing.
Did you know that according to the NPD study: "63 percent of adult males ages 18-64 wear fragrance at least occasionally, with 23 percent indicating they use it all of the time, and 40 percent of men who wear a scent have just one bottle at home that they use. Conversely, nearly 40 percent of males ages 18 – 64 never use fragrance."
So, yeah…no matter what perfume you choose, you will still smell original, and authentic, without fear of smelling like every other person, in case you buy Dior Sauvage.
Before we being, let me just that you have come to the right place about perfume shopping tips, and this ain't one of those generic guides that will leave you more confused after reading it. Let's begin.
Affiliate Disclosure: As an Amazon Associate I earn from qualifying purchases. By purchasing via provided links/banners comes at no additional cost to you. Scent Grail only recommends products and/or services that are insightful and helpful to readers. For more info please read Affiliate Disclaimer.
Perfume Guides: How To Properly Use Them?
Here's the best perfume buying advice you'll ever get from me: "Always trust your nose, do your research, and don't blind buy!"
If you just follow that advice, trust me, you are already more than halfway there. The guides you'll find on Scent Grail tend to have a more of a personal touch and stray away from cutting the corners.
The scents we discover and buy, if approached correctly, don't require hundreds of hours of research, and turn into a fun game that perfumes are.
That's why I have made this article a two part guide:
The only technical stuff you need to know about
Fragrance buying tips that are important
I tend to approach buying fragrances as the ancient Chinese philosopher Lao Tzu approached life:
So, in order to get the most of this complete guide about buying perfumes, I recommend reading the whole thing from the start to finish at least once. Once you are familiar with the topics, wrote down the most important notes you found interesting.
Technical Side Of Things
There's no way around it. I would say, even if you found this article just so that you could buy a fragrance for someone you care for, I highly recommend that you read this section as well.
It's always better to know at least the basics to avoid buying something another person won't like, or even worse, buying an expensive fragrance regret.
1. Fragrance Strengths & Perfume Concentrations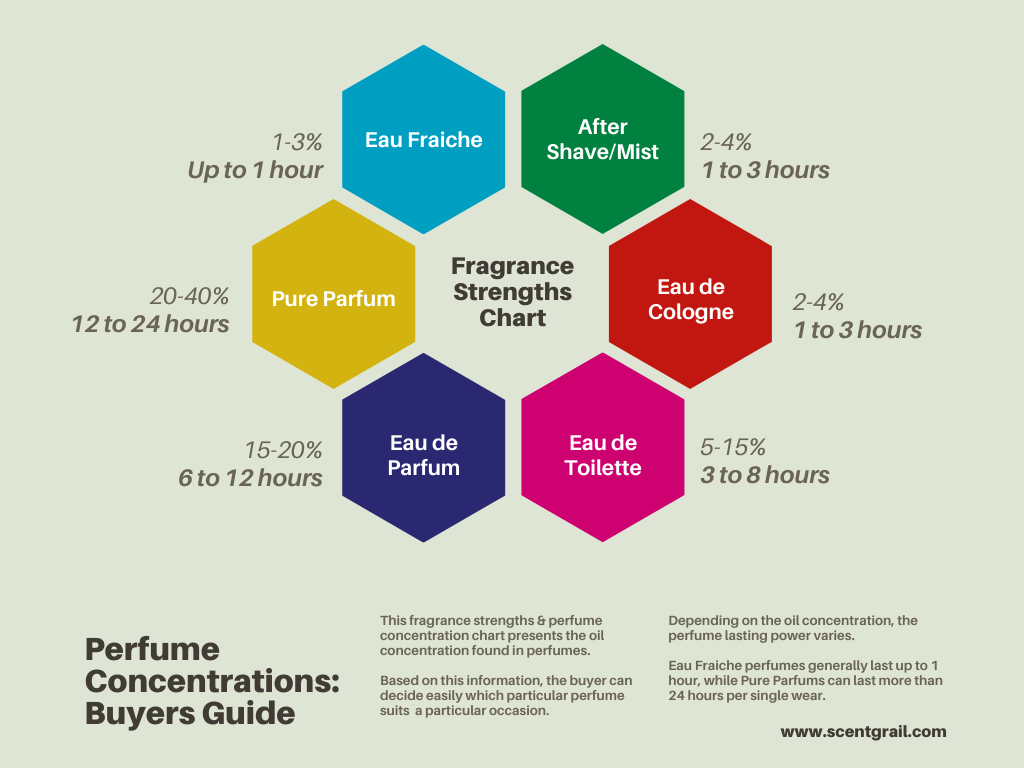 From the dawn of the 21st century, beauty companies have started to release multiple versions of the same perfume in order to expand a particular perfume line and increase their profits.
While there is nothing wrong with profits, one can get confused about the differences in seeing the same perfume in three different bottles and labeled Eau de Toilette, Eau de Parfum, and Parfum.
If you are not sure which one should you try, go for the first release which is often the Eau de Toilette version. In most cases, it is the best version and the one that was voted as the best one from the company and from the public testings.
You may not know this, but beauty brands test multiple versions of the perfume before doing a release, so there is a good reason why some fragrances such as the EDT versions of Terre d'Hermes and Dior's Fahrenheit are still the most popular ones.
Every fragrant product comes in one of the following perfume oil concentration:
Eau Fraiche 1-3%
After Shave/Mist/Splash 1-3%
Eau de Cologne 2-4%
Eau de Toilette 5-15%
Eau de Parfum 15-20%
Pure Parfum/Extrait de Parfum 20-40%
Just keep in mind that sometimes Eau de Toilette can outperform even the Pure Parfum since the stronger alcohol concentration make molecules easier to "jump" from your skin.
Read more about this topic here.
2. Fragrance Families & Fragrance Wheel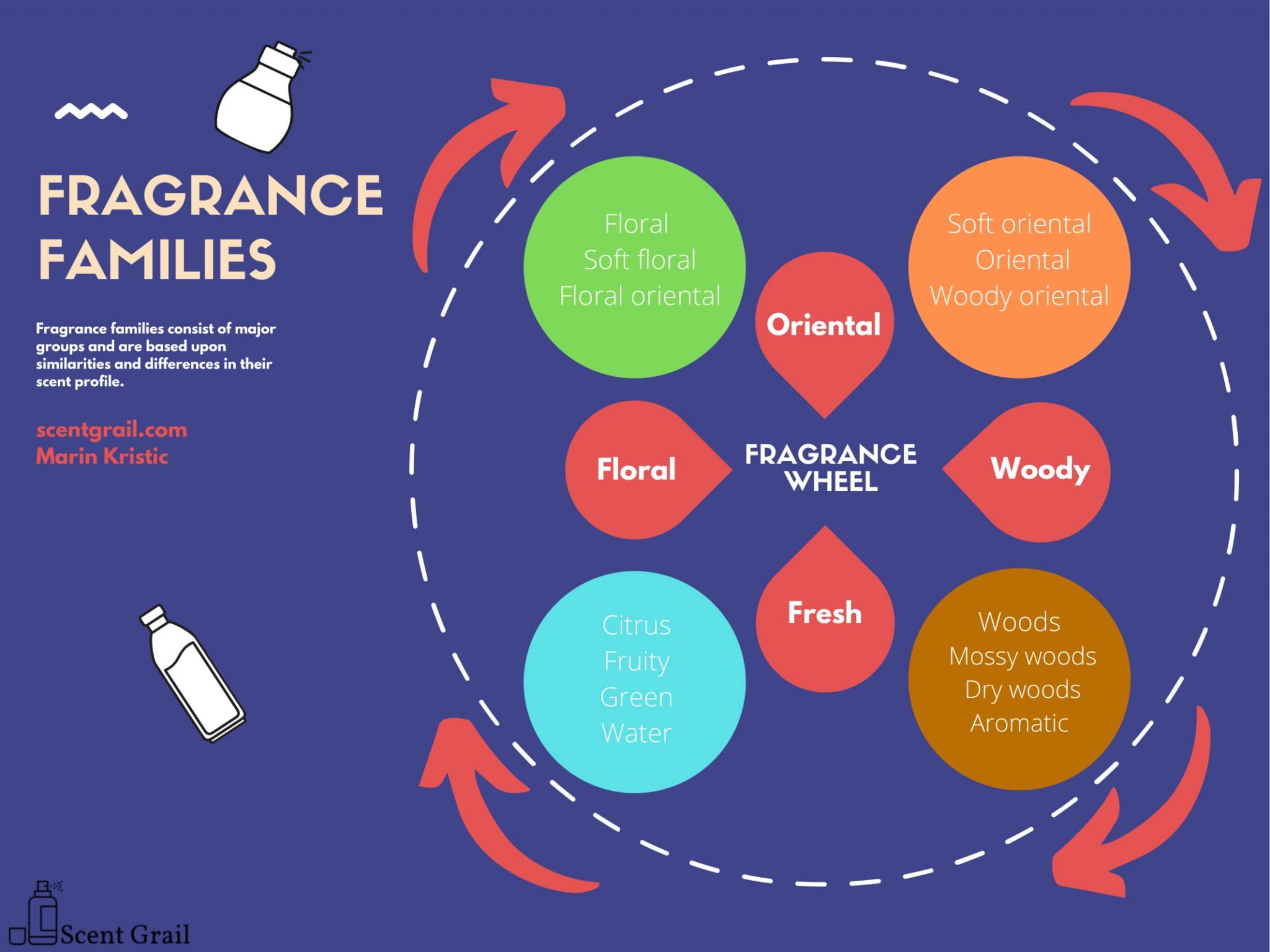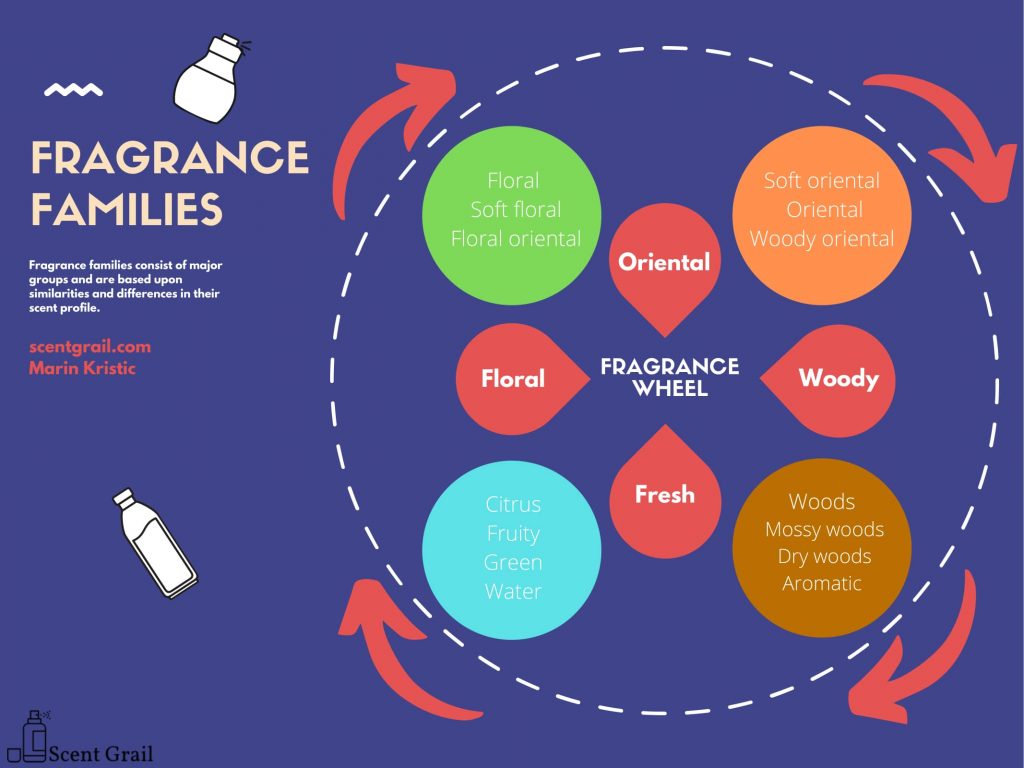 Another important aspect of fragrance shopping tips would be knowing the different fragrance families and checking out how they blend one with another in the fragrance wheel.
As someone who is experienced in this hobby, I would recommend to all those who are just starting out to learn the basics of how fragrance families work, and how they make your life much easier when deciding which perfume should you buy for a particular season and occasion.
NOTES AND ACCORDS: A note is a perfume term for ingredients used in perfumery. Sometimes notes are also called accords which are actually a blend of different perfume notes mashed up together to form a singular note such as amber and leather.
Notes and accords are separated in three different classes known as perfume pyramid:
Top Notes
Middle Notes
Base Notes
Each of the separate note stages is carefully created by perfumes to evaporate accordingly.
There are four fragrance families, each divided into their respective subgroups that help you identify fragrance families easily.
Floral Family – floral perfumes smell like a bouquet of flowers that feature many facets of blooming aromas. Floral scents can be either made from single flower notes(soliflore) or many flowers(bouquets).
Oriental Family – one of the most popular fragrance family which is known to have a warm and spicy scent profile. Oriental perfumes are long-lasting perfumes ideally used in romantic and clubbing scenarios during the Fall and Winter when they mix with skin and cold air perfectly.
Woody Family – as the name suggests, woody fragrances composed of warm, and rich compositions dominated by woody and foresty notes. They can smell like a forest, sawdust, earth, and dry.
Fresh Family – adored by many, and accepted by everyone. Freshies and aquatics are easy to wear, often fresh and airy uncomplicated scents, often smelling like the sea with beachy vibes.
Read more about this topic here.
3. Wear Perfumes The Right Way
It may sound easily as spraying the way you want(that may be true as well), but it's not always as simple as that.
The more you wear perfumes, you more you realize there are different ways to do this simple practice correctly. If anything, some perfumes work better when is colder, and others take a different shape when it's hot outside.
Let's not forget that wearing a heavy and sweet fragrance in the office can get you unwanted attention. I find the following Tom Ford's advice quite interesting:
These are my favorite ways of wearing the perfume:
Wear only the best of the best – life is too short to waste it on half-baked things. Right? That's why if you are already an experienced perfume enthusiast, keep wearing the perfumes you like the best.
Spray heavily only those which don't project – like most of the things in life, happiness comes in small things. So, keep those sprays to a lower number, if your perfume projects too much.
Don't spray perfume on your clothes – this is something I have never liked due to the possibility of perfume stains and being forced to wash t-shirts the very next day(in some cases, perfume can linger for months on your clothes).
Trust your skin – what does this mean? Your skin will "tell you" the best where should you apply a fragrance. Start with the neck area, and if it's too much, spray on your chest area five minutes before dressing or on your hands if wearing short sleeve shirts.
Read more about this topic here.
Perfume Shopping Tips: The Journey
With technicalities out of the way, there are only seven rules of perfume buying one should know. While some may offer many more perfume shopping tips, these ones are all you need.
In the sentence above, I'm referring to advise regarding wearing signature perfume which requires a more in-depth explanation.
4. Do Your Research
Thankfully, we are living in a digital age where almost everything and anything is just a few clicks away. Besides Scent Grail, there are many fantastic websites about perfume to do proper research before ever stepping into a perfume shop.
These ones I recommend:
Fragrantica – best for checking out new perfume releases.
Basenotes – knowledgeable perfume community
Parfumo – the best mix of both
Those who like are more into watching videos, there is a huge fragrance community on YouTube that provides great information about perfume reviews, tips & tricks, and interviews with perfumers.
Read more about which Fragrance Reviewers that I still watch.
The third great option about doing perfume research is by joining some of the many fragrance groups found on Facebook such as:
Last, but not least, before buying any perfume, don't forget to check out my S.P.A. Signature Factor Guide. It is the easiest and the most relevant fragrance buying guide on the web.
5. Sample Retail, Buy Online
Perfumes are not cheap. Especially, if you are buying more than one perfume per month. Personally, I shop retail only in cases when I cannot get a hold of perfume online, or the price is similar to those found via fragrance discounters.
Sampling a perfume at least five times before a purchase is a golden rule, and that's where retailers are your best friends.
I have created a whole article based on the best fragrance discounters so that you can get safe and affordable perfume deals.
BUYING RETAIL: perfume retail shops often offer free samples with purchases and free gift wrapping. Opt for retailers if spending budget is not an issue.
6. Test Up To 3 Different Perfumes
While it may get tempting to test everything in the sight, now that you came to the perfume shop(hopefully unscented), pick three, spray one on the neck and the wrists, and let it rest for about 15 seconds before smelling them.
Olfactory fatigue is a real thing, especially if you are sampling stronger stuff like 1 Million, or Mugler Angel.
Spraying the perfume on the skin is a must, even though I suspect you already know that by testing the perfume via paper blotter, it's not the same deal since the fragrance doesn't get to develop as it would be on your skin.
I understand if some of you may be a little shy to talk to sales associates or know more from them which is much more common than you may think, but it's nice to talk about perfume with someone knowledgeable, and hey, you may even learn something new.
Since you are going to do this the right way, there's no need to "reset" your olfactive palette and smelling the coffee beans.
Before your rush and purchase the fragrance straight away, step outside the shop.
7. Leave The Perfume Shop
You have done it. You have done your research, learned everything that was important, sprayed yourself with something hopefully fantastic, and left the shop.
If you have invited a friend, or someone else to come with you, even better. They will help you enormously about how the fragrance works on you, and give you an important second opinion.
FRIENDS WILL BE FRIENDS: Invite friends or family to test perfumes with you. Spray the perfume on them as well to get a better idea of sillage and projection.
Now, here is the fun part. Don't buy anything that first day, and continue with your life. If you aren't a chemist or a scientist, forget about the whole science thing behind how to smell a perfume "properly", and take a walk outside.
Throughout the day, you should get a general feel of how a perfume lasts, projects, makes you feel, and how other people react to it.
If you ask that sales associate politely, the one you have decided to talk to even if you are shy, there is a good chance you'll get a sample for free.
8. You Shouldn't Trust First Impressions
Did you know that perfume houses intentionally make the top notes most interesting and that's where a lot of chunk of money goes?
As they develop on your skin, perfume changes, and it is rarely the same as it was when you first sprayed it. Especially if you used blotting papers.
This is why I would enjoy the first 10 to 20 minutes, but wait until the perfume dries down, to see its real face. If you still enjoy the fragrance after a good couple of hours, you might be on the real track.
Now that you picked a perfume that got you interested, do something different. Buy a small decant from that perfume from one of those suggested Facebook fragrance groups, or use a sample you received from the shop.
Great. Use that sample or decant in two different scenarios for at least five times:
Work
Leisure
No matter have you received any comments regarding the fragrance, let it meld with your skin and do its magic. This way, you'll know does it suits your taste and personality.
You are ready.
9. Closing Time
Congratulations. You have found a perfume just for you. And you have done it the best way possible. I prefer to buy perfumes online since it works better for me. It is up to you will you buy it this way or not, but there is one piece of advice I suggest you do if you decide to go the retail route.
Don't forget to find that sales associate that helped you with perfume selections and gave you helpful tips. Most of these hard-working people are working for commissions, and every sale helps.
The least you can do is to praise them in from of their manager about how helpful they were or buy via their SA code.
Not only that in the future you'll know first about new releases, but it will change your perfume shopping quality for much better, and you might even find a new friend.
Those buying online should also use all of these tips before blind buying of any kind. What makes this kind of perfume shopping are usually better prices, better selection, and options to buy tester perfumes.
10. Don't Fall Into The Fragrance Buying Addiction
All of the before-mentioned perfume shopping tips would be for nothing if you fall into something very serious, called fragrance buying addiction.
While it may sound funny, and you may think that this couldn't possibly happen to you, fragrances can become an addiction. Great smelling addiction, but still an addiction.
Instead of apprenticing the perfumes you already have, the thrill of buying a new bottle, giving them a couple of sprays, and putting them back alongside other fragrances you already own starts to control your behavior.
If you notice some of these common signs of fragrance addiction, it time to stop buying perfume for some time:
The feeling of buying rush of euphoria when buying
An urge to lie to your family, friends, and partner about spending habits
Going into debt and ignoring more important things in life than perfumes
In fact, I have created a whole article based on fragrance addiction which I recommend you should read, even if you own just a couple of perfume bottles.
Conclusion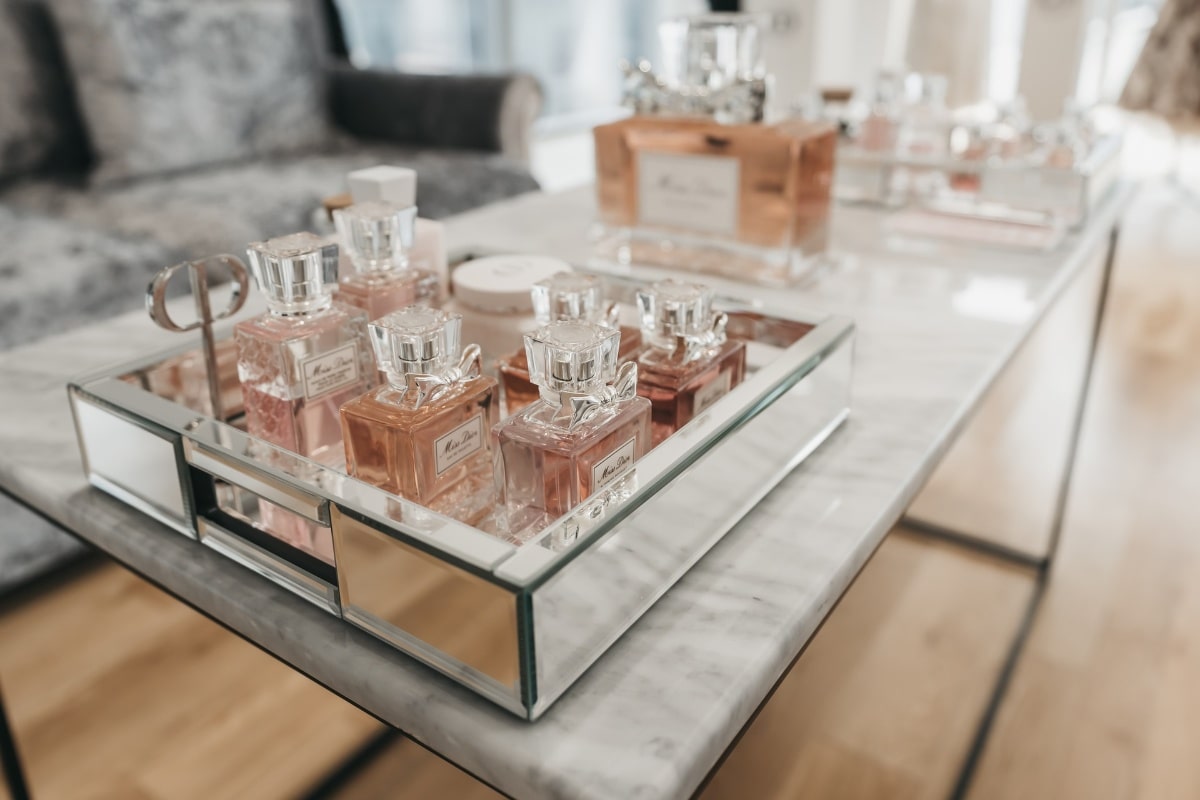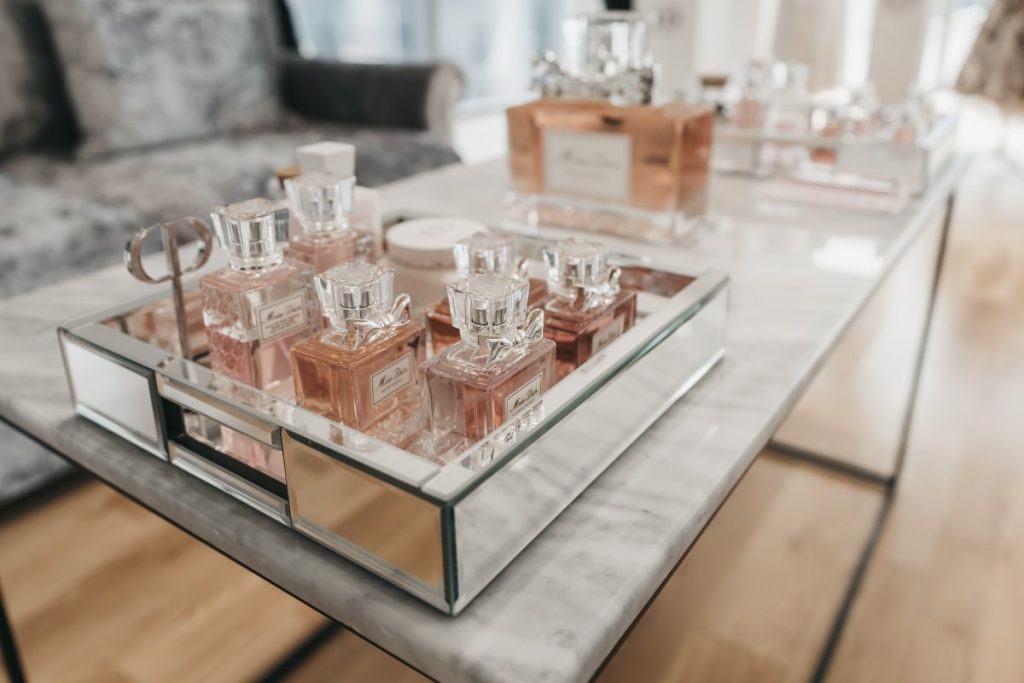 Perfume shopping should be fun and easy. That's why, I have decided to stay away from the oblivious, and unimportant.

By following my 10 perfume shopping tips, you'll know everything you need to do, smell, and see. As someone who has been in this perfume hobby for over 10 years, my biggest achievement would be to help those who search for proper perfume advice.
Thus, relax and have a good time buying your next great-smelling perfume.
Let me know in the comment section below which of my 10 perfume shopping tips you liked the most, and let's start a conversation.
Find out more Scent Grail articles about perfumery, check out top lists, and other helpful reviews via links below:
REVIEWS
TOP LISTS
SCENT GRAIL LEARNING CENTER
Until next time, have a great time and keep smelling like a million bucks!
Best,
Marin!
#scentgrail #scentgrailtribe
Scent Grail on Social Media: Facebook | Twitter | Instagram | Pinterest
Your number one resource for Holy Grail Signature Scents.

– Marin Kristic