Histoires de Parfums Fidelis review has been the one I had created many times in my head throughout the last couple of months before actually writing it.
From mixed emotions about how I was disappointed with "another" oud-based perfume with a similar notes composition, we had seen thousands of times already, to an appreciation of what it's trying to say.
It is also a perfume that it had to "grow" onto me with time, and it was a blind buy based on a couple of reviews on YouTube.
I'm not yet entirely sure what pulled my blind-buying "trigger", but I surely know that by now, I'm 100% done with the oud craze that by now feels somewhat old.
Histoires De Parfums Fidelis in three words: OPULENT – STRONG – UNINSPIRING
Affiliate Disclosure: As an Amazon Associate I earn from qualifying purchases. By purchasing via provided links/banners comes at no additional cost to you. Scent Grail only recommends products and/or services that are insightful and helpful to readers. For more info please read Affiliate Disclaimer.
Don't have the time to read the review right now? No worries! Here are my 5 quick takes:
The best spicy opening of all time
A woody oriental fragrance with great longevity
Created by Julien Rasquinet in 2015
Best used during winter as a leisure and clubbing scent
Rose-oud mix that lack creativity
Is Histoires De Parfums Fidelis a masterpiece like some may claim, find out in the latest Scent Grail review.
Brand and Perfume History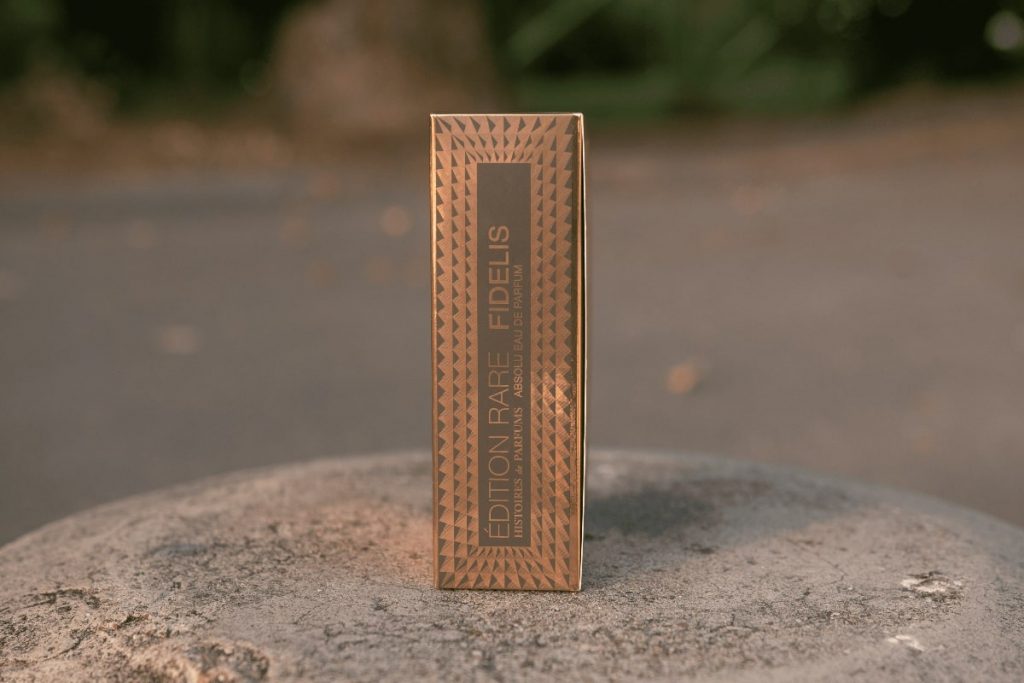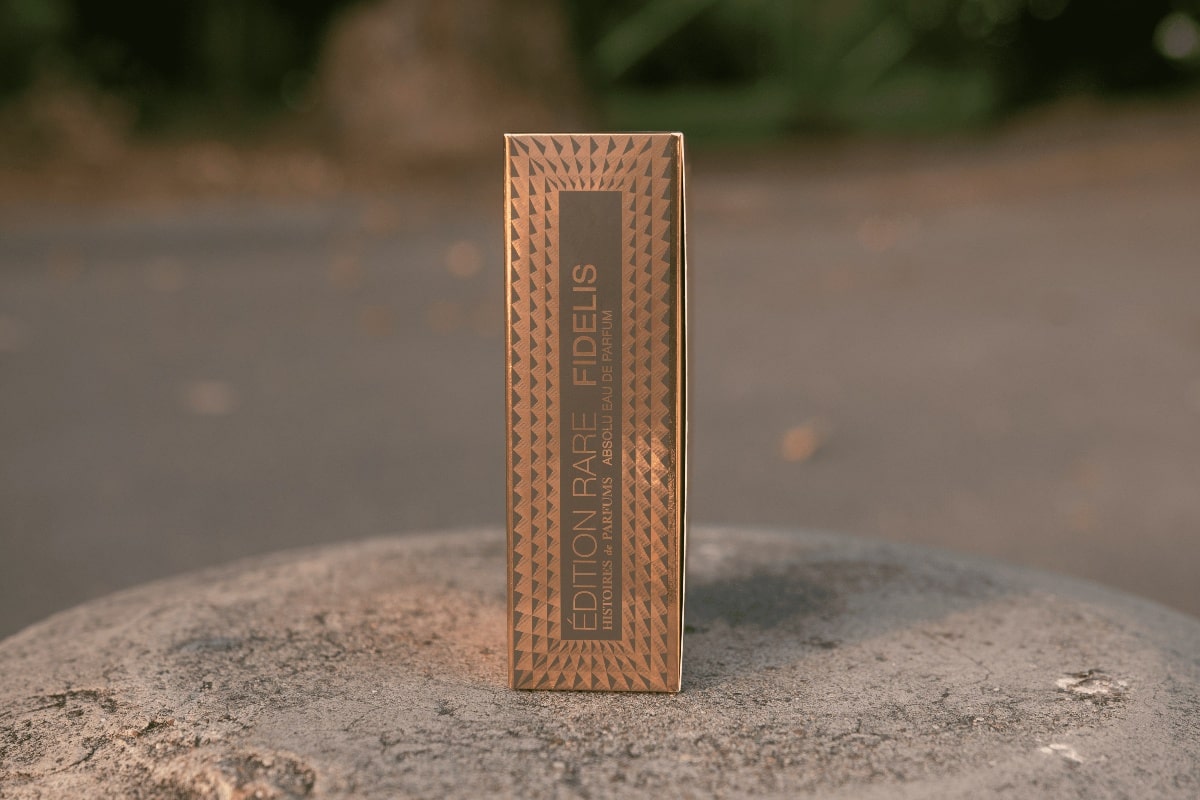 Histoires De Parfums is a luxury niche perfume house from France that has been on the market since 2000. Here's what they say about their brand:
"An olfactive library that is telling stories about famous characters, mythical years, poems and music.
The collection created by Gérald Ghislain is governed by no rules other than inspiration.
With his luxuriant imagination, this loquacious individual has chosen to bring his stories to life in perfumes, a sensitive and sensual medium. Histoires de Parfums releases its fragrances in a Deluxe edition to be read on skin."
Histoires de Parfums History
The brand was founded by Gérald Ghislain in 2000. The first edition perfumes were named after the birth year of famous people from the past such as Ernest Hemingway, and Giacomo Casanova.
Gérald Ghislain is a passionate jack of all trades that enjoys life with a touch of refined luxury. With the HDP brand, Gérald wants to tell stories, but instead of words, he uses fragrances.
By telling stories with fragrances, Histoires de Parfums represent the French perfume industry by using only the top-notch ingredient quality in their collection of perfumes which are like a "library", each perfume telling a story.
Histories de Parfums currently has more than 40 perfumes in their various collections such as Three Golds, This is not a blue bottle, Heritage, and others.
The brand has collaborated with perfumers Julien Rasquinet, Gerald Ghislain, Fanny Bal, Magali Senequier, and others.
Histoires de Parfums most-well known perfumes are:
1740
Ambre 114
1969
Noir Patchouli
1725
1804
1899
Fidelis
This is not a blue bottle
Tubereuse 3 Animale
Histoires de Parfums Fidelis Story
HDP Fidelis was created by young and already-established perfumer Julien Rasquinet in 2015. Julien is a perfumer that graduated from a business school and loves travel while living between Paris and Dubai.
He believes that smell has an intertwined connection with memories and emotions, and connects his childhood memories directly with a smell that associates him with everything from the past.
He often cites Pierre Bourdon as his mentor in perfumery that's inspired him the most. Although it took some time for Julien to realize his full potential as a perfume nose, Pierre discerned his sensibility and suggested a career change.
Julien also had an opportunity to work with Christine Nagel for 2 years before starting to go his own way and creating his own perfume company.
His inspiration comes from places, songs, people, and books.
The three golds collection is a tribute to the most beautiful verse of the Occident and the most beautiful prose of the Orient.
Thus, Histoires de Parfums Edition Rare Fidelis is a representation of pink gold tribute to Venus, the goddess of love and seduction.
Julien Rasquinet notable work:
HDP Fidelis
Amouage Enclave
Frederic Malle The Moon
HDP This is not a blue bottle
Lancome Rôses Berberanza
Masque Milano Russian Tea
Naomi Goodsir Bois d'Ascese
Perfume Theme
Histoires de Parfums official blurb: "Gold is wedded to copper, the metal dedicated to Venus, the goddess of love and seduction….

A lingering kiss in the hollow of the wrist from Coffee, Saffron and spicy Amber. Thus Love, born in the heart of a Rose entwined with Patchouli, surrenders to the delights of intoxicating Oud.
All the glowing and profound demeanor of a Rose strengthened by Oud to summon perfect love."
Notes and Classification
Perfumer: Julien Rasquinet
Perfume Oil Concentration: Eau de Parfum Absolu
Fragrance Type: Woody Oriental
Release Date: 2015
Target Audience: Unisex
Most dominant notes: Cardamom, Oud, and Amber
Age Group: 25+
Seasons: Fall and Winter
Occasions: Clubbing and Leisure
Wearability: Experienced
Longevity and Sillage: 24+ hours with great projection
The recommended number of sprays: 2 (neck area)
Reviewed batch code: n/a
Uniqueness: 2.5/5
Value for money: 7/10
PERFUME NOTES
Top notes: Cardamom Oil, Guatemala Coffee, Saffron, Cumin Oil
Heart notes: Rose Absolute, Raspberry
Base notes: Patchouli, Amber, Oud Laos
Perfume Presentation
Histoires de Parfums Fidelis also known as a rose gold edition of gold-themed perfumes that also includes Veni(yellow gold) and Rosam(white gold) is one of the most luxurious-looking bottles on the market.
I have already mentioned a couple of times that many brands just don't deliver on the presentation aspects of their perfumes, but yet charge as they do.
It is quite oblivious that Gérald knows what he's doing, and I would personally place Histoires de Parfums in the top three niche brands design-wise.
Bottle & Box
Rose gold is the theme here, and it delivers much more than you would expect by just looking at the pictures of this fragrance online.
Three sides of this magnificent bottle are painted in this shiny material that would impress almost anyone. The liquid inside is dark bronze, just like it should be in such heavy compositions.
On the opposite side, you'll find the information about the perfume in the art deco style sticker which also follows the gold theme. While the bottle is a fingerprint magnet, it is a joy to behold and look at.
Unfortunately, the box is a little bit different story. While it follows the same theme and has cool details like a little story about Fidelis, it is made from average cardboard, and it didn't leave a particular impression on me.
My Experience With Perfume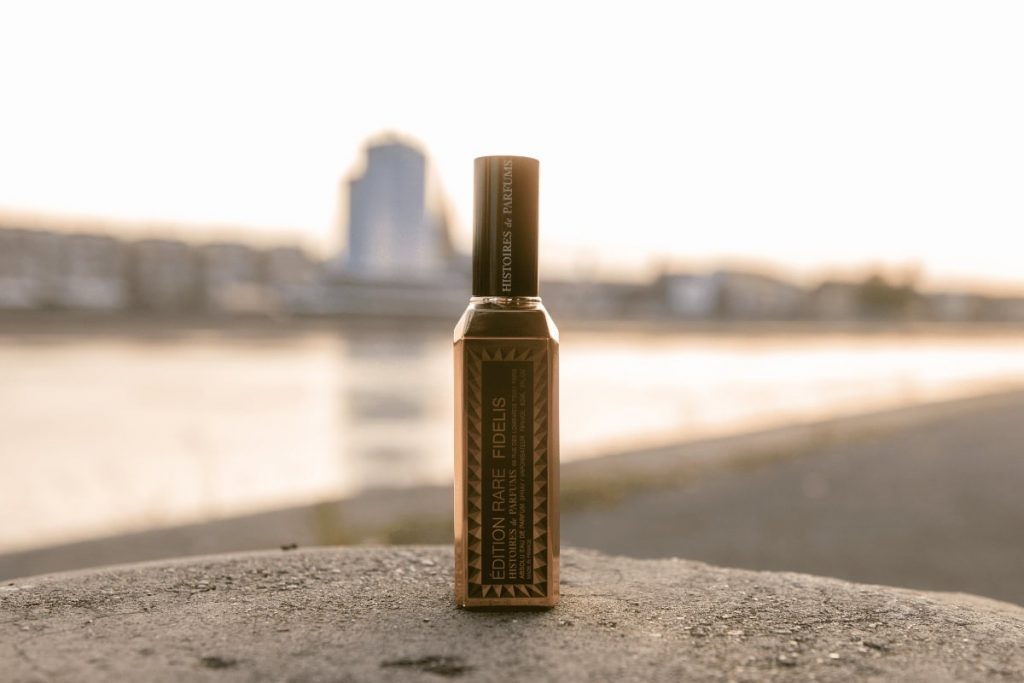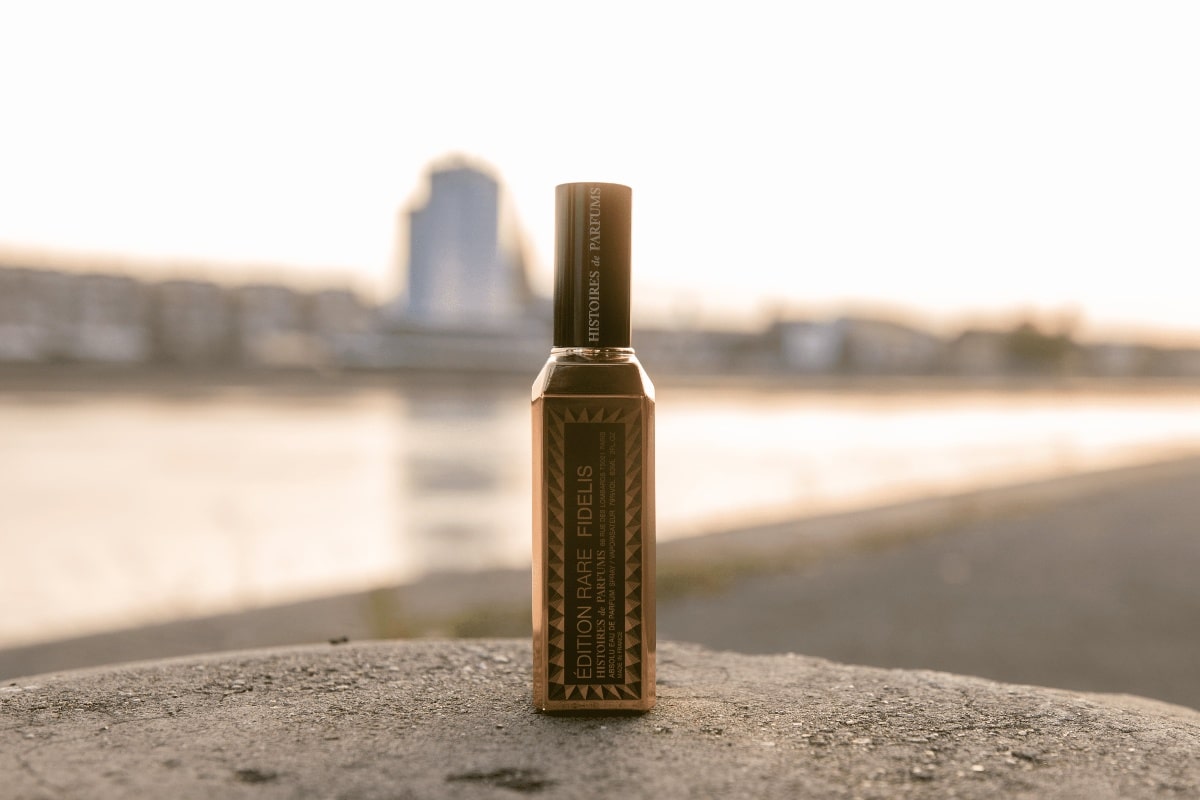 Alright then. The meat and the potatoes section of my experience with HDP Fidelis. As mentioned at the beginning of this article, some people claim that Fidelis is a masterpiece. What do I think about that?
Well, take it as you will, but depending on where you are in your perfume journey, there will be one of the two ways you experience Fidelis.
If you are new to oud-based perfumes you'll probably claim it's a masterpiece, but if you are not, well….continue reading and find out.
Opening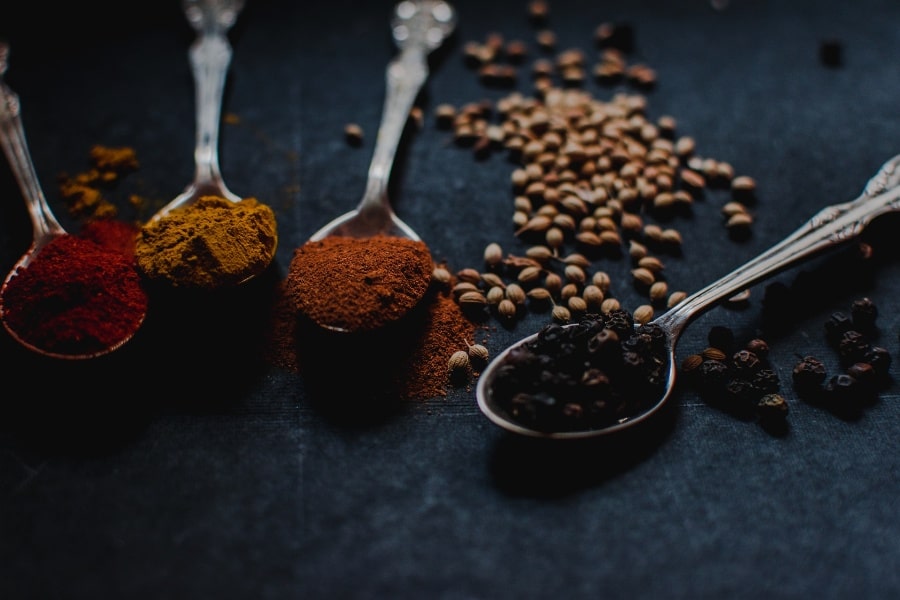 Cardamom Oil
Guatemala Coffee
Saffron
Cumin Oil
The first ten minutes of the Histoires de Parfums Fidelis are hands down the best part of this fragrance. If you have ever been to the Asian spice market, you know what you are gonna get here.
It smells prestigious and luxurious, and quite possibly, it is the best spicy opening of all time. The melange of cardamom, saffron, and cumin mixed with roasted coffee at the top notes is what are dreams made of.
Frag-heads familiar with Cartier Declaration will be right at home with this one since it has an upscale version of those ingredients here. I love it, and it is to die for.
Please note that the coffee here is not the main player, and it never becomes one. Think of it as a supporting backbone. It's nowhere near noticeable as it is for example in Angel Men by Thierry Mugler.
Scent development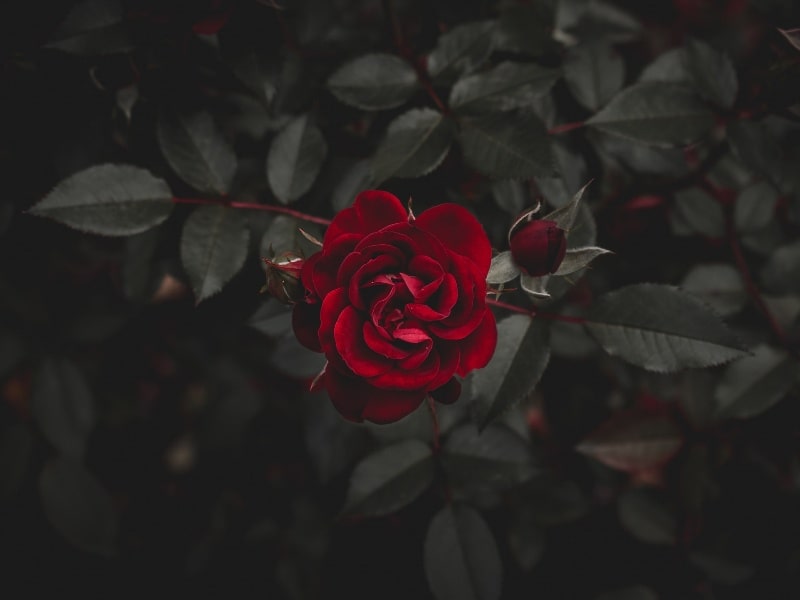 Give it 30 minutes or so, and Fidelis starts to get warmer, rich, and more sensual. Spices calm down just a little bit and rose, oud, and powdery amber start to pop out.
Julies has blended this composition almost to perfection and each note is noticeable in different amounts. Throughout the composition, there is a hint of a generic fruity note that if no one had told you that it was raspberry, you would never guess it.
The difference between Fidelis raspberry and one found in Tom Ford's Tuscan Leather is night and day. Tuscan Leather is a clear winner here.
But, hey. Don't worry, since its note the main note, and certainly, you aren't buying it for its fruitiness. My problem with this perfume is that as soon it starts to dry down, I start to see where the corners were cut.
This same oud plus rose combo is found in thousands of other perfumes, either cheaper or more expensive. It is exactly the same generic oud molecule that is so outdated that I was almost shocked that they used it again.
Don't get me wrong, there's nothing wrong with it, but haven't we already moved on from this trend? I had noticed this molecule before in Armaf Shades Wood and Swiss Arabian Shaghaf Oud Abyad.
Thankfully, there is a saving grace in the dry down that comes after good five to seven hours.
Drydown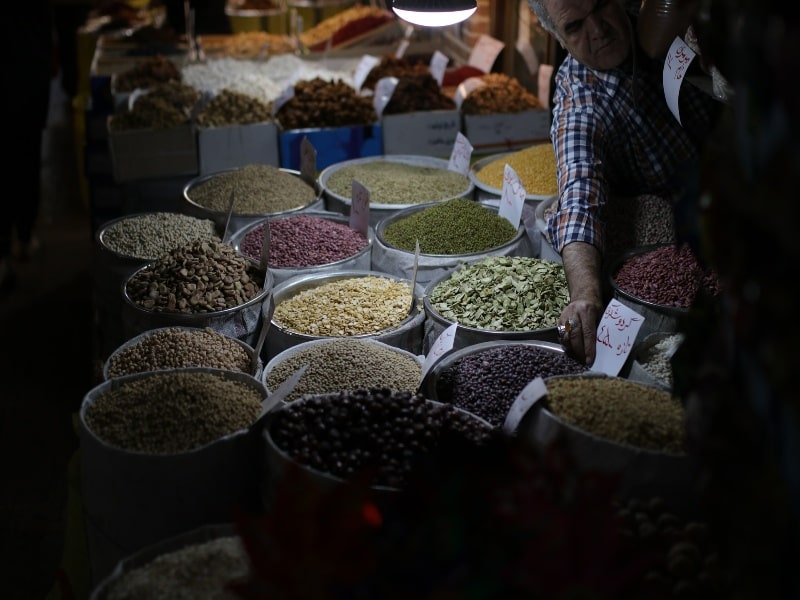 In the dry down spices make a return, noticeably cumin. The base is warm and powdery with a touch of earthiness coming from patchouli.
Not prominent anymore, the oud and rose combo give base notes to breathe, and fans of oriental perfumes will enjoy this stage. I love these types of ambers that are similar to that in Guerlain Shalimar and can vouch for it.
All in all, the dry down is enjoyable and well crafted, but be prepared to wait for a good workday to get there.
Performance
If you thought you knew what strong and long-lasting perfumes were, you haven't tried out Fidelis. I'm yet to find a perfume that will last and project for days as it's here with Fidelis.
A powerhouse in its fullest form, and a perfume that will get you noticed even across the street. 24 – 48 hours with terrific projection and sillage.
I remember using Fidelis once in the summer and leaving my long sleeve shirt in the closet until Fall, and boy oh boy, it was still there after good two months.
This is the only perfume I recommend using only in the dead cold Winter. Don't go over two sprays, preferably under the shirt.
Target audience and compliment factor
To be on the safe side, if you are under 25 years of age, do not go for the full bottle, test HDP Fidelis from a sample, or buy a decant.
The combination of strong spices, florals, and oriental notes isn't for everyone. As for others, for experienced perfumistas, sampling is your best bet.
The only comments I have received for Fidelis so far were "you smell familiar" and strong which just proves my theory of the same oud plus rose combinations we have seen many times.
Dress code and occasions
Winter-exclusive only, Fidelis shines when it's around 0 Celsius/32 Fahrenheit. Due to a heavier mix of notes and accords, wearing this perfume when it's warm outside gets cloying fast.
Thankfully, this familiar combination works well in clubbing scenarios, believe it or not. Older guys who like these types of scents, and still go to clubs from time to time will find Fidelis perfect.
Otherwise, it is a leisure or winter holiday fragrance. As for dress code, and strange as it is, HDP Fidelis goes well with casual, and works with dressed-up attire.
Uniqueness and value for money
Plain and simple, Fidelis is not unique at all, as already mentioned in this review. My initial thoughts about this perfume have not changed even after a good year of owning it.
I got my bottle at a fragrance discounted for around USD 100 which makes value for money pretty high and punches well above its price class, but that outdated DNA keeps it from reaching big heights.
Pros and Cons
While it's oblivious that personally, I'm not the biggest fan of Fidelis, there are many good things about it.
Pros
Excellent blend of the familiar theme
World-Class presentation
Longevity and projection
It's worth more than its price
The best oud-based perfume that beginners should start with
Cons
Outdated
Lacks creativity
You can get similar perfumes for a much lower price
Fragrance enthusiasts should look elsewhere
Collection & Similar Perfumes
The "Three Golds" collection consists of three perfumes, each with its own variation:
Histoires de Parfums Edition Rare Rosam – a floral woody fragrance released in 2011. The main notes include Rose, Oud, and Taif Rose. The lasting power is 24+ hours with great projection.
Histoires de Parfums Edition Rare Veni – a spicy oriental fragrance released in 2012. The main notes include Cardamom, Ambergris, and Cinnamon. The lasting power is 8 – 10 hours with moderate projection.
Similar perfumes:
Frederic Malle The Moon – a fruity woody fragrance released in 2019. The main notes include Raspberry, Oud, and Leather. The lasting power is 24+ hours with great projection.
Guerlain Les Absolus d'Orient Santal Royal – a floral oriental fragrance released in 2014. The main notes include Rose, Oud, and Sandalwood. The lasting power is 24+ hours with great projection.
Amouage Interlude Man – an oriental fragrance released in 2012. The main notes include Incense, Amber, and Oud. The lasting power is 24+ hours with great projection.
Conclusion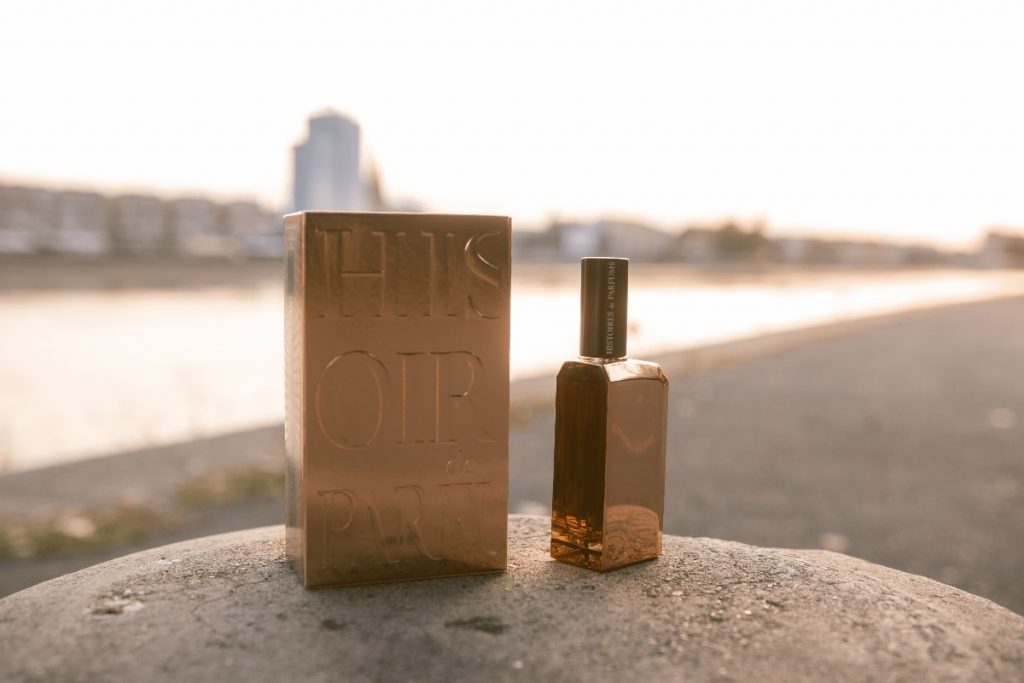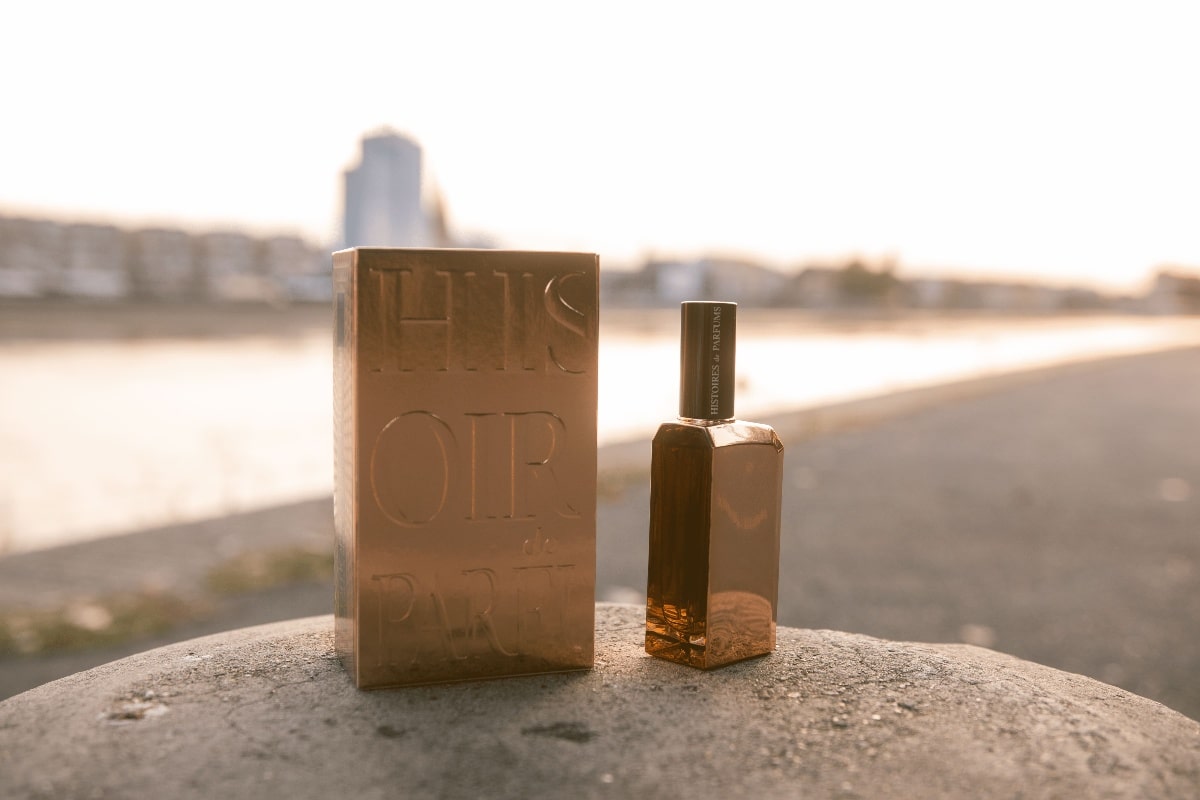 Histoires de Parfums Fidelis is a fragrance of two different faces. One is a supreme blend, and the other is an uninspiring lack of creativity.
Due to these reasons, Fidelis is no longer in my possession, and I have officially moved from oud trends that don't seem to bring anything new to the table.
So, is it a masterpiece like some might say? No, it is not, but if you are someone who is just starting to dip your toes into the oud genre, just skip everything else and start with a really good one like HDP Fidelis.
Heck, I'm even going to go as far as to say that it's even better than Amouage Epic Man who is two times the price.
In case you are in doubt whether you should consider buying Fidelis or not, it's always good to take a look at Scent Grail's S.P.A. Signature Factor Guide.
It is easy to use and the most relevant perfume buying guide on the web. This way, you can check out if a particular fragrance is worth checking out, and potentially find your signature perfume.
What are your thoughts about this perfume? Let's start a conversation and let me know in the comment section below.
Find out more Scent Grail articles about perfumery, check out top lists, and other helpful reviews via links below:
REVIEWS
TOP LISTS
SCENT GRAIL LEARNING CENTER
Until next time, scent your day away!
Best, Marin!
#scentgrail #scentgrailtribe
Scent Grail on Social Media: Facebook | Twitter | Instagram | Pinterest
Your number one resource for Holy Grail Signature Scents.

– Marin Kristic