Original Santal by Creed is a unisex woody spicy fragrance released in 2005, created by Olivier Creed, Erwin Creed, and Pierre Bourdon.
For a long time now, this fragrance has been one of my favorite choices from the brand because it includes almost every note I usually like in my scents.
I always say yes to sandalwood, lavender, and juniper berries that blend harmoniously with tonka beans, so it doesn't come as a surprise that it's one of the most beloved scents from this historic brand within the fragrance community.
Now, after nearly seven years since I last wore it and finally getting a whiff of it again, I'll explain why my perception has shifted slightly and why it's worth reevaluating now that my taste has evolved.
Creed Original Santal in three words: HIGHLY – OVERPRICED – CLONE
Affiliate Disclosure: As an Amazon Associate I earn from qualifying purchases. Purchasing via provided links/banners comes at no additional cost to you. Scent Grail only recommends products and/or services that are insightful and helpful to readers. For more info please read Affiliate Disclaimer.
Let's see how a fragrance that bridges the gap between tradition and modernity fares in today's everchanging world of perfumery.
Fragrance Information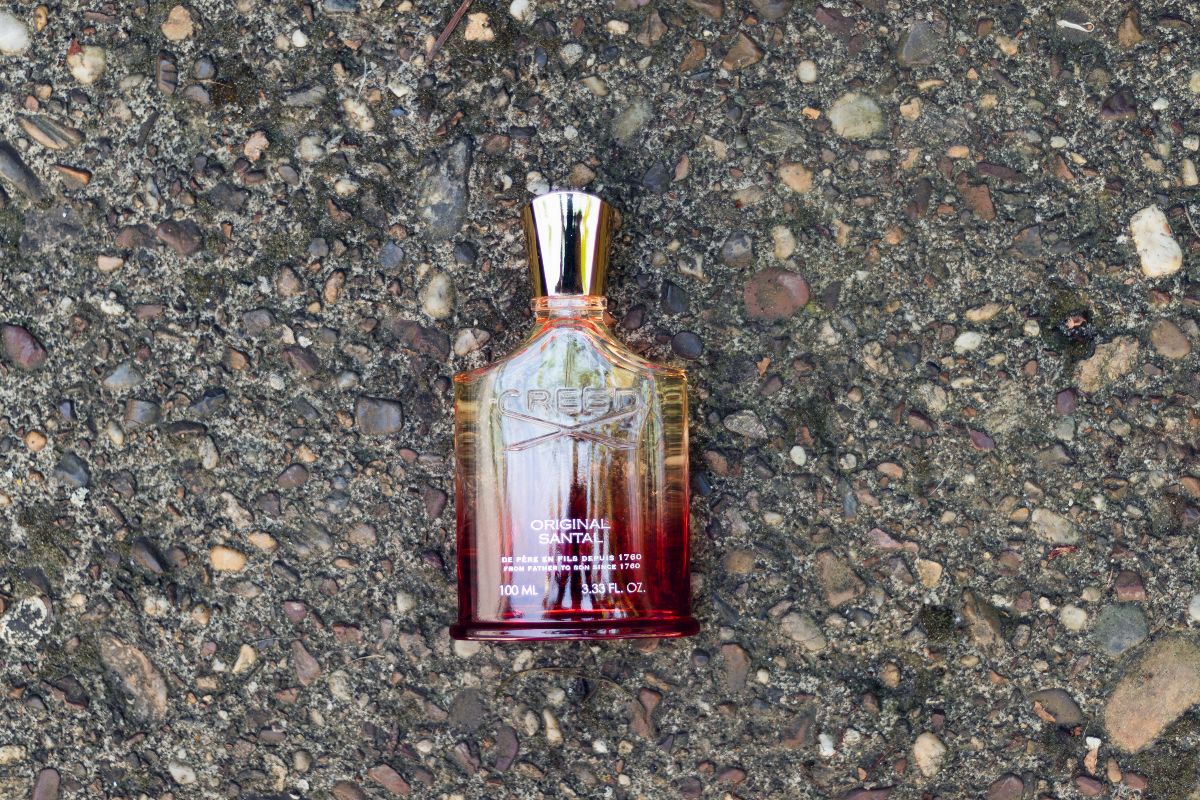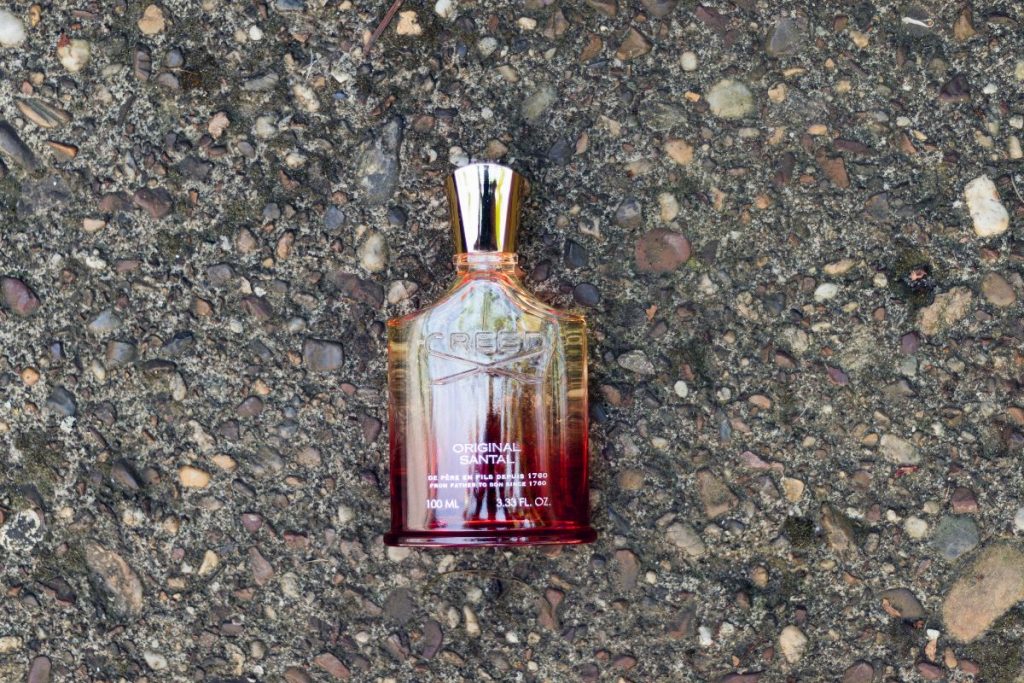 Creed is one of the most prestigious multi-national niche perfume houses in the world, based in Paris, France.
Originally founded as a tailoring house in London, England in 1760 by James Henry Creed, its early official evidence as a perfume house dates back to the late 1960s.
Although this cannot be verified, the brand claims that its unique story began in the 18th century with a pair of scented leather gloves delivered to King George III from their first shop in Mayfair, London.
After the relocation to Paris in 1854, supposedly by the request of Napoleon III, and his Empress, Eugenie, the brand was the official supplier to the royal household.
What can be verified is their first-ever publicly available fragrances released in 1965, Epicea, and Aubepine Acacia.
Fast forward to the 1980s, this niche house has enjoyed mainstream success from consumers and claimed that it has created perfumes exclusively for celebrities and political figures.
At that time, the real breakthrough came with the release of Green Irish Tweed, which is often coined as one of the best fresh fougere fragrances of all time.
If there is one thing that cannot be disputed about this somewhat controversial brand, it's its marketing masterpiece: Aventus, released in 2010.
No other fragrance from the past, and in recent years, has garnered as much popularity and commercial success as Aventus.
This has led numerous other fragrance brands to attempt to replicate its perfume DNA in pursuit of similar commercial success.
Until 2020, the brand was a family-owned company, supposedly for 260 years in total.
However, in February 2020, the private equity group BlackRock became Creed's majority shareholder. Just a few years later, in June 2023, Kering swooped in and acquired Creed for a staggering €3.5 billion.
Olivier Creed and his son Erwin Creed still remain creative directors at the company.
As of 2023, the brand has boutiques in France, England, the USA, Australia, UAE, Kuwait, Austria, Mexico, and Italy.
Original Santal Story
Santal draws its inspiration from the opulence of India, and its historical royalty and spiritual splendor.
Crafted by Olivier Creed and Erwin Creed, with a recent supposition of Pierre Bourdon being involved in the composition, the guesswork about Bourdon's connection with this creation has its merits.
This speculation arises from a recent book discussing brand's somewhat questionable history and the brand's tendency to omit to mention the actual perfumers behind their creations.
However, when we examine Bourdon's official website, we find no mention of his collaboration with Creed on his CV.
Therefore, it's advisable to approach this information, gleaned from various internet sources and the mentioned book, with a grain of salt. I'll include his name as a perfumer nonetheless.
The composition is a complete circle of everything the brand is known for, and the scent profile is warm, sweet, and woody, is the ideal nighttime fragrance, unlike many other fragrances from the same line.
It supposedly contains the real Mysore sandalwood oil.
The fragrance is available in 50ml, 100ml, 250ml, and 500ml Eau de Parfum flacons starting from 240.00 USD up to 890.00 USD.
PRO TIP: At some point between 2020 and 2022, the brand replaced batch codes with LOT numbers on their products. This change was made in response to the unreasonably inflated prices set by sellers across the internet. So rest assured, your fragrance is not immediately a fake product.
Perfume Theme
A note from the brand: "Spicy, sensual and effortlessly indulgent, Original Santal Eau de Parfum is a uniquely complex scent, designed to turn heads and leave a lasting impression. Inspired by the opulence of India, this fragrance is both warm and luxurious, evoking the tranquility and spirit of the majestic landmarks and sense-tingling aromas that this infamous Asian region has to offer. Combining woody and oriental notes of Mysore sandalwood, warming ginger, fiery cinnamon, oriental vanilla, benzoin and Tonka bean, this robust perfume is the ideal night time temptation."
Notes and Classification
PERFUME NOTES
Top notes: Ginger, Juniper Berries, Bergamot, Rosemary, Coriander, Mandarin
Heart notes: Lavender, Geranium, Orange Blossom, Sandalwood
Base notes: Oakmoss, Musk, Tonka Bean, Cedarwood
Perfume Presentation
All men's releases from this brand come in the same kind of bottle, with differences usually being the colors of the cap and the bottle itself.
While I don't have the box of Original Santal, if you saw one from Creed, you have seen them all. It follows a classic color scheme of white, gold, red, and silver, which is emblematic of the brand's understated sophistication.
On the from of the box, you'll find the iconic Creed logo, and fragrance name within the reflective label in the middle.
Nothing special, but I love that they include their brand history on the backside of the box, and additional pamphlets about them found inside the packaging.
The bottle itself is a work of art, crafted from a sunset yellow color that transitions to amber-hued red at the bottom, shaped like a Creed's silhouette.
Its clean lines and geometric shape convey a contemporary aesthetic, while the golden cap with the brand's logo gives a finishing touch of prestige.
The new atomizers found in 100ml bottles are no longer powerful as they were back when the brand offered their perfumes in 120ml variants, but is still one of the best one in the market.
Overall, I love the presentation which distinguishes itself from everything else on the market.
My Experience With Perfume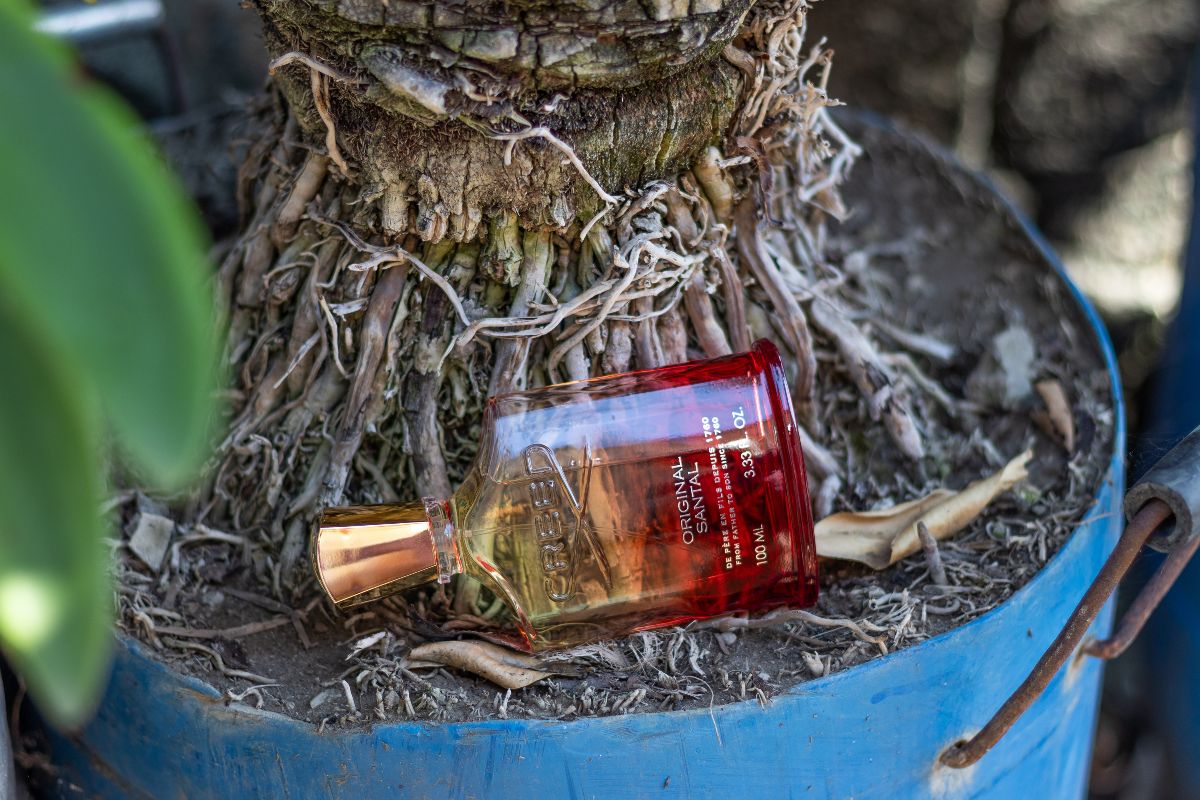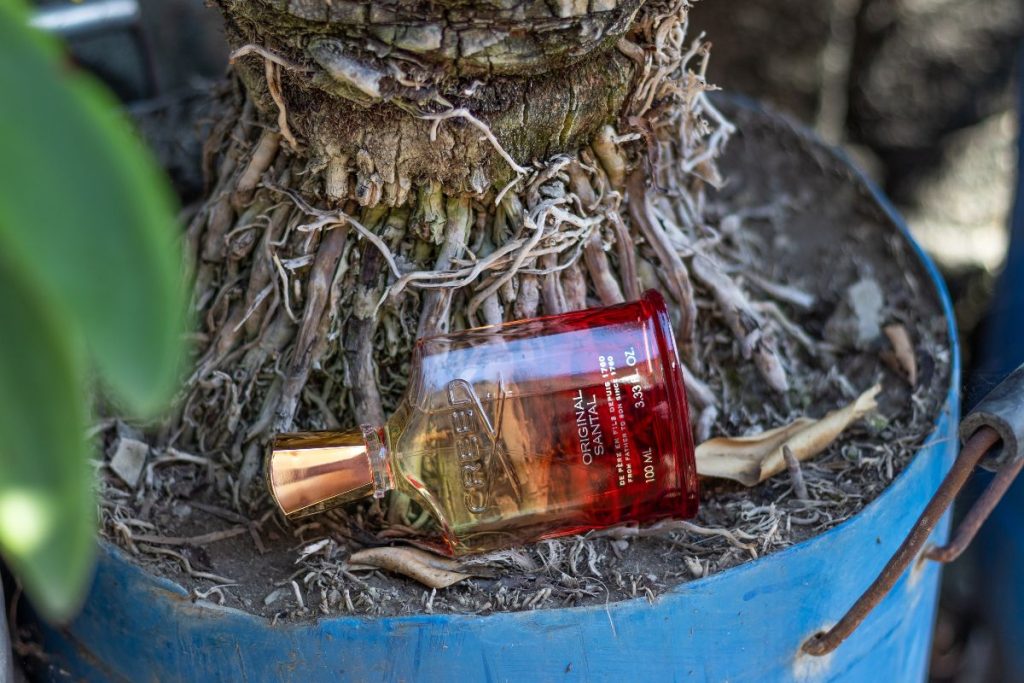 Love them or not, most can agree that Creed has produced some of the finest perfumes, be it Green Irish Tweed, Aventus, Royal Oud, Millesime Imperial, or others.
Despite potential controversies in its history, I consider them one of the best niche perfume brands due to its focus on quality and timeless appeal.
Now, let's dive into the fragrance. Santal was one I wore extensively during my stay in Ireland from 2016 to 2017. The memories associated with this scent are indelible.
Last week, I rediscovered it in my brother's collection, prompting me to revisit and review it. The initial spray delighted me, and I couldn't believe it was the same fragrance from seven years ago.
However, as the base notes emerged, it became evident that it had been reformulated and diluted.
While not as disappointing as I anticipated, it felt thinner than my recollection. Longevity had also taken a hit, but projection remained surprisingly consistent.
I'll skip the discussion on cloning and simply acknowledge that it was heavily inspired by Joop! Homme and Montblanc Individuel, impacting a few aspects and reducing the overall score.
If you're wondering if it's a superior composition to those two, the answer is yes, but it falls short of justifying its retail price.
In the end, after all these years, my feelings toward this fragrance have cooled. I can't quite put my finger on it, but perhaps some things are best left in the past as we move forward.
For newcomers, especially those who appreciate sweet, aromatic, and woody fragrances, Santal might be the safest blind buy in the Creed's collection.
It offers the quality of a higher-end designer fragrance with slightly upgraded ingredients, although it essentially mimics less expensive scents released earlier.
Top Notes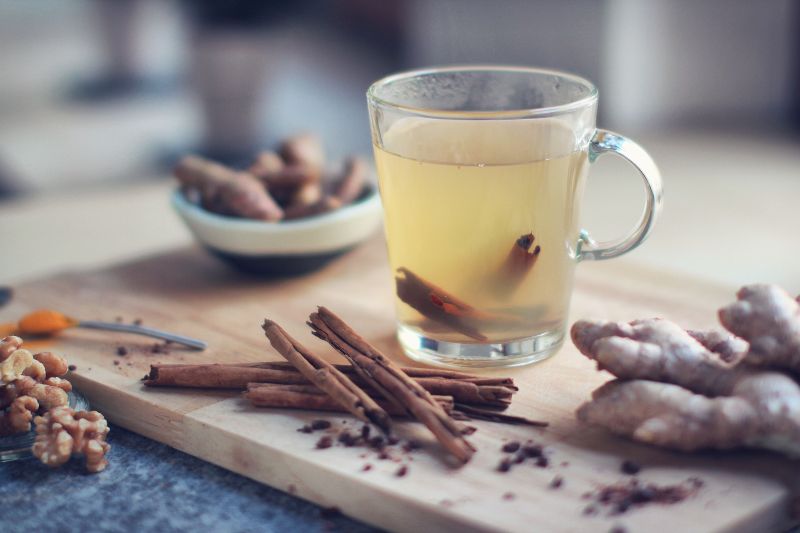 Ginger
Juniper Berries
Bergamot
Rosemary
Coriander
Mandarin
This is smooth and somewhat synthetic, but not excessively so, just enough to be noticed. The scent opens up with a familiar 'clean laundry' aroma you've probably encountered in other perfumes.
This effect is achieved through the spicy ginger, a blend of effervescent citruses, and the gin-tonic-like essence of juniper berries, which play a prominent role as the fragrance unfolds.
The balance and synergy of these notes set the stage for what's to come in just a few short minutes.
While I'm not particularly impressed, I do understand that someone encountering this scent profile for the first time may have a more favorable opinion.
I would have appreciated it if this invigorating opening lingered a bit longer before the composition transitioned and began to warm up.
Heart Notes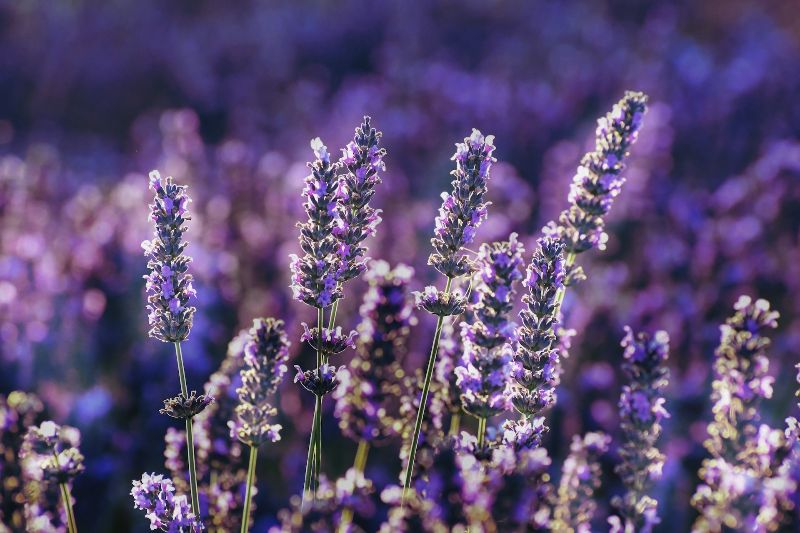 Lavender
Geranium
Orange Blossom
Sandalwood
As the top notes dissipate, the heart notes step forward, revealing the fragrance's warmer and more aromatic core.
Lavender, orange blossom, cinnamon, and a generous dose of heliotrope (not mentioned in the official note breakdown, alongside cinnamon) create an impression reminiscent of sweet ice cream.
This is where I believe the fragrance truly shines and becomes most enjoyable, at least for me.
I appreciate how this blend of contrasting hot and cold notes offers a soothing counterbalance to the spiciness of the top notes, creating a sense of harmony and refinement.
During this phase, just before the dry down kicks in, the fragrance maintains its full-bodied aroma, although regrettably, this phase is relatively short-lived in my opinion.
Base Notes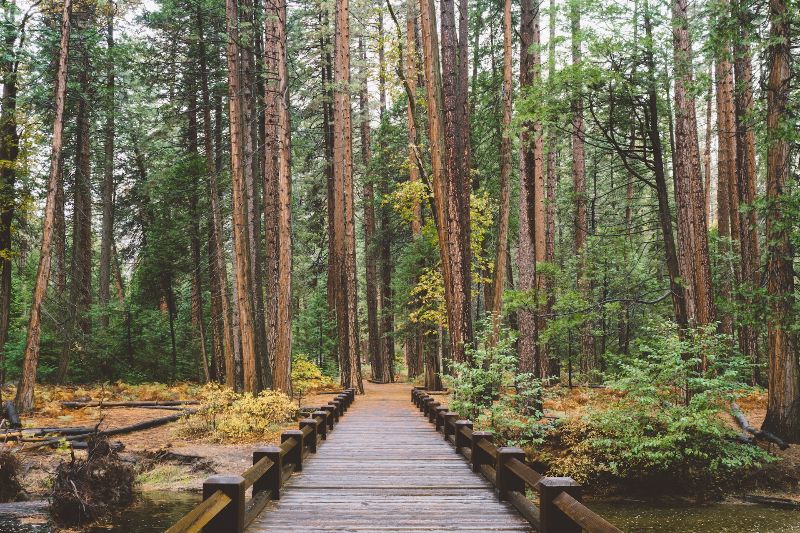 Oakmoss
Musk
Tonka Bean
Cedarwood
If you were expecting to hear about a grand finale(probably not), I'd have to disappoint you.
What remains are faint traces of notes from the top and heart, accompanied by somewhat just okay vanilla, tonka beans, and underwhelming sandalwood.
I have my doubts that the sandalwood here is the real deal. By this stage, the aromatic aspects have nearly dissipated, leaving behind a prevailing sweetness.
True, it's rounded out with the creamy and nutty qualities of tonka beans, but I've encountered scents with better tonka, such as Thierry Mugler A*Men Pure Tonka.
Regrettably, no matter how much I wore this new version of Santal, the base was consistently where it fell short. It's not bad, but it also doesn't reach the level of something truly remarkable.
Performance
6 to 8 hours of moderate projection and a rather robust sillage bubble suffice for most occasions in my book.
The extent of its performance might be a deal-breaker for some, especially if you seek a powerhouse fragrance, but others may appreciate its subtly understated aura.
It's important to note that Santal's performance doesn't fit the mold of a typical choice for dating or clubbing, as you might expect from a fragrance by this relatively expensive brand.
Considering its price point, I personally wouldn't recommend using 'projection-enhancing' creams or layering it with other perfumes, like Molecule 01.
Instead, enjoy its composition for as long as it lasts, or carry a smaller decant in your pocket for reapplication as needed.
The reformulation has indeed affected its longevity and made it somewhat lighter, but such changes are a part of life in the world of fragrances.
LONGEVITY:  6 – 8 hours
PROJECTION: Moderate
SILLAGE: Very Good
Target audience and compliments
Santal is one of those instances in the brand's history where they used to release unisex fragrances.
However, since Aventus, the brand has shifted towards releasing separate scents for each gender.
I must admit, I'm somewhat surprised to report that upon revisiting this composition, it now carries a somewhat dated aroma, reminiscent of fragrances released in the 2000s. I'm beginning to wonder if it still resonates with younger audiences.
Don't get me wrong; if you're a young man or woman with mature taste, wearing Santal wouldn't be an issue. However, for others, it's advisable to test it first.
It's been nearly 35 years since Joop! Homme was released and almost 20 years since Montblanc Individuel made its debut, and this DNA has started to show its age.
This brings us to the topic of compliments. I'm not entirely certain whether this is a positive or negative point to mention, but since I've started wearing Santal again, I've received only one positive comment.
It's a notable contrast to the multiple positive feedback I used to get from Montblanc and Joop! just a couple of years ago.
However, it's important to note that Santal isn't necessarily geared towards a 'designer-oriented' audience.
At this stage of my life, I'm content with this fact, as I've reached a point where 'perfume compliments' no longer hold significant importance to me.
AUDIENCE: Unisex
AGE RANGE: 25+
COMPLIMENTS: Low – Medium
When & Where
With its blend of spices, creamy sandalwood, and oriental notes, Santal is a versatile fragrance suitable for various occasions throughout the year, with the exception of summer.
Fall and winter are the seasons when this scent truly shines, complementing the crispness in the air with its warm and inviting aroma.
While some consumers have reported wearing it even on the hottest summer days, I respectfully disagree. While it's lighter than Joop!, consider if you would wear a fragrance like that in the sweltering heat. The same principle applies here.
Santal is preferably a nighttime fragrance, suitable for upscale business events, dates, clubbing, or those moments when you want to savor it in solitude.
When it comes to wearing it to work, I'd advise against it. This fragrance isn't particularly office-friendly, but if you must, please apply it sparingly. Its sillage is stronger than you might expect.
SEASONS: Spring, Fall, and Winter
OCCASIONS: Business, Leisure, and Night Outs
ATTIRE: Smart-Casual, Date Night Outfits, Shirt and Jeans, Tuxedo or Suit
Uniqueness and value for money
Unfortunately, it's rather underwhelming in both aspects. In short, it feels like an excessively expensive clone of a couple of designer fragrances.
While it's true that the ingredients here are of higher quality compared to those found in those two perfumes, that alone doesn't justify its price.
I'll keep this section concise since there isn't much more to add without veering into overly negative territory.
If you're seeking something similar but with better composition and have the budget for it, you can consider Santal.
Otherwise, sticking with original (no pun intended) creations might be the more sensible choice.
UNIQUENESS: 2/5
PRESENTATION: 5/5
VALUE FOR MONEY: 7/10
Pros and Cons
Here are some better and weaker parts of this perfume:
Pros
A versatile unisex fragrance
Better than Joop! Homme and Montblanc Individuel
A perfectly balanced composition with moderate performance
Higher quality ingredients
Cons
Overpriced clone
Moderate performance can be a drawback to some
Despite the ingredients, it leans more toward a synthetic smell
Reformulated and not impressive at all
Collection & Similar Perfumes
Santal is a part of the classic Eau de Parfum collection, and there have been no flankers released so far. It's also worth noting that Santal is not a part of the 'Millesime' fragrances, which means it lacks top-tier ingredients.
SIMILAR PERFUMES
YOU MIGHT LIKE THESE PERFUMES AS WELL
Frequently Asked Questions
Here are some answers to the most popular questions asked about this perfume.
What does Creed Original Santal smell like?
Santal is a unisex woody spicy fragrance composed of warm and spicy notes such as sandalwood, lavender, tonka bean, and juniper berries. It exudes sophistication and elegance, making it suitable for a variety of occasions, from formal events to casual outings.
How long does Original Santal last?
Santal lasts anywhere from 6 to 8 hours on your skin with moderate projection and a very good sillage bubble.
What season should I wear Creed Original Santal?
Santal is best suited for the fall and winter seasons. While it's primarily recommended for fall and winter, you can certainly wear Original Santal in other seasons with moderate application if you enjoy the perfume.
Is Creed Original Santal a unisex fragrance?
Yes, Santal is considered a unisex fragrance and is designed to be suitable for both men and women.
Why are Creed perfumes so expensive?
These perfumes are known for their high price tags because of their quality ingredients, brand exclusivity, artistry and craftsmanship, and reputation.
What is the most popular perfume for Creed?
The most popular Creed's fragrance is Aventus, released in 2010. Aventus garnered significant attention and acclaim for its bold, fruity, and masculine scent profile. It became a favorite among fragrance enthusiasts and gained a reputation for its unique scent profile.
Final Words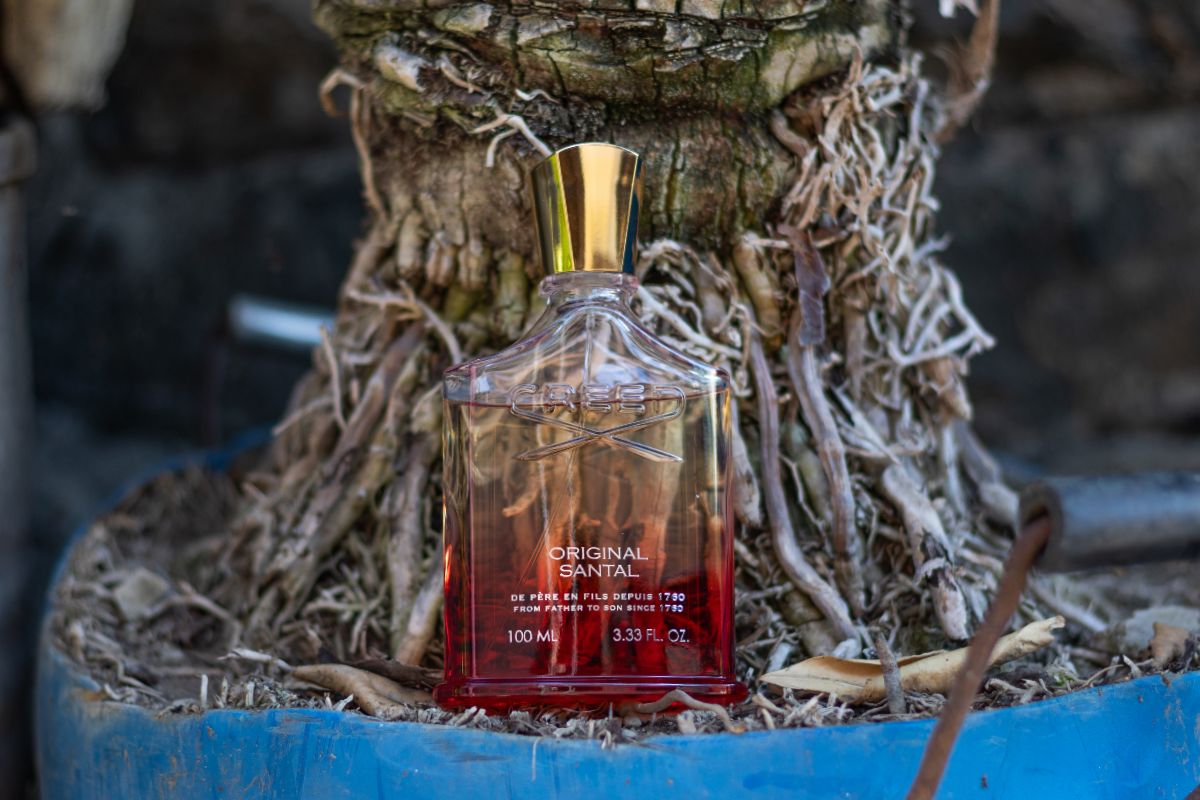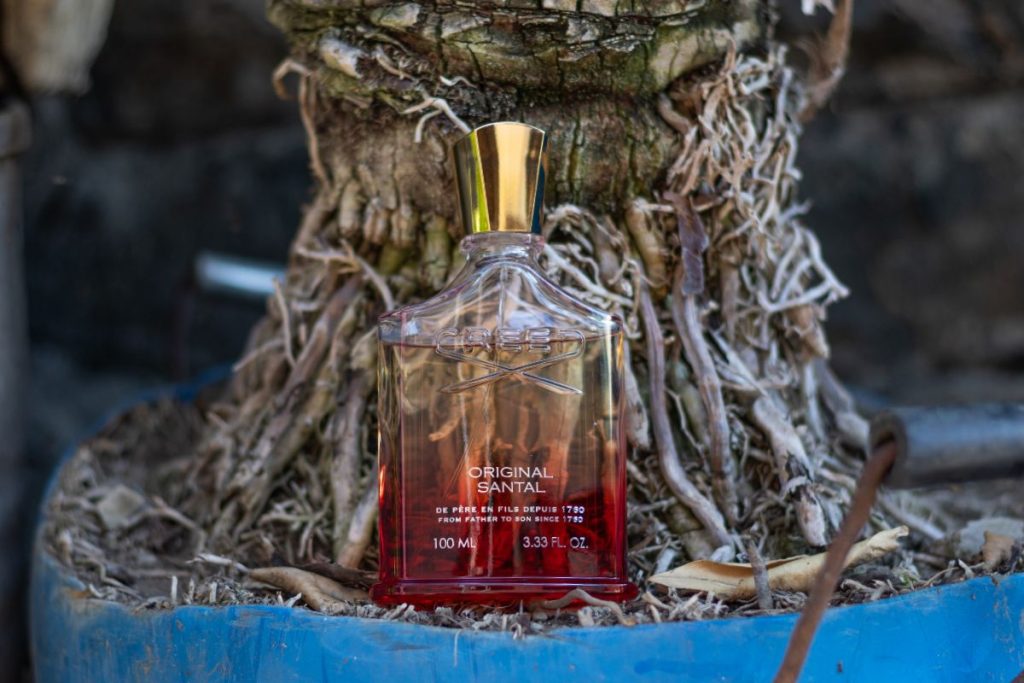 Even with everything written here, I do believe that Santal is a good fragrance. Nothing spectacular, but it does the job well.
It's better than what is cloning but at a much higher price. Whether it's worth it is up to you to decide.
Since this isn't my bottle, no harm was done. I cherish the memories I've created with it in the past, but the past is past, and it's time to explore other perfumes.
What are your thoughts about Creed Original Santal? Let's start a conversation and let me know in the comment section below.
In case you are in doubt about whether you should consider buying any fragrance or not, it's always good to take a look at Scent Grail's S.P.A. Signature Factor Guide.
It is easy to use and the most relevant perfume-buying guide on the web. This way, you can check out if a particular fragrance is worth checking out, and potentially find your signature perfume.
PLEASE CONSIDER CONTRIBUTING TO SCENT GRAIL
If you enjoy my blog and want to help me continue creating content, there are several ways you can support me:
I am incredibly grateful for your support, as it holds tremendous significance to me. Your generosity enables me to persist in crafting content that celebrates the wonders of the perfume world and encourages others to start this beautiful journey. Your backing is truly appreciated, and I eagerly anticipate sharing more of my creations with you in the times ahead. Keep smelling great!
Find out more Scent Grail articles about perfumery, check out top lists, and other helpful reviews via the links below:
REVIEWS
TOP LISTS
SCENT GRAIL LEARNING CENTER
Until next time, stay humble, and keep smelling great!
Best, Marin!
#scentgrail #scentgrailtribe
Scent Grail on Social Media: Facebook | Twitter | Instagram | Pinterest
Your number one source for Holy Grail Signature Scents.

– Marin Kristic