Gucci Guilty Absolute Pour Homme is a leather woody fragrance for men released in 2017. The perfumer behind this fragrance is Spanish master perfumer Alberto Morillas.
Right from the start, let me tell you that Gucci fragrances have never been up to my fragrance standards, except for now discontinued Gucci Pour Homme 1, Gucci Pour Homme 2, and Gucci Mémoire d'une Odeur which tried something new.
Most of their releases for more than a full decade now, especially since creative director Tom Ford left the house, all boiled down to bland and fresh releases, pleasing to the masses, but uninteresting to perfume hobbyists.
That's why all the eyes or better say, noses have been pointed to Gucci house when Absolute was released, immediately after the hype within the fragrance community started to spread like wildfire.
As someone who appreciates creativity, and the desire to not follow popular trends, I knew that we had something special and bold.
Sometimes, risks like these pay off tremendously, and other times like with Absolute, end up in discontinuation.
Since the fragrance is still available for purchase, and before we go together into the full Scent Grail review, anyone who would like to smell original, and different from most people out there should get their nose on this one as soon as possible.
I like everything that would evoke the Mediterranean Sea, with the deep blue water, the sun and the nature which go with it. I am very attached for example to the citruses, sea notes and flowers including jasmine, tuberose, neroli and orange blossom. They are the expression of a certain kind of freshness, a sophisticated freshness and at the same time full of joy.

ALBERTO MORILLAS
Gucci Guilty Absolute Pour Homme in three words – DARK – MYSTERIOUS – MASTERPIECE
Affiliate Disclosure: As an Amazon Associate I earn from qualifying purchases. Purchasing via provided links/banners comes at no additional cost to you. Scent Grail only recommends products and/or services that are insightful and helpful to readers. For more info please read Affiliate Disclaimer.
Don't have the time to read the review right now? No worries! Here are my 5 quick takes:
One of the best Gucci and designer leather fragrances of all time
Created by master perfumer Alberto Morillas in 2017
So good that the niche brand By Kilian released a clone version of this fragrance
Lasts around 6 – 8 hours on colder days with rather average and restrained sillage and projection
Discontinued and too challenging for the average consumer
This fragrance holds one secret that I'm sure you'll want to hear about, often unmentioned by other reviewers. Let's start.
Fragrance information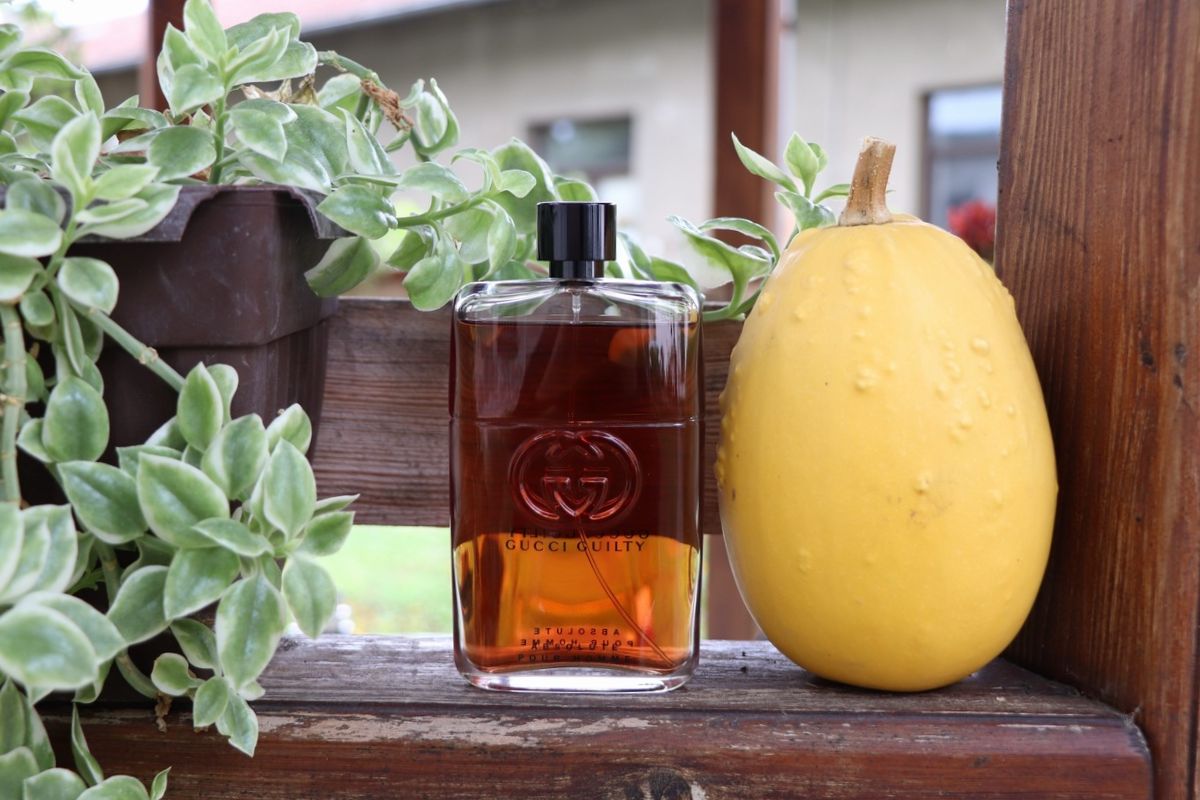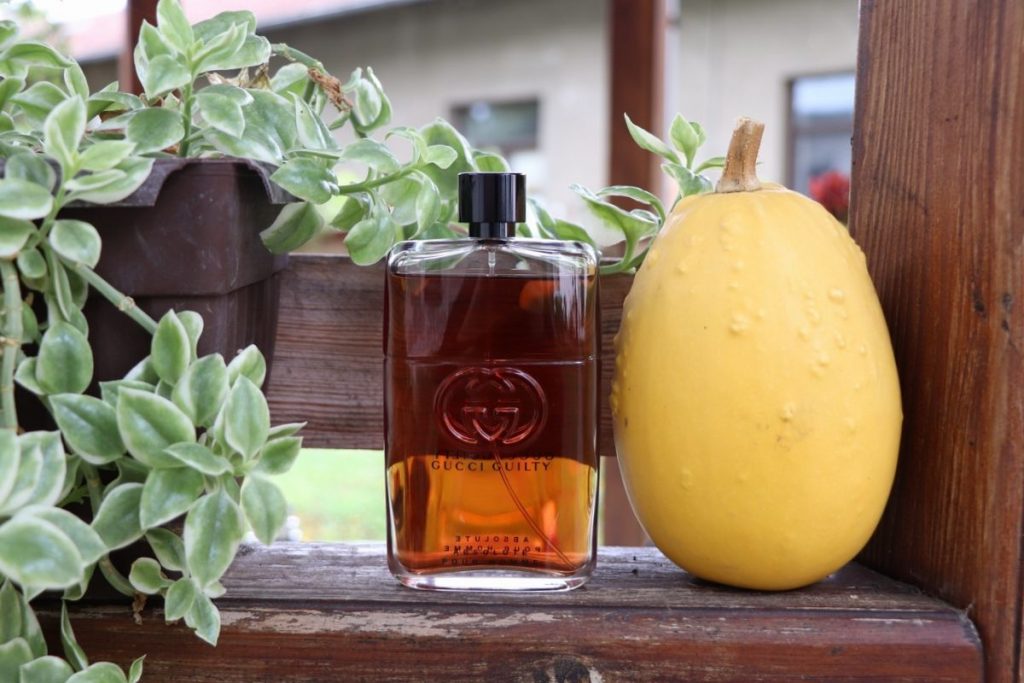 This perfume is a part of the Gucci Guilty line from the high-end luxury fashion house of Gucci. A brand that was founded in 1921, product lines also include handbags, footwear, home decorations, and ready-to-wear.
Since 2019, Gucci operates more than 480 stores with Marco Bizzarri as CEO and Alessandro Michele as creative director.
Gucci Guilty Absolute Pour Homme Story
Gucci Guilty Absolute was created by Alberto Morillas as his first fragrance from the long-lasting line in 2017.
The fragrance is described as woody leather and includes a new natural raw ingredient known as Nootka cypress along with Goldenwood which is specially selected for this release.
With supporting notes of vetiver and three forms of patchouli that resulted in ultra-dry woody notes with a fresh and earthy smell to boost the intensity of the fragrance.
This product comes as of collaboration between the creative director of the Gucci house Alessandro Michele and perfumer Alberto Morillas.
After the successful collaboration, Alberto Morillas has been appointed as the main perfumer of Gucci's high-end niche line "The Alchemist's Garden".
Gucci Guilty Absolute is available in 50ml, 90ml, and 150ml Eau de Parfum flacons.
The face in the fragrance commercial and promotional materials is Jared Leto which is shot by photographer Glen Luchford.
Perfume Theme
A note from the brand: "Created using a particular blend with a structure that remains unchanged from the first time it is applied to the skin. Leather accord and goldenwood are custom-mixed with natural extract of the Nootka Cypress, selected especially for Gucci Guilty Absolute. The resulting scent features ultra-dry woody notes. The fragrance's composition is intensified with three forms of patchouli oils and earthy vetiver."
Notes and Classification
PERFUME NOTES
Top notes: Woodleather
Heart notes: Patchouli, Nootka Cypress
Base notes: Goldenwood, Vetiver
Perfume Presentation
The fragrance comes in the same elongated and somewhat thin bottle shared by all Guilty fragrances from the line.
What separates it from the bunch is the bronze-colored perfume liquid that looks stunning and even better in real life than in pictures.
The dark brown box follows the bottle presentation with neat black-colored touches such as the Gucci logo and the fragrance name and additional information.
The atomizer shoots narrow and far. Overall, I quite like the presentation, and for a designer release, it stands out from most of the fragrances found in my fragrance collection.
My Experience With Perfume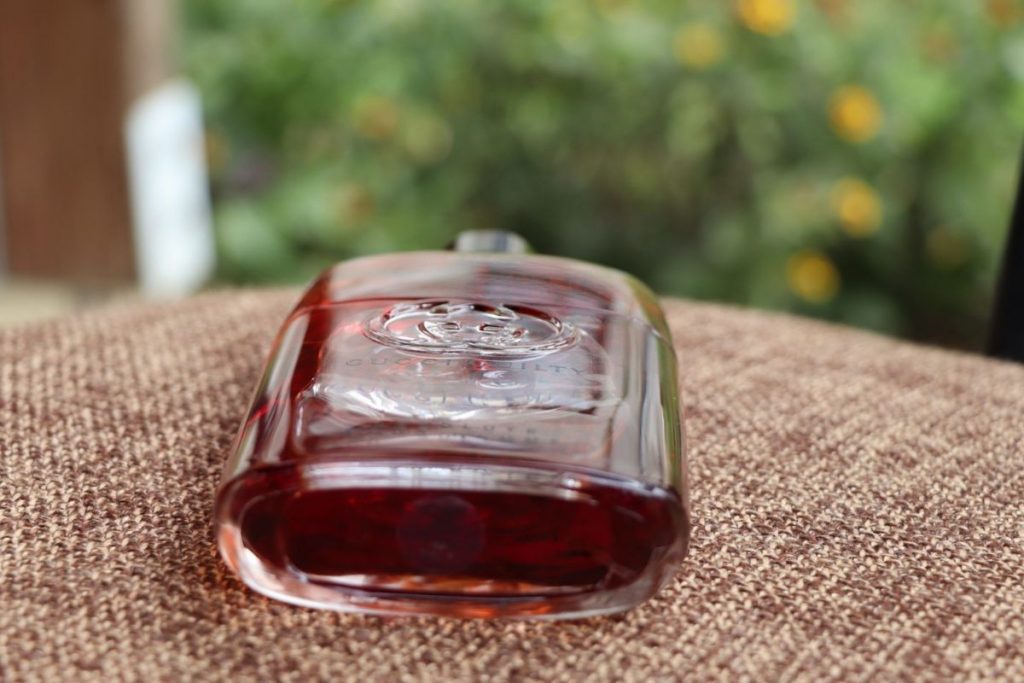 Now, to the previously mentioned secret about this scent, and why it makes it even better in my humble opinion.
While I have seen this before, I wasn't sure about it until I recently received a sample of By Kilian's Dark Lord.
With my utmost joy, I have to report that this one is basically a one-to-one scent to By Kilian's released at a more affordable price point.
What's even better, it is done by the same perfumer just one year apart from each other. After testing the sample of Kilian and Absolute at the same time, I couldn't believe that Morillas sold the same formula to a niche house.
To be fair, Dark Lord is a more intense and deeper edition of this release, but it doesn't justify the niche price whatsoever.
We cannot really know which fragrance was the first one in production, and on which one Alberto Morillas started to work first.
But, this kind of practice we see more and more just shows the state of perfumery in general, and how much the same formulas keep being released in different bottles under different names and prices.
So, who would like this fragrance? Let me just say that no matter what you read here, it won't prepare you for this unapologetic creation.
Different from everything in the Guilty line, and I'm sure that Gucci won't ever again take this kind of risk in the future.
Camphoric, dark, medicinal, oily, band-aids, dentist office, barnyards, and more. Everything mentioned could be easily said as an accurate but vague description.
For me, someone who has already experienced challenging fragrances such as Dior's Fahrenheit, and Narciso Rodriguez For Him should probably be in the safe zone, but for the rest, do everything you can to sample it first.
For example, Lalique Encre Noire A L'Extreme seems like an easy-to-wear fragrance compared to this one.
Top Notes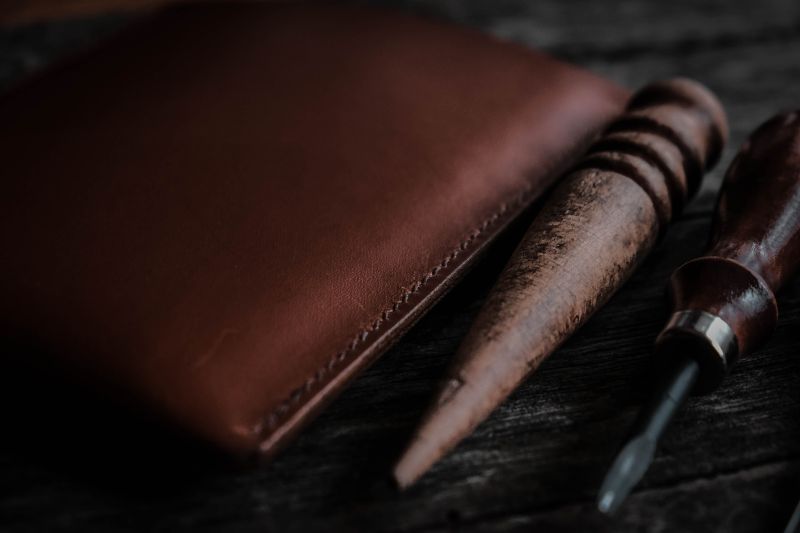 Upon the first spray, do not go to the bathroom and immediately wash off the fragrance. This is art, and this is how the fragrance industry goes forward in a new direction.
To appreciate fragrances, we sometimes have to open our minds and go into new and unexplored territories.
The mixture of old leather jacket aroma, and aromatic natural smelling green cypress is what opens and rushes into your olfactive senses.
The antiseptic, and band-aid-like scent profile is here as well but is better experienced when smelled rather than reading or hearing about it.
This is undoubtedly one of the best leather-based fragrances I have experienced in my life, and this is coming for someone who has tried almost all popular and less popular leather fragrances on the market.
Absolute is a linear fragrance and the typical fragrance structure of top, middle, and base notes doesn't work here like it usually does in many perfumes.
I would recommend going into this one as a journey and almost singular experience, rather than a traditional note pyramid.
Absolutely astonishing opening that is not for the faint of heart. What impresses me, even more, is how deep and yet airy this actually is.
Before we continue, I have to say that the inclusion of Woodleather and Goldenwood doesn't actually smell like something new you haven't smelled before, but they add to the depth and blend this "out there" formula.
Heart Notes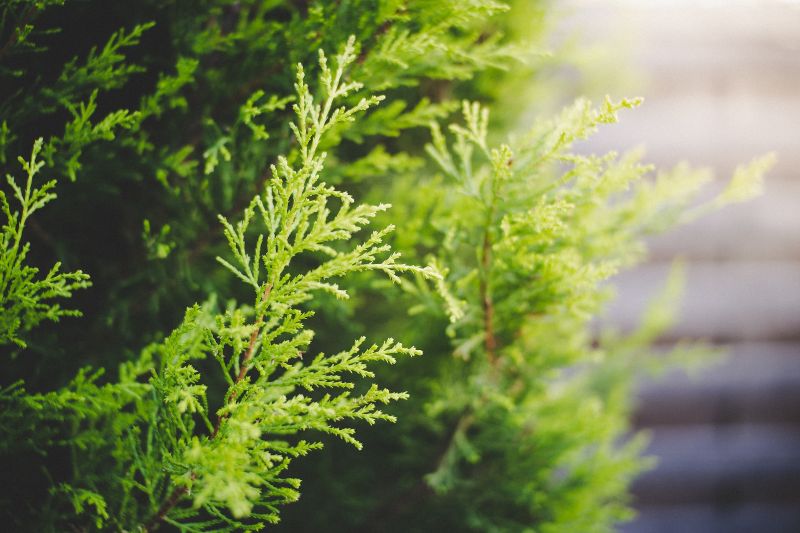 As the fragrance slowly transitions into the heart notes, the fragrance starts to get more natural, with touches of sweet accords reminding more of pine and cypress tree sap.
A detectable woodiness from vetiver, patchouli, and goldenwood also keeps the fragrance from going into the all-sweet territory and transports me somewhere in dark forests during the early fall.
Since the fragrance doesn't change too much from the opening to the base notes, the rugged leather accord gives a nostalgic scent DNA and lost gone days to the overall composition.
By this time, the overload of the complex and to some, repulsive combination of the opening goes away to lead the way into the smoother and still interesting fresher base notes.
Base Notes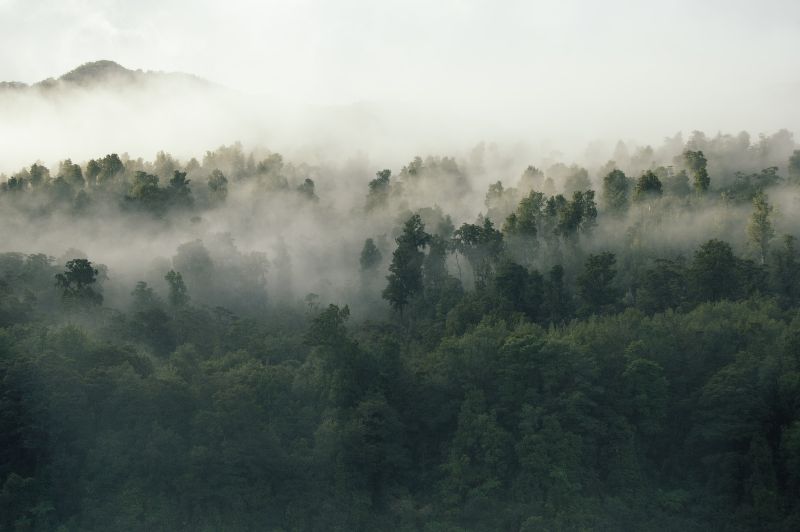 When the fragrance dries down, Absolute moves into being a woody, earthy, musky, sappy, and even cozy fragrance. The woody characteristics are more intensified, more evident with smoky nuances.
To say that I was surprised by Gucci releasing something like this, and also praise the creative decision to be different in the sea of clones, and similar perfumes.
Just keep in mind that all of these heavy notes produce a sharp smell that trained and experienced noses won't mind, but beginners unadjusted to dark and masculine fragrances should give proper time to adjust in cases like these.
Performance
In the terms of longevity, this fragrance lasts around 6 – 8 hours on colder days with rather average and restrained sillage and projection.
With that said, I highly doubt anyone would wear Absolute on warmer days of spring and summer where heavy leathery and woody notes might give you or people around you a potential headache.
In this case, moderate performance is seen more as a positive side, rather than a negative one because the likeability of getting positive attention depends from person to person.
LONGEVITY: 6 – 8 hours with moderate projection
PROJECTION: Average
SILLAGE: Soft – Medium
Target audience and compliments
Undoubtedly, Absolute is more suited for mature audiences and geared toward men. Personally, I don't see how a lady would pull this one off. Maybe with more confident personalities, it could work, but that's up to you to test it out.
The same opinion I have with for example Penhaligon's Vaara which is purely a woman's perfume, no matter what Penhaligon's marketing team would like you to believe.
Regarding the potential compliments, Absolute is a fragrance suited more for personal enjoyment, and towards an experienced audience that enjoys more artistic perfumes.
Thus, in all time I spent time wearing this fragrance I haven't received a positive comment, but this one is my best friend's favorite fragrance of all time.
AUDIENCE: Men
AGE RANGE: 30+
COMPLIMENTS: Low
When & Where
Season-wise, this is a cold-weather fragrance thought and thought. Because of moderate performance, and heavier statement-making notes, the funky side would become more evident in case of higher temperatures.
This would be a great choice as a leisure night out and daily wear business fragrance perfectly suited for someone in higher positions in the office.
SEASONS: Fall and Winter
OCCASIONS: Leisure and Business
ATTIRE: Professional, Smart-Casual, Evening wear
Uniqueness and value for money
Gucci fragrances are not known for uniqueness, or for high-quality ingredients. Absolute is an exception and the one that takes a different road.
A complex, and potentially signature-worthy perfume that can compete with much more expensive niche fragrances. An essential release for anyone wanting to try something new or add a different composition to the perfume collection.
Everything being said, the value for money is actually quite low and should be taken with a grain of salt. This is definitely a perfume that should be sampled before the actual purchase.
UNIQUENESS: 5/5
VALUE FOR MONEY: 5/10
Pros and Cons
Here are some better and weaker parts of this perfume:
Pros
One of the best Gucci fragrances of all time
The most innovative designer leather fragrance currently on the market
So good that By Kilian released a clone fragrance of Gucci Guilty Absolute
A great proof that Alberto Morillas can do more than just fresh fragrances
Cons
Average performance
Discontinued
Too challenging for the average consumer
Collection & Similar Perfumes
Gucci Guilty Absolute Pour Homme Eau de Parfum is a fragrance line for men that was introduced to the market in 2011. A line that is very popular with general consumers, and known for its fresh, spicy, and woody aspects. Here are some fragrances from the Guilty line that are worth checking out:
Similar perfumes:
Frequently Asked Questions
Here are some answers to the most popular questions asked about this perfume.
What does Gucci Guilty Absolute smell like?
Guilty Absolute is a statement-making leather woody fragrance for men. The combination of leather, woody notes, and cypress gives the fragrance a dry, and rich aroma with a recall to the great masculine leather fragrance from the past but still remaining contemporary.
Is Gucci Guilty Absolute long-lasting?
In the terms of longevity, this fragrance lasts around 6 – 8 hours on colder days with rather average and restrained sillage and projection. The fragrance leaves a moderate but rich scent trail around the wearer.
Is Gucci Guilty Absolute for men?
Gucci Guilty Absolute Pour Homme is a leather woody fragrance for men released in 2017. The perfumer behind this fragrance is Spanish master perfumer Alberto Morillas. The main notes include leather, woody notes, and cypress.
Is Gucci Guilty Absolute discontinued?
Gucci Guilty Absolute Pour Homme has been officially discontinued by Gucci, but it still can be found in fragrance stores and fragrance discount websites at a fair price.
Conclusion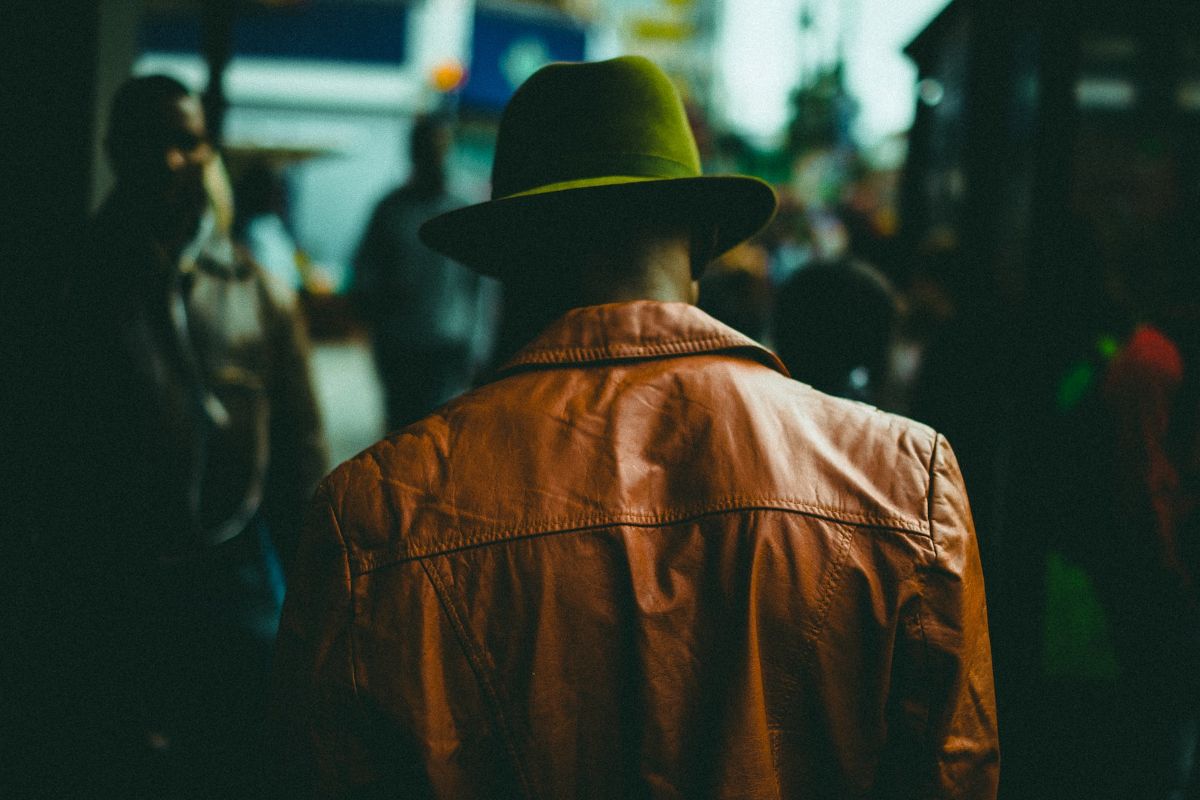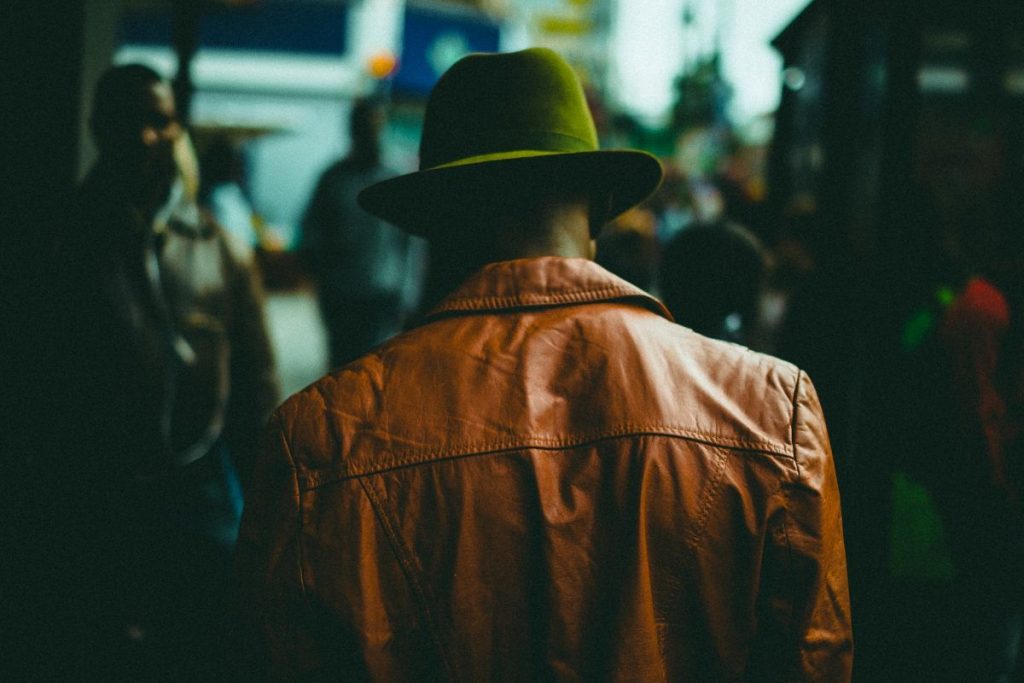 In the end, Absolute is a dark, mysterious, and bold fragrance that would be more suited as a niche fragrance rather than a designer release which ultimately ended in discontinuation.
Even if I have more affinity for leather fragrances such as Dior's Fahrenheit, Tom Ford's Ombre Leather, and Marc-Antoine Barrois Ganymede, I cannot ignore the fact how original this is, and how it actually smells fantastic.
By wearing it repeatedly more and more, you will realize how strangely addictive it really is, and how much first impression can fool us. A fragrance masterpiece of our time. Get it while you still can.
What are your thoughts about Gucci Guilty Absolute Pour Homme? Have you tried it? Do you like it? Let's start a conversation and let me know in the comment section below.
In case you are in doubt about whether you should consider buying any fragrance, it's always good to take a look at Scent Grail's S.P.A. Signature Factor Guide.
It is easy to use and the most relevant perfume-buying guide on the web. This way, you can check out if a particular fragrance is worth checking out, and potentially find your signature perfume.
Scent Grail content is free for anyone to use without anything hiding behind the paywall. If you would like to help me do more great articles like this, you can donate via PayPal. Much appreciated.
Find out more Scent Grail articles about perfumery, check out top lists, and other helpful reviews via the links below:
REVIEWS
TOP LISTS
SCENT GRAIL LEARNING CENTER
Until next time, have a great time, and keep smelling like a million bucks!
Best, Marin!
#scentgrail #scentgrailtribe
Scent Grail on Social Media: Facebook | Twitter | Instagram | Pinterest
Your number one source for Holy Grail Signature Scents.

– Marin Kristic