As a perfume lover, tea-based fragrances have always had a special place in my heart. Especially those which are masterfully blended. One of the most popular niche tea-forward fragrances is Masque Milano Russian Tea.
Today's star of the show is inspired and based on drinking tea in a bookstore café on the famous Nevsky Prospekt thoroughfare in Leningrad which perfumer Julien Rasquinet took ideas from Alexander Pushkin – the greatest Russian poet.
For a long time now, I have been searching for a perfume that would replace my all-time favorite tea fragrance, Gucci Pour Homme II which is sadly discontinued now.
While there are replacements in such fragrances as Hanae Mori Him and Nikos Sculpture Homme God's Night, neither of these was able to get that fine touch of perfume artistry as Gucci did for me.
Therefore, it was no surprise that my excitement was at the highest level when I acquired this scent from Masque in hopeful wishes that finally I have found that one tea fragrance to rule them all.
I owe my career and much more to one man, the great Pierre Bourdon. There is a funny story about how we began our relationship. Pierre and my father met in an airport, they had already met before at some dinners, but my dad had no idea what kind of a humongous star Pierre was.

JULIEN RASQUINET
Masque Milano Russian Tea in three words: AROMATIC – RUGGED – SYNTHETIC
Affiliate Disclosure: As an Amazon Associate I earn from qualifying purchases. Purchasing via provided links/banners comes at no additional cost to you. Scent Grail only recommends products and/or services that are insightful and helpful to readers. For more info please read Affiliate Disclaimer.
Don't have the time to read the review right now? No worries! Here are my 5 quick takes:
A very good artistic tea-based fragrance niche-heads will appreciate
Created by the upcoming star perfumer Julien Rasquinet
Long-lasting and moderately projecting versatile perfume
Lasts around 12 hours with moderate projection and nice sillage
Overpriced for what it is – a synthetic and well-blended fragrance
The tea culture might not be as big in my home country of Croatia as it is in Russia, but we all love a cup of freshly brewed tea in the winter. Here is my story and the adventures I've had with Russian tea, and how it almost became my favorite tea fragrance in the collection.
Scent Grail content is free for anyone to use without anything hiding behind the paywall. If you would like to help me do more great articles like this, you can donate via PayPal. Much appreciated.
Brand and Perfume History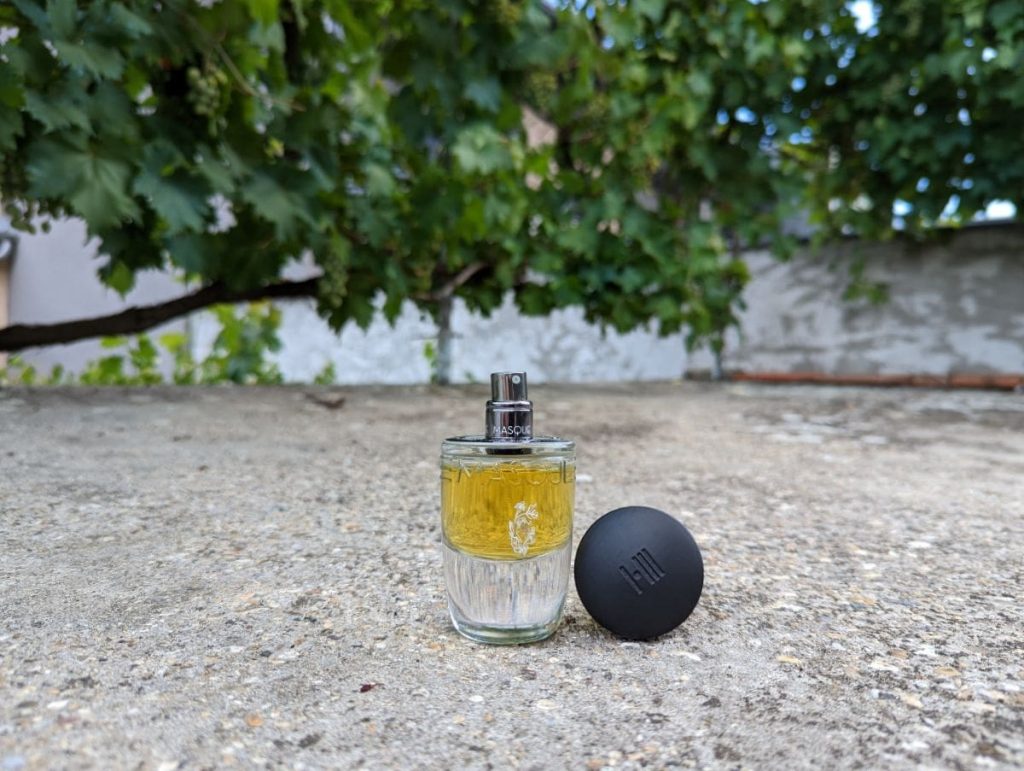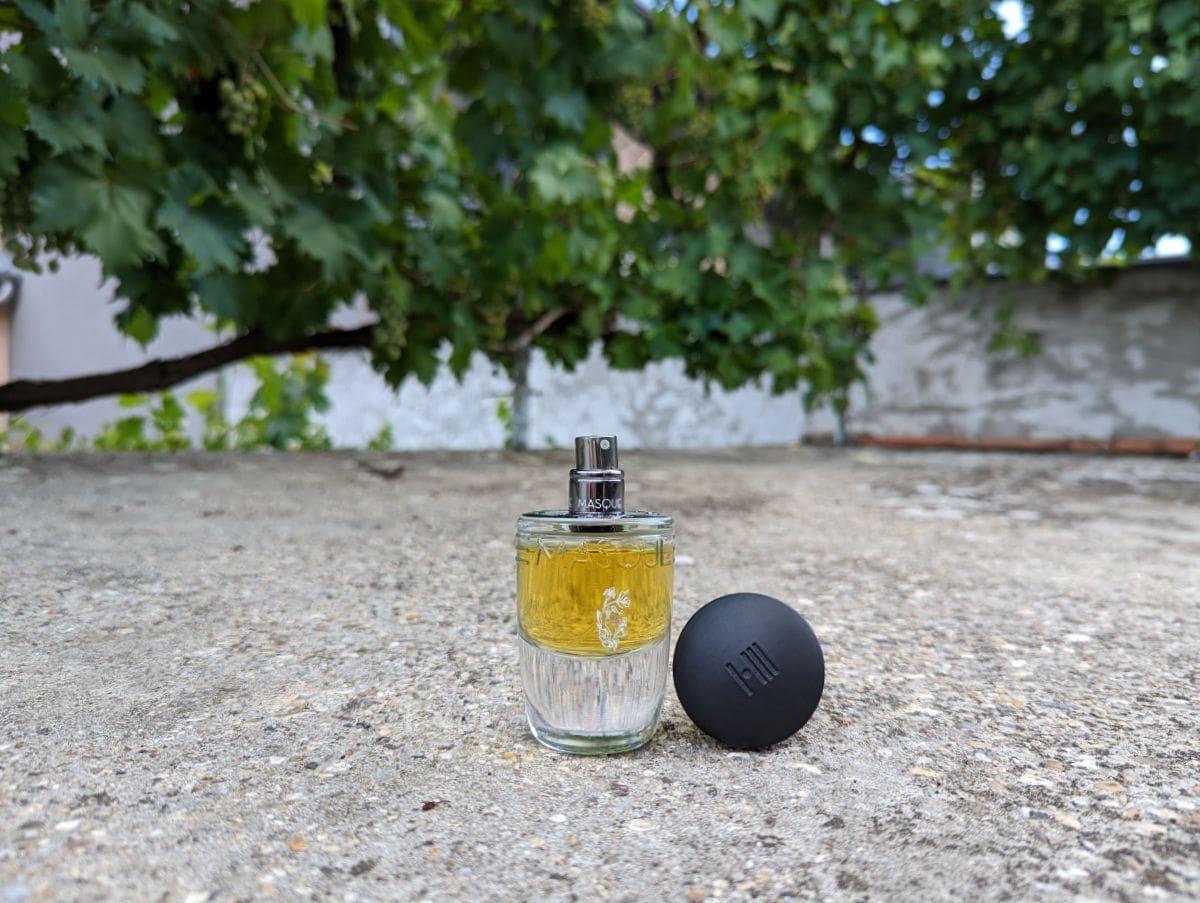 Masque Milano is an interesting niche fragrance brand from Italy, founded by Alessandro Brun and Riccardo Tedeschi in 2010.
Both guys had studied engineering and had an appreciation for design, a love for music, and Italian culture. Riccardo who was passionate about perfumes and after living for some time in Australia learned about fragrances through his girlfriend who worked at MOR Cosmetics.
His business partner Alessandro had been researching smaller luxury companies with the ambition and dream of creating his own luxury niche brand.
Their fragrance creations celebrate the Italian arts, music, and glory of opera, mainly Teatro Alla Scala – the famed Milanese opera house. The artistic inspiration and harmonious work are told in every detail of each Masque fragrance, and as they put it- "every fragrance represents a "scene" in the scented opera of life".
So far, the brand has collaborated with many famous perfumers such as Cécile Zarokian, Julien Rasquinet, Bruno Jovanović, Christian Carbonnel, and more.
Currently, Masque Milano has two different series of perfumes – Opera Collection, and Le Donne di Masque. The brand also goes by the name Masque Fragranze.
Masque Milano Brand Details
Story of Masque Milano from the official website: "Two lads with plenty of shared passions. Passions for traveling, reading, music. They love design objects, natural materials, hand-made details. They believe in – and adhere to – commitment at work, as well as a joie de vivre outlook to life. They are two die-hard dreamers, who resolved to bring their emotions to life. In the year 2010 – after years of research in scents and essences in Grasse and artisans across Italy, they established Masque. Like good musical directors, they learnt how to orchestrate a wide and well assorted group of maîtres parfumeurs and artisans. Fascinated by perfumes and fine fragrances, they strengthened their background by starting an educational programme in olfactory techniques (encompassing study of the reference books, attendance to seminars and training courses).

Through hard work and dedication they became better equipped in the enticing world of noses and raw materials. They put down their memories in words, it turned out a collection of "scenes", representing moments of their past, places visited, friendships and love, emotions and recurring dreams. "If only we could bring to life each of these scenes …we would reveal our innermost self, soaring from an absolutely intimate and ineluctably private standpoint, to view things from a universal perspective…" Not just Orchestra Directors, they now turned into playwrights and producers of an Opera. Acts and Scenes in which young and talented noses – rising stars of worldwide artistic perfumery – would wear the mask and interpret their roles. Year 2013, Masque Fragranze is born.
In every single scene of an opera, some of the actors alongside the leading character, as well as the element of the set are changing. In the same way, in our lives we can change the "mask" (our look, lifestyle, friendships, the tone of our voice or the mannerism) yet we could never part from our innermost sensitivity. With Masque Fragranze, Alessandro and Riccardo do not intend to create a myth, a best-seller, a one-size-fits-all perfume for everyone. Rather, they aim at creating a collection of perfumes with a soul. Each one unique.

Perfumes to wear like a second skin … the perfume behind the mask. Is there an actor able to relate to every possible role with conviction? A musician able to play every single musical style with authenticity? Then there could be no nose able to represent every single scene of the opera. The fragrances of Masque are to be created with a soul, and the nose's appointment is to give life to our scene. Hence, every scene will have "its" nose."
Masque Milano Russian Tea Story
Russian Tea is an aromatic leather fragrance for women and men that was launched in 2014. The perfumer behind this creation is Julien Rasquinet who also worked for luxury niche brands such as Amouage, Creed, Frederic Malle, Histoires de Parfums, Zoologist Perfumes, and more.
The inspiration behind Russian Tea is the memory of a trip to Saint Petersburg, where Alessandro and Riccardo happened to drink afternoon tea.
Many might not know, but Russia is a country of extraordinary tea and tea culture which has one of the strongest tea cultures in the world that dates from more than 400 years ago.
The most popular black Russian tea actually comes from China and India, but Russia is also producing black tea in small areas around Krasnodar and Sochi.
The fragrance comes as an Eau de Parfum in a 2ml vial, a 10ml travel size bottle 35ml bottle with a soft-touch painted wood cap, and a 100ml vintage bottle with a black ceramic cap.
Perfume theme
A note from the brand: "The inspiration behind Russian Tea is the memory of a trip to Saint Petersburg, where Alessandro and Riccardo happened to drink an afternoon tea in an elegant café inside a large bookstore at the first floor of a sumptuous Art Noveau building. Sitting on a round table by the wide windows, with the beautiful view of a snow-covered Nevsky Prospekt.
As they ordered the "Russian Tea Ritual", the maidens in white apron and bonnet brought the teapot, black tea in leaves, fresh mint, raspberry preserve. Immediately, as water was poured in the cup, the infusion unleashed its most characteristic notes. Black tea, heavy and intense. A floral note, sharp and biting. And that unmistakably dry and smoky aftertaste given by the caravanserai campfires, meant to keep the precious tea cargo dry in the never-ending journey through Siberia. Some fresh mint leaves were used to give a pleasant fresh touch to the hot water. A teaspoon of raspberry preserve sweetened, without altering it, the bitter aftertaste of leather and birch. They enjoyed the moment, slowly sipping the tea still scorching hot, and gazing out of the window, towards the beautiful cathedral of Our Lady of Kazan and beyond.
The nose behind the creation is the talented Julien Rasquinet. Alessandro and Riccardo approached him as they regarded Julien a master of smoky notes; he was also working at some very interesting tea accords, which came very handy during the fragrance development. To work side-by-side, Julien and his wife Irina (a very eclectic artist) hosted Alessandro and Riccardo in their lovely Normandy mansion.
Russian Tea by Masque Milano will conjure up a unique melange of tea-soaked memories for anyone that tries it. It has a beautiful chewy complexity, rich with herbs, broken red fruit, burnt woods, floating white flowers and a silvered finale that cuts through the conflagration of black tea and immortelle. Julien is a radiantly gifted perfumer, the work he creates has genuine difference and a mood of someone determined to mould materials into a work of art, that will stir strong emotions and memories once sprayed on skin."
Notes and Classification
PERFUME NOTES
Top notes: Mint, Black Pepper, Raspberry
Heart notes: Black Tea, Magnolia, Immortelle
Base notes: Leather, Incense, Birchwood, Labdanum
Perfume Presentation
The 35ml fragrance bottle comes in a black cylindrical and elongated black box that opens up like fragrances from Tom Ford Private Blend and Amouage.
The bottle sits in the velvety pouch found in the base, and it should be picked up from the bottom to avoid unwanted falling and smashing of this highly priced perfume.
On the box, you will find the logo of the house, the name of the fragrance, the perfumer, and a little text about the inspiration behind this creation, along with the ingredient information and other useful stuff.
The bottle itself is an art form in itself. The soft-touch wooden cap is meant to represent the Opera House, and the small size of the bottle actually feels heavier than it should be.
What I really like the most are the subtle touches of adding the perfumer's name on the metallic plaque below the atomizer, the name of the brand infused in the glass, and the silver and shiny name of the fragrance in the lower part of the bottle.
Thankfully, no other perfume brand has yet tried to copy this design, and it still remains one of the most unique presentations in the niche world I have seen.
My Experience With Perfume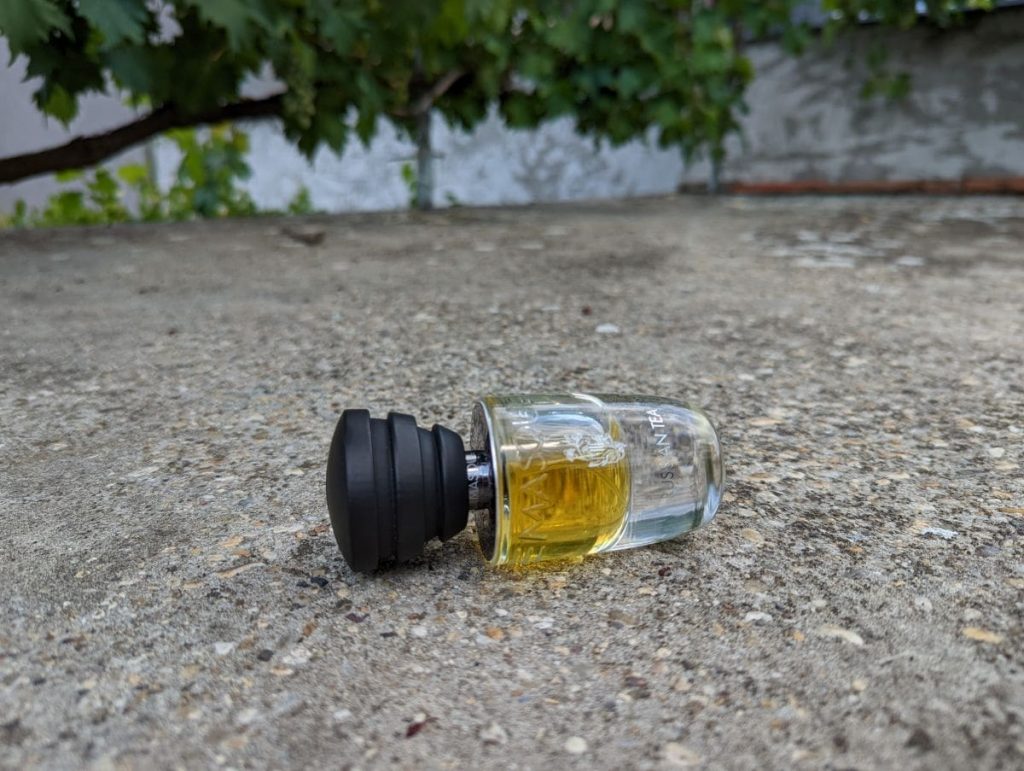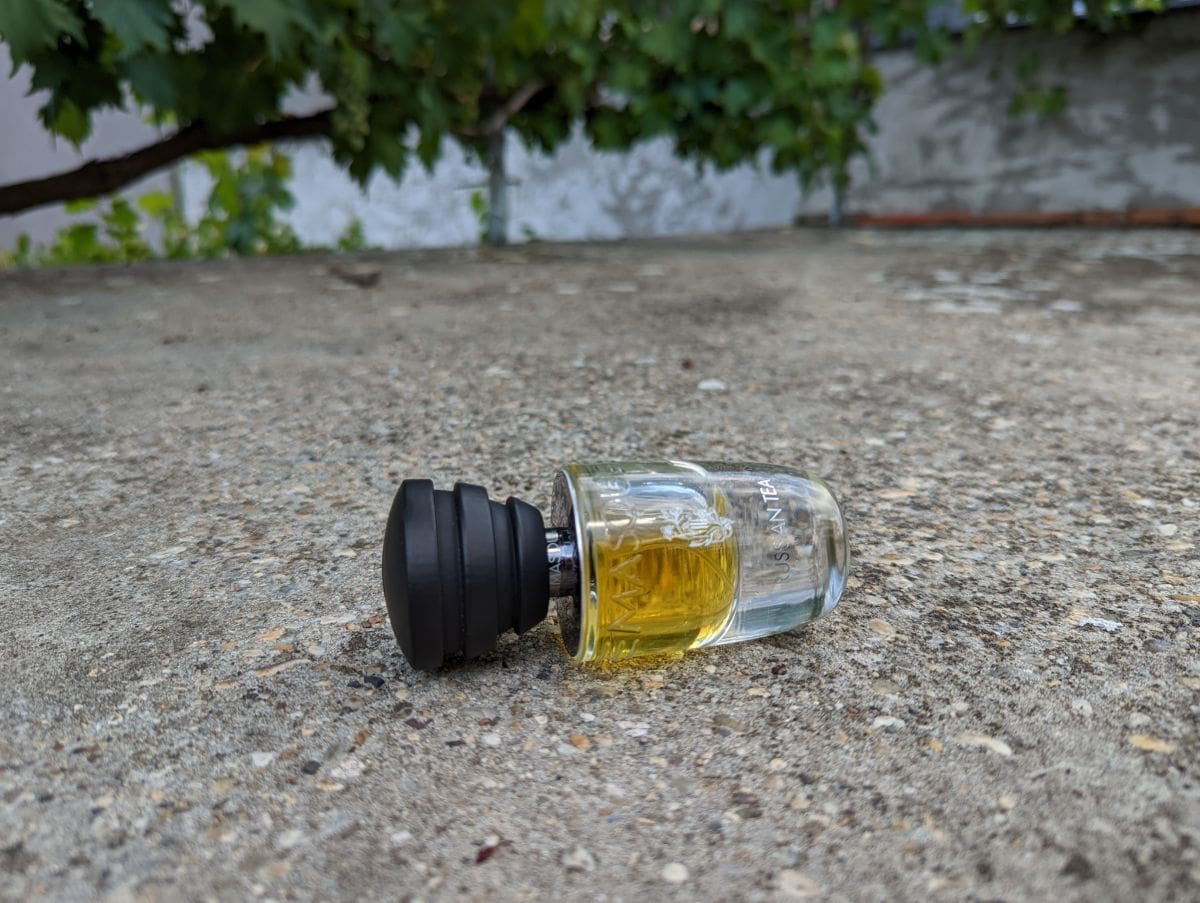 Russian Tea is the first fragrance from Masque Milano I have tried so far. The other fragrances from the brand I wish to check out in the future are Tango, Montecristo, and Times Square.
What intrigued me the most was the conjunction and contrast of lighter and darker themes with brighter notes of mint, raspberry, and black pepper that play a harmonical role with darker tones of leather, incense, birchwood, and labdanum found in the base of this perfume.
This is quite frankly one of my best discoveries from this year, and a fragrance that I will gladly use until I finish the bottle.
But, while the inspiration for this creation is romantic, and even the devil may care with its easy-going nature with decent touches of mysterious notes, I felt that I had the same issue with this and every other creation from Julien Rasquinet.
He is still young, and a talented perfumer who is by some sources, the creator of one of the best woody fragrances from the 21st century – Creed Royal Oud.
Just as with Histoires de Parfums Fidelis, his fragrances are superbly blended and possess the well-structured distinction between the top and base notes, but I'm yet to be truly impressed on the artistic level by any of his fragrances.
I still hope that I'll find something that will replace Gucci Pour Homme II, but until then, I see this one as a good substitute.
Top Notes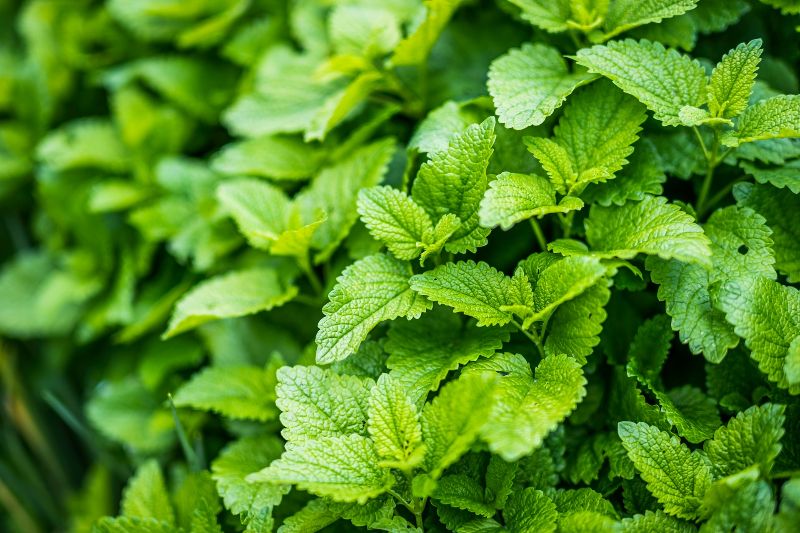 Mint
Black Pepper
Raspberry
Russian Tea starts with a camphoric and artificial kick from aroma chemical replacement for mint note which is detectable to anyone who has previously sampled the masterfully done Acqua di Parma Colonia Club.
To be fair, I have nothing against substitutes for natural raw ingredients when they are done in the right way, and even with the inclusion of a sweet raspberry note in the vein of that one found in Tom Ford's Ombre Leather, and spicy touches of black pepper it is still done in a pleasing way, but don't expect miracles.
Since Masque Milano fragrances are priced so high, I have to say that I expected to see natural mint which isn't that expensive in the natural oil form.
Keeping up with the substitute mint, I have also seen other fragrance bloggers mentioning the real black tea note here which begs the question, have they ever actually drank the real Russian tea?
Nonetheless, I like the opening, and the refreshing mix actually reminded me of the colder days in the year when I enjoy drinking this type of tea, but instead of including mint or fruits, I drink it in the English way of including a small amount of milk.
The airy pinch of this mixture might come out as believe it or not, too much and polarising for beginners in the fragrance world who are not used to this kind of composition in the designer realm, but for me, it comes as something I would gladly wear in the early morning when I need a perfume to refresh all of my senses.
Heart Notes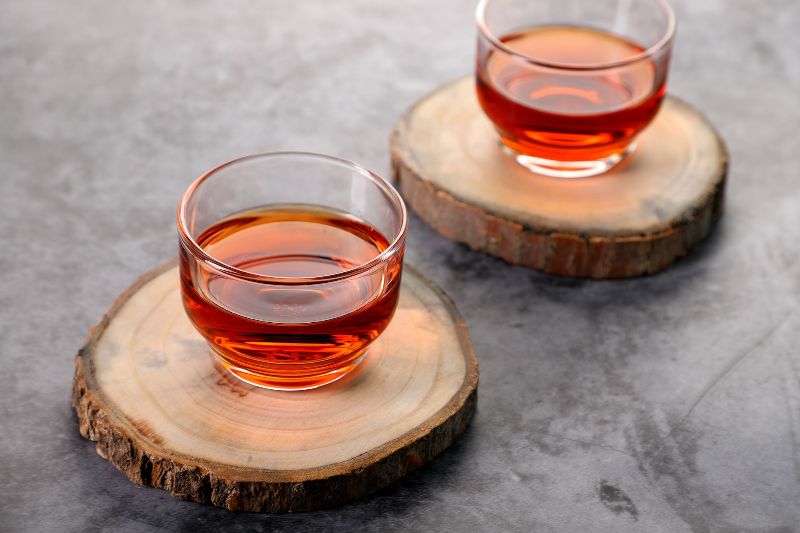 Black Tea
Magnolia
Immortelle
As the fragrance starts to settle down and go into the heart notes, I can see the vague resemblance to the ritual of tea drinking.
The smoky black tea accord jumps out, slightly overtaking the initial medicinal nature of mint, and fruits while also being rubbery, but pleasing.
I love this part of fragrance when everything starts to come together, and the lighter tones start to get replaced by floral qualities.
The magnolia and everlasting flower(immortelle), shave off some of the rougher edges from the fragrance which starts to shape its final form that doesn't take the forefront until at least one hour has passed since the initial application.
In this stage of fragrance life, the sweeter tones work together with florals to shape what is waiting for you in the base notes.
The best is saved for the last, as we enter Russian's Tea base notes.
Base Notes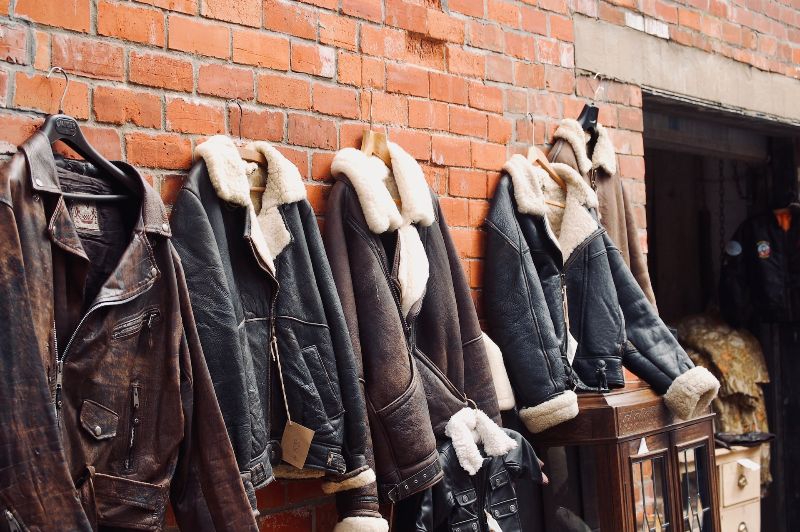 Leather
Incense
Birchwood
Labdanum
As someone who is predominantly a niche fragrance lover, I love when something is done bold, high-quality, and at the same time wearable.
Even with its downsides, the saving grace is found in the dry down. Here is where the leather, labdanum, birchwood, and incense step up to show the real face of this fragrance.
I'm truly thankful that the leather found here is not one of many similar accords found in Tom Fords Tuscan Leather or those we see in Dior's Fahrenheit.
What I get here is the smell of a long-forgotten leather jacket you found in your grandfather's closet after sitting there for 20 years. You wear it for the first time and take a sip of freshly made black tea with the inclusion of mint, berries, and light-up incense sticks.
Yup, it all comes together in the base notes, even with the muddied top and heart notes, it just works here. While I could write another ten paragraphs about the gentle nuances of how the incense is the same one used in Orthodox churches in Easter Europe, or how the Birchwood is the same one used in Creed's Aventus, or even how black tea would remind you of its traveling across the Siberian steppes to its final destination, there is no need for that here.
What is matters here is are you will accept its downsides which can be too much for some, and enjoy its well-crafted dry down.
I love my leather fragrances, and this is why I'll forgive this not-so-perfect fragrance's weaker points, and wear it when I get tired of Fahrenheit and Ombre Leather.
As much as a cheered and subconsciously prayed to get an exquisite tea and leather fragrance here, it is still a very good blend I believe many fragrance aficionados will enjoy.
Performance
On my skin, I have found that Russian Tea lasts more than 12 hours with a moderate projection and a decent sillage which is, believe me, more than enough for something like this.
I do recommend staying on the lower number of applications since it won't boost the fragrance projection. I have also seen many complain about weak performance which is not the case with me, but keep in mind that my skin often works well with many perfumes.
LONGEVITY: 12+ hours with moderate projection
PROJECTION: Medium
SILLAGE: Low – Medium
Target audience and compliments
This fragrance is targeted as a unisex product and works both on women and men. Personally, I see it more as a men's fragrance with its rough composition that is usually associated with men.
From other people's experiences, many ladies have also seen wearing it, so it is best to sample it and see how it works on your skin. Also, Russian Tea is to my nose more suited to a more mature audience.
This type of aromatic and leather mixture might work in getting positive attention, but honestly, I would keep my expectations at the minimum and get positively surprised when someone decides to comment on my fragrance.
AUDIENCE: Unisex
AGE RANGE: 30+
COMPLIMENTS: Low – Medium
When & Where
Russian Tea is a versatile fragrance that can be worn in many situations such as work, leisure, and night outs.
In my experience, I have found that it worked the best on the milder spring and fall days, but also wore it during the breezier summer nights in which it never became cloying.
An ideal work fragrance when you wish to stand among your colleagues with something not seen and worn every day.
SEASONS: Spring and Fall
OCCASIONS: Business, Leisure, and Night Outs
DRESS CODE: Professional, Casual
Uniqueness and value for money
Chasing uniqueness doesn't always come with a versatile payoff which isn't the case here, and for fragrance enthusiasts, this one is more of a wearable artistic fragrance that wouldn't just collect dust on a shelf and never see wear here and there.
The value for money is still quite high, but only if you are ok with the amount of fragrance you are getting at this price level which is just in the range of many other fantastic niche fragrances.
Just keep in mind that for the same amount of money, you could buy some of the fragrances from Francesca Bianchi, Nasomatto, and Orto Parisi which are much better perfumes.
UNIQUENESS: 4/5
VALUE FOR MONEY: 8/10
Pros and Cons
Here are some better and weaker parts of this perfume:
Pros
A very good artistic tea-based fragrance niche-heads will appreciate
Long-lasting and moderately projecting perfume
One of the best niche fragrance presentations in the game
Cons
A very good artistic tea-based fragrance that misses those fine touches to be more than just a good fragrance
Overpriced for what it is
The synthetic nature of composition hurts the great dry down
Collection & Similar Perfumes
Masque Milano doesn't release flankers of the original products which is common in the niche industry. Russian Tea belongs to Opera Collection which currently has 16 available perfumes.
Similar perfumes:
Mona di Orio Bohea Bohème – a woody aromatic fragrance released in 2016. The main notes include black tea, smoke, and balsam fir. The lasting power is 10 – 12 hours with moderate projection.
Acqua Di Parma Leather – a woody aromatic fragrance released in 2014. The main notes include leather Guaiac wood and rose. The lasting power is 8 – 10 hours with moderate projection.
Conclusion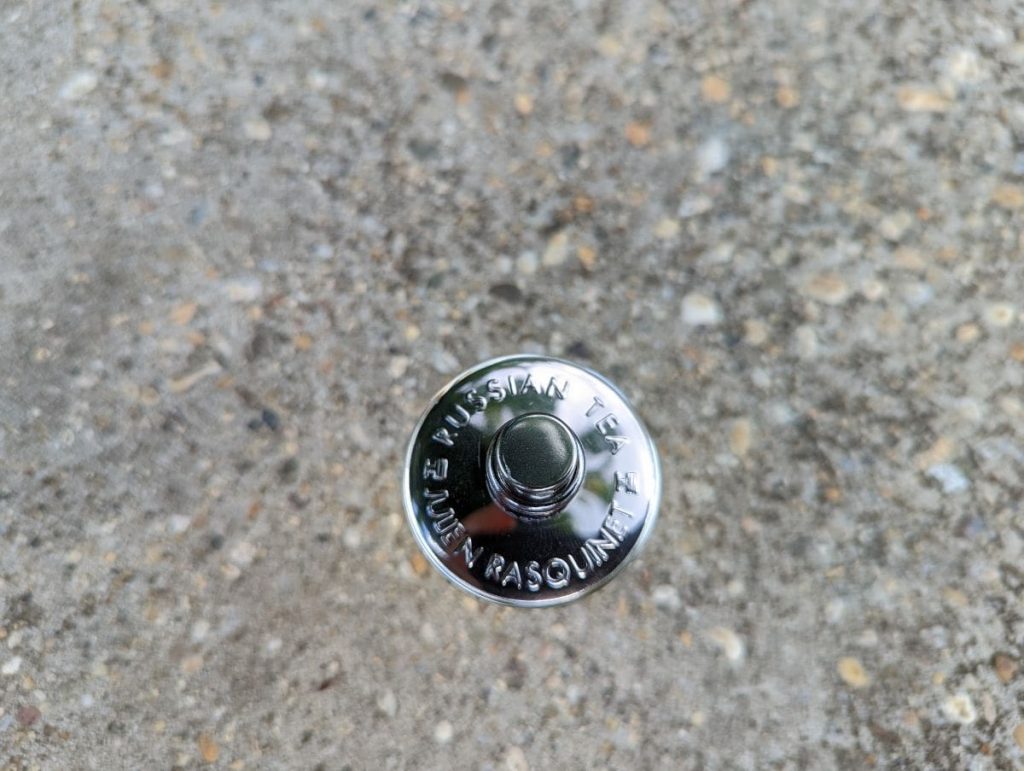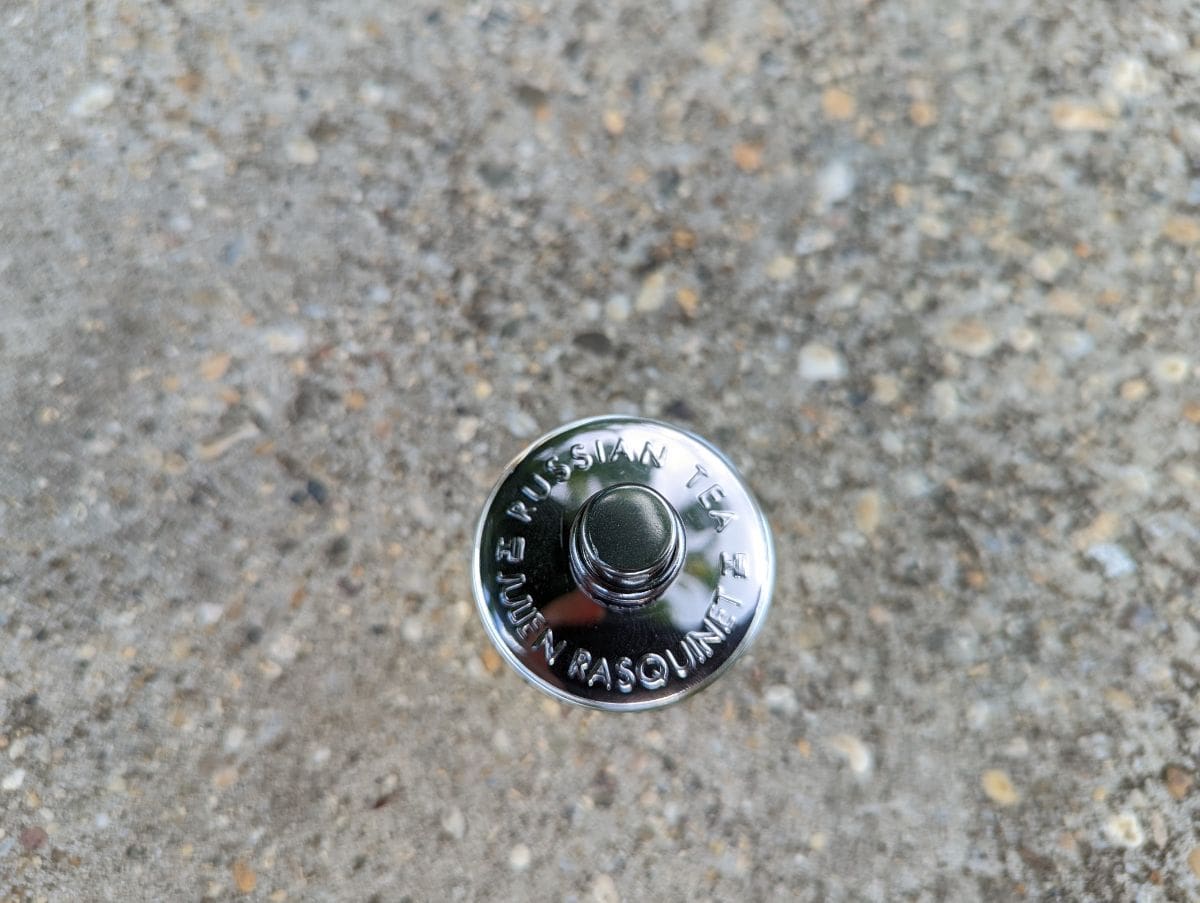 Russian Tea is a fragrance with a couple of faces. From the sharp opening to the pleasant base. The perfume is most likely composed of only aroma chemicals, but in the end, works.
While I cannot recommend you buy it immediately after reading this review, I propose getting a sample or two to see if it works for you. You might get pleasantly surprised, or get the same experience as me.
In the end, we all have different tastes, opinions, and fragrance preferences. What is most important, if it works for you it doesn't matter what anyone else thinks.
What are your thoughts about Masque Milano Russian Tea? Have you tried it? Do you like it? Let's start a conversation and let me know in the comment section below.
In case you are in doubt about whether you should consider buying this fragrance or not, it's always good to take a look at Scent Grail's S.P.A. Signature Factor Guide.
It is easy to use and the most relevant perfume buying guide on the web. This way, you can check out if a particular fragrance is worth checking out, and potentially find your signature perfume.

Find out more Scent Grail articles about perfumery, check out top lists, and other helpful reviews via the links below:
REVIEWS
TOP LISTS
SCENT GRAIL LEARNING CENTER
Until next time, have a great time, and keep smelling like a million bucks!
Best, Marin!
#scentgrail #scentgrailtribe
Scent Grail on Social Media: Facebook | Twitter | Instagram | Pinterest
Your number one source for Holy Grail Signature Scents.

– Marin Kristic