Penhaligon's Vaara is a floral spicy fragrance for women and men released in 2013. The perfumer behind this fragrance creation is Bertrand Duchaufour.
In recent times, I have started to expand my fragrance horizons and started to explore floral fragrances which are usually associated with ladies.
This one is the first Penhaligon's full bottle I added to my perfume collection, but not the first rose-based perfume I own.
Like with many other rose fragrances I have previously tried, Vaara's unfortunate luck is the comparison I do with the absolute giant of this fragrance family – Zaharoff's Signature Rose.
Maybe, I have been spoiled with Zaharoff, and as a fragrance aficionado, I strive for more. In this case, the beautiful backstory of Vaara, and the most adoring fragrance presentation is what made me get this one, and give it a fair shot.
Bertrand Duchaufour is one of my favorite perfume noses in the industry and the one that has a similar style to now retired Jean-Claude Ellena, known for his high quality, and transparent fragrances.
The (fragrance) journey has been an enjoyable one since I've done exactly what I wanted to. It was sometimes difficult and maybe I'm not liked by all my clients but at least I'm apart from the crowd of perfumers and recognised as a creative olfactory composer.

BERTRAND DUCHAUFOUR
Penhaligon's Vaara in three words: FLORAL – SPICY – SYNTHETIC
Affiliate Disclosure: As an Amazon Associate I earn from qualifying purchases. Purchasing via provided links/banners comes at no additional cost to you. Scent Grail only recommends products and/or services that are insightful and helpful to readers. For more info please read Affiliate Disclaimer.
Don't have the time to read the review right now? No worries! Here are my 5 quick takes:
A good floral spicy versatile fragrance
Created by Bertrand Duchaufour in 2013
Fantastic presentation
Lasts around 4 – 6 hours with moderate projection
A harsh and synthetic-smelling fragrance that is overpriced for what it is
With the real-life story behind the creation of this perfume, the gorgeous presentation from the historical perfume house of Penhaligon's, and the superstar perfume nose who composed it, can Vaara stand with the big boys of the rose fragrance family? Here are my thoughts.
Scent Grail content is free for anyone to use without anything hiding behind the paywall. If you would like to help me do more great articles like this, you can donate via PayPal. Much appreciated.
Brand and Perfume History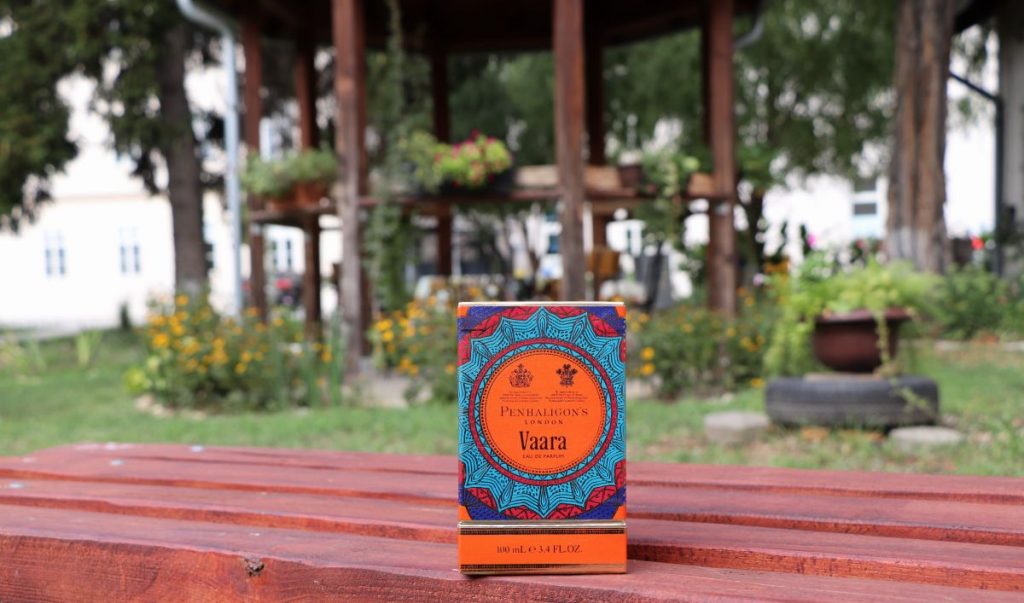 Penhaligon's had always intrigued me as a brand that celebrates the history of perfumery, classic barbershop culture from the early 20th century, and the inclusion of natural raw perfume oils.
The reason why I have tried just a couple of fragrances from their selection is the discontinuation of many fragrances that don't sell enough, and the spotty performance many of their fragrances are known for.
But the main reason lies in the hard and rare availability of Penhaligon's fragrances where I live, and blind buying this brand from abroad comes at a higher cost.
Penhaligon's Brand Details
Penhaligon's is a historical British fragrance house founded in the 1860s by William Penhaligon who was a Cornish barber and perfumer.
In the early days of the company, William Penhaligon was a barber within the London and Provincial Turkish Baths.
Many of his clients were politicians to whom he created and sold his own products as was usual for barbers at the time. His first fragrance was Hammam Bouquet, inspired by the Turkish Baths and contained an unusual mix of notes for the time which included rose, lavender, musk, and orris root.
The shop was situated and opened in 1901 in Jermyn Street which William ran until his passing in 1903. Upon hearing of his passing, Queen Alexandra awards Penhaligon's with its first Royal Warrant.
As the business expanded, the brand was eventually purchased by Geo F Trumper, where the production continued and was awarded a second Royal Warrant by HRH The Duke of Edinburgh.
Today, the brand is owned by Puig who has repositioned Penhaligon's as an international luxury brand with little connection to its heritage.
Besides perfumes, Penhaligon's also sells bath and body products, and home fragrances.
Penhaligon's Vaara Story
Penhaligon's Vaara was created by master perfumer Bertrand Duchaufour who was commissioned by His Highness Maharaja Gaj Singh II to create a fragrance on the birth of his granddaughter Vaara in 2011 to carry her's name.
Mahajara wanted a fragrance that would represent his home in Marwar-Jodphur in Rajasthan, and Duchaufour traveled there to explore the life of the Maharaja, city markets, exotic gardens, historical sites, and family palaces which provided him with needed inspiration to capture the essence of Jodhpur, and India in a bottle.
The fragrance comes as an Eau de Parfum in a 100ml fragrance bottle.
Perfume theme
A note from the brand: "The Maharaja's granddaughter is born into luxury. Succulent quince, fragrant roses, and wood warmed by the midday sun. Vibrant Rajasthan, captured in an Eau de Parfum. Tempered by stately elegance."
Notes and Classification
Perfumer: Bertrand Duchaufour
Perfume Oil Concentration: Eau de Parfum
Fragrance Type: Floral Spicy
Release Date: 2013
Target Audience: Unisex
Masculine/Feminine: 20% – 80%
Most dominant notes: Rose, Quince, and Saffron
Age Group: 25+
Seasons: Spring, Summer, and Fall
Occasions: Leisure, Business, and Night Outs
Longevity and Sillage: 4 – 6 hours with moderate projection
The recommended number of sprays: 4 – 6
Compliments: Medium
Likeability: Medium
Uniqueness: 3/5
Value for money: 5/10
Accords: Fruity, Floral, Warm Spicy
Reviewed batch code: H11K6A – October 2016
Holy Grail Scent Rating: C+
Sample/Buy/Pass: Sample
Production: Available
PERFUME NOTES
Top notes: Quince, Rose Water, Coriander, Carrot Seeds
Heart notes: Rose, Freesia, Peony, Magnolia
Base notes: White Musk, Honey, Sandalwood, Cedar, Benzoin, Tonka Bean
Perfume Presentation
I have to salute Penhaligon for what they have done with the presentation. In the sea of lookalike bottles and boxes from niche fragrance brands, this one stands as the most unique one in my collection.
From the traditional details that are associated with India's vast history to being colored in shiny orange, purple, red, and blue colors. The box is a stunning work of art, and one of the most original presentation designs from Penhaligon's.
With such attention to detail with laser-precise art on the box with the slightly rugged feel when picked up, I highly doubt anyone could fake this product.
The bottle is a well-known uniformed Penhaligon's product with a classic bow tie touch which is plastic this time instead of the classic cloth bow tie usually found on their other perfumes.
The bottle follows the art from the box, and just to be safe when buying expensive niche fragrances like this, on the back of the bottle, Penhaligon's and London's words have to be embossed to avoid fake products.
Overall, both box and the bottle get my biggest approval and would be worth it just for the presentation if you are the kind of person that collects empty fragrance bottles or has a perfume bottle museum.
My Experience With Perfume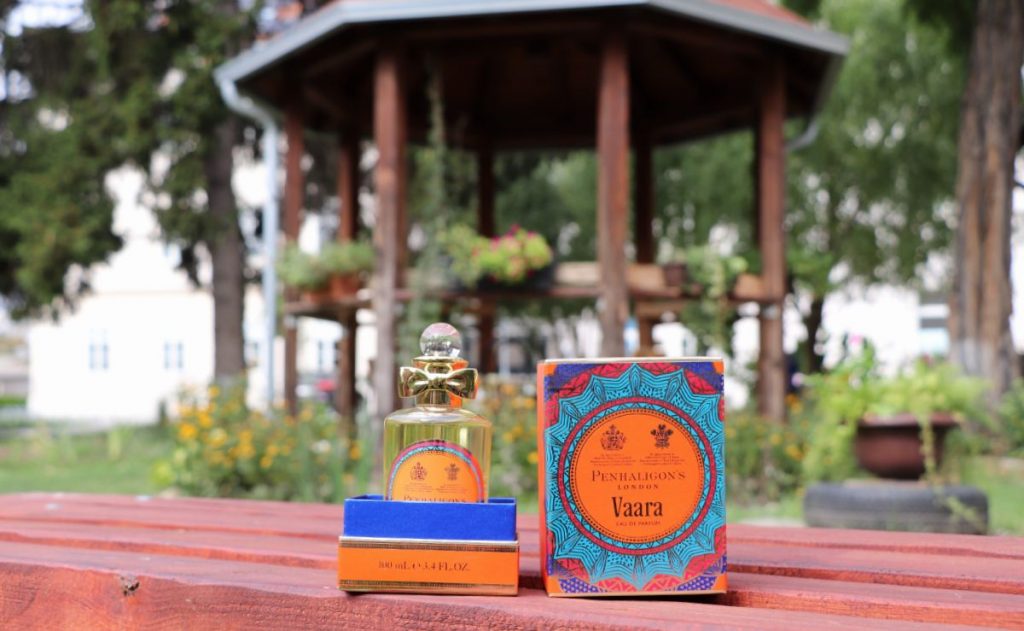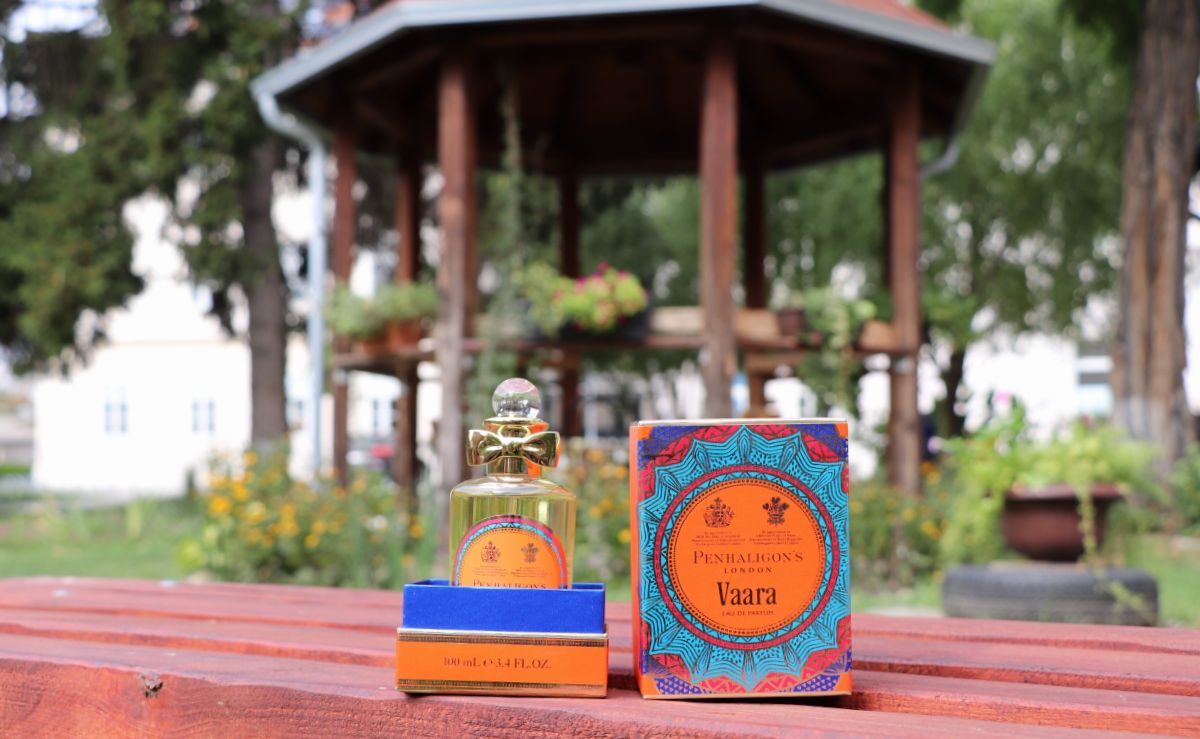 Almost always I know what I'm getting into when acquiring fragrances from my favorite perfumers Bertrand Duchaufour, Dominique Ropion, or Jean-Claude Ellena.
Most of the time, these are transparent perfumes that are masterfully crafted, and every single one of them includes something new, and mysterious to play with my imagination and keep me interested.
Vaara by itself is a good fragrance if we ignore all the comparisons with some other rose-forward fragrances.
During my time with this scent, I had three main issues. One is it is not worth over $200 USD no matter how good the presentation looks, who was the perfumer, and how many natural ingredients are there inside.
The second issue is with the performance. It is not bad as for example Jo Malone fragrances tend to be, but for this amount of money, the quality of the fragrance isn't at the highest level I wanted for more than four hours.
The third and last complaint was the capture of the spirit of Jodhpur. If no one told you, I highly doubt you would guess right which country was the inspiration for this creation.
If you want to get closer to the Indian spirit, get Jaipur Homme from Boucheron which nails this theme perfectly.
If I didn't get Vaara in a fragrance swap and had to pay the full price, my opinion would be worse on this topic.
Nonetheless, I have enjoyed the fragrance for its watery rose note, the soft sweetness coming from quince, and the combination of gentle spices that come and go as you walk the streets.
What also surprised me and it shouldn't have since it is a Duchaufour creation, the muskiness is amplified by this pretty realistic honey, and in the end, it saves the day.
I would recommend this one to ladies who are lovers of rose fragrances and are just getting into the niche fragrance game, but as for men, you should really try to sample this one first. It is a much more feminine scent than masculine.
Top Notes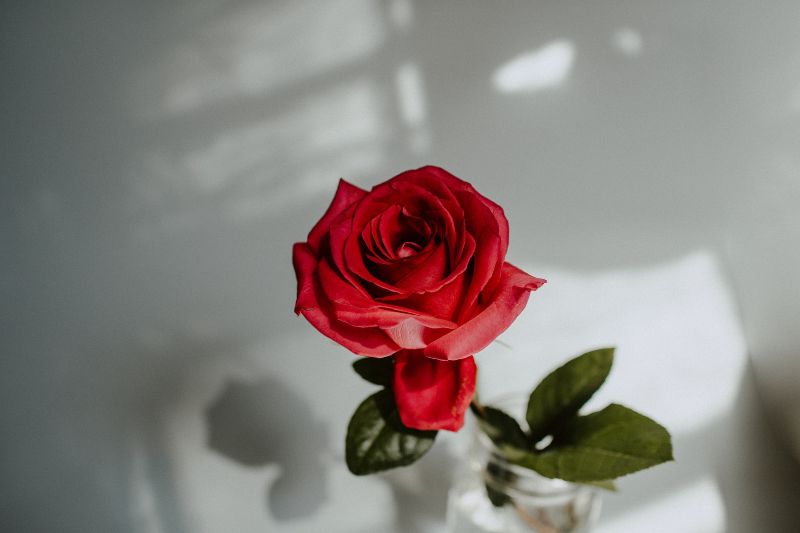 Quince
Rose Water
Coriander
Carrot Seeds
Vaara opens up with a thoughtful and carefully mixed watery rose, and a mixture of quince with hints of spices.
Quince is an ancient fruit, rarely seen in gardens, and seldom found growing in the wild these days. Today, it is grown as an ornament plant, found in alcoholic beverages, and as a food.
So it is not common to find it as an ingredient in fragrances. The fruit gives an aromatic scent that is reminiscent of pear, and apple but has to be consumed to get the full experience.
To my nose, this combination is not a photorealistic representation of the actual fruit, but a painted image of what it would smell like. Keep this in mind since rarely anyone has smelled this as real fruit.
For a reference point, you can sample Xerjoff's Dolce Amalfi to get a more natural smell of quince.
The included carrot seed is non-existent here and if it was, the note would give a root-like and earthy odor.
The rose here is watery but much soapier than today's standards. It mostly reminds me of fragrances that used this kind of rose in perfumes from 30 to 50 years ago that were worn by maybe a little more mature and well-dressed ladies of high society.
This is not a bad thing if you wish to experience a nostalgia kick done in a modern way. This watery and delicate sweet rose never gets jammy and acts more like a tea made of roses with added touches of citruses.
Heart Notes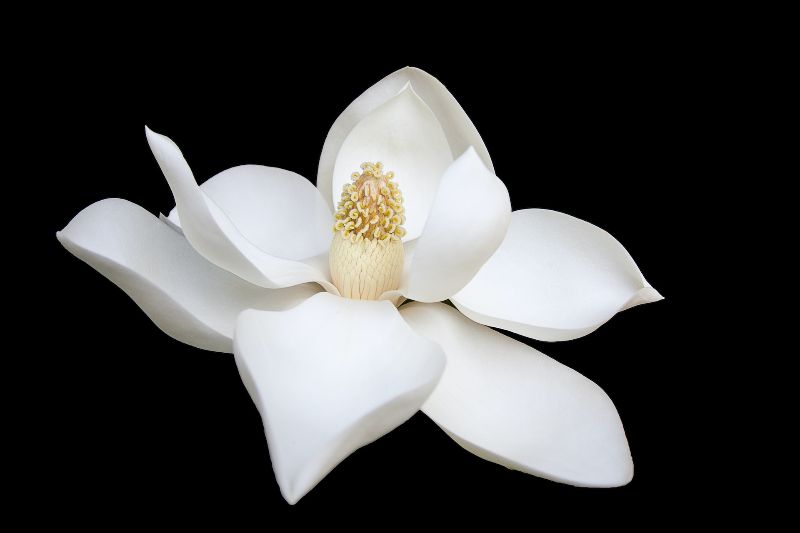 Rose
Freesia
Peony
Magnolia
As the fragrance gently transitions into the floral heart, the rose starts to settle down, and the magnolia switches places with the citruses from the opening.
I have to point out that for this amount of money, the fragrance is shockingly sharp and synthetic which pinches my nose in the wrong way.
There is no excuse for an expensive fragrance with such a great back-story and master perfumer to cheap out on the raw materials.
As soon as the fragrance went into the middle notes, I was reminded of hair spray which eventually transitions into a more balanced composition thankfully.
Since rarely anyone is going to stick their nose into the point where you sprayed your fragrance, the dance between rose and magnolia is most evident when catching the gentle whiffs in the air.
To be fair, if you decide to smell the fragrance from the place you have sprayed it on, freesia, and peony are detectable, but realistically, they play a background role if anything else.
However, the fragrance shines the most when it's fully dried down when woody, spicy, and sweeter aspects get their chance to play the main role.
Too bad that the fragrance is this amount transparent, and lacks any sort of reminiscence of Jodhpur that would transport you to India.
Base Notes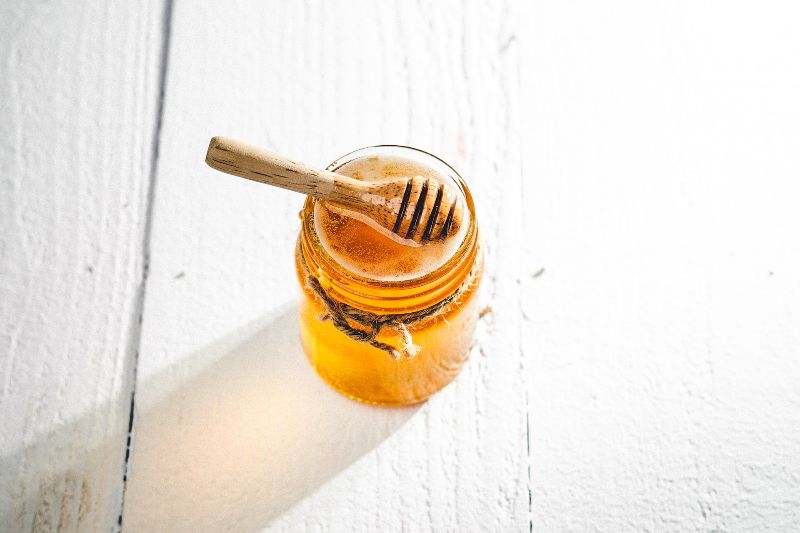 White Musk
Honey
Sandalwood
Cedar
Benzoin
Tonka Bean
There is no denying that Vaara is primary a floral fragrance, and women's fragrance, no matter what Penhaligon's marketing is trying to tell you.
The unisex part comes from the base notes when the honey, musk, and saffron get intensified. There are zero sandalwood, benzoin, and tonka beans notes here, but what I found is a high dosage of Iso E Super which can mimic javanol – industrially made sandalwood, musk, and cedarwood notes.
I bet that Bertrand knew that without Iso E Super this fragrance would be completely gone from the skin in one to two hours.
The honey here is animalic but not in a way of overbearing you. While I do like this saffron here which is the kind found in Maison Francis Kurkdjian's Baccarat Rouge 540 and Nishane Safran Colognise, it would have benefited greatly if that note was more amplified, and that goes for Iso E Super as well.
In the end, the sad thing about this fragrance is how much potential it had to be more than when everything is combined, just a good fragrance.
Vaara lacks better quality ingredients, and the intensity of base notes to round up the composition, and is best for consumers who like more soft-spoken and milder fragrances who are not into heavier oriental perfumers.
Performance
I cannot blame Vaara for being a more subtle fragrance experience. Sometimes, we want to wear a fragrance that won't choke everyone around us, and I love when floral perfumes are softer since they easily get overbearing.
On my skin when the temperatures are milder, I get around four to six hours with a moderate projection which is good enough for shorter activities or for anyone that wants their fragrance to disappear by the time your daily shift is over.
Don't expect a crazy amount of projection or a big sillage bubble since it is not meant to be that kind of a fragrance.
LONGEVITY: 4 – 6 hours with moderate projection
PROJECTION: Medium
SILLAGE: Medium
Target audience and compliments
You can wear what you like if that is your choice. I personally am not a fan of rose fragrances and most of them smell completely feminine, besides Zaharoff's Signature Rose.
If you don't care what anyone else will think and you are a man, you can wear Vaara without any concerns. I would rate this one an almost completely feminine scent which I do wear since I wear fragrances for myself, and not for other people's opinions.
Since I'm yet to receive a compliment on Vaara, and the only comment I have ever received was "you smell like soap", I'll hold back with my thoughts about compliments and let you experience it, and see reactions firsthand.
AUDIENCE: Unisex
AGE RANGE: 25+
COMPLIMENTS: Low – Medium
When & Where
Vaara is a versatile fragrance you could wear almost anywhere with its softer projection. I see it as more of a milder-weather fragrance where it would shine the most.
Work, long walks, and a cup of hot coffee with your friends, or family. You name it. This is where its transparency works the best.
Penhaligon's is known for these types of perfumes, so it is no wonder that it works like this.
SEASONS: Spring, Summer, and Fall
OCCASIONS: Business, Leisure, and Night Outs
DRESS CODE: Professional, Casual
Uniqueness and value for money
This is where I have deducted the most points. All of these notes are familiar and the quince is not the real deal.
However, this usually is the case with transparent perfumes when the additional kick from denser notes is lacking no matter how blended they are.
The value for money is quite low, and the fragrance is overpriced. Please sample it before deciding to get a full bottle of this one. The chance of regretting a purchase is high, unfortunately.
UNIQUENESS: 3/5
VALUE FOR MONEY: 5/10
Pros and Cons
Here are some better and weaker parts of this perfume:
Pros
Great presentation
Transparent and versatile fragrance
Cons
Nothing new in the niche world of perfumery
Harsh and synthetic smelling
Overpriced for what it is
Completely misses the point of the real back-story
Collection & Similar Perfumes
Penhaligon's is not a brand that often releases flankers of established perfumes from the collection, and Vaara was a special release for a special occasion.
Similar perfumes:
Neela Vermeire Creations Mohur – an floral spicy fragrance released in 2012. The main notes include rose, almond, and cardamom. The lasting power is 8 – 10 hours with moderate projection.
Burberry My Burberry – an floral fruity fragrance released in 2014. The main notes include sweet pea, quince, and rose. The lasting power is 8 – 10 hours with moderate projection.
Hermès Galop d'Hermes – an leather floral fragrance released in 2016. The main notes include leather, quince, and rose. The lasting power is 8 – 10 hours with moderate projection.
Frequently Asked Questions
Here are some answers to the most popular questions asked about this perfume.
What does Penhaligon's Vaara smell like?
Vaara is a floral spicy fragrance for women and men which smells like a combination of delicate rose water, amplified by quince accord, a touch of spiciness, and woody notes. The lasting power is 4- 6 hours with a soft projection which makes it an ideal daily wear perfume.
Is Penhaligon's Vaara for men?
Penhaligon's Vaara is a floral spicy fragrance for women and men released in 2013. The perfumer behind this fragrance creation is Bertrand Duchaufour. The fragrance is marketed as a unisex fragrance but due to its floral and spicy aspects, it leans much more on the feminine side.
Is Penhaligons a luxury brand?
Penhaligon's is a luxury heritage niche fragrance brand from England. Their products include high-priced perfumes, home fragrances, and bath and body products. It is owned by Puig since 2015.
Are Penhaligon's perfumes natural?
Each Penhaligon's fragrance is composed of a mixture of natural and artificial raw sources done by the latest trends in fragrance chemistry.
Conclusion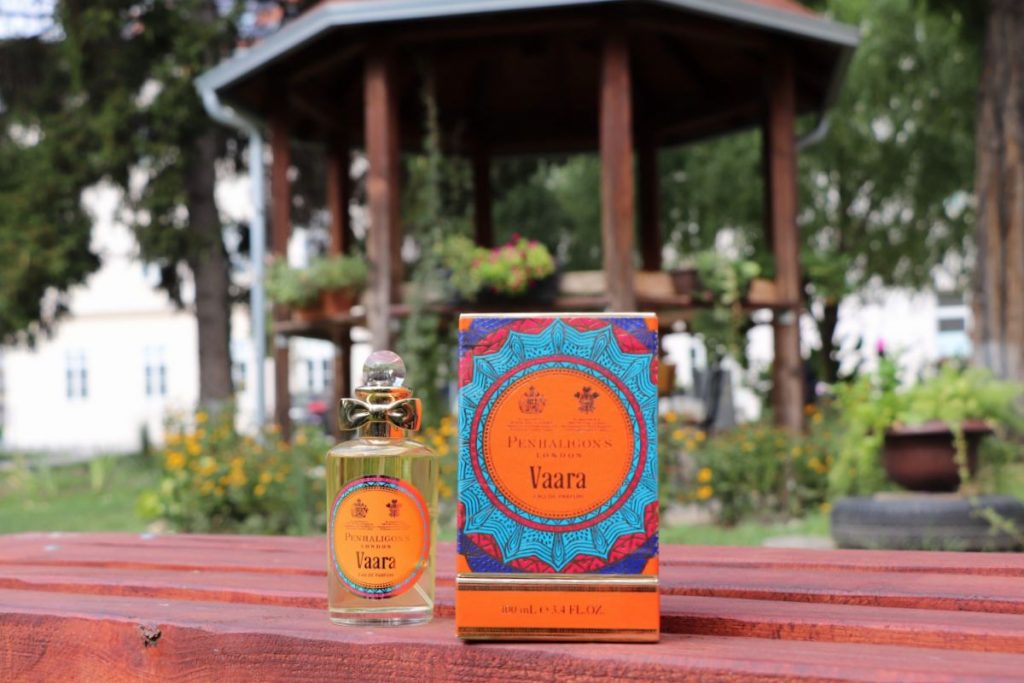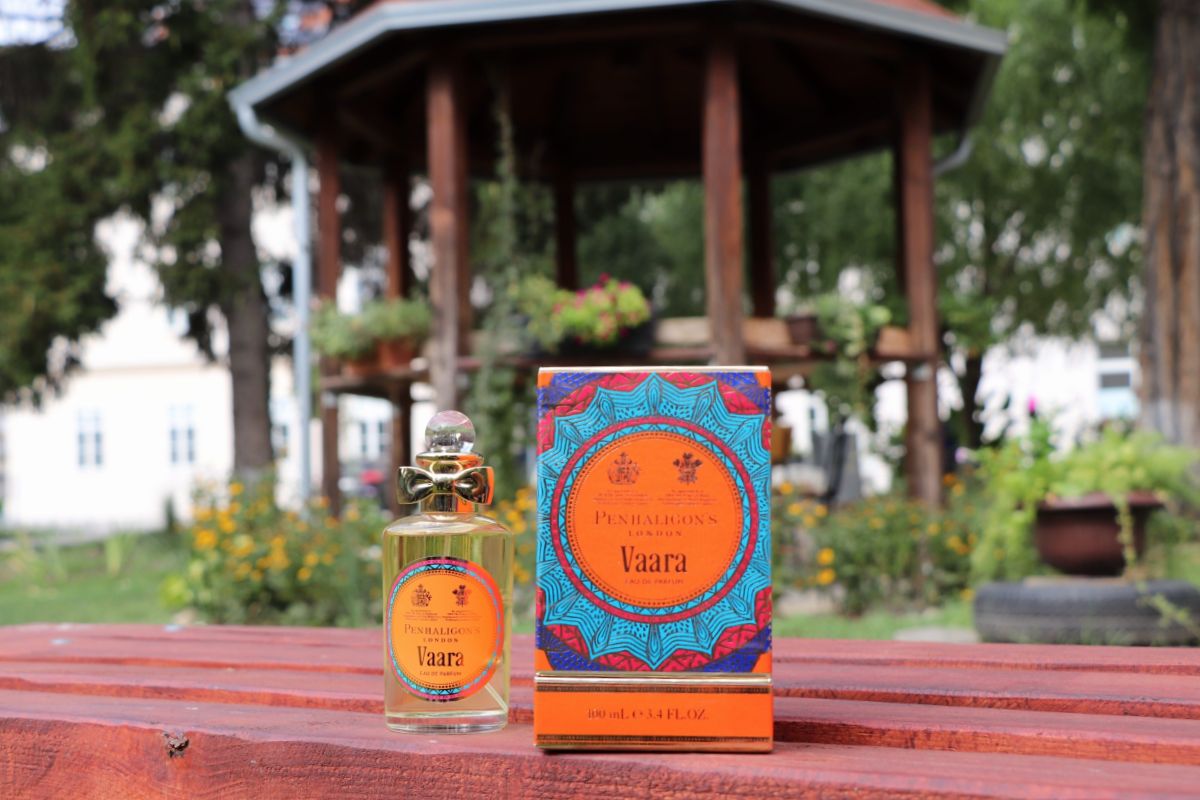 Penhaligon's Vaara is probably my least favorite fragrance I have reviewed on Scent Grail so far. I have taken its positive and negative sides to give an objective opinion and needed information to everyone who is planning to add this one as a new purchase.
What shaped my opinion was the gorgeous presentation, the quality of the scent, the price, and the quality of the raw materials with are sadly on the designer level.
What are your thoughts about Penhaligon's Vaara? Have you tried it? Do you like it? Let's start a conversation and let me know in the comment section below.
In case you are in doubt about whether you should consider buying this fragrance or not, it's always good to take a look at Scent Grail's S.P.A. Signature Factor Guide.
It is easy to use and the most relevant perfume buying guide on the web. This way, you can check out if a particular fragrance is worth checking out, and potentially find your signature perfume.
Find out more Scent Grail articles about perfumery, check out top lists, and other helpful reviews via the links below:
REVIEWS
TOP LISTS
SCENT GRAIL LEARNING CENTER
Until next time, have a great time, and keep smelling like a million bucks!
Best, Marin!
#scentgrail #scentgrailtribe
Scent Grail on Social Media: Facebook | Twitter | Instagram | Pinterest
Your number one source for Holy Grail Signature Scents.

– Marin Kristic