Honour Man by Amouage is a woody spicy fragrance for men, released in 2011, and created by Nathalie Feisthauer.
Where to begin with Honour? A fragrance seldom discussed, tailored for a particular audience.
My initial encounter with this scent dates back to 2015, via a small sample that left me kinda underwhelmed.
Now, eight years later, I've finally acquired a full bottle and conducted a thorough, fair evaluation spanning seven months.
Amouage Honour Man in three words: GLORIOUS – BLACK – PEPPER
Affiliate Disclosure: As an Amazon Associate I earn from qualifying purchases. Purchasing via provided links/banners comes at no additional cost to you. Scent Grail only recommends products and/or services that are insightful and helpful to readers. For more info please read Affiliate Disclaimer.
Coming from my favorite niche house, expectations were high, having sampled and owned multiple other fragrances from them.
Continue reading to discover if my opinion about Honour has changed, or if it's a missed opportunity for Amouage.
Fragrance Information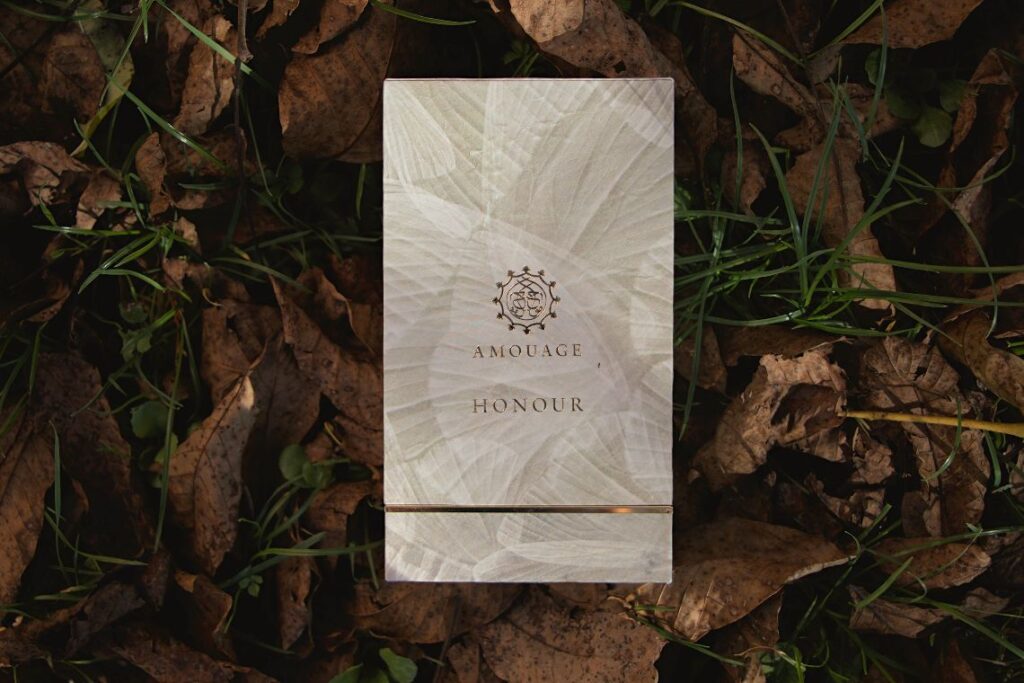 The origins of Amouage trace back to 1983, marking it among the pioneers of niche brands celebrated as "The Gift of Kings," showcasing Arabian perfumery globally.
Balancing innovation and heritage, each release merges Eastern and Western techniques. Founded in Muscat, Oman, by Prince Sayyid Hamad bin Hamoud Al Busaidi, Amouage is managed by Oman Perfumery LLC.
David Crickmore assumed the CEO role in 2006, while Christopher Chong served as the creative director until 2019. Presently, Amouage boasts 21 global stores, including a two-story facility inaugurated in 2012.
The current creative director is Renaud Salmon. The visitors' center and factory, capable of producing 25,000 weekly perfume bottles, exemplify the brand's commitment.
A piece of short information about Amouage's dedication to the perfume craft from the official website: "Amouage perfumes carry a sophisticated signature that attests to unparalleled craftsmanship, quality, and creative integrity. Using only the finest and most special ingredients from around the world, Amouage perfumes are composed of world-recognized perfumers in Paris, Grasse, Geneva, and New York. Each creation is carefully handmade and tastefully blended to present an enveloping patina and a long-lasting elegant trail. Florals are multi-faceted, spices and woods juxtapose harmoniously and rare ingredients create intriguing contrasts."
Amouage Honour Man Story
In 2011, the brand released a fragrant pair – Honour Woman and Man, dedicated to the story of Madame Butterfly.
It tells the tale of Cio-Cio-San, a geisha who married an American and patiently awaits his return for three years—a story of love and betrayal, hope and despair.
Nathalie Feisthauer specifically drew inspiration from the tragic conclusion of Giacomo Puccini's Madame Butterfly opera for these fragrances.
This spicy and woody fragrance should invoke memories of the past and is a story of reconciliation. The creative director behind this release was of course the only and the only Christopher Chong.
This fragrance is regularly available for purchase in many high-end perfume stores and online shops across the world.
It comes in 50ml, and 100ml flacons as Eau de Parfum. The retail price ranges from $265.00 to $360.00.
Perfume Theme
A note from the brand: " A tingling sensation of Black Pepper underlined by electric vibrations of Pink Pepper opens this ode to the love of a son for his mother.
A tender and refined smile of Rose Geranium follows a dry, bright and mineral Nutmeg, pulsing under lemony notes of Madagascar Elemi.
The excitement passes, the emotion grows firm and the luminous tension of the heart turns into a woody accord of Cedar and Patchouli rounded by a nutty Vetiver and a honeyed base where Frankincense Resinoid and Tonka Bean Absolute shine equal.
A richness of reassuring and alluring spices, Honour Man transcribes the inner joy of being reunited after too many years apart."
Notes and Classification
PERFUME NOTES
Top notes: Pink Pepper, Black Pepper
Heart notes: Geranium, Nutmeg, Elemi
Base notes: Patchouli, Frankincense, Cedarwood, Vetiver, Tonka Bean, Musk
Perfume Presentation
I have said this many times and still believe that each flask from this brand represents a tribute to the rich Middle Eastern heritage and a consistent design philosophy spanning millennia.
For men's fragrances, the bottles adopt a more elongated shape, whereas women's bottles feature a smaller, boxier form.
The distinctive golden bottle cap, embellished with a Swarovski crystal, is skillfully designed to mimic the hilt of an Arabian dagger—a creative innovation first introduced with the Amouage Gold collection.
Recognizing the importance of safeguarding this unique and luxurious design, the brand proactively registered it as intellectual property in North America and Europe.
The brand's stylized logo, positioned at the bottle's center, incorporates the phrase "The Gift of Kings," a concept that may not be widely familiar to Western audiences.
This time, the fragrance comes in a white-colored flask, appearing even more impressive in person than depicted online.
As for the atomizer, it is a standard one, similar to what you find in the rest of their collection. To be honest, it could have been better.
Now, onto the box. It's probably the least captivating one I have seen from them. A white/greyish wallpaper-colored box that's simply uninteresting.
It follows the same traditional pedestal-style packaging, necessitating careful handling to avoid any damage to the bottle.
Overall, the bottle is fantastic, despite the average atomizer, but the box doesn't meet the expectations we have for a brand of this caliber.
My Experience With Perfume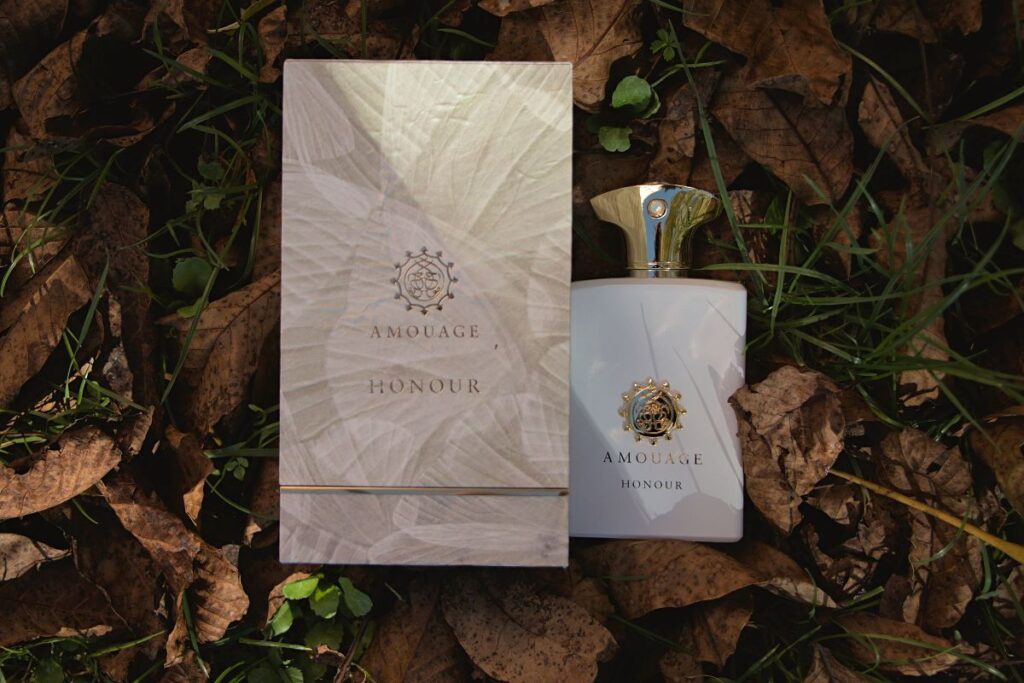 So, what's the deal with this one? Now that it's part of my collection, I understand why it never caught the "fragrance hype train."
Examining the promotional material and its intended representation clarifies why it emits a cold, emotionless vibe, specifically leaning toward somber feelings.
Or, more precisely, sad emotions—they've captured that aspect accurately. I have acquired the bottle through an affordable deal from a fragrance friend.
This lack of emotion appears to have permeated even into this review, believe it or not. There's something missing in the composition to elevate it to an exceptional product.
However, if there's one truly exceptional aspect, it's undeniably the representation of the pepper accord. I'm not kidding; this must be the best natural-smelling, pepper-forward fragrance I've encountered.
Crafting this accord is notoriously challenging for perfumers, and this fragrance stands out for its realism, unlike the "illusions" often found in other releases.
Interested readers can explore perfumers' perspectives on this accord online, revealing the headaches it induces—not due to sneezing.
The only comparable fragrance of this caliber is Blackpepper from Comme des Garcons.
It's not all negative; the dry down is where everything harmonizes, and I can't resist the allure of Omani frankincense, undoubtedly the best there is. Yet, there could have been more in the base notes.
All in all, there's room for improvement, but believe me, it could have been much worse. If you're intrigued by black and pink pepper, treat yourself to a sample, and then decide whether a full bottle is worth it.
The entire Spicebomb line doesn't quite match the quality of this one, but they do have an edge in one important aspect—mass appeal.
Top Notes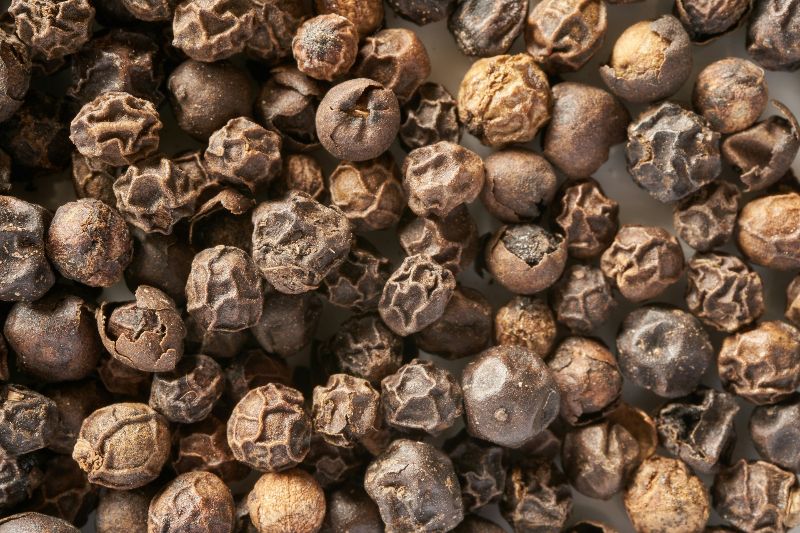 Honour opens up with an intensified pepper that is not for the faint of heart. I detect metallic, citric, green, and woody facets that are blended and infused together.
This combination of pink and black pepper is quite spectacular, as mentioned in the preceding paragraphs.
It's so natural-smelling that it could potentially make you sneeze, just like the real thing. Dark and fresh, it gradually calms down as time progresses.
These peppery accords contribute to the overall vibrancy and add a touch of coldness to the composition.
Give it a minute or two, and the citric accord from behind starts to take center stage, emanating from the elemi resin. It remains masculine, mature, and intriguing at this point in time.
Heart Notes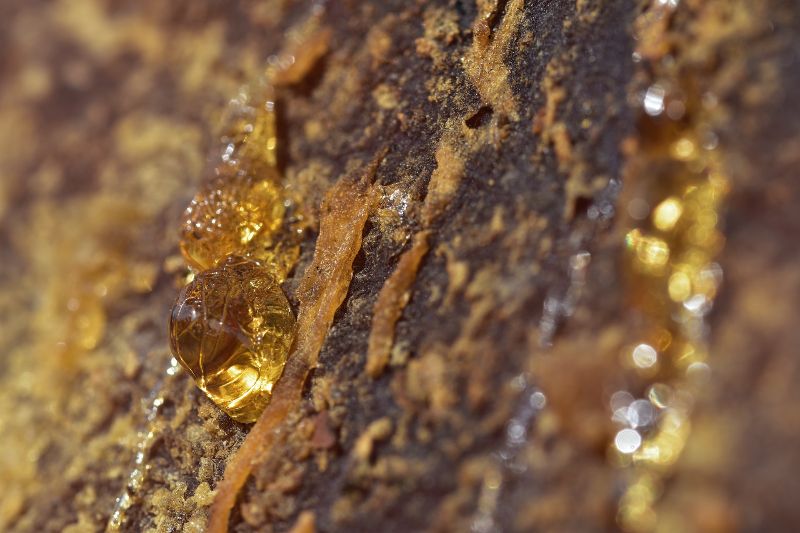 In the heart notes, the spiciness remains, but resins and greenness start to blossom. This transformation is thanks to the elemi resin, which enhances pine-like balsamic qualities along with a lemony aroma.
I'm pleased that the perfumer chose to introduce something like this in the heart notes, preventing the fragrance from becoming dry before the drydown.
The herbal geranium note assumes a supporting role, contributing a subtle green and slightly minty facet. As for the nutmeg, it simply isn't present here.
Now, this is the point where the fragrance loses me every time I wear it, even though it's not a bad one. Let me explain this in the next chapter.
Base Notes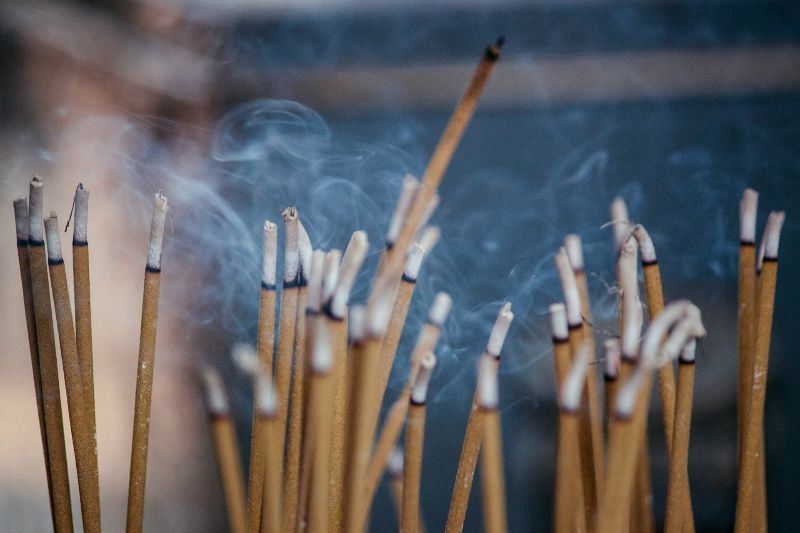 Patchouli
Frankincense
Cedarwood
Vetiver
Tonka Bean
Musk
With a rich base featuring all the listed notes, I expected more. The prized Omani frankincense is present and saves the composition.
However, the remainder of the dry down is dominated by a super-dry vetiver alongside a white musk accord.
I can't believe I'm going to say this, but I wish the nutty tonka bean was present, giving it a slight sweetness.
Pleasant, grown-up, sophisticated, but nothing that would win any prizes. So, to conclude, you can expect a rich and gratifying olfactory experience if you lower your expectations, which rarely anyone should.
Nothing more, and nothing less. Amouage has much better offerings that are worth your money and time.
Performance
Not as potent as some other fragrances from the same house. Lasting 6–8 hours with moderate projection on an ideal day is acceptable, and due to the presence of black and pink pepper, it's perhaps better that it isn't stronger.
The sillage is substantial for the first hour or so, gradually settling closer to the skin, which is advantageous as it prevents too many mixed reactions from those around you.
Not overwhelming and just right in all aspects, except for the price you'll have to pay for this fragrance.
LONGEVITY: 6 – 8 hours
PROJECTION: Moderate
SILLAGE: Moderate
Target audience and compliments
You don't have to be as melancholy as Madame Butterfly to wear Honour, but a certain level of life experience is likely needed to ensure that you wear Honour, and not the other way around.
The pepper overdose may pose a challenge for the younger and less experienced crowd, making it essential to sample before committing.
If you appreciate complex scent compositions that blend spices with herbs and resinous notes, Honour might be your ideal choice.
Lastly, this is a fragrance for men, plain and simple. While a woman might appreciate it on her husband or friend, it's less likely that a lady would want to smell like this.
Interestingly and humorously, fragrances can sometimes surprise us. All my friends and acquaintances seem to enjoy this on me, providing positive feedback each time I wear it.
As for strangers, zero compliments were expected and received.
AUDIENCE: Men
AGE RANGE: 25+
COMPLIMENTS: Low – Medium
When & Where
Honour is probably not a versatile fragrance, but personally, I wore it on multiple occasions, including lunch, and dinner at restaurants and drinks with friends during the nighttime.
Spring and fall are possibly the best seasons to wear it because of the nature of its compositions, and maybe summer when you feel adventurous.
You will get optimal performance during those times of the year no matter what, and its moderate projection makes it suitable for daytime, offering flexibility for specific scenarios.
Formal events and the workplace are your best bet with Honour, where it fits like bread and butter.
Besides that, personal enjoyment when you are taking walks through the town or staying home is also a viable choice.
SEASONS: Spring, and Fall
OCCASIONS: Business, and Leisure
ATTIRE: Formal, Business and Smart Casual
Uniqueness and value for money
So, what if I told you that a fragrance can be both unique and something you have probably seen already?
That's what Honour is, and it stands as the main reason why it got a lower score in that department.
The interplay of natural pink and black pepper in the opening, the rich balsamic and green heart featuring geranium and elemi, and the base notes of Omani frankincense contribute to a unique composition.
But, at the same time, I'm quite positive that you have smelled this kind of blend in the mid-2000s. There is something designer-esque here that always lingers in the back of my mind.
Of course, the oils here are on a much higher level than any of the fragrances it might resemble, but let this stand as a fair warning for what you could be potentially getting into.
The value of money is always subjective. For me, this isn't worth the retail price at all. Since this is my favorite niche house of all time, I will be keeping the bottle until I finish it, which will take a decent number of years.
Get it via your local fragrance discounter, and everyone will be happy. No matter what, I stand by my claim that Honour is the ultimate spicemaster with a couple of flaws.
UNIQUENESS: 3/5
PRESENTATION: 3/5
VALUE FOR MONEY: 8/10
Pros and Cons
In the diverse landscape of perfume, each composition brings its own charm, complexities, and shortcomings.
Exploring the pros and cons provides a comprehensive view, aiding fragrance enthusiasts in their quest for the perfect olfactory experience.
Understanding these nuances allows you to make a more well-informed choice, ensuring a tailored match for individual tastes.
Pros
The best black pepper accord on the market
Sophisticated and bold
High-quality ingredients
Multi-seasonal perfume
Cons
It has slight hints of designer releases from the 2000s
Not worth the retail price
Black pepper overdose won't be for everyone
Collection & Similar Perfumes
Amouage Honour Man is a part of the Eaux de Parfum collection which includes classics such as Jubilation XXV, Gold, Figment, and more. At this point in time, there are no flankers to Imitation released or announced.
COLLECTION
SIMILAR PERFUMES AND ALTERNATIVES
EDITOR'S CHOICE
Frequently Asked Questions
Welcome to Scent Grail's FAQ section, designed to provide answers to the most commonly asked questions about this perfume.
Whether you're a perfume enthusiast or a newcomer exploring the fragrance world, this section aims to address queries about the composition, performance, and unique features of this scent.
Is Amouage Honour Man discontinued?
Honour Man is still in production, and it has not been discontinued. It comes in 50ml, and 100ml flacons as Eau de Parfum. The retail price ranges from $265.00 to $360.00.
What Does Amouage Honour Man smell like?
Honour Man is a fragrance known for its sophisticated scent profile. It opens up with an intense pepper blend, providing a bold and spicy introduction. As the fragrance develops, the heart notes are made out of a rich green citrusy bouquet, and the base notes feature vetiver, cedarwood, and tonka bean, contributing to the fragrance's depth and longevity.
Which Amouage perfume is the best?
The best Amouage fragrance is Reflection Man. This floral woody timeless composition opens up with Rosemary, Red Pepper Berries, and Bitter Orange Leaves in the top notes. The heart notes are made out of Neroli, Orris, Jasmine, and Ylang-ylang while base notes and the dry down include Vetiver, Patchouli, Sandalwood, and Cedarwood.
Is Amouage a luxury brand?
Amouage is a luxury fragrance brand that was founded in 1983 in Muscat, Oman by Prince Sayyid Hamad bin Hamoud Al Busaidi and is run by Oman Perfumery LLC. Today, there are 21 Amouage shops around the world, including the two-story building that opened to visitors in 2012. This fragrance brand is best known for its Arabian perfume culture at its heart with a mixture of Western influence.
Final Words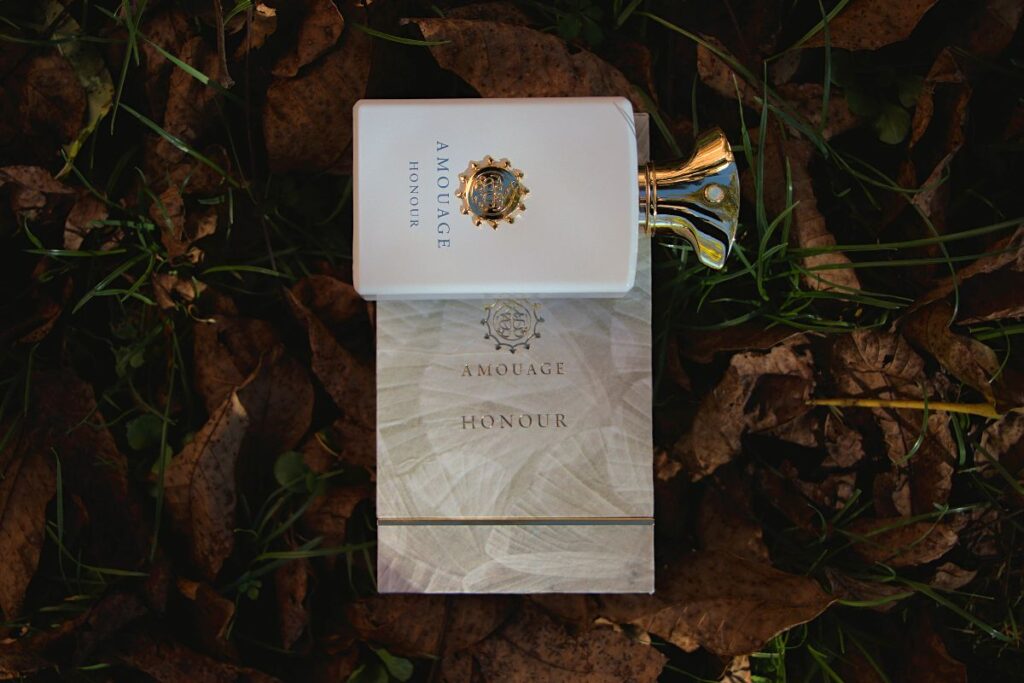 On one hand, this stands as the best black pepper fragrance of all time, unrivaled and unmatched. On the other hand, its dry-down ventures into familiar territory, avoiding bold risks.
I contend that the dry down could have benefited from an additional boost, perhaps through the inclusion of amber or a more pronounced tonka bean.
Despite its glorious representation of black and pink pepper, it's worth noting that the fragrance stays remarkably close to the authentic black pepper aroma, a characteristic that may not resonate with everyone.
In conclusion, it presents a compelling package, marred only by the lackluster and uninspiring box. It's advisable to sample before committing to a purchase.
What are your thoughts about Amouage Honour Man? Let's start a conversation and let me know in the comment section below.
In case you are in doubt about whether you should consider buying any fragrance or not, it's always good to take a look at Scent Grail's S.P.A. Signature Factor Guide.
It is easy to use and the most relevant perfume-buying guide on the web. This way, you can check out if a particular fragrance is worth checking out, and potentially find your signature perfume.
PLEASE CONSIDER CONTRIBUTING TO SCENT GRAIL
If you enjoy my blog and want to help me continue creating content, there are several ways you can support me:
I am incredibly grateful for your support, as it holds tremendous significance to me. Your generosity enables me to persist in crafting content that celebrates the wonders of the perfume world and encourages others to start this beautiful journey. Your backing is truly appreciated, and I eagerly anticipate sharing more of my articles with you in the times ahead. Keep smelling great!
Find out more Scent Grail articles about perfumery, check out top lists, and other helpful reviews via the links below:
REVIEWS
TOP LISTS
SCENT GRAIL LEARNING CENTER
Until next time, stay humble, and keep smelling great!
Best, Marin!
#scentgrail #scentgrailtribe
SCENT GRAIL ON SOCIAL MEDIA
Facebook | Twitter | Instagram | Pinterest
Your number one source for Holy Grail Signature Scents.

– Marin Kristic