Bel Canto by Sospiro is a unisex woody powdery fragrance released in 2022, created by Christian Provenzano.
Inspired by the voice of opera, The term "bel canto," originating from the world of opera, translates to "beautiful singing" or "beautiful song".
This is the first full bottle I own from the brand, and I was genuinely interested to see what they have to offer.
A brand that was originally launched by none other than Xerjoff's Sergio Momo back in 2011 as a spinoff to Xerjoff's main line, now has a new owner based in Dubai, UAE while their fragrances are still produced in Italy.
Sospiro Bel Canto in three words: POWDERY – ALLURING – WOODY
Affiliate Disclosure: As an Amazon Associate I earn from qualifying purchases. Purchasing via provided links/banners comes at no additional cost to you. Scent Grail only recommends products and/or services that are insightful and helpful to readers. For more info please read Affiliate Disclaimer.
Let's see what this new Sospiro era has to offer by exploring Bel Canto together.
Disclaimer: This perfume was received by the author for review purposes free of charge. However, it is essential to clarify that I was not influenced or coerced to provide a positive review of the product. The opinions expressed in this article are entirely based on my personal experience and assessment of Sospiro Bel Canto. The review is an honest and unbiased account of the product's performance, scent impression, and overall experience. As with any other review, I strive to present an accurate and authentic portrayal of my perfume experience, ensuring transparency and integrity in the evaluation of the product.
Fragrance Information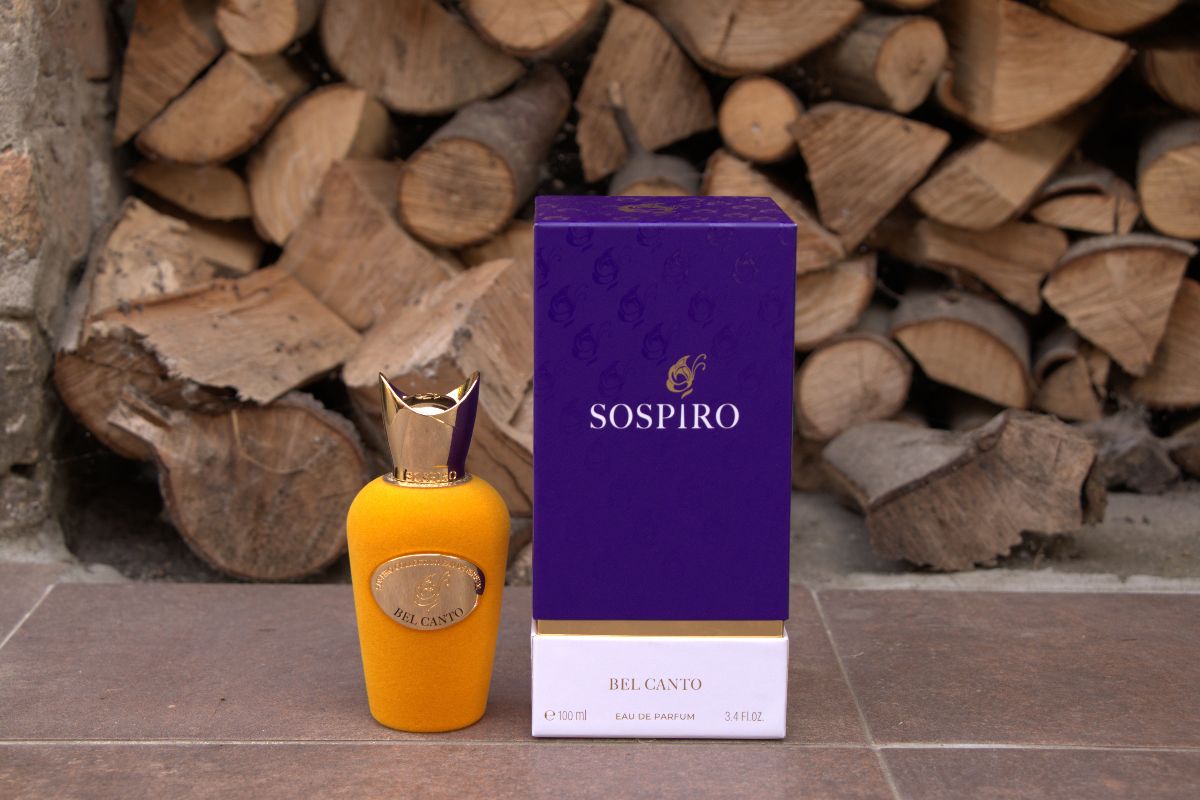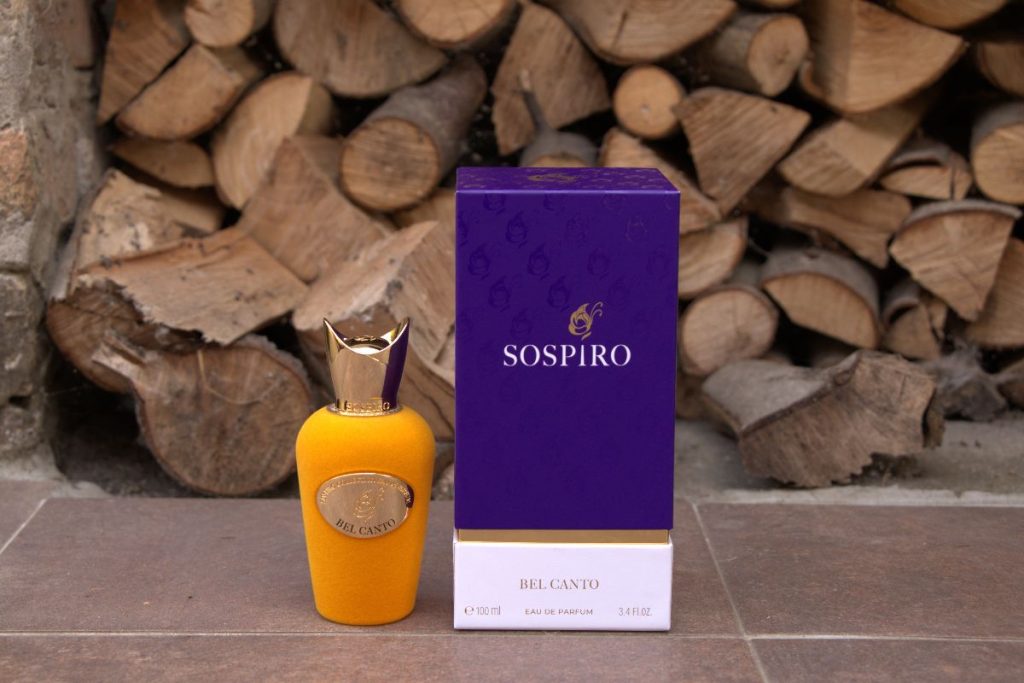 Sospiro was launched by Xerjoff in 2011. The original idea was to blend the most luxurious raw materials that would fit global lifestyles and preferences.
This artistic idea has an Italian or Mediterranean background, mainly in the art of classical music and opera.
Best known for its velvet flacons(the butterfly logo which is a symbol of love), and high-quality compositions that link olfactive emotions in the niche world.
Today, Sospiro has shifted owners and offers more than 40 different compositions from Erba and Classica collections.
Here's what they say about the brand's philosophy: "Sospiro is the epitome of opulence and grace, with a touch of the most sensually olfactory symphonies.
Sospiro Perfumes are inspired by the sophistication and beauty of classical music. Celebrating the voluptuousness and splendor of perfumes crafted by a gracious harmony of rare and precious notes, combined with passion and artistry, pursuing each other and harmonizing into timeless tunes and accents, melting on the skin to form the most sublime harmonies and the most entrancing melodies.
Delicate and dynamic symphonies that sway between tactile and olfactory seductions to take your breath away."
With this change in ownership, Sospiro relaunched some of its most popular fragrances from the past such as Opera, Erba Pura Magica, and Accento.
Bel Canto Story
This unique woody powdery fragrance was launched back in 2022. The nose behind this creation is master perfumer Christian Provenzano who has more than 50 years of experience in the industry.
Besides his own niche house called Christian Provenzano Parfums, he has also collaborated with brands such as Clive Christian, Electimuss, Fragrance du Bois, Nishane, and many more.
As for this fragrance, the perfumer and the brand wanted to recreate a famous Italian-originated vocal style from the 18th century under the same name.
The composition is modern with a touch of classic perfumery mostly found in the powdery accord used in women's fragrances at the start of the 20th century.
The fragrance can be easily purchased in most of the high-end niche stores and it comes as a 100ml Eau de Parfum, with a retail price of $285,00 USD.
Perfume Theme
A note from the brand: "The quintessential voice of Opera. The sweetest level of expression. One that moves you to the core with its beautiful melodies, silvery voices, and streams of rich and juicy notes curling up and down the scale.
A marriage of brilliance and beauty that unwraps to reveal a floral mélange of airy Jasmine and soothing Lavender that is cooled off with a tantalizing earthy and romantic core of Powdery, Violet, and Herbal notes.
Warm base notes of Amber, Wood, Musk, and Sandalwood induce stunning aromatic airs with a grand finale of deep, herbaceous, and sweet notes of Vetiver, Earth, Patchouli, and Vanilla that caress your senses."
Notes and Classification
Perfumer: Christian Provenzano
Perfume Oil Concentration: Eau de Parfum
Fragrance Type: Woody Powdery
Release Date: 2022
Target Audience: Unisex
Masculine/Feminine: 50% – 50%
Most dominant notes: Powdery Notes, Sandalwood, Musk
Age Group: 25+
Seasons: Spring and Fall
Occasions: Night Out, Business, and Leisure
Longevity and Projection: 8 – 10 hours with moderate projection
The recommended number of sprays: 2 – 4
Compliments: Medium
Likeability: Medium
Uniqueness: 4/5
Presentation: 5/5
Value for money: 8/10
Accords: Woody, Powdery, Musky
Reviewed batch code: 22150
Holy Grail Scent Rating: B+
Sample/Buy/Pass: Sample
Testing Period: 3 weeks
Production: Available
PERFUME NOTES
Top notes: Jasmine, Citruses
Heart notes: Powdery Notes, Herbal Notes, Violet
Base notes: Amber, Woods, Musk, Sandalwood, Vetiver, Vanilla, Earthy Notes, Patchouli
Perfume Presentation
From the moment you sets eyes on the bottle and the box, it is quite evident that every detail has been meticulously crafted to create a luxurious experience and that every single dime has been has been invested properly.
While I always get goosebumps when touching something covered in velvet, the bottle design is sophisticated and looks practically the same as it did when the brand was still under Xerjoff.
It possesses a substantial weight, and the orange/yellow combination is even more spectacular when seen in person.
The golden emblem of the brand, delicately placed on the front of the bottle, comes with the name of the fragrance, the brand's logo, and the fragrance oil concentration.
As with every Sospiro and Xerjoff, the cap is made out of heavy rose gold metal with an engraved brands name.
Overall, I love the bottle design, but that velvet is gonna get probably ruined the more you use the fragrance if you are not careful. I have seen this on multiple occasions with Xerjoff's that are covered in the same material.
The unboxing experience is the same as you would get with, for example, Amouage or Tom Ford.
The signature purple color, adorned with a sophisticated pattern of butterflies, further emphasizes the brand's attention to detail.
Unfortunately, I'm not a fan of this type of packaging, which is not Sospiro's fault since many niche houses use similar styles of boxes.
Please be careful when handling it, as the bottom part is separated, and if not handled with care, the bottle can easily break.
Last but not least, the original Sospiro products come with a batch code on the sticker at the bottom of the box and another sticker (seal of originality) that connects the bottom and the upper part of the box.
My Experience With Perfume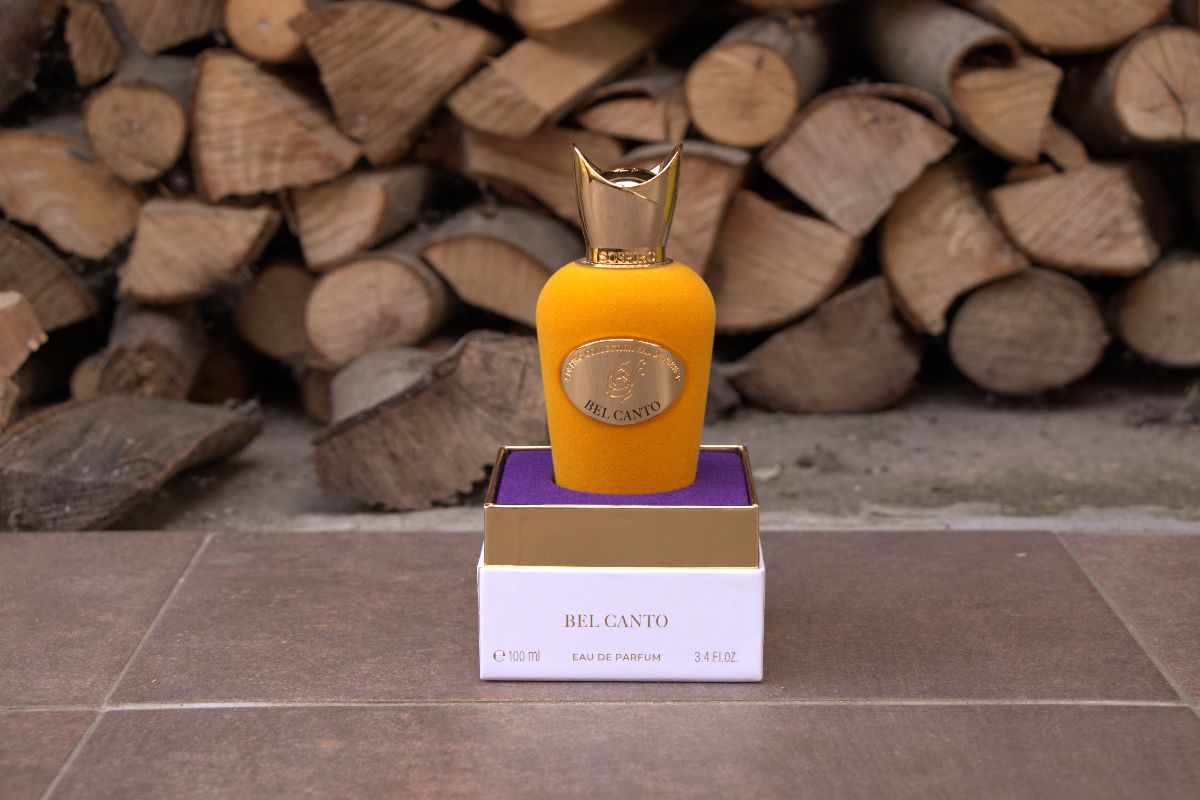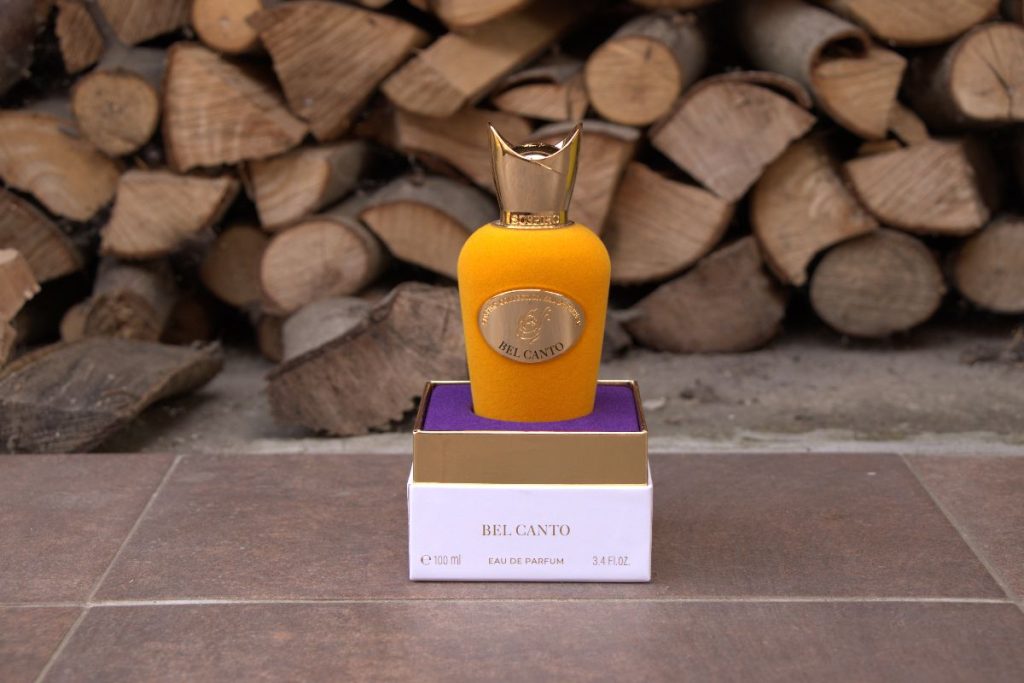 The struggle is real. Doing a review of a fragrance that you have received for free is never an easy job.
Although I initially wanted to review Vibrato due to its hype, it was not available, and the second-best option was to take the risk with Bel Canto.
From all the reviews I have done so far on Scent Grail, only four of them (including this one) were received without paying for them(the additional two weren't good enough to review them).
After doing a realistic review of Blu Atlas Atlantis (probably the only unbiased written review on the internet so far), the brand never spoke a word to me after reading that. But that is also okay.
I would rather prefer to stay humble and provide an actual helpful review rather than sell my soul to the brand and integrity for just one free bottle.
So, here we are. Sospiro was also kind enough to send me their discovery set as well, and in this way, I was able to check out Vibrato.
Without any second thoughts, I prefer Vibrato over this one, and that scent is an easy blind buy, but don't let this statement fool you.
It is also a less complex fragrance, and if you want a deeper niche experience, Bel Canto is a better purchase.

Anyway, as a big lover of sandalwood-based fragrances, I love how this smells, and with the inclusion of musk and earthy notes, it just gets deeper as the fragrance progresses.
It contains quality ingredients, but I'm not sure if it's worth the full price, considering similar ingredients are present in Dior and Chanel designer releases.
The main reason why I would recommend sampling it before committing to a full bottle purchase is the overdose of powdery notes. If you are not into that Dior Homme Intense style of powder, please sample it first.
Although it has an original and pleasant smell, I wouldn't say that this is a holy grail scent, but there aren't many of those types of fragrances now anyway.
Lastly, the best thing about this one is that practically no one has yet discovered Bel Canto, which confirms this statement as this is the first written review of this Sospiro on the internet.
Some scents just fly under the radar. Some because they are not worth the time, and others like this one because they are still waiting to be discovered.
Top Notes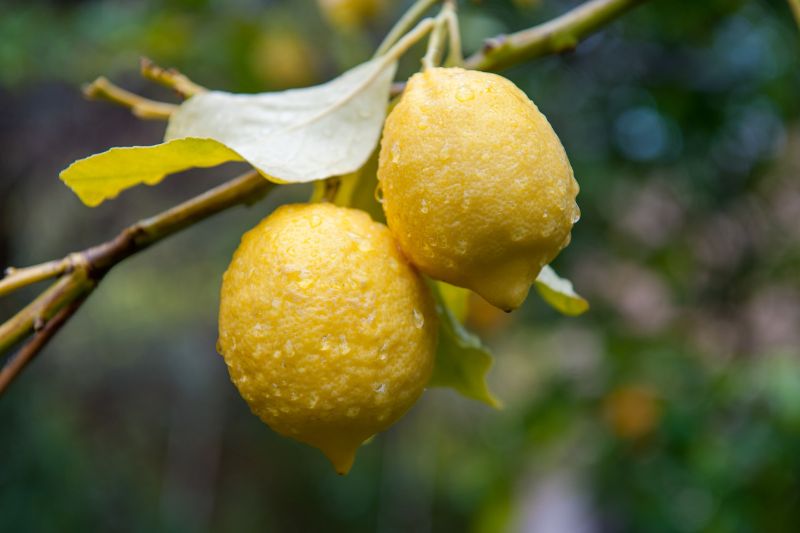 The top notes play a vital part in the scent progression and set the stage for what's to come.
With vibrant and fresh citric notes, followed by a punch of powderiness, these initial accords leave a bold impression and will quickly help you decide whether this fragrance is for you or not.
Those two distinct elements and an inclusion of floral nuances(I really don't know if this is jasmine or a combination of flowers), add a touch of opulence to the composition which initially leans more on the feminine side.
Complementing the zesty freshness, floral touches, and powder, this infuses the composition with uplifting energy.
The lively opening is something I didn't know whether I'll enjoy at first, but with more wear, I seem to like it more and more.
Heart Notes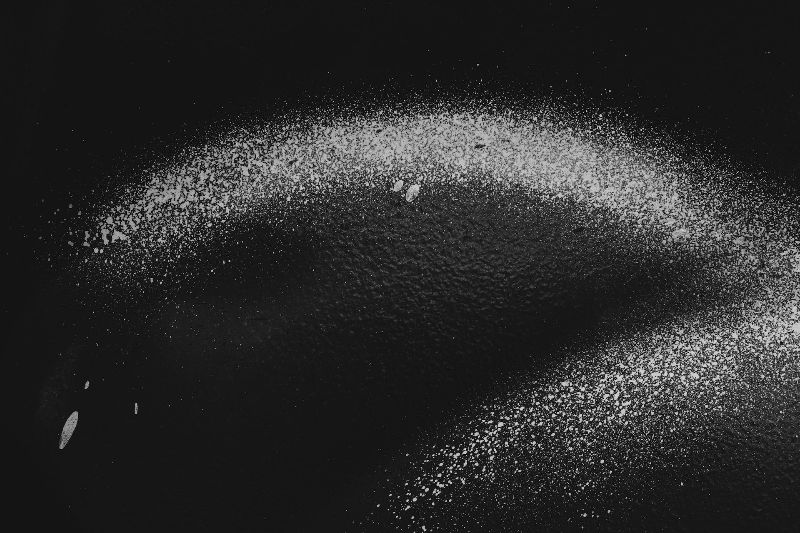 Powdery Notes
Herbal Notes
Violet
Onto the scent development. The heart and soul of this captivating fragrance continue with the powdery aspects from the opening but also lack the two other mentioned notes.
In my experience, the herbal accord and violet are buried deep under the powdery aspects, and the only way you'll feel the violet is by burying your nose into the place where you have sprayed the fragrance.
This doesn't really bother me since the powderiness infuses the composition with a sense of youthful softness and mature sophistication.
Interwoven with these central elements, heart notes also reveal a woody facet coming from the base notes, mainly a sublime sandalwood note.
Together, this creates a certain and much-needed juxtaposition while transitioning to the part of the fragrance you will smell for most of its life.
By this time, the florals are completely gone, and the fragrance shifts back onto the unisex side. Before we delve into its dry down, let me just say that I think that the heart notes are the weakest point of this fragrance.
Base Notes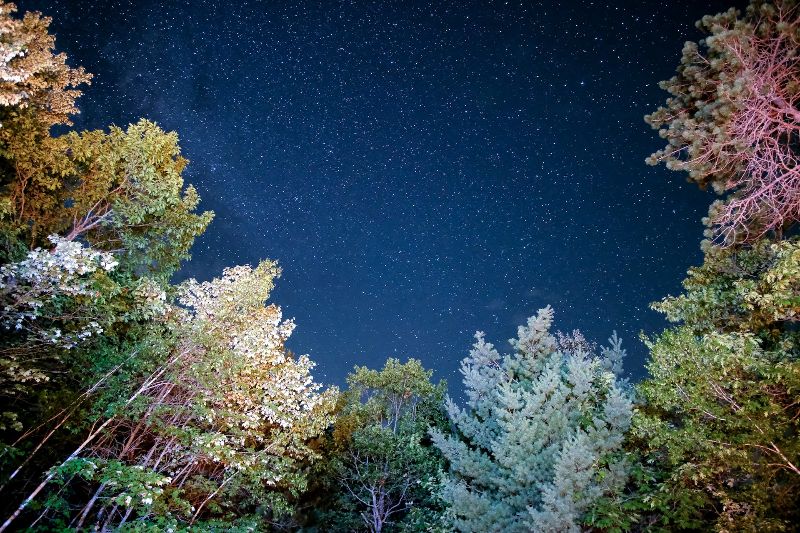 Amber
Woods
Musk
Sandalwood
Vetiver
Vanilla
Earthy Notes
Patchouli
The dry down is by far the best part of this scent. This grand finale is mostly about sandalwood, musk, and earthy notes, with a reminiscence of powder that lingers until the fragrance disappears from the skin.
As the fragrance journey progresses, the heart notes gently make way for the rich and profound base, with the previously mentioned notes being the main players.
At the core of the base, there is a certain sweetness, more from vanilla than from a resinous amber accord.
Enhancing the base further, musk and the earthy accord add a soft and subtle animalistic undertone, which is the reason why we buy niche fragrances—to experience something unusual in seemingly familiar scents.
Do not get afraid of earthy accord, it is nowhere near fecal as it is in Amouage Figment Man(the best earthy fragrance of all time).
Now, the sandalwood—the king of all woody notes. Even if the rest is made out of mid-to-higher-end oils, the sandalwood here is somehow magically recreated to smell like exceptional scents from the past before IFRA.
Let me repeat again, I do not consider Bel Canto a masterpiece, and there are some things here that I would gladly add, like more natural citruses or more impactful heart notes.
However, if sandalwood is what you are looking for, and you can get through the overdose of powder, this could be a scent for you.
This saving grace of the sandalwood-musk-earth combination from the base is what changed my initial slightly underwhelming opinion when I first sampled it.
Performance
As an Eau de Parfum, this fragrance performs like it. A long-lasting perfume with moderately good projection and sillage bubble.
At first, the scent is quite strong and will remain like that for the first hour or two until it starts to sit closer to the skin.
The true allure of Bel Canto unfolds during its dry-down where the base notes take center stage and bring depth and richness to the composition.
Even though I wore it exclusively during the summer heat, 8 – 10 hours of longevity is what I got each time.
As for the projection and sillage, they leave a trail of opulent and enchanting above-average projecting aroma as the wearer moves through space.
This is what fits my personal style, and I'm not sure whether I would like it if it was stronger than it is.
LONGEVITY: 8 – 10 hours
PROJECTION: Moderate
SILLAGE: Moderate
Target audience and compliments
This fragrance appeals to a wide range of audiences that appreciate the niche style of perfumery.
A unisex perfume that could be easily worn by women or men who also love more mature-oriented fragrances.
If I were still in my early 20s, I'm not sure how well this one would go since at that time, I was more interested in designer and less complex stuff.
No matter your gender, if you are a fragrance enthusiast, you owe it to yourself to at least sample it if nothing else.
As for the compliments, I expected more. If I'm not counting the "compliments" I had to "fish" for, I received a couple of "oh, that's nice" comments from my friends and family.
The main reason for this is, I believe, the combination of new and old-world styles of perfumery.
Since I really don't care if someone compliments the fragrance I'm wearing, I'm okay with this as it is, but it is worth noting if you are expecting positive reactions for something you paid as much as this.
AUDIENCE: Unisex
AGE RANGE: 25+
COMPLIMENTS: Medium
When & Where
A versatile fragrance that can be worn during the Spring, and Fall days. Although Sospiro markets this one as a summer release, I cannot see how anyone could pull it off during the heat.
The rich and warm notes with additional powder that we usually associate with colder seasons.
Sospiro Bel Canto adapts gracefully to various occasions and settings but requires more professional or night-out attire.
Where would I wear it? During these three weeks, I wore this fragrance to restaurants, clubbing, and casual strolls in the park, and it worked in every situation without feeling out of place.
SEASONS: Spring, and Fall
OCCASIONS: Night Out, Business, and Leisure
ATTIRE: Formal, Cocktail, Date Night
Uniqueness and value for money
Bel Canto is a blend of old and new-world perfumery that is familiar and unique at the same time. The prominence of sandalwood is a defining characteristic here. Without it, it would be a whole different story.
Since it complements both men and women, it easily adapts to each wearer's skin chemistry. Its classic and contemporary scent profile pays homage to the traditional perfumery while its modern interpretation showcases what a niche fragrance should be.
The value for money depends on what you are looking for from a fragrance. It is an expensive product with almost the same price point as Creed and Amouage.
Personally, I feel that it is slightly overpriced, but that's just my opinion. As always, get yourself a big decant and then decide for yourself if is it worth it in the end.
UNIQUENESS: 4/5
PRESENTATION: 5/5
VALUE FOR MONEY: 8/10
Pros and Cons
Here are some better and weaker parts of this perfume:
Pros
An original and captivating composition that sets it apart from more conventional fragrances
Sublime presentation which is expected at this price point
A versatile milder weather unisex fragrance
A multi-dimensional sandalwood fragrance with very good performance
Cons
These quality ingredients and premium packaging come at a hefty price point which may make it less accessible to budget-friendly fragrance hobbyists
May not be a suitable fragrance for perfume consumers who may find the powdery aspect overwhelming
Versatile but not for hot weather
Collection & Similar Perfumes
Bel Canto is part of the Classica collection from Sospiro, which currently consists of more than a dozen different perfumes. Here are some that I believe are worth checking out as well:
Sospiro Vibrato – a citrus spicy fragrance released in 2022. The main notes include grapefruit, bergamot, and ginger. The lasting power is between 10 – 12 hours with great projection.
Sospiro Erba Pura Magica – a fruity floral fragrance released in 2022. The main notes include fruity notes, cedar, and jasmine. The lasting power is between 10 – 12 hours with great projection.
SIMILAR PERFUMES
Fragrance Du Bois Santal Complet – a woody oriental fragrance released in 2016. The main notes include sandalwood, coconut, and vanilla. The lasting power is between 4 – 6 hours with low projection.
BDK Parfums Gris Charnel Extrait – a woody spicy fragrance released in 2022. The main notes include sandalwood, cardamom, and black tea. The lasting power is between 10 – 12 hours with moderate projection.
Final Words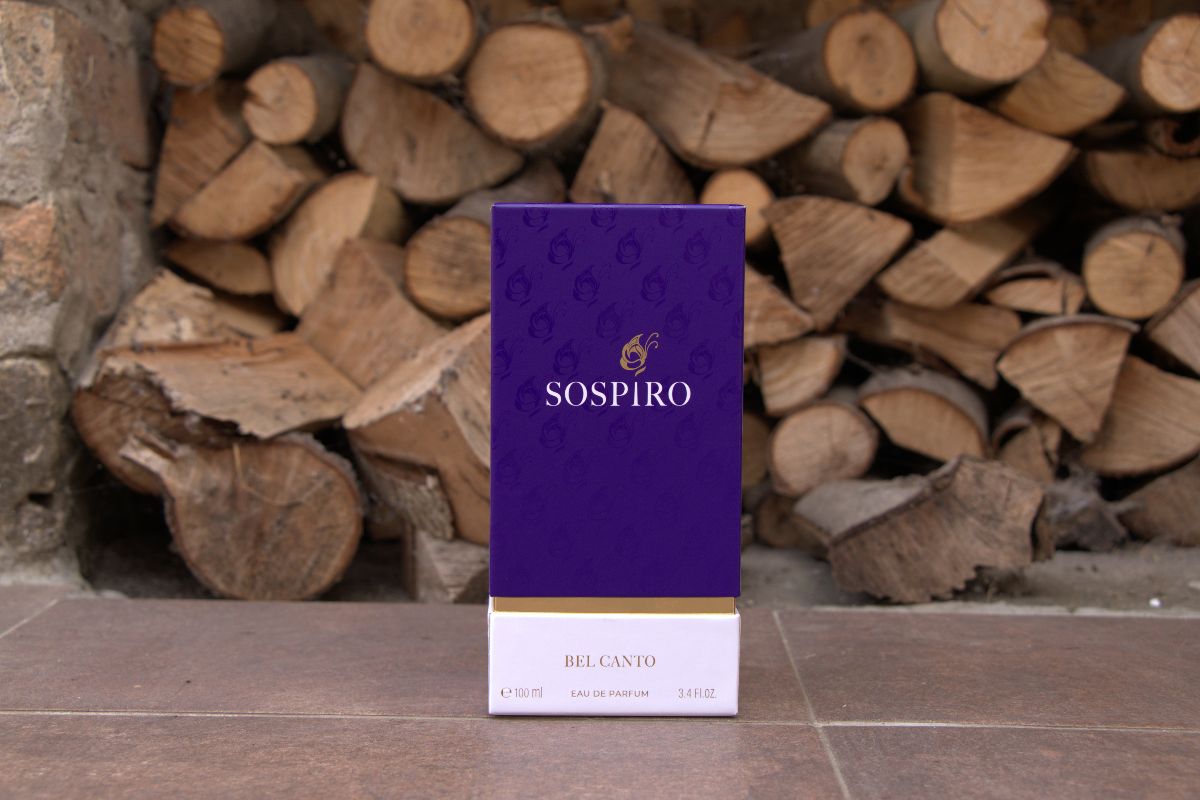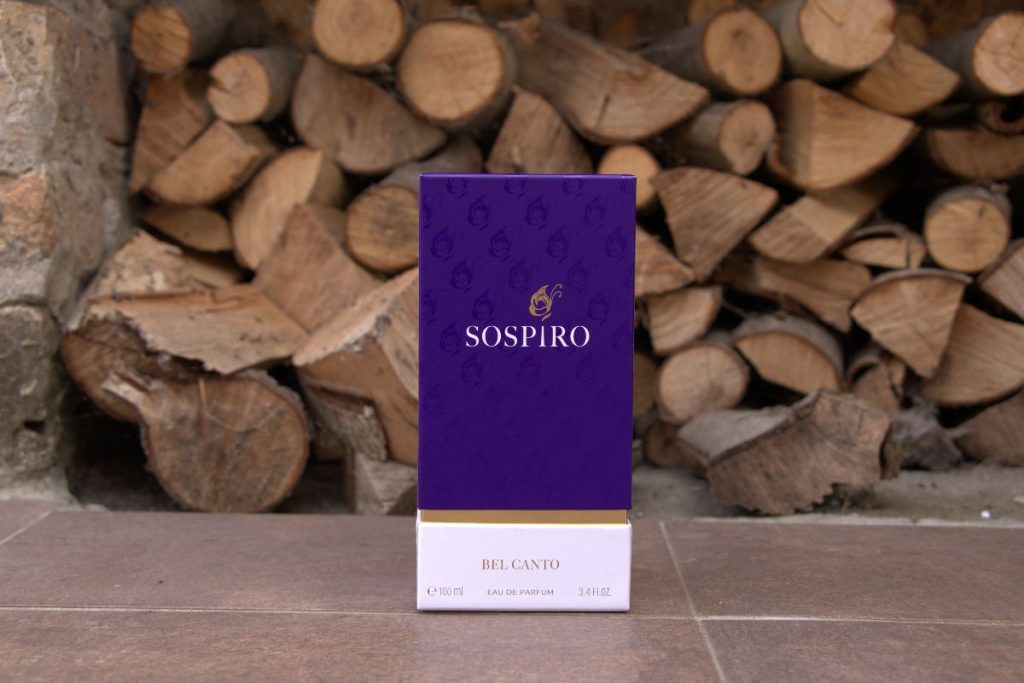 Hopefully, this article has provided you with enough unbiased information about this perfume so that you can decide for yourself if it's worth investing in.
I have found it in the upper echelon of niche perfumery, but it has some weaknesses that prevent it, in my eyes, from reaching a masterpiece status.
As for me, I will gladly wear it more when the temperatures outside start to cool down and see how it behaves then.
Before I go, I would also like to personally thank the commercial director of Sospiro for helping me get this fragrance delivered to my address, as it was a nightmare dealing with slow and unforgiving Croatian customs.
Thanks again. You know who you are. Hopefully, I'll be able to do a review of Vibrato in the future.
What are your thoughts about Bel Canto? Let's start a conversation and let me know in the comment section below.
In case you are in doubt about whether you should consider buying any fragrance or not, it's always good to take a look at Scent Grail's S.P.A. Signature Factor Guide.
It is easy to use and the most relevant perfume-buying guide on the web. This way, you can check out if a particular fragrance is worth checking out, and potentially find your signature perfume.
PLEASE CONSIDER CONTRIBUTING TO SCENT GRAIL
If you enjoy my blog and want to help me continue creating content, there are several ways you can support me:
PayPal – Scent Grail content is free for anyone to use without anything hiding behind the paywall.
Buy me a coffee – Even with a single donation, it will help keep me fueled with caffeine as I write.
Cryptocurrencies – you can find my crypto wallets in the footer of the website
Share my content: If you're unable to support me financially, sharing my content with your friends and followers is another great way to support my work. By sharing my blog posts and social media content, you help me reach a wider audience and inspire more people to explore the fragrance world.
I am incredibly grateful for your support, as it holds tremendous significance to me. Your generosity enables me to persist in crafting content that celebrates the wonders of the perfume world and encourages others to start this beautiful journey. Your backing is truly appreciated, and I eagerly anticipate sharing more of my creations with you in the times ahead. Keep smelling great!
Find out more Scent Grail articles about perfumery, check out top lists, and other helpful reviews via the links below:
REVIEWS
TOP LISTS
SCENT GRAIL LEARNING CENTER
Until next time, stay humble, and keep smelling great!
Best, Marin!
#scentgrail #scentgrailtribe
Scent Grail on Social Media: Facebook | Twitter | Instagram | Pinterest
Your number one source for Holy Grail Signature Scents.

– Marin Kristic