Dolce and Gabbana Light Blue Sun Pour Homme is a limited edition released in 2019 and a flanker of the original Light Blue from 2007.
One thing that surprised me the most about this release was how it divided the fragrance community and reviewers as well.
What shocked me the most was all the undeserved lukewarm feedback, while the Light Blue Intense Pour Homme gets so much praise from almost anyone.
The thing is, these two and the original, are full and trough flankers, which share almost the same scent profile. I guess that with all the hidden perfume gems, sometimes, the art is in the eye of the beholder, each of us has to find by ourselves.
Dolce & Gabbana Light Blue Sun For Men in three words: ZESTY – SUMMER – GEM
Affiliate Disclosure: As an Amazon Associate I earn from qualifying purchases. By purchasing via provided links/banners comes at no additional cost to you. Scent Grail only recommends products and/or services that are insightful and helpful to readers. For more info please read Affiliate Disclaimer.
Don't have the time to read the review right now? No worries! Here are my 5 quick takes:
Probably the best Light Blue flanker in the line
An easy going summer holiday perfume with great performance
Limited edition release created in 2019 by a master perfumer Alberto Morillas
Based on a tired formula that is in a need of a refresher
Signature-worthy perfume
Is Light Blue Sun Pour Homme a masterpiece perfume we have been missing out on, or are the majority of people right when they said it's not worth it? Come and join me on another Scent Grail perfume journey.
Brand and Perfume History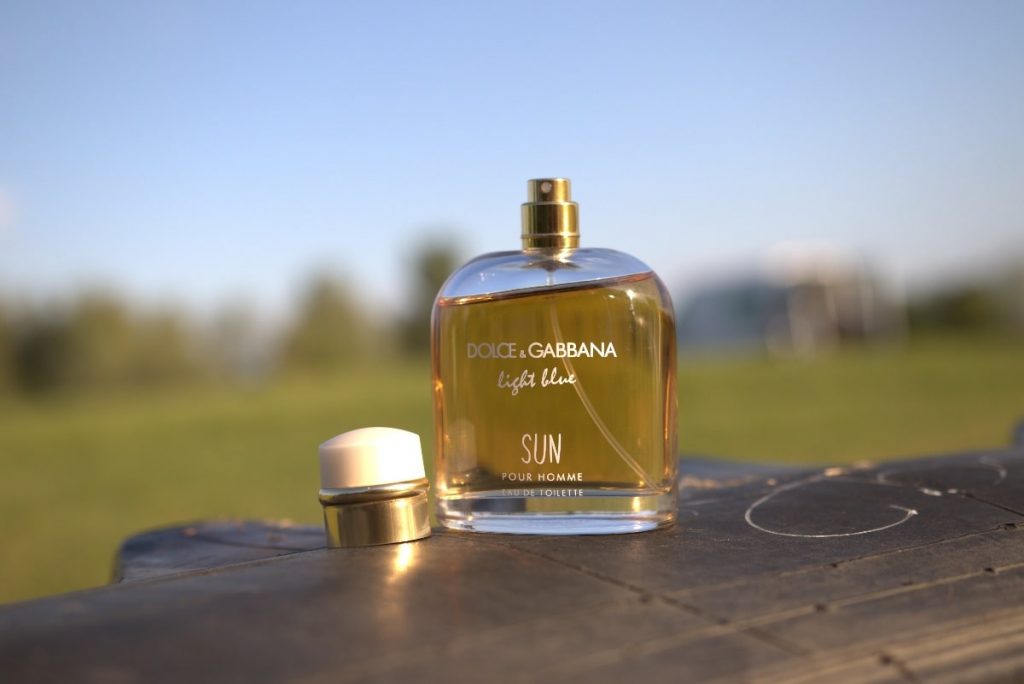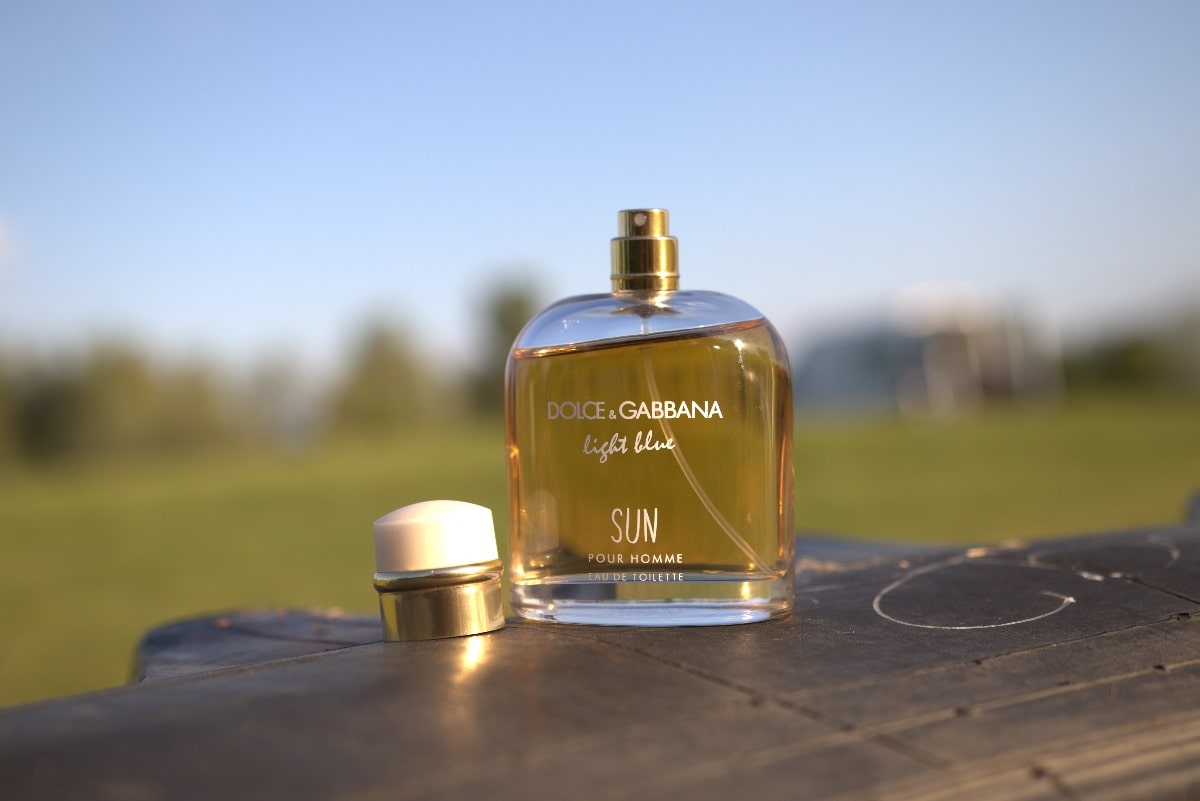 I believe that Dolce & Gabbana is an important fragrance and beauty brand in general, with good fragrances everyone can enjoy.
They may not be on the level of Hermes, Dior, or Tom Ford when it comes to ingredient quality or "originality", but more often than not, I find myself enjoying their selection.
Dolce & Gabbana History
Dolce & Gabbana is a Italian luxury fashion house founded in 1985 by Domenico Dolce and Stefano Gabbana.
Before starting the company together, both Domenico and Stefano had backgrounds in fashion, one way or another.
Domenico Dolce (13 August 1958) was born in Polizzi Generosa, Italy where his father and mother sold fabrics and apparel, and that was a place where young Domenico worked from childhood.
As a young adult, Domenico moved to Milan to study at the fashion design school Istituto Marangoni, which he dropped out before graduating.
It was in 1980 when he met his future business and life partner Stefano Gabbana (14 November 1962), while working for Giorgio Correggiari.
On the other hand, Stefano was born in Milan and graduated from the Istituto Superiore per le Industrie Artistiche, Rome.
The pair founded a designer consulting studio in 1982 that grew into the Dolce & Gabbana label by 1985 and presented the first women's collection in the same year, called "Real Women".
That was due in part to the use of local women as models on the runway which ended as a sales disappointment.
Due to the factor of luck, Dolce's family offered to help meet their costs, decline the ordered fabric cancellation, and offered another opportunity to create the next collection in 1986 and to open the first store that same year.
As they say, the rest is history. Each new collection was a bigger success than the one that preceded it, and their fourth collection was the first big hit.
Inspired by the Italian cinema of the 1940s, the advertising campaign was shot by photographer Ferdinando Scianna in Sicily and featured Dutch model Marpessa Hennink in black and white pictures.
One of the dresses from the fourth collection was named "The Sicilian Dress" by the fashion press and ended as one of the 100 most important dresses ever designed.
In the 1990s, Dolce and Gabbana started to export their products to the United States and opened their first store in Japan.
What's even more interesting to us, the perfume hobbyists is that in 1992 with the launch of their men's collection, the first D&G perfume for men was released – Dolce & Gabbana Pour Homme.
Pour Homme won "Oscar des Parfums" for best male perfume in 1996 from the French Parfum Academy.
One of the most important events in Dolce & Gabbana's history that gave them major international recognition was when Madonna's corset made of gemstones and an accompanying jacket from Dolce & Gabbana at the premiere of Truth or Dare: In Bed with Madonna.
Suffice it to say, the duo continued to work with the pop star even into the 2000s, produced costumes for her music tours, and also supported her's 2000 album Music.
When looking back, and all the successes Dolce & Gabbana had, such as creating the on-field attire for A.C. Milan since 2004, partnering with Sony, and Motorola to design their phones, and even a partnership with Citroën to co-design a version of their C3 Pluriel, it is no surprise D&G is one of the top leading fashion brands today.
One thing that's also important to touch when we think about D&G is their inspirations and style that comes from thrift shop bohemian style and animal prints for which they are known for.
Most well-known trademarks include underwear-as-outerwear, and printed coats, and their feminine collections always come with powerful ad campaigns.
In 2022., D&G is still privately owned by Dolce & Gabbana Luxembourg S.à.r.l. company with current revenue of over 888 million euros in 2018, and 222 mono-brand stores across 41 countries.
Dolce and Gabbana are best known for these perfumes:
Pour Femme
Pour Homme
Intenso
The One for men and women
Light Blue for men and women
Garden
The Only One
K perfume
Dolce and Gabbana Light Blue Sun Pour Homme Story
Dolce & Gabbana Light Blue Sun Pour Homme has been made as a pure summer experience, for those times when everything besides hedonism comes second.
As with all flankers and original Light Blue creations, they smell great to almost anyone that gets into your scent bubble.
While there is no official perfumer for this 2019 release, based on the information I've found on the internet, and the fact that Alberto Morillas has done Eau Intense, I'll assume that he returned here as well.
Alberto Morillas notable creations:
Acqua di Parma Colonia Intensa
Bvlgari Man in Black
Bvlgari Omnia
Calvin Klein CK One
Carolina Herrera 212 Men
Giorgio Armani Acqua di Gio
Givenchy Pi
Gucci Guilty Absolute
Lancome Miracle
Mugler Cologne
Versace Bright Crystal
Yves Saint Laurent M7
Perfume Theme
Dolce & Gabbana official blurb: "The new sun-kissed fragrances from Dolce & Gabbana faithful to its seasonal launches of its popular Light Blue an Light Blue pour Homme summer scents arrive in time for Summer 2019.
A new story of love takes place on the beautiful island of Capri, inspiration for many of the creations from the designer, now with two hearts pounding passionately in a delusion of a magical summer love. Close to each other together in affection, their skin is warmed under the bright rays of the magnificent sun, the golden bodies of this couple glow under the sun as they playfully steel kisses at every chance."
Notes and Classification
Perfumer: Alberto Morillas
Perfume Oil Concentration: Eau de Toilette
Fragrance Type: Citrus Ozonic
Release Date: 2019
Target Audience: Men
Most dominant notes: Ozonic Notes, Grapefruit, and Musk
Age Group: 18+
Seasons: Any season except winter
Occasions: Any Occasion
Wearability: Easy
Longevity and Sillage: 8 – 10 hours with moderate projection
The recommended number of sprays: 2 – 4
Reviewed batch code: 93541 – December 2019
Uniqueness: 3/5
Value for money: 10/10
Perfume Color Palette: Yellow, Blue, Green
Holy Grail Scent Rating: B
PERFUME NOTES
Top notes: Grapefruit, Ozonic Notes, Bergamot, Ginger
Heart notes: Coconut Nectar, Cedar, Rosemary, Osmanthus
Base notes: Musk, Oakmoss, Vetiver, Vanilla
Perfume Presentation
The clear glass bottle designs have always been my favorite ones in the Light Blue series. So is the case with the 2019 limited edition.
Everything here is simple, yet elegant in design. The bottle resembles a bell, or as some might say, old pharmacy vials, where pharmacists from the past used to store various medicines.
The information about the perfume is printed on the bottle in white letters with a trendy format, and you will find the laser-printed information about the batch code, size, and concentration on the bottom of the bottle.
The liquid inside is in an orange color tone, eye-catching, and hints again at the relaxing summer times.
One thing I never liked about the Light Blue series was the cheap plastic caps that hide gold-painted atomizers. Well, I guess that's life, and you get what you pay for.
The star of the show here is the amazing-looking blue box that, unlike many other perfume boxes, hints at what are you getting inside.
This review is based on the tester bottle, but I have seen how does the box look like firsthand. The artistic design with the holographic sun and the lemon fruits around it is something you have to see for yourself.
It literally looks like something that came out of the brothers' Grimm books. Amazing stuff that's collection-worthy.
My Experience With Perfume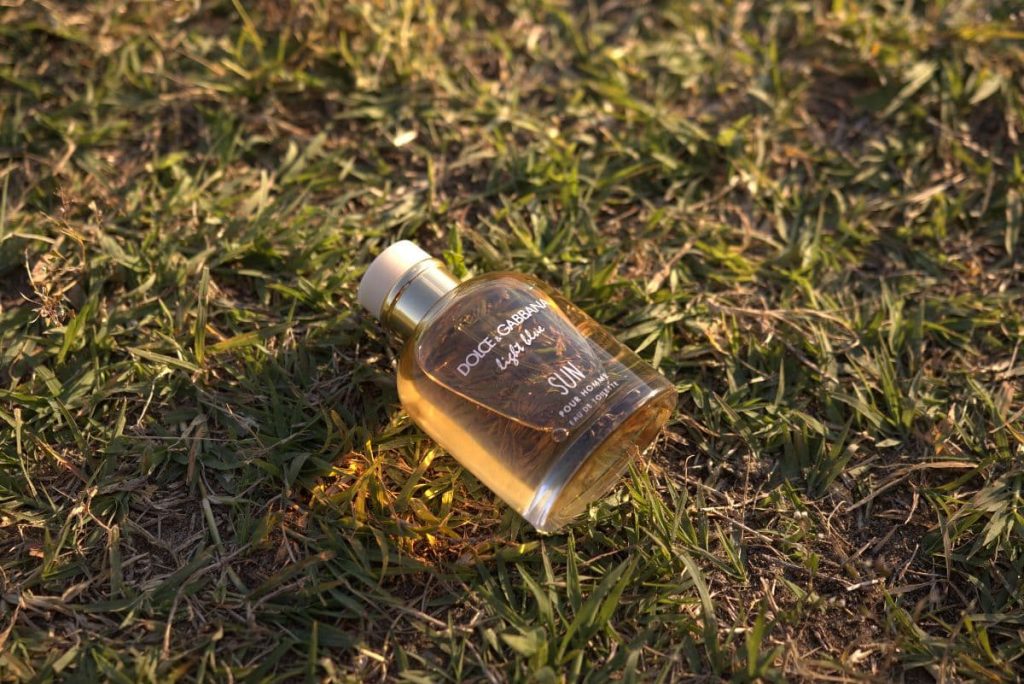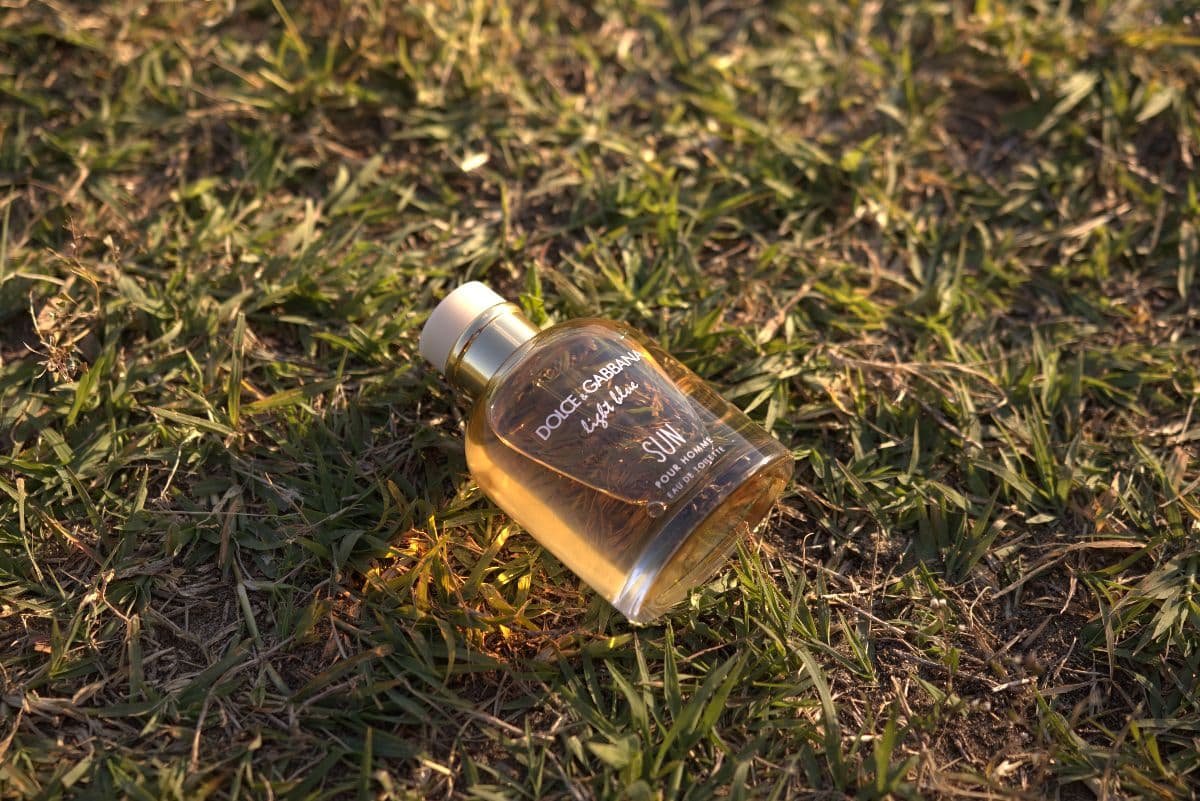 How was my journey and experience with Dolce and Gabbana Light Blue Sun? Actually, I was pretty good, unlike the mediocre reviews it gets.
The two reasons why did it end up in my collections were the affordable price, and the fact my girlfriend wanted to purchase Light Blue Sun Pour Femme for herself since she likes that one.
So, we purchased them as a duo and saved some cash like that. As mentioned before, this perfume itself is a limited edition, so I would suggest you sample it as least while it's still available on the market.
It really doesn't matter what kind of summer perfumes you like, it does have just the right amount of twists and turns to end up above the praised Light Blue Eau Intense.
Top Notes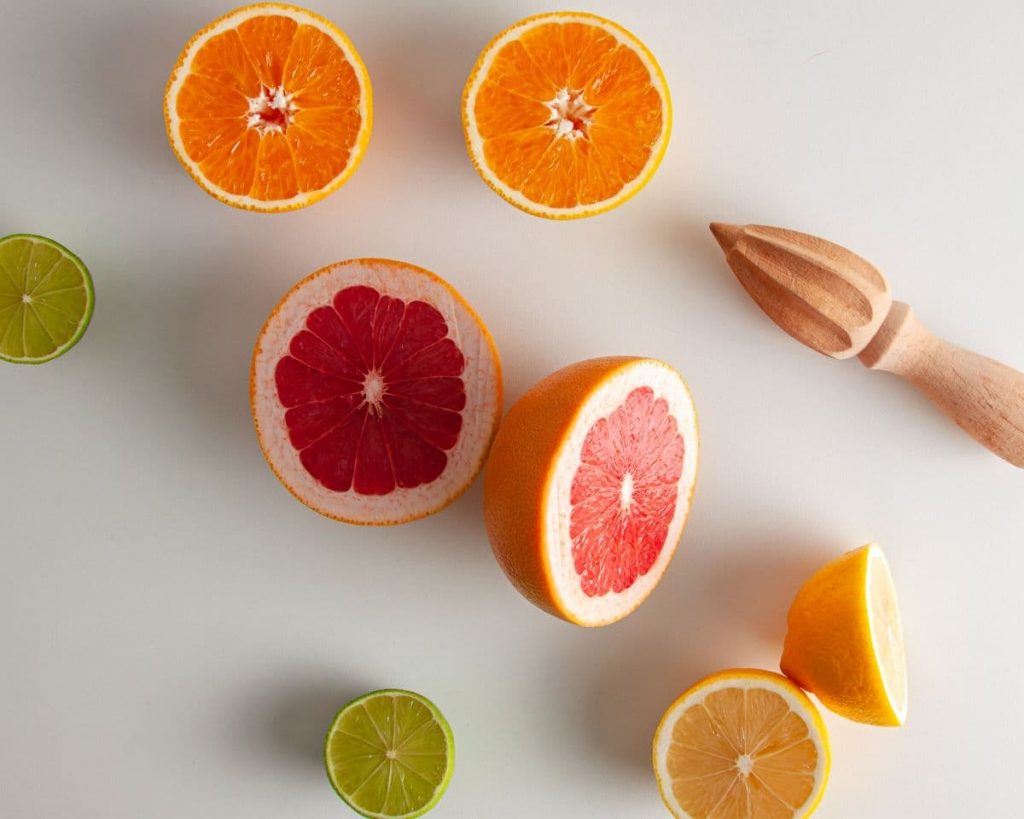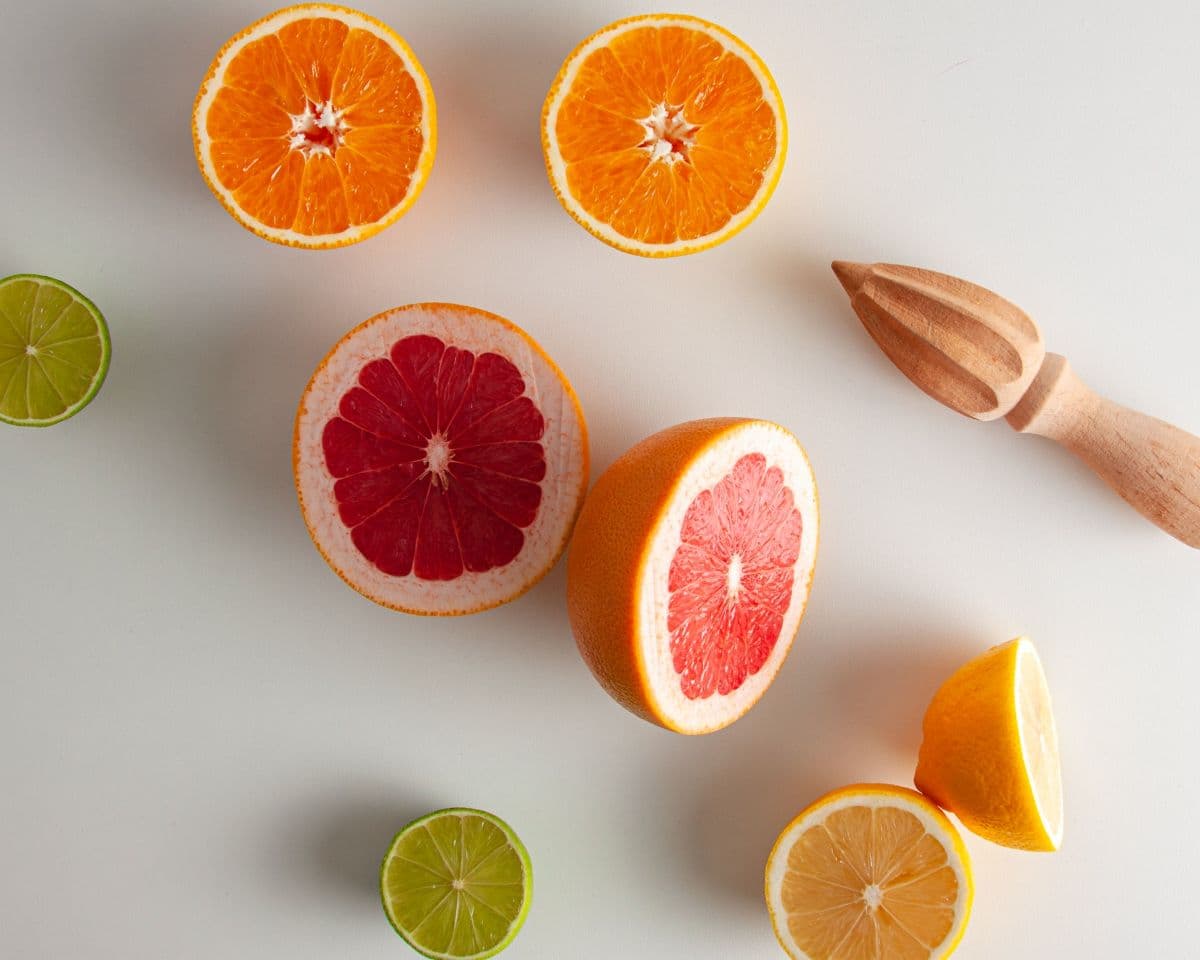 Grapefruit
Ozonic Notes
Bergamot
Ginger
The refreshing and rejuvenating start is where Light Blue Sun is gonna get you. Trust me. I don't even care if there are 0% of natural ingredients inside this creation.
Heck, even Tom Ford does synthetics, and they are in my opinion the best perfume brand in the world. Nonetheless, I didn't expect miracles with this perfume, like the second coming of Creed Aventus, and my expectations were moderate.
Alright now. You wanted to know why am I placing Sun above the Light Blue Eau Intense, which everyone seems to be raving about for years now.
It is a fact that even with the limited-release label, at this moment, Sun is still cheaper than Eau Intense, it performs better, and they are so close in the composition that you will not care for the minor differences.
And yes, by sharing the composition with Eau Intense, it does it with the original Pour Homme as well.
The scent opens up with the best citrus combination with that slightly salty/marine vibe from the original, without that headache-inducting pepper note.
One thing that is also missing here is the sharpness and harshness of Eau Intense.
The uplifting and sparkling ginger, grapefruit, and bergamot notes transported me straight to my last year's summer vacation, and those hot days at the beach enjoying my iced fruity drink.
Blink and you will miss the transitions into the sweeter heart notes.
Heart Notes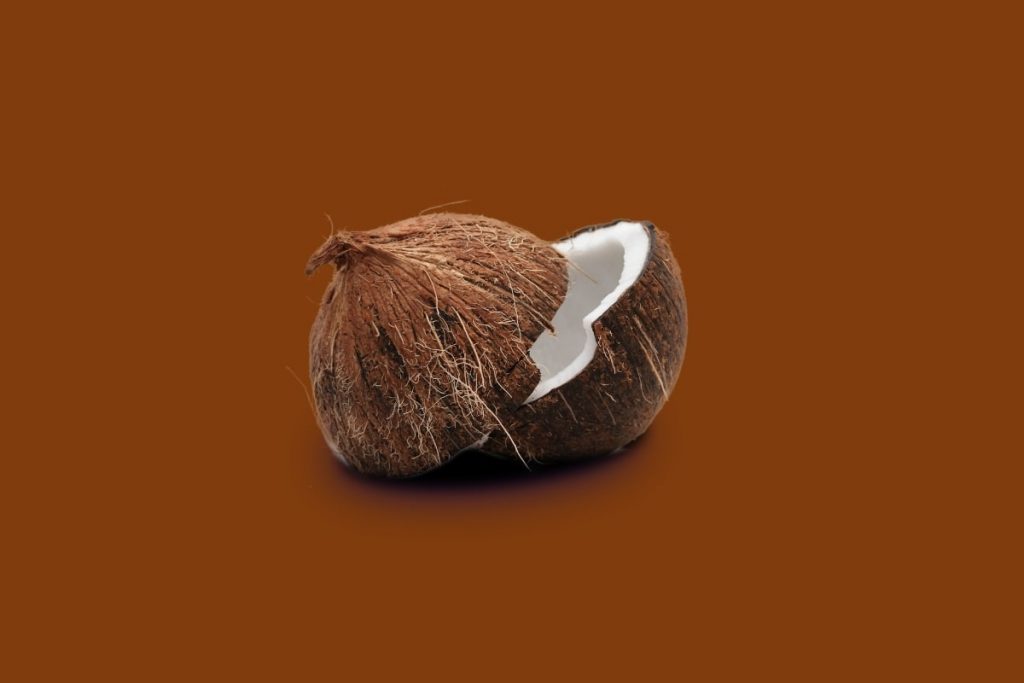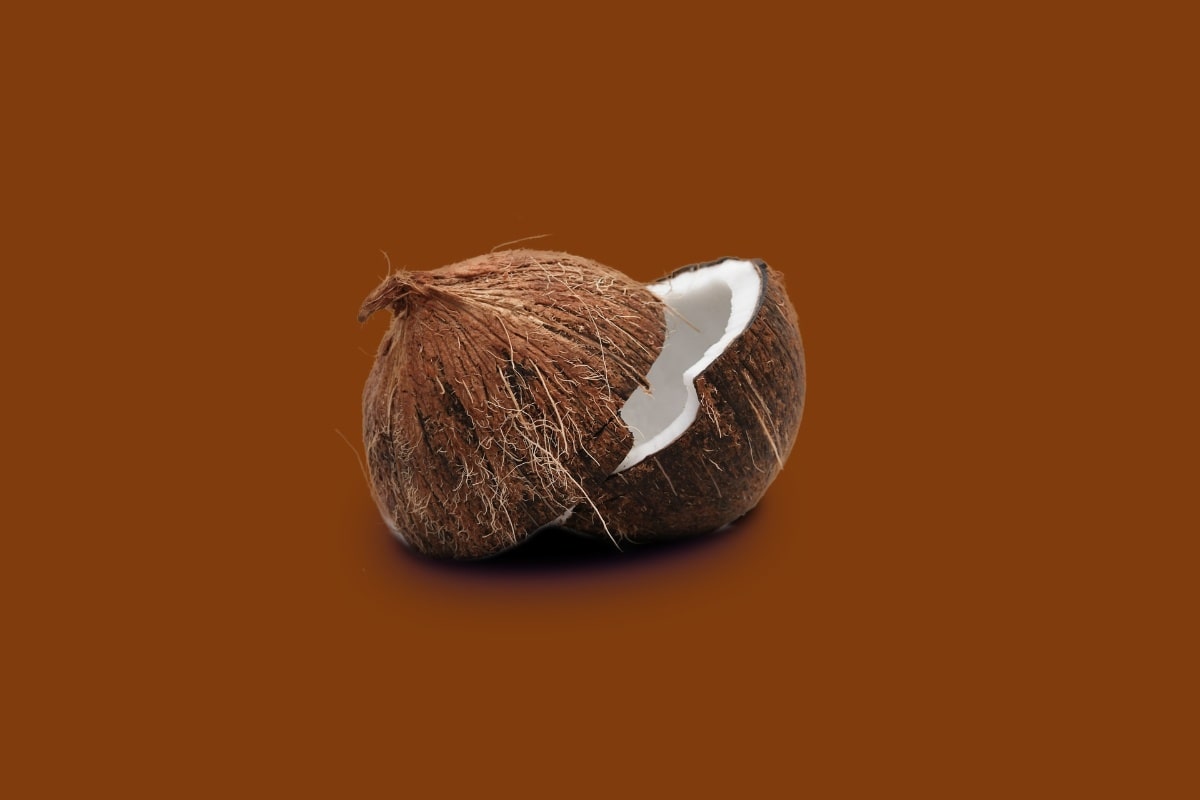 Coconut Nectar
Cedar
Rosemary
Osmanthus
Ah, yes. The divisive coconut note gives a sunscreen vibe. I don't get it here at all. I got comments from other people that they do get a coconut-like aroma coming from my scent bubble, but I am completely nose blind to it.
What I do get is a slight sweetness and muskiness, along with just a faint aromatic touch of rosemary, and the rest is very much the same as from the opening.
If you have heard the term "perfumes sell based on the opening", and you liked what you got in the first couple of minutes of this perfume, you will enjoy the progression as well.
As for me, the heart notes should have been a little less muted, and muddy, so to say. Still, the wearing experience is enjoyable, and I didn't take it as a major flaw. When you are on the beach, you just want to smell good, and Light Blue Sun delivers that.
Base Notes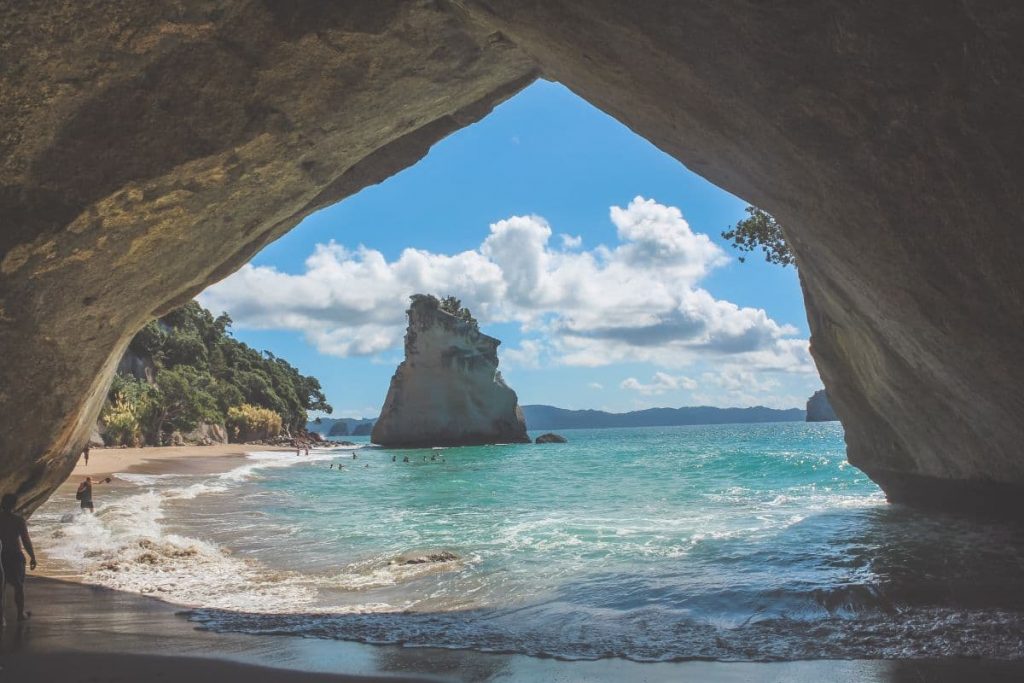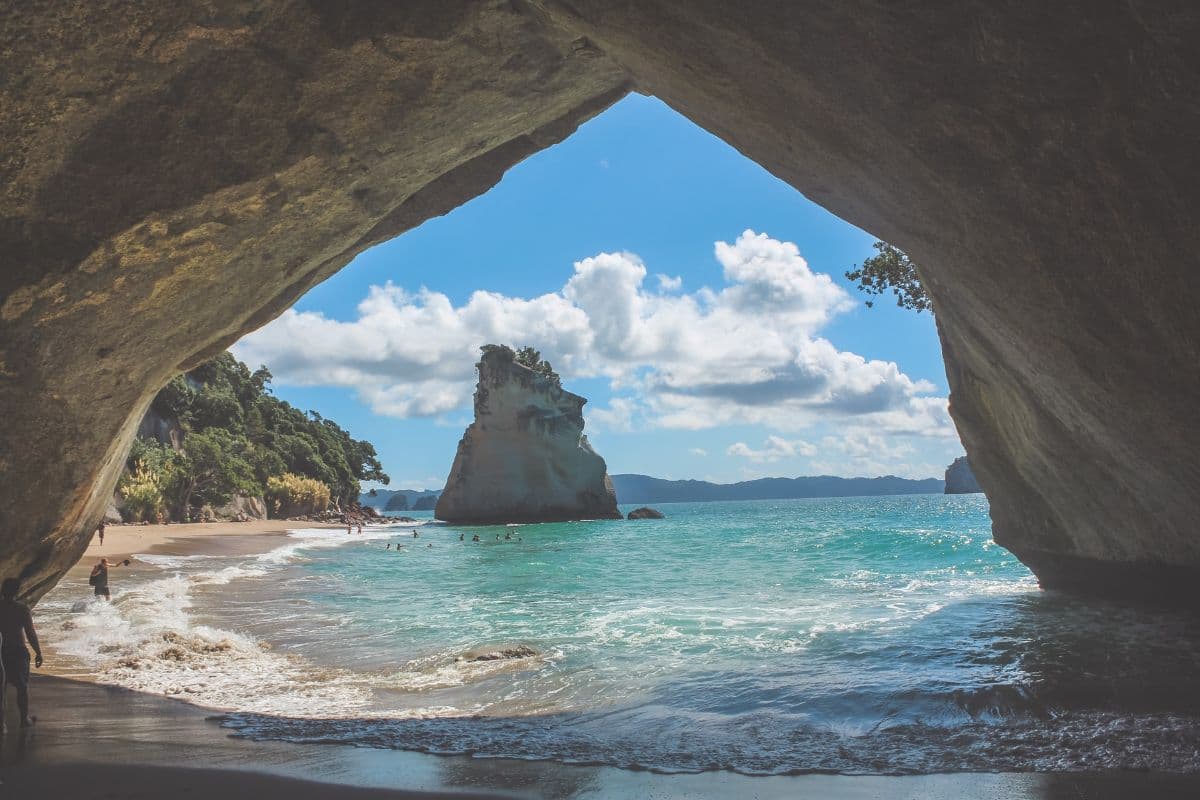 Musk
Oakmoss
Vetiver
Vanilla
By the time Dolce and Gabbana Light Blue Sun dries down, you are left with is are soft citruses, woods, spicy and marine accords left from the scent development.
To my nose, the fragrance doesn't change that much, except for that sweetness, and muskiness that join the party, but there is one unexpected thing here.
The more you wear this perfume, your nose will start to pick up different nuances, depending on the weather conditions.
For example, when is super hot outside, instead of grapefruit and bergamot, orange note pop out of nowhere, and when I'm in the office in a climate-controlled environment, aromatic facets dominate the composition.
These subtle, yet evident surprises were the most enjoyable experience I had with Light Blue Sun.
Performance
The whole performance for an Eau de Toilette was way above my expectations, and I wish my other more expensive summer perfumes performed like this.
I got 8 – 10 hours each time I wore it, and it didn't matter how hot or cold was outside. In the recent trend of subtle perfumes that has taken over the perfume world, Sun is an exception here.
Projection is loud for the first hour or two, which was confirmed by my colleagues that always seemed to comment on it each time I came to the office.
The sillage goes beyond the arm-length range which you'll notice when you start to move around. Great stuff.
Target audience and compliment factor
This kind of easy-going, and simple citrus/woody/musky compositions are made to compliment magnets, and Light Blue Sun delivers.
As of this point, it stands as one of the best compliment beasts in my collection. Young or old, I got at least one compliment per wearing.
In the end, it just depends on you, and your perfume taste. Guessing that this will be your summer holiday scent, this might be the only scent you'll wear there.
I am over thirty now, and it suits me like a perfectly tailored suit. If it does it for me, it will work for you.
High schooler or a professional in your 40's, you can rock Sun confidently. Versatility is the name of the game.
Dress code and occasions
Continuing on the topic of versatility, Sun works in any situation really, but excels in the heat. White shirt, linen shorts, and some cool-looking sunglasses. You will wear it like a pro.
If you are taking a holiday trip overseas somewhere exotic for a couple of weeks, to party, and explore the hidden landscapes, but don't want to think about the fragrance you are going to wear, just take Sun. You'll thank me later.
While the above-mentioned scenarios would be perfect for this fragrance, in reality, you can wear it wherever and whenever you like.
The only season I would stay away from Sun would be winter since the marine and ozonic notes could come off kinda funky in that season.
Uniqueness and value for money
The fragrance itself is based on a tried and true formula from the best-seller that's still one of the most popular men's perfumes on the market.
But, if you are looking for something unique, and want to have a perfume collection with scents that are completely different from each other, you will not find that here.
In my opinion, this scent DNA is starting to get tired, and is just a matter of a couple of short years, before it's gonna start to smell dated.
Pros and Cons
Here are some better and weaker parts of this perfume:
Pros
One of the best flankers in the Light Blue line
Affordable and still easy to find
One of the best dumb reach summer fragrances for men
Works in almost any season and occasion
Get it while it's still available
Cons
It is a limited edition
Tired formula
Smells kinda synthetic
Almost no scent progression
Collection & Similar Perfumes
Dolce and Gabbana Light Blue Sun For Men is a flanker of the original Light Blue, and the line consists of ten perfumes in total. Some of those were also limited editions, and just a couple of them are still in production:
Dolce & Gabbana Light Blue – is a citrus spicy fragrance released in 2007. The main notes include bergamot, pepper, and rosemary. The lasting power is 4 – 6 hours with moderate projection.
Dolce & Gabbana Light Blue Beauty of Capri – is a citrus woody fragrance released in 2016. The main notes include citron, vetiver, and bergamot. The lasting power is 4 – 6 hours with moderate projection.
Dolce & Gabbana Light Blue Intense – is a citrus aquatic fragrance released in 2017. The main notes include sea notes, juniper, and grapefruit. The lasting power is 6 – 8 hours with moderate projection.
Dolce & Gabbana Light Blue Swimming in Lipari – is a citrus aquatic fragrance released in 2015. The main notes include sea salt, ambroxan, and grapefruit. The lasting power is 4 – 6 hours with moderate projection.
Dolce & Gabbana Light Blue Living Stromboli – is a spicy aquatic fragrance released in 2012. The main notes include water notes, pink pepper, and citruses. The lasting power is 4 – 6 hours with moderate projection.
Dolce & Gabbana Light Blue Forever – is a citrus ozonic fragrance released in 2021. The main notes include grapefruit, ozonic notes, and vetiver. The lasting power is 8 – 10 hours with moderate projection.
Dolce & Gabbana Light Blue Italian Zest – is a citrus spicy fragrance released in 2018. The main notes include grapefruit, mandarin orange, and sichuan pepper. The lasting power is 4 – 6 hours with moderate projection.
Dolce & Gabbana Light Blue Discover Vulcano – is a woody aromatic fragrance released in 2014. The main notes include cypress, lemon, and ginger. The lasting power is 4 – 6 hours with moderate projection.
Dolce & Gabbana Light Blue Love Is Love – is a citrus oriental fragrance released in 2020. The main notes include vanilla, apple, and ice cream accord. The lasting power is 4 – 6 hours with moderate projection.
As for alternative perfume, with so many choices to choose from in the Light Blue series, I would recommend trying some other perfumes from this line. Mainly, Light Blue Eau Intense and the new release – Forever.
Light Blue Sun Pour Homme is currently only available as an 4.2 oz/125 ml Eau de Toilette spray.
Conclusion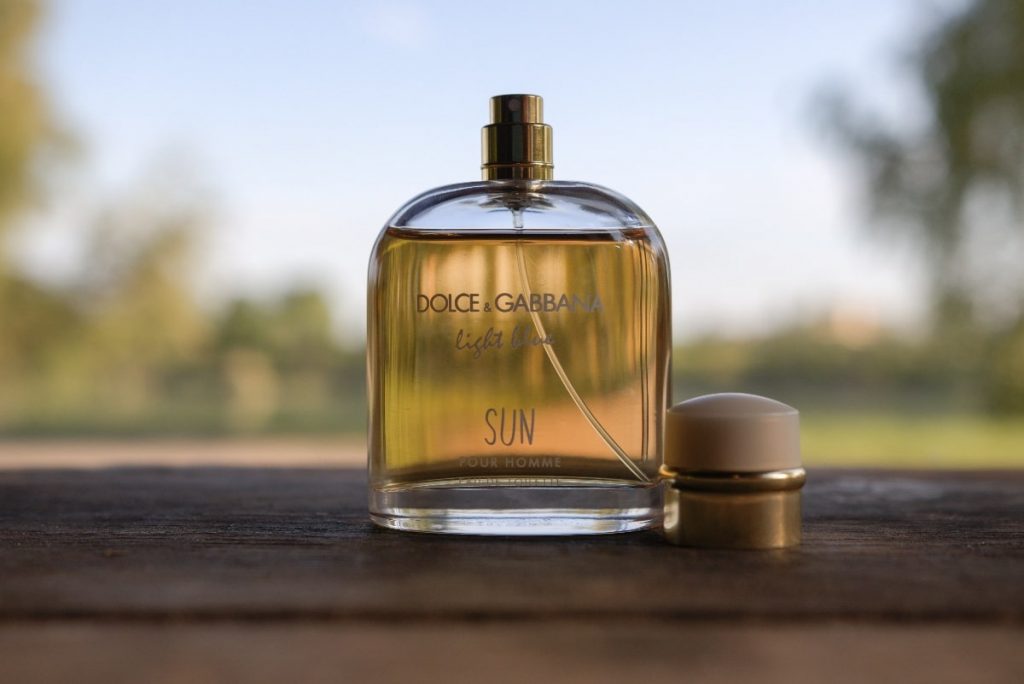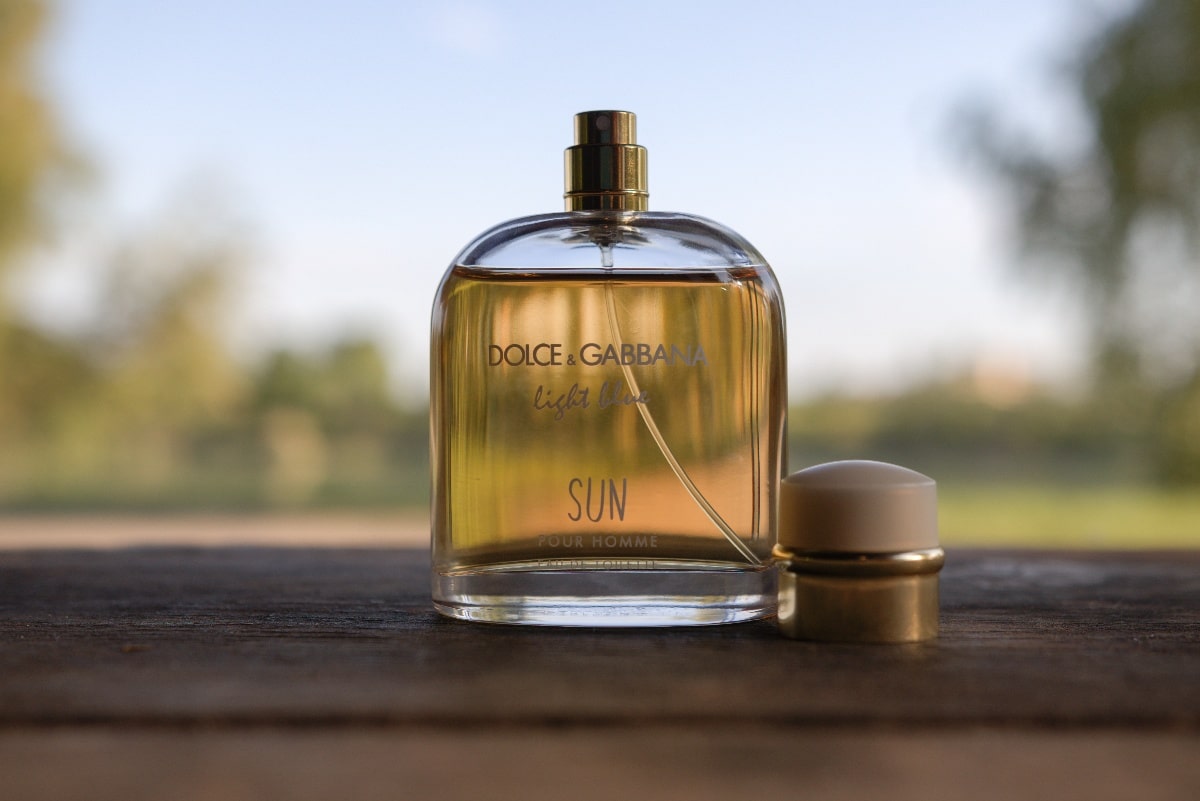 While it's still available and moderately priced, it would go for this edition instead of Light Blue Eau Intense any day of the week.
This may change as the available stocks get rarer to find, and prices start to get high. But until then, you can go wrong with this purchase.
Will it ever go into the holy grail scent category? Probably not, but you are getting more than you paid for, so you have my recommendation here.
What are your thoughts about Dolce and Gabbana Light Blue Sun Pour Homme? Have you tried it? Do you like it? Let's start a conversation and let me know in the comment section below.
In case you are in doubt whether you should consider buying this fragrance or not, it's always good to take a look at Scent Grail's S.P.A. Signature Factor Guide.
It is easy to use and the most relevant perfume buying guide on the web. This way, you can check out if a particular fragrance is worth checking out, and potentially find your signature perfume.
Find out more Scent Grail articles about perfumery, check out top lists, and other helpful reviews via links below:
REVIEWS
TOP LISTS
SCENT GRAIL LEARNING CENTER
Until next time, have a great time and keep smelling like a million bucks!
Best, Marin!
#scentgrail #scentgrailtribe
Scent Grail on Social Media: Facebook | Twitter | Instagram | Pinterest
Your number one resource for Holy Grail Signature Scents.

– Marin Kristic