Body Kouros by Yves Saint Laurent is a spicy oriental fragrance released in 2000, created by Annick Menardo.
In the realm of men's fragrances, this composition stands tall as an unusual and distinctive scent that leaves a lasting impression while smelling completely different from the original release.
With its blend of aromatic eucalyptus notes and sensual benzoin and incense undertones, this fragrance embodied the essence of masculinity and elegance at the start of new millennia.
Drawing inspiration from the ancient Greek sculpture known as "Kouros," Yves Saint Laurent crafted a fragrance flanker that exudes strength, and sex appeal.
Yves Saint Laurent Body Kouros in three words: SENSUAL – RELAXING – BALANCED
Affiliate Disclosure: As an Amazon Associate I earn from qualifying purchases. Purchasing via provided links/banners comes at no additional cost to you. Scent Grail only recommends products and/or services that are insightful and helpful to readers. For more info please read Affiliate Disclaimer.
Don't have the time to read the review right now? No worries! Here are my 5 quick takes:
The best flanker from the YSL Kouros line
Created by Annick Menardo in 2000
A spicy oriental composition ideal to wear during milder weather
Lasts between 8 – 10 hours with moderate projection
Can lean toward being overly sweet when worn for consecutive days
Join me as we delve into the intricate details, and prepare to embark on an aromatic journey that showcases the magnetic charm of this iconic Yves Saint Laurent fragrance.
Fragrance Information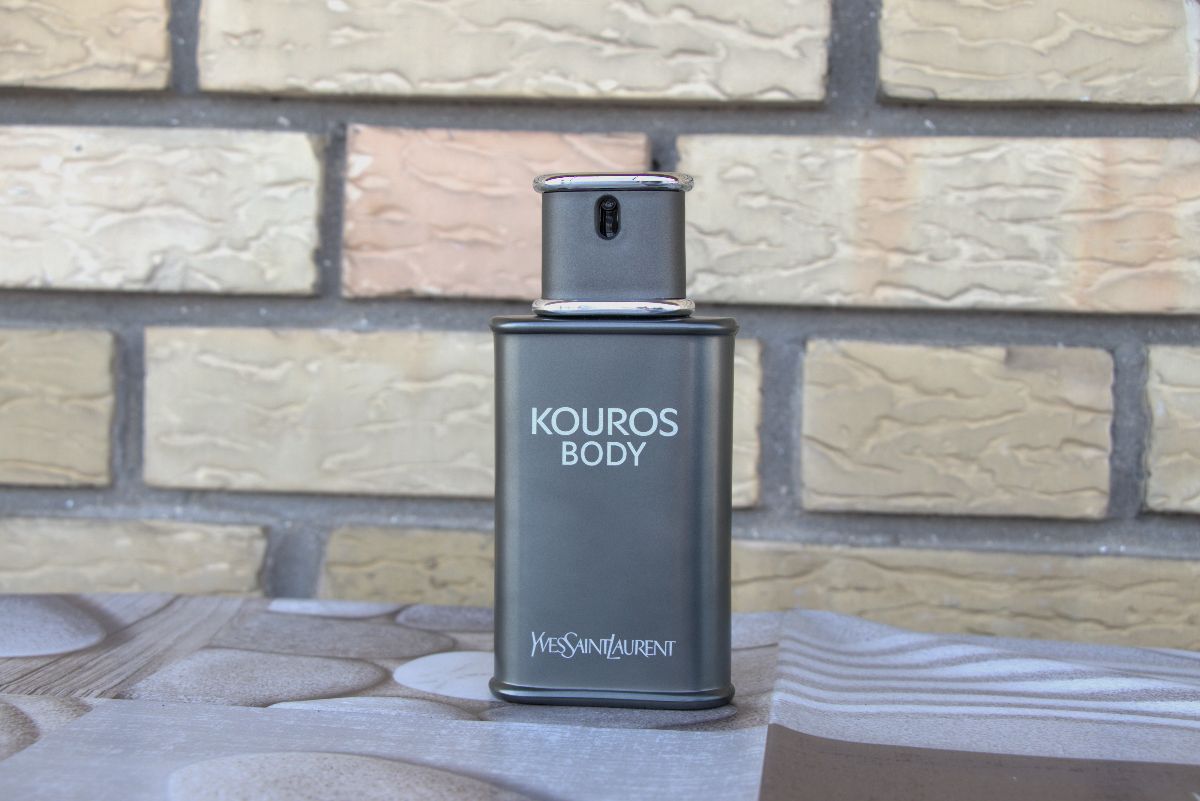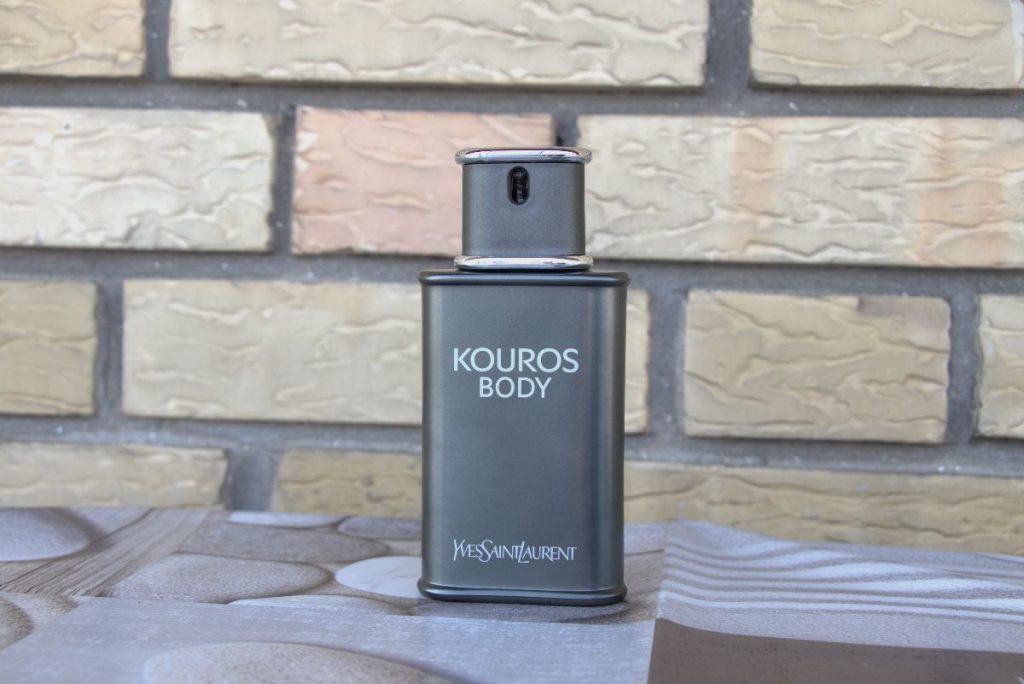 Yves Saint Laurent brand was founded by the legendary French fashion designer, Yves Henri Donat Mathieu-Saint-Laurent, and his business partner, Pierre Bergé, in 1961.
Yves Saint Laurent's designs transformed the fashion business, offering progressive concepts like the tuxedo suit for women, the safari jacket, and the Mondrian dress.
His pioneering designs were noted for their androgynous flair, which combined feminine and masculine components to reshape the fashion world.
Yves Saint Laurent had a lasting impact on the realm of fragrance in addition to his influence in fashion. In 1964, the brand released its first fragrance, Y for Women, followed by the renowned scent Pour Homme in 1971.
These scents marked the beginning of a successful fragrance collection that has captivated fragrance connoisseurs all over the world.
The perfume division of YSL has crafted numerous iconic and bestselling perfumes, including Opium, Rive Gauche, Kouros, Black Opium, and, of course, Body Kouros.
The legacy of the brand continues to resonate today. The fashion house remains at the forefront of haute couture and ready-to-wear fashion while their fragrances continue to shape the fashion and fragrance industry.
Today, YSL is owned by L'Oréal and boasts over 200 boutiques worldwide, offering a range of products including ready-to-wear, shoes, leather goods, and jewelry.
Saint Laurent passed away in 2008 due to brain cancer, but his legacy endures as a fashion pioneer who sought to make women feel both comfortable and elegant.
Body Kouros Story
The fragrance was created by the talented master perfumer Annick Menardo in 2000 and was initially exclusive to Macy's.
For its marketing promotion, the company positioned this flanker as the perfect match for men, with a scent that is both subtle and bold, ultimately giving way to a lingering and reassuring sweetness.
Menardo blended a variety of hot and cold notes to compose the distinct composition with a touch of mystery with incense that increased depth and complexity.
The composition is surprisingly modern and traditional, with the classic elements of aromatic fougère fragrances and a contemporary twist.
This flanker continues to captivate fragrance enthusiasts to this day and has become a testament to the creativity behind YSL fragrance offerings.
The fragrance is currently not available on the official USA YSL webshop; however, it can still be regularly found in almost every other perfume shop and is easily purchasable in fragrance stores.
It is offered in one size only, a 100ml Eau de Toilette, with a retail price of $115 USD.
Perfume Theme
A note from the brand: "A frank and liberated masculinity. A daring and modern reinterpretation of the KOUROS universe. The BODY KOUROS man takes care of his body, likes to provoke and play on his sexy, sensuous and very masculine image. The freshness of Eucalyptus contrasts with the spirituality of Incense smoke. The provocative blend of Chinese Cedar and Mace gives way to Benzoin and Camphor Wood which envelope the skin in divine warmth. The Body Kouros man takes care of his body and likes to provoke and play."
Notes and Classification
PERFUME NOTES
Top notes: Eucalyptus, Incense
Heart notes: Chinese Cedar, Clary Sage
Base notes: Benzoin
Perfume Presentation
I always had a soft spot for Kouros's presentation since it strikes the perfect blend between contemporary minimalism and timeless elegance. If your presentation is artistic but simple, I'm your man.
The bottle features a sleek and elongated shape with clean lines and is made of non-transparent olive-colored glass which means you won't know how much perfume is left inside.
Even if that's unfortunate, the simplicity of the design is enhanced by the absence of excessive embellishments means only the fragrance name and the brand's logo are what you'll see here, creating a refined and understated aesthetic.
The built-in atomizer sprays far and wide, and you are able to control how much perfume you want to spray on your skin.
The box packaging complements the bottle's design and is again adorned with the fragrance name and Yves Saint Laurent logo, featuring silver accents along with different tones of green colors.
I don't usually comment on ingredient listings, but I don't remember when was the last time I saw the additional cautionary information printed in 12 different languages. If you ask me, that's the only overkill here.
Combined, the bottle and box of Body Kouros create a visually striking presentation, as is the case with the original Kouros but with a different color variation.
Overall, I'm a big fan of presentations like these, and sometimes it is a pleasure to see something different that typical unified bottle designs fragrance brands bombard us with these days.
My Experience With Perfume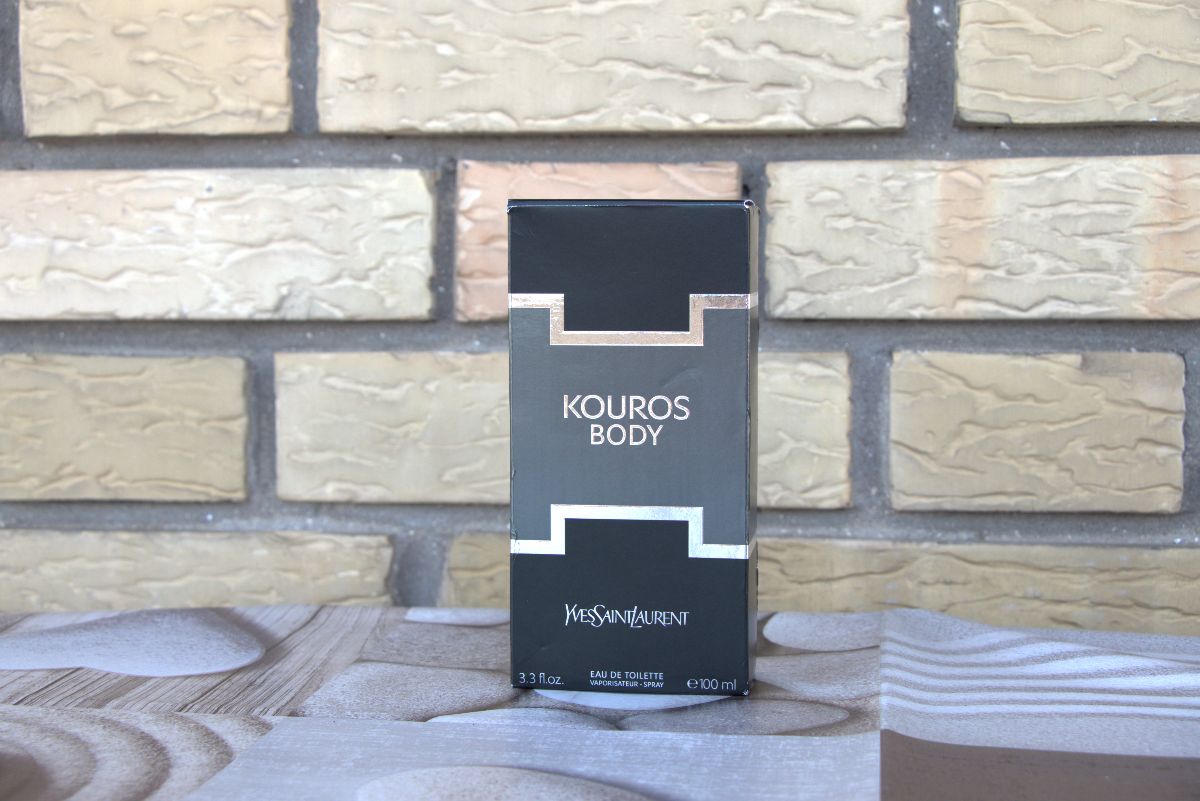 There is something special about Kouros Body. The name change coincided with the bottle redesign, and I personally feel that the previous look had slightly more personality.
Although I didn't include it among the most significant scents that sparked my interest in this hobby, it holds a special place in my heart and remains the fragrance I consistently return to.
It is one of those fragrances that has created numerous enduring memories and played a role in fostering a real-life friendship that continues to endure to this day.
Yes, it is different from the original Kouros, and it truly bears no resemblance to it. However, that was never the intention that Menardo aimed to achieve.
Reflecting back, it has been a complete nine years since I initially sampled it, owned it on multiple occasions, and even grew tired of it, only to rediscover my profound affection for this captivating and addictive camphoric creation time and time again.
This fragrance entered my life at the perfect moment when I couldn't fathom that something could possess such an irresistible allure.
While my fragrance collection now mainly consists of niche offerings, it doesn't diminish the significance of this scent in any way.
I often find myself revisiting simpler creations and rediscovering my favorites from the past. I'm not suggesting that this is the epitome of perfection, as it does have its flaws, but then again, don't we all?
You may either love or find this flanker to be nothing extraordinary, but I am grateful that even to this day, there is nothing quite like its scent, and that is the true beauty of this flanker.
In those rare instances when perfumes transcend being mere expensive scented alcohol waters, they have the power to foster friendships, and act as time machines, transporting us to precise moments when we wore that particular fragrance.
Perfumes have a way of crafting their own narratives when we least anticipate it.
Top Notes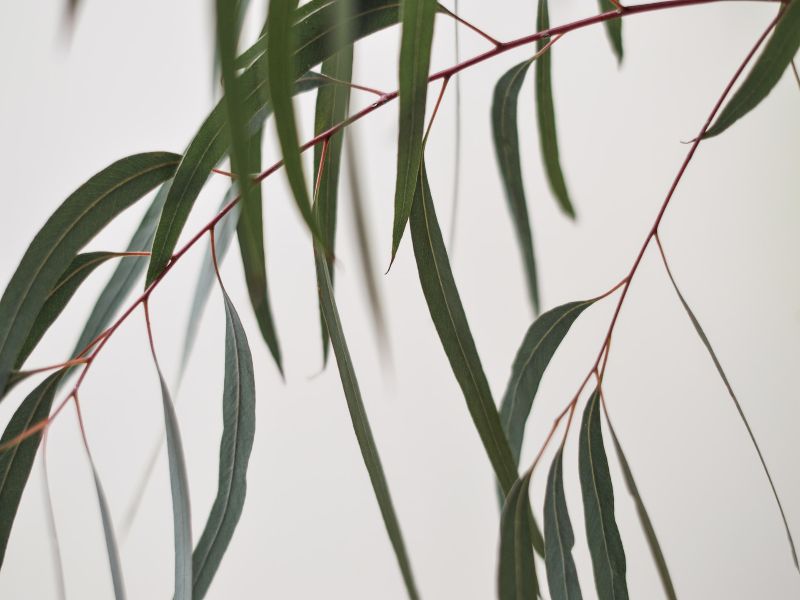 The composition opens with a burst of fresh and aromatic notes that will awaken all of your senses.
The refreshing scent of eucalyptus emerges which does smell just a little bit medicinal, but not enough to make it extravagant.
To my nose, it delivers a cooling and minty nuance that adds a unique twist and sets a dynamic tone for the fragrance.
Completing the top notes is another harmonious accord of incense that increasingly takes center stage as the fragrance begins to dry down.
In other instances, a combination like this, without the typical inclusion of citruses or spices, could be perceived as unconventional.
However, in the case of this flanker, it works exceptionally well. Menardo has skillfully crafted a fragrance that makes these challenging notes both widely appealing and intriguing.
Heart Notes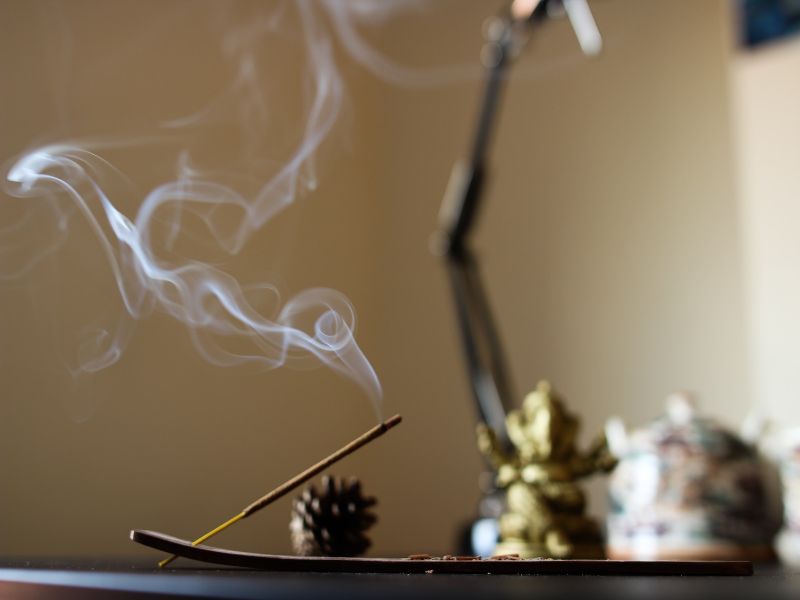 The heart notes gracefully unveil the fragrance's enigmatic composition with the inclusion of another aromatic ingredient – the warm and aromatic clary sage.
It's interesting to observe how this note has gained popularity over the past five to ten years, only to realize how masterfully it was blended into a fragrance like this over two decades ago.
An ethereal floral accord delicately emerges, accompanied by the woody nuances of cedarwood, lending an earthy and herbal sophistication to the composition.
During this stage, the powdery facets of benzoin start to emerge, imparting an overall vanillic quality.
The seamless interplay among these three main accords is truly remarkable, underscoring why such a composition wouldn't be as effective if layered over the animalic musks found in the original Kouros.
Base Notes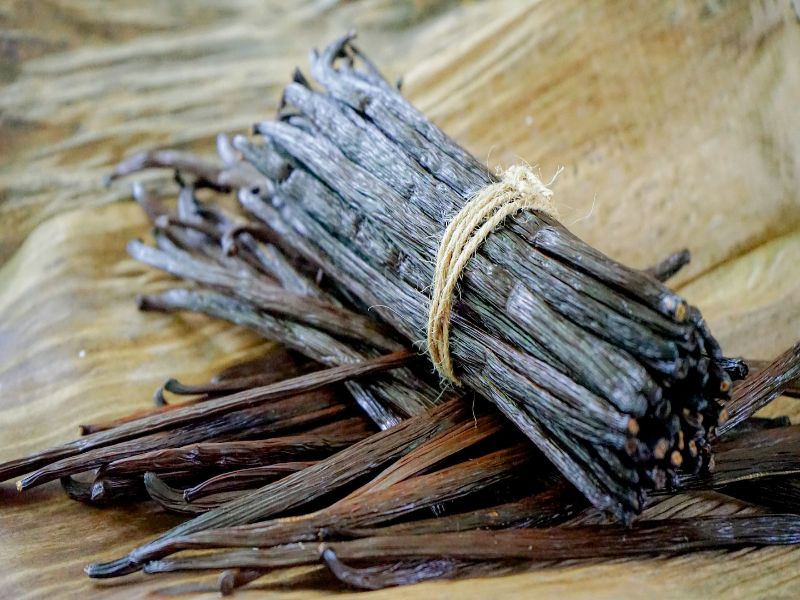 When the fragrance enters its final stages, the rich and warm blend of benzoin becomes fully detectable, imparting a touch of sweetness and an intensified powdery and rubbery quality. This further enhances the overall richness of the base.
It is truly remarkable how the perfumer was able to create such complexity and depth using just five different notes. The mintiness and smoky incense continue to play a prominent role in this stage, contributing to the fragrance's distinctive character.
On the other end of the spectrum, it is worth noting that some individuals, myself included, have observed that wearing this fragrance for consecutive days can result in an overpowering sweetness.
In such cases, the distinct three-phase composition can become less discernible, giving the impression of a single nondescript note.
Therefore, it is advisable to switch to a different fragrance for a few days to restore the appreciation of this unique transformation. Vanilla-forward fragrances have a tendency to achieve this effect, particularly when the compositions lean towards impactfulness.
Performance
The performance showcases impressive longevity and projection. This fragrance has a commendable ability to linger on the skin for 8 – 10 hours with moderate projection.
Sillage-wise, it is moderate and has a pleasant trail in its wake without overpowering the surroundings.
It also has the endurance to withstand daily activities, remaining present and enjoyable for hours on end.
As for the reformulation which ultimately came with the bottle redesign, I'm not sure whether you would like it to be any stronger as it is today. The balance is just right even with the latest formulations.
LONGEVITY: 8 – 10 hours
PROJECTION: Moderate
SILLAGE: Moderate
Target audience and compliments
This one caters to a diverse range of individuals, appealing to a wide audience. Marketed as a men's fragrance with a composition that gives a certain vibe of shaving cream, BK is well-suited for those who appreciate refined and captivating scents regardless of age.
Its ability to resonate with fragrance enthusiasts and casual consumers alike is something we rarely see in the fragrance world.
Moreover, the ability to elicit unsolicited compliments is one of its strongest points. Those who wear this fragrance often receive positive feedback for its captivating blend that has a knack for catching attention.
I'm genuinely surprised by the level of adoration this fragrance receives, considering it blends elements of both traditional and contemporary perfumery styles.
AUDIENCE: Men
AGE RANGE: 20+
COMPLIMENTS: Medium
When & Where
I have found that this fragrance is well-suited for various occasions and settings making it a highly versatile scent.
It can be worn during daytime events, such as lunch or casual outings, and it even holds its own in evening affairs adding a mysterious touch to formal gatherings or on a date.
In terms of seasons, it thrives during the colder months, but I have worn it even during warmer spring days, and it never became too much.
As an unusual oriental fragrance, it can also bring a touch of contrast and depth to spring and warmer autumn days, adding a unique twist to the lighter and fresher fragrances we typically wear during those times.
SEASONS: Spring, Fall, and Winter
OCCASIONS: Night Out, Business, and Leisure
ATTIRE: Casual, Formal, Date Outfit
Uniqueness and value for money
One of the remarkable aspects of this flanker is its distinctive character sets it apart from other similar fragrances in the market such as Lolita Lempicka Au Masculin or Bvlgari Black.
It possesses a rare and underappreciated quality that makes it truly one-of-a-kind with its combination of contrasting hot and cold notes that offers a fragrance experience that is unparalleled and practically incomparable.
As for value for money, it has proved to be an excellent investment in my experience. The quality of ingredients is medium-high, and Annick's Menardo creations rarely disappoint.
Ultimately, I always suggest sampling a fragrance before buying a full bottle, but I believe that it offers a unique and distinctive quality that justifies its price.
UNIQUENESS: 4/5
PRESENTATION: 4/5
VALUE FOR MONEY: 9/10
Pros and Cons
Here are some better and weaker parts of this perfume:
Pros
A distinctive perfume that stands out from the crowd, making it a great choice for those seeking something different
It can be worn in various settings and occasions
Great longevity and projection that lingers through the day
A great value for money within the designer fragrance market
Cons
Not available on the official YSL webshop which may pose challenges for those accustomed to purchasing directly from the brand
In some instances, the fragrance may lean towards being overly sweet, especially when worn for consecutive days.
Don't expect it to resemble the original Kouros
Due to its scent profile, it may lean towards being overly sweet during warmer weather and may lose some of its full-bodied character when the temperature drops.
Collection & Similar Perfumes
Body Kouros is a part of the fragrance line that originated in 1981. Over the years, the line has witnessed the creation of 14 different iterations, but currently, only Body, Silver, and the original Eau de Toilette remain available for purchase.
Therefore, besides this one, I recommend checking these two as well:
SIMILAR PERFUMES
Frequently Asked Questions
Here are some answers to the most popular questions asked about this perfume.
What does Body Kouros smell like?
The fragrance is characterized by a captivating and unique scent profile. It opens with a blend of smokey and aromatic incense and eucalyptus notes, and in the base, the fragrance unveils a rich blend of benzoin, which adds a touch of sweetness and powdery quality.
What's the difference between Kouros and Body Kouros?
Kouros is characterized as a bold and intense fragrance with a dominant aromatic and animalic musk character while Body Kouros takes a different olfactory direction with a more modern spicy and oriental interpretation compared to the original Kouros.
Is Body Kouros discontinued?
The fragrance is still available for purchase at the perfume retail stores. However, the fragrance availability can change over time and is no longer available on the official YSL webshop.
Has Body Kouros been reformulated?
While there have been no official announcements or indications of a reformulation for this product, the fragrance has been reformulated a couple of times since 2000. The first big reformulation came in the early 2010s when the bottle design was changed.
Final Words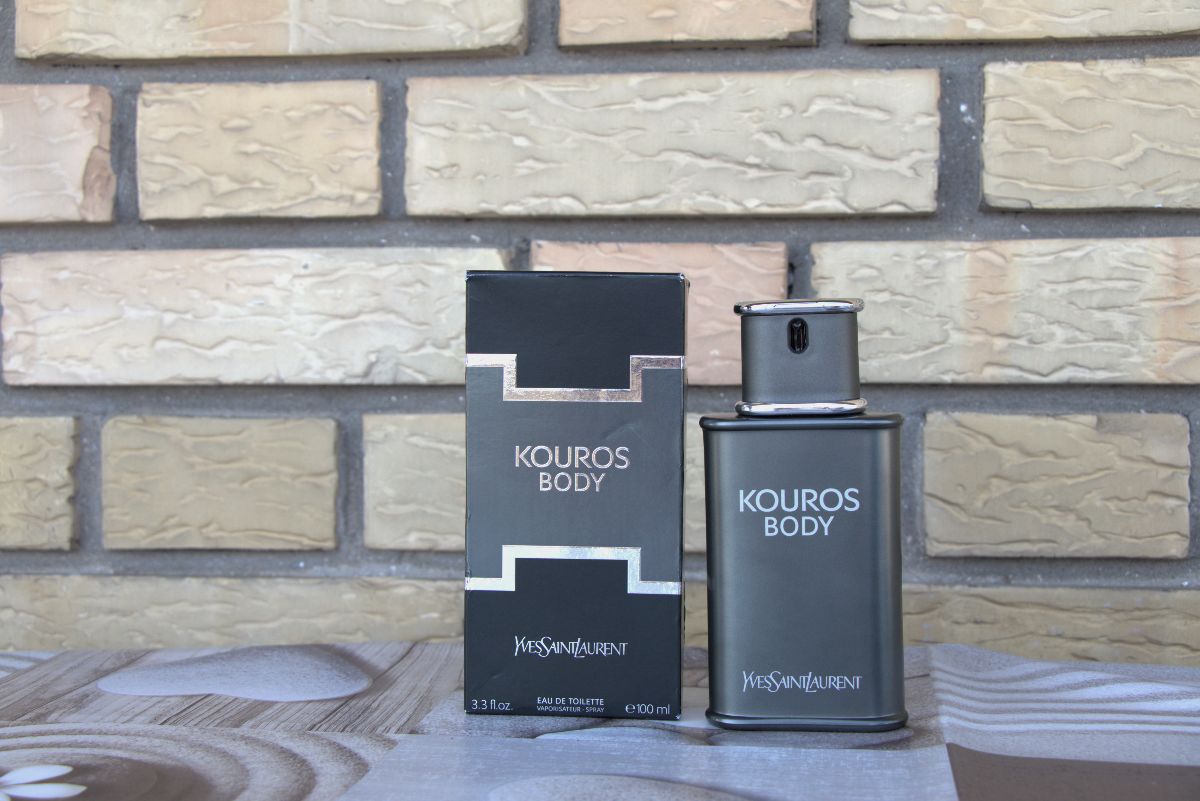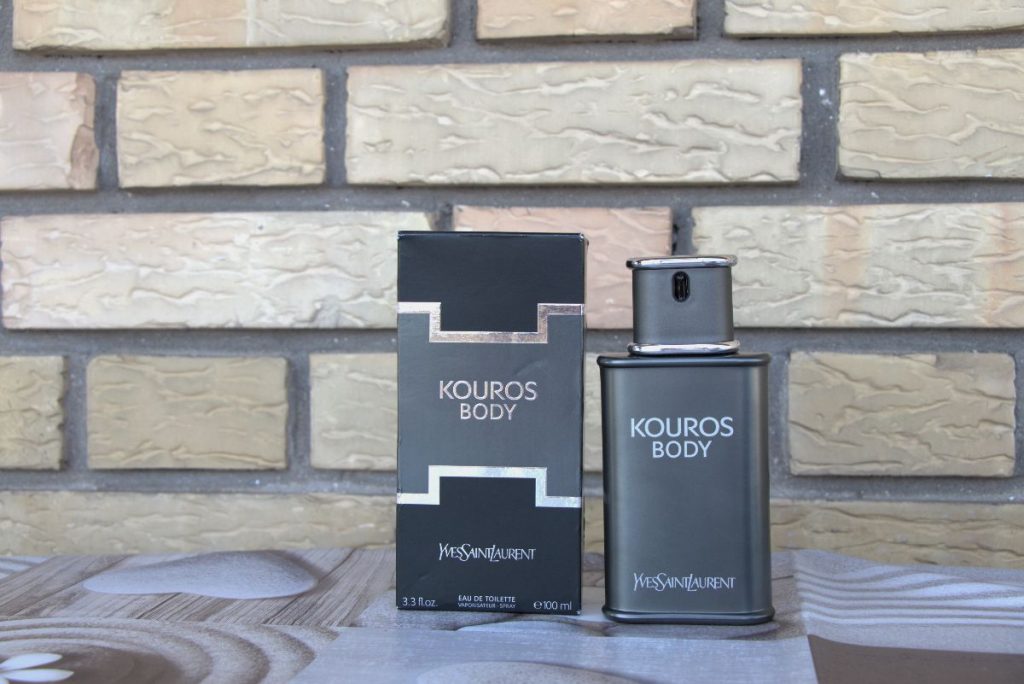 In our fragrance journey, we encounter exceptional scents that leave a lasting imprint on our memories, accompanying us for years to come.
This YSL release is one such fragrance that holds a special place in my olfactory adventures. While I wouldn't classify it as a masterpiece, it carries a nostalgic charm, reminding me of my early days exploring the world of perfumes.
I wholeheartedly recommend experiencing this flanker if you haven't already. It has the potential to captivate and enthrall, drawing you back time and again.
Each individual's response to a fragrance is unique, and you may discover your own fascination with this little gem.
What are your thoughts about Body Kouros? Let's start a conversation and let me know in the comment section below.
In case you are in doubt about whether you should consider buying any fragrance or not, it's always good to take a look at Scent Grail's S.P.A. Signature Factor Guide.
It is easy to use and the most relevant perfume-buying guide on the web. This way, you can check out if a particular fragrance is worth checking out, and potentially find your signature perfume.
PLEASE CONSIDER CONTRIBUTING TO SCENT GRAIL
If you enjoy my blog and want to help me continue creating content, there are several ways you can support me:
I am incredibly grateful for your support, as it holds tremendous significance to me. Your generosity enables me to persist in crafting content that celebrates the wonders of the perfume world and encourages others to start this beautiful journey. Your backing is truly appreciated, and I eagerly anticipate sharing more of my creations with you in the times ahead. Keep smelling great!
Find out more Scent Grail articles about perfumery, check out top lists, and other helpful reviews via the links below:
REVIEWS
TOP LISTS
SCENT GRAIL LEARNING CENTER
Until next time, stay humble, and keep smelling great!
Best, Marin!
#scentgrail #scentgrailtribe
Scent Grail on Social Media: Facebook | Twitter | Instagram | Pinterest
Your number one source for Holy Grail Signature Scents.

– Marin Kristic