My first experience with Serge Lutens Chergui back in 2014 opened my eyes in way of what can be achieved with perfumery.
Until that year, the majority of my perfume collection consisted of designer perfumes mainly. To say that smelling this Serge Lutens perfume was a turning point in my fragrance hobby would be an understatement.
From that point on, I understood the meaning of the phrase – the are perfumes, and then, there are perfumes.
Often cited as one of the best perfumes of all time, Chergui is not one of those fragrances that have to live up to its expectations. It is one of those rare gems that set the expectation of what woody oriental fragrances should be.
Created by Christopher Sheldrake in 2005 who was appointed by Serge Lutens to recreate strong Maroccan desert winds which carry plants, insects, and twigs over a desert in flames.
Even though the composition suggests a straightforward tobacco and honeyed vanilla fragrance, trust me, with Chergui, you are set for a ride unlike any other.
To create a perfume you have to be the servant of the unconscious. Each idea evolves and transforms, but there should be a surprise with each note.

SERGE LUTENS
Serge Lutens Chergui in three words: HONEYED – AMBER – DELIGHT
Affiliate Disclosure: As an Amazon Associate I earn from qualifying purchases. Purchasing via provided links/banners comes at no additional cost to you. Scent Grail only recommends products and/or services that are insightful and helpful to readers. For more info please read Affiliate Disclaimer.
Don't have the time to read the review right now? No worries! Here are my 5 quick takes:
The best tobacco fragrance on the market
Created in 2005 by master perfumer Christopher Sheldrake
A great cold weather woody oriental composition that works the best as a night out and business fragrance
Lasts around 8 – 10 hours with moderate projection
Not for beginners since animalistic nature of composition might not work for beginners
Find it out if is Chergui a type of niche perfume you would like, and how well it ranks in the latest Scent Grail review.
Scent Grail content is free for anyone to use without anything hiding behind the paywall. If you would like to help me do more great articles like this, you can donate via PayPal. Much appreciated.
Brand and Perfume History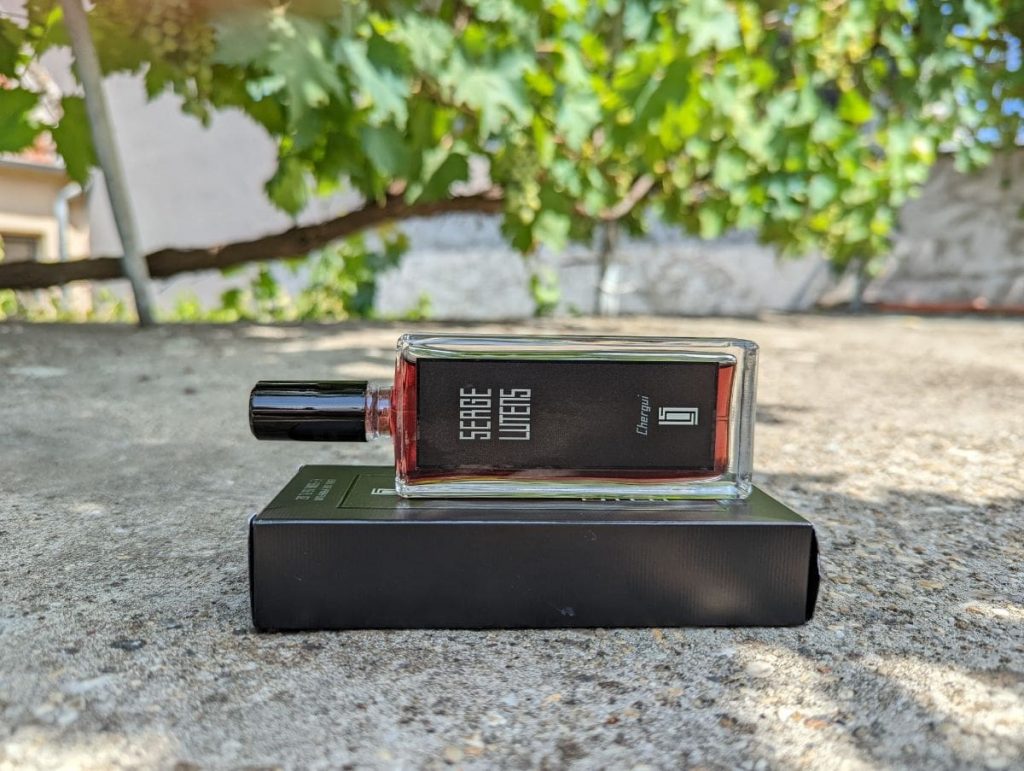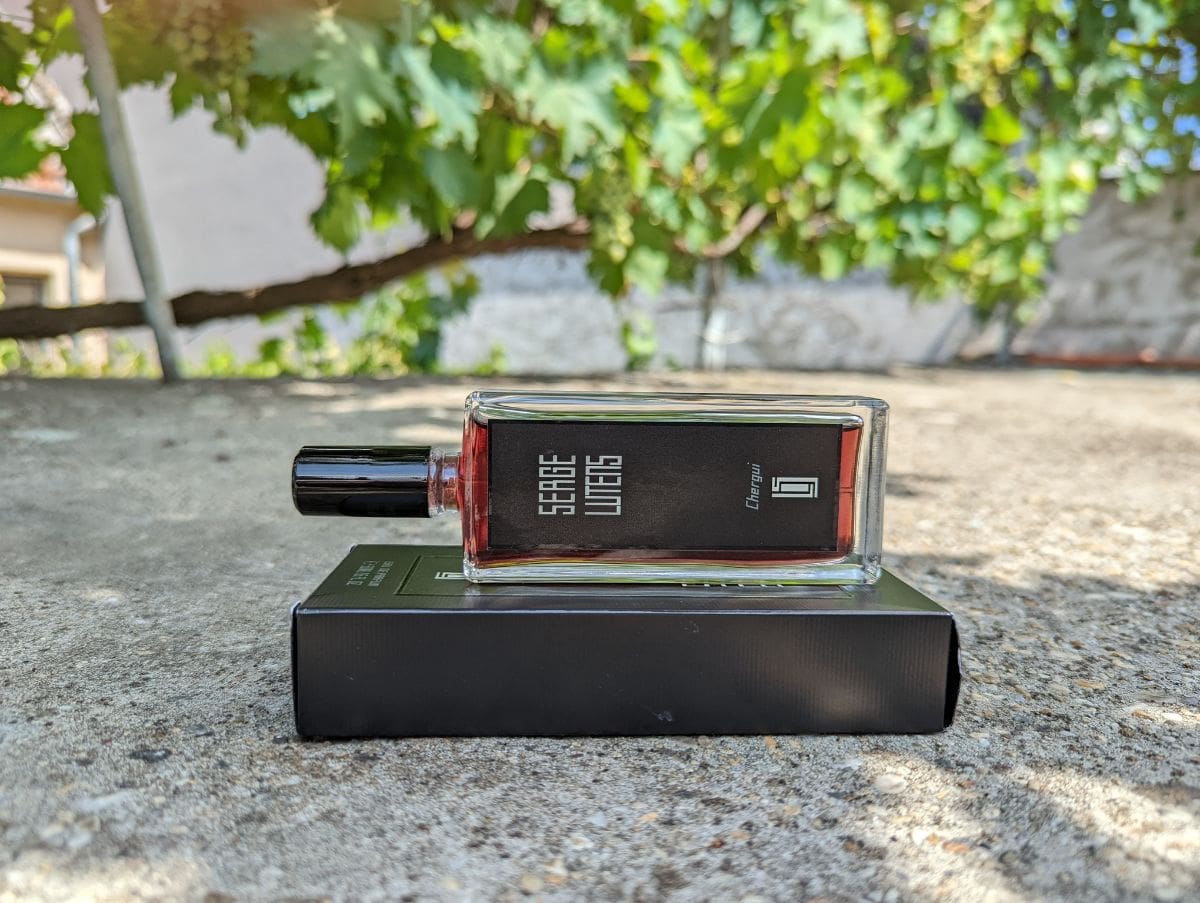 Serge Luten's fragrance house comes from the old world perfumery which their fragrances reflect. By saying something appreciates and works on values from the last century doesn't mean their fragrances smell old.
Contrary to that, I believe that almost everything from the brand's selection provides something for everyone, and is usually considered a benchmark fragrance house.
In my recent article about the best niche perfume brands, Serge Lutens ended up taking fifth place above such as Frederic Malle, Nishane, Xerjoff, and others.
Serge Lutens History
Story of Serge Lutens from the official website: "Serge Lutens was born during the war, on March 14, 1942, in Lille, in the North of France.
Separated from the first weeks of his mother, his personality will be marked from then on by the feeling of an original abandonment. Constantly torn between two families, he lives at a distance and invents himself. He's a dreamer. At the Montesquieu school, he is said to be "in the moon": he does not follow, even if his teachers recognize him as a storyteller.
In 1967, Christian Dior, who was about to launch his make-up line, called on him. He will create for this house colors, style, and images. His vision is finally unified by photography. At the start of the 1970s, the famous editor-in-chief of US Vogue, Diana Vreeland, did not hesitate to proclaim her enthusiasm: "Serge Lutens, Revolution of Make-up!". The success is resounding. Serge Lutens becomes the symbol of freedom given by make-up for a whole new generation. In 1974, echoing his taste for cinema and the mythical actresses who inhabit it, he directed a short film: "Les Stars". At that time, he traveled and discovered Morocco and then Japan. These two countries, with such rich and different cultures, will come together in him and will affirm his way of seeing and feeling.
He would remember this a few years later in 1980 when he signed a collaboration with Shiseido that would allow this Japanese cosmetics group, hitherto unknown on the international scene, to impose a visual identity so powerful that it would become one of the global market players in the 80s and 90s.
If this first perfume marked the 80s, it was with the creation of "Féminité du Bois" and the boutique at the Palais Royal in 1992 – with its dreamlike decor – that Serge Lutens asserted his first olfactory revolution in the field of perfume. Deeply marked by the discovery of Morocco and more particularly Marrakech (a city in which he acquired an old residence in the heart of the medina in 1974), Serge Lutens made this country the cradle of his perfumery. Waxes, cedarwood, orange blossom…, Marrakech inspired him with his first perfumes: "Ambre sultan", "Moorish leather", "Chergui"… Having become essential, they are writing a new page in the history of species. A logical continuation in 2000, Serge Lutens created the brand that today bears his name and imposes an uncompromising style."
Serge Lutens Chergui Story
Chergui is a woody oriental fragrance for men and women which was created by an all-star perfumer Christopher Sheldrake in 2005.
Since Serge Lutens perfumes don't officially list notes on their website, the listed top, middle, and base notes are based on my wearing experience.
The current formulation includes the following ingredients: Alcohol, parfum (fragrance), dipropylene glycol, aqua (water), coumarin, linalool, butyl methoxydibenzoylmethane, geraniol, citronellol, benzyl alcohol, limonene, farnesol, tris(tetramethylhydroxypiperidinol) citrate, benzyl benzoate, citral, ci 60730 (ext. violet 2), ci 19140 (yellow 5), isoeugenol, eugenol, ci 14700 (red 4)
The fragrance sells in 50 ml and 100 ml flacons.
Perfume theme
A note from the brand: "Fire in the wind, a desert in flames. Giving the air of rocketing from the ground, the chergui inhales more than it blows, raising plants, insects, twigs in an irresistible ascent. Ample, round, its persistent gusts crystallize shrubs, bushes, berries which thus sizzle, reduce and return their ultimate ransom, saps, resins, juices. Night descends on a still burning memory giving way to fragrant, amber, candied flavors, created by the Chergui alchemist.
A dry and burning eastern wind, the Chergui pays its ultimate ransom here: sap, resin, juice. Fragrant and candied flavors orchestrated by the alchemist Serge Lutens. Dry and burning, wind from the Orient, the Chergui has blown Serge Lutens its most soaring perfume.
Like the overture to an opera, with its persistent gusts, it raises plants, insects and twigs over a desert in flames in an irresistible ascent. Crystallizing shrubs, bushes and berries in its path, it reduces them to their ultimate ransom. The saps, resins and juices extracted from this burn are found at the heart of an ample perfume, with amber and candied flavors orchestrated by the alchemist Chergui.
A masterpiece by Serge Lutens hailed by the most demanding critics, it remains unique and passed on from insider to insider."
Notes and Classification
PERFUME NOTES
Top notes: Hay, Iris, Rose
Heart notes: Honey, Musk, Incense, Tobacco, Amber
Base notes: Sandalwood
Perfume Presentation
Honestly, I love how Serge Luten's fragrance line represents the artisanal side of perfumery, especially their bell-style flacons, but they are not that special and do not reflect the asking price.
Thin glass with a regular paper sticker with information about the fragrance and a relatively thin paper box. Thankfully, most of the fragrances you'll find in these unremarkable bottles punch way above the price class, and many forget quickly about the presentation.
Depending on your preferences, the bottle comes with a screw-off atomizer which is great for decanting, but that also comes with a shorter life span of a fragrance from the first time you take off the atomizer.
In my experience, 10 out of 10 times I would rather take a perfume bottle with an industrially placed atomizer than this concept, but again, it is just a matter of taste.
One neat thing that also comes in the box is the little rounded cap with a normal elongated cap which is nice for travel.
My Experience With Perfume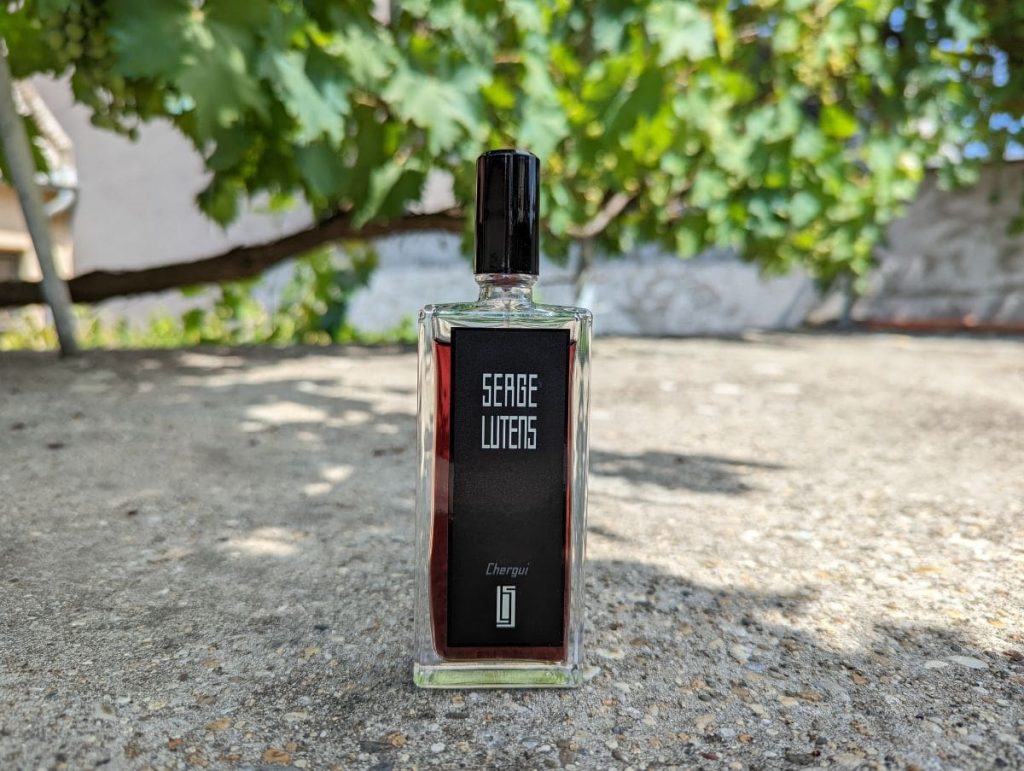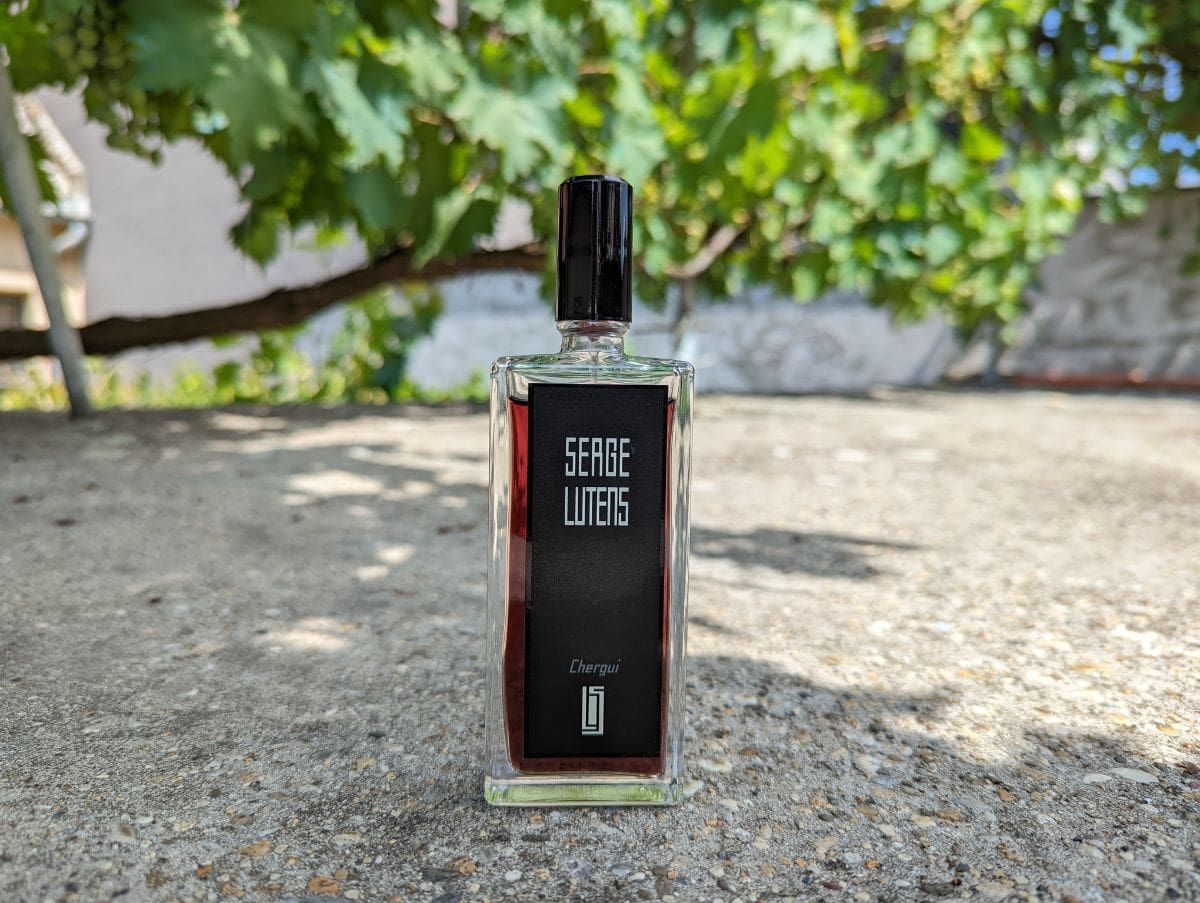 Chergui is a special fragrance for me, and I only wear it on special occasions. Due to the general unavailability of Serge Lutens fragrances in Croatia, this 50 ml flacon is going to last years for me.
Even before the review starts, I have to say that in case you are a serious fragrance enthusiast, Cherugi should be on your fragrance bucket list. Many have tried to copy it, but none succeeded.
Top Notes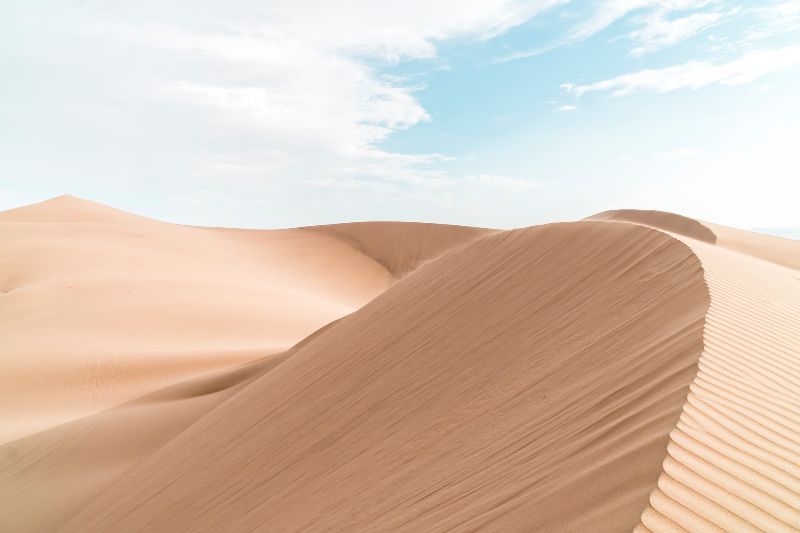 I have never been to the Moroccan desert, and quite frankly, I'm not sure if will I ever go. But, one thing after all these years with Chergui stuck with me. Does this fragrance actually smell like a desert wind and all of its subtle nuances Serge Luten's marketing is pushing?
Well, no. It doesn't. But, one thing I experience each time I wear it is being like the man that can accomplish any task, and take over the world with a snap of the finger. Maybe, we all would sometimes want to feel that way.
As always, I take my approach to review the fragrances a little differently. Experience, and how does it make me feel?
Many don't know, but all of these notes are here just to give you a general idea of what something smells like, but fragrance houses never reveal the full list of notes.
Without making this review a poem about the fragrance, to my nose, Chergui opens up with subtle citruses that quickly transform into a dry rose along with slightly carnal honey, and tonka bean.
There is no other fragrance on the market that smells like this, especially when it's all about quality. Even with the reformulated version, the construction and the ingredients are up to the level.
The deceptive nature of the fragrances might leave some shocked with the blend that is supposed to smell like something completely different if you read the promotional material.
But, it is worth it. It is beyond expectations of what an oriental fragrance can do, and in my opinion, is one of the few fragrances new perfumers should study before actually making their own fragrance.
Heart Notes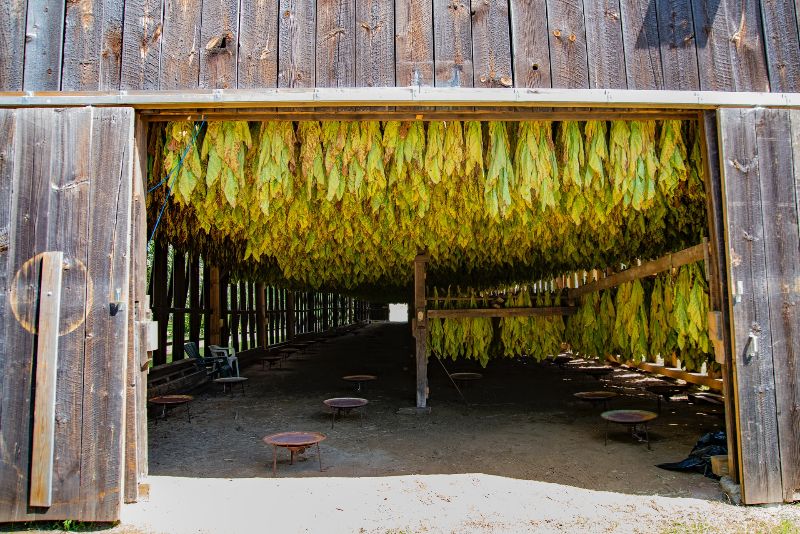 Honey
Musk
Incense
Tobacco
Amber
The tobacco note found in Chergui is not your typical pipe tobacco found in Tom Ford Tobacco Vanille or ashy tobacco in Tom Ford Ombre Leather.
It reminds me more of dried tobacco leaves hanging in a barn, or under the hot Istrian sun. At this point, the citruses and the rose fade away for a transition into a resinous heart of camphorous incense, amber with a combination of the hay-like accord, and previously mentioned unsmoked tobacco.
This smokiness and grassy touches are the closest things I would place my finger and say yes, this could be something that would smell like desert winds.
I have to mention that something like this has been also tried to capture in fragrance from Tauer Perfumes – L'Air du Desert Marocain, but are done better.
Unfortunately, the Tauer fragrance for me falls short in many other aspects and is nowhere good as a complete product as Serge Lutens Chergui is.
Hay is not an easy accord to swallow in case you previously haven't got any experience with it, and to be sure that hay accord would be up to your taste, I recommend checking out Dolce & Gabbana Intenso which offers a similar experience regarding that grassy accord.
To my nose, the full power of woody, oriental, and slightly musky/medicinal undertones bloom to their full potential in heart. The warmth of resins, and the aromatic nature of tobacco transport the wearer to the colder months of the year, maybe even to the Christmas holidays without getting too sweet.
Before the fragrance fully settles into the bottom notes, I have to praise the magic of Christopher Sheldrake and his ability to separate each and every note and accord to make it easily detectable by the wearer.
Base Notes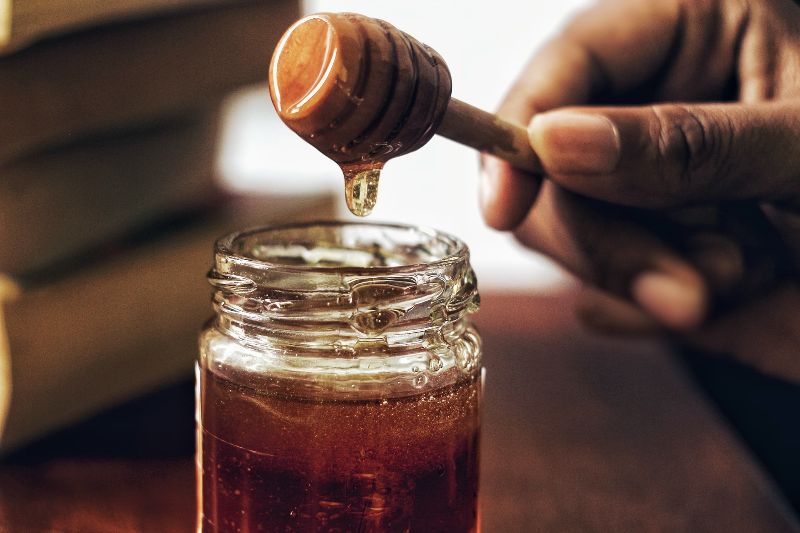 One thing that is also great about this creation is that it never goes into synthetic territory while having many synthetic notes and accords which is just another achievement of this product.
The ghost note of this fragrance which many have avoided mentioning is the tonka bean that anyone slightly experienced with perfumery will imidate detect from the first spray.
Thankfully, this note doesn't go too sweet and boosts up the sandalwood in the base. The honey and the musk fade, but are still present while the tobacco settles into the vanillic amber which is the same one used in Serge Lutens Ambre Sultan and Maison Francis Kurkdjian's Grand Soir.
I could write another ten pages about what Cherugi smells like, but in the end, you seriously have to try it on your skin and experience this masterful creation by yourself since no words can replace something magnificent like Cherugi is. No review on this planet can conjure the smell found in this fragrance.
I also believe that the Iris note is almost non-existent in Chergui, and acts as a fixative to other powdery notes and accords such as amber, and honey.
The reason why I claimed that this is the best tobacco fragrance on the market is that it is different from most things you'll experience on the market. Everything is perfectly balanced just the way it is supposed to be.
Performance
There are no issues with projection, longevity, and sillage here. 8 – 10 hours is what you'll get with each wearing if you use it in the proper colder seasons.
The fragrance projects just enough for others to smell you easily, and won't choke anyone around you no matter what style of fragrance they prefer.
I tend to keep the number of sprays on the lower number, but you could go up to five easily, and it would get overbearing.
LONGEVITY: 8 – 10 hours with moderate projection
PROJECTION: Medium
SILLAGE: Medium
Target audience and compliments
Marketed as a unisex fragrance, and it works great on both genders. Due to the more masculine forward notes such as tobacco, musk, and resins, I do believe that it better works on a man.
Because of this, younger audiences might find Serge Lutens Chergui a little challenging and more mature smelling, but if you don't mind smelling fabulous with touches of avant-garde perfumery, you can pull it off.
Regarding compliments, it depends on which kind of people you hang out with or work with. This kind of blend doesn't work on everyone, but generally, an occasional positive comment might come.
AUDIENCE: Unisex
AGE RANGE: 25+
COMPLIMENTS: Low
When & Where
Chergui is best worn during the colder days of Fall and Winter when all notes and accords get to bloom to their full potential.
For me, I wear it during the holiday season since it blends well with all the cookies, pastries, and drinks. The scent works great as something to wear to work, or even on dates. Especially if that date is somewhere in the open.
As for attire, anything that projects confidence or maturity will work. I can hardly see this fragrance working on casual clothes, but it might depend on what kind of personality you have.
SEASONS: Fall and Winter
OCCASIONS: Dating, Business
DRESS CODE: Smart Casual, and Formal
Uniqueness and value for money
Since its inception in 2005, some other brands have tried to capture its magic, and is not on the same level of uniqueness as it once was, but still, it is the best of the bunch.
Since you are choosing the best of the best it is well worth the money, regardless of weak presentation, and if you like perfumery as I do, it is one that will stay in your collection forever, and one of the rare holy grail scents you'll be proud of.
UNIQUENESS: 4/5
VALUE FOR MONEY: 10/10
Pros and Cons
Here are some better and weaker parts of this perfume:
Pros
The best tobacco fragrance on the market
A complex composition that will leave you breathless
The best fragrance from perfumer Christopher Sheldrake
An intoxicating blend of woody and oriental notes
Cons
Not for beginners since animalistic nature of composition might not work for beginners
Should be tested before full bottle purchase
Collection & Similar Perfumes
Serge Lutens Chergui is the only fragrance from this line, without any flanker yet to be released.
Similar Perfumes:
SERGE LUTENS CHERGUI VS. SERGE LUTENS AMBRE SULTAN
Serge Lutens Chergui is a woody oriental fragrance with main notes of tobacco, hay, and amber while Serge Lutens Ambre Sultan oriental aromatic fragrance with main notes of incense, amber, and bay leaf. While retaining the same amber accords, Chergui leans more into the woody fragrance family, while Ambre Sultan provided additional aromatic and herbal touches with the oriental accord.
SERGE LUTENS CHERGUI VS. TOM FORD TOBACCO VANILLE
Serge Lutens Chergui is a woody oriental fragrance with main notes of tobacco, hay, and amber while Tom Ford Tobacco Vanille is a spicy oriental fragrance with main notes of tobacco, vanilla, and spices. Both fragrances share a similar perfume theme with Tom Ford Tobacco Vanille providing more spicy and fruity tones to enhance and provide a different take on the tobacco dominant composition.
Conclusion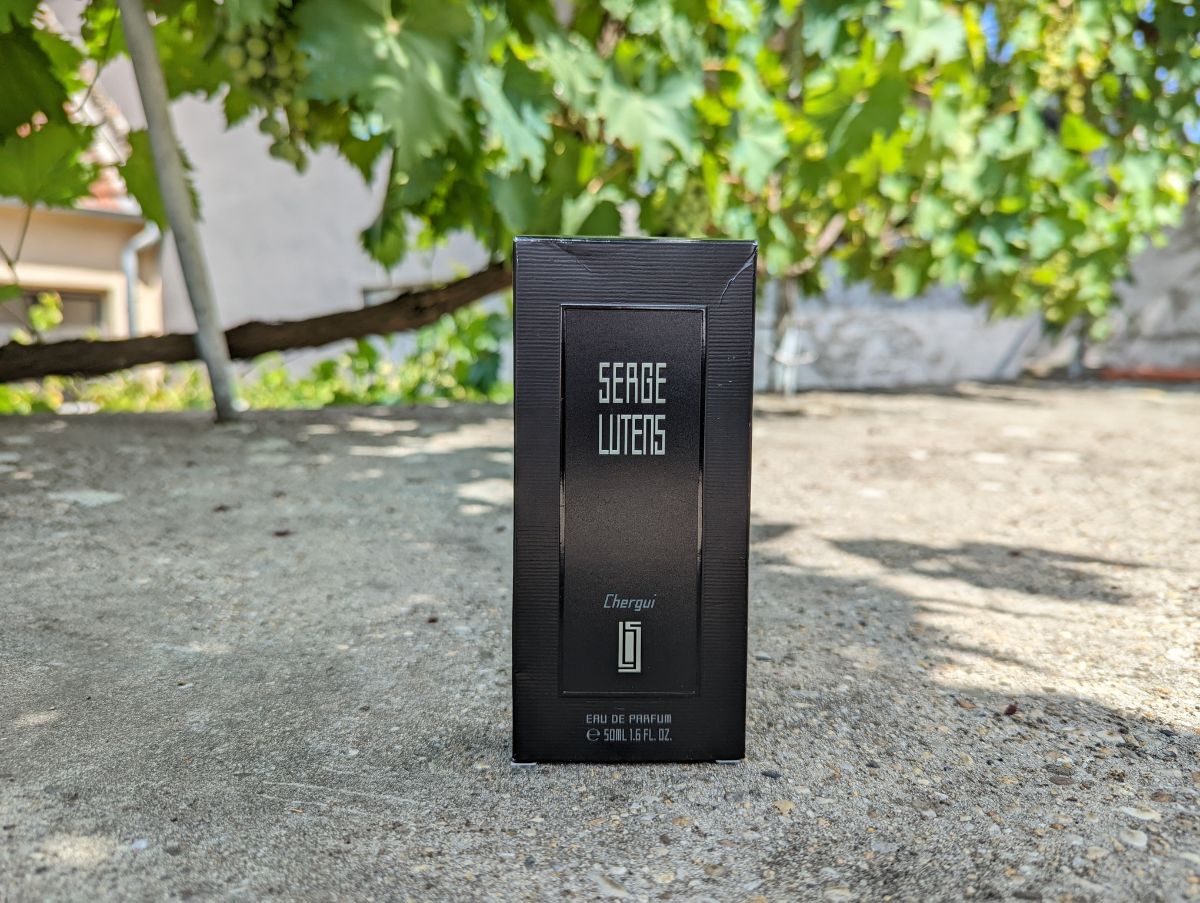 Serge Lutens Chergui will always be one of my first niche fragrance darlings, and the one I'll proudly wear each fall and winter.
The level of complexity is outstanding and truly remarkable of what can be achieved by a perfumer when given full artistic control of the project.
No matter if you are just mildly interested in Serge Luten's niche house, or someone who just wants to see what the fuss is about, Chergui should be on the top of your fragrance list.
If you ask me, this is the pinnacle of niche perfumery.
What are your thoughts about Serge Lutens Chergui? Have you tried it? Do you like it? Let's start a conversation and let me know in the comment section below.
In case you are in doubt about whether you should consider buying this fragrance or not, it's always good to take a look at Scent Grail's S.P.A. Signature Factor Guide.
It is easy to use and the most relevant perfume buying guide on the web. This way, you can check out if a particular fragrance is worth checking out, and potentially find your signature perfume.
Find out more Scent Grail articles about perfumery, check out top lists, and other helpful reviews via the links below:
REVIEWS
TOP LISTS
SCENT GRAIL LEARNING CENTER
Until next time, have a great time and keep smelling like a million bucks!
Best, Marin!
#scentgrail #scentgrailtribe
Scent Grail on Social Media: Facebook | Twitter | Instagram | Pinterest
Your number one source for Holy Grail Signature Scents.

– Marin Kristic