Lagerfeld Classic by Karl Lagerfeld was created by Ron Winnegrad and was launched in 1978. Not only it is one of the best cost-efficient amber fragrances on the market, but it's also the one that had endured passing trends.
I feel like many of the perfumes from the powerhouse era of the 1970s, and 1980s, just smell plainly dated and feel like empty shells of their former glory days. But, not this vintage gem.
One thing that made late Karl Lagerfeld a different fashion designer from the rest of the crowd is a well-known fact about his personal involvement in creating designs for his perfume bottles.
This masculine fragrance creation came into my possession by accident a couple of years ago while I was browsing through my local perfume shop, and found it sitting way behind from the latest releases on the lowest shelf.
Even without being 100% sure from giving it a try from a tester bottle, something about the art deco bottle design, and that gorgeous orange liquid, made me buy it, and take a chance.
Karl Lagerfeld Lagerfeld Classic in three words: POWDERY – CHIC – ICONIC
Affiliate Disclosure: As an Amazon Associate I earn from qualifying purchases. By purchasing via provided links/banners comes at no additional cost to you. Scent Grail only recommends products and/or services that are insightful and helpful to readers. For more info please read Affiliate Disclaimer.
This is a story of how one forgotten underdog perfume still stands head and shoulders above much "bigger" scents.
Perfume Theme
Lagerfeld Classic blurb from Fragrantica: "In 1978 perfumer Ron Winnegrad created an oriental-woodsy fragrance for prestigious house Karl Lagerfeld, named Lagerfeld Classic. The fragrance opens with aldehydes, bergamot, nutmeg, sweet orange and estragon. The heart is composed of cedarwood, intense and sweet jasmine, iris, patchouli, rose, sandalwood and tobacco. The base reveals amber, musk, oak, Tonka beans and vanilla. It comes as 65ml (2.27 fl.oz.) and 125ml (4.37 fl.oz.) EDT. The bottle was designed by Karl Lagerfeld."
Notes and Classification
PERFUME NOTES
Top notes: Aldehydes, Clary Sage, Tarragon, Green Notes, Bergamot, Lemon
Heart notes: Sandalwood, Tobacco, Patchouli, Orris Root, Jasmine, Rose, Cedarwood
Base notes: Musk, Amber, Vanilla, Oakmoss, Tonka Beans
My Experience With Karl Lagerfeld Lagerfeld Classic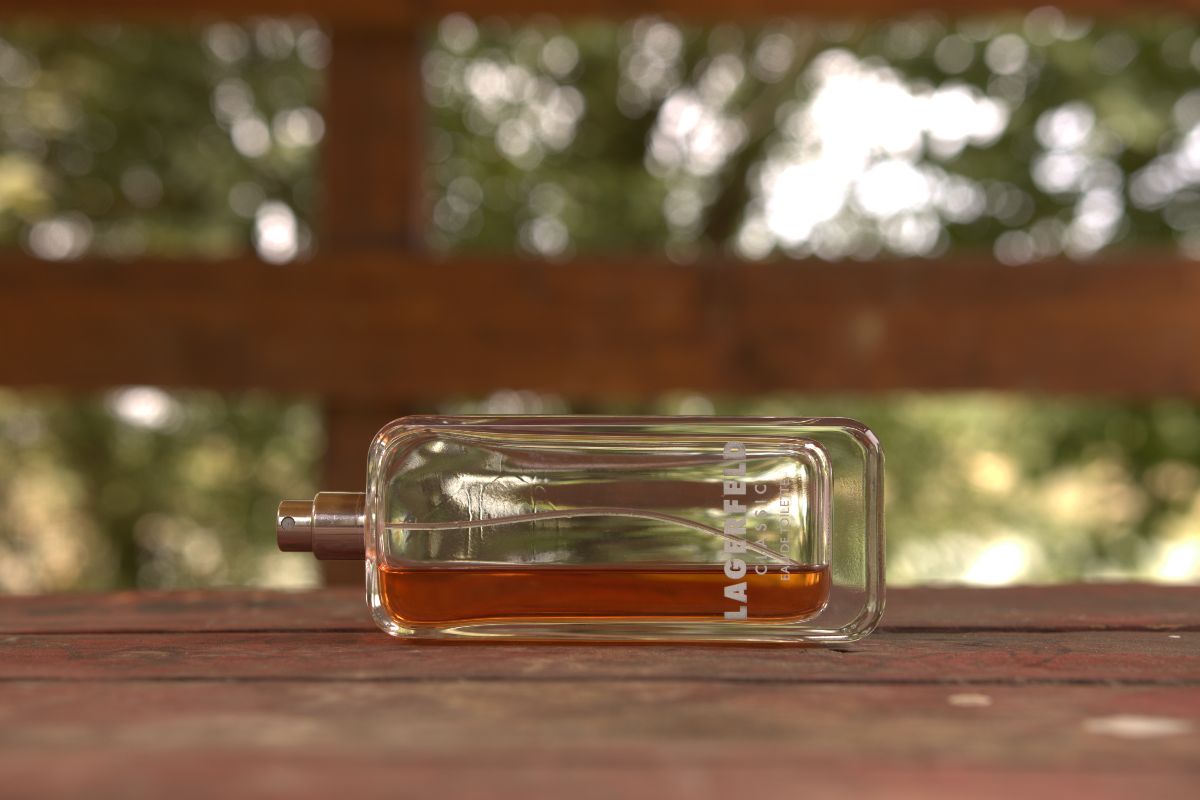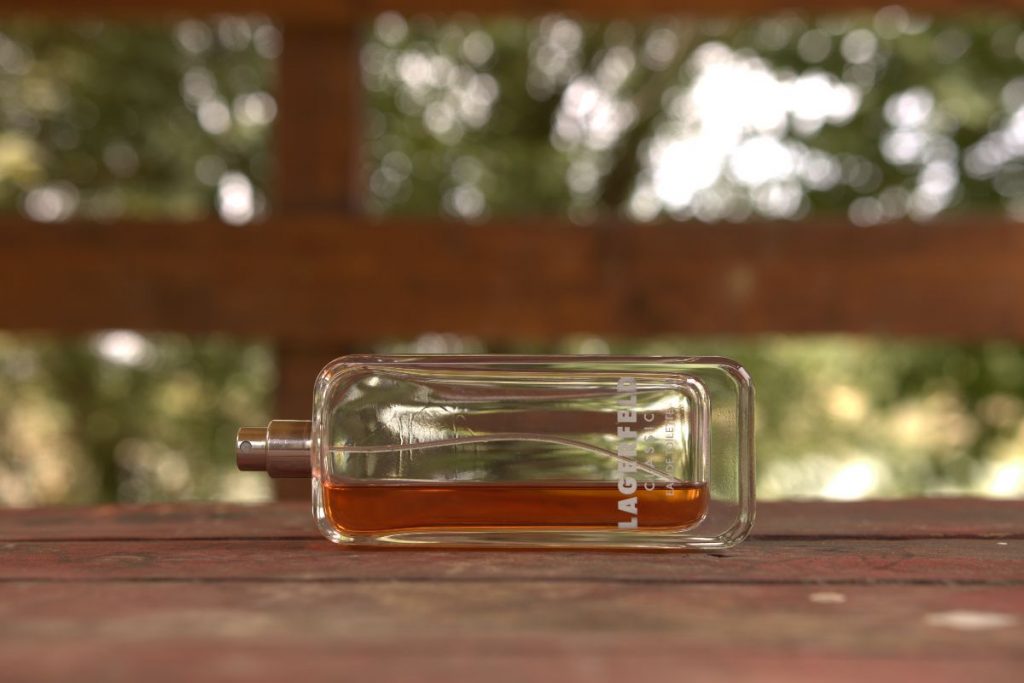 What does Lagerfeld Classic smell like? I know that younger generations may get an impression o their dad or grandpa's perfume as soon as they get the first sniff of this magnificent composition, but I disagree.
One has to go through a couple of years of experiencing perfumery in general to appreciate something like Classic. What I'm reviewing here is the Interparfums version, and not the latest, produced by Coty.
Lagerfeld opens up orangy aldehydes that lift up the scent and give airy transparency that sits as the blanket over everything else in the first couple of minutes.
While being fully aware that this fragrance is composed of 18 notes, which is something we rarely see anymore, I feel that the blend itself is much simpler.
Anyone familiar with Chanel No 5, and what aldehydes do there, will be quite familiar with the opening of Classic.
The full-bodied texture, achieved by maceration in the last 24 months that I own this bottle is something every perfume aficionado should experience for themself.
I kid you not, but the magic of this scent is in the longer you own it, the better it will smell. The one other fragrance where I saw this clearly was Lalique Encre Noire A L'Extreme.
The magical opening continues into the middle notes, where you are welcomed with honied and powdery amber, that feels rich, three-dimensional, and verges on the unisex side of the specter.
An astonishing achievement for a fragrance that can be purchased for around 20$. The sexy middle stage will keep you sniffing the place where you sprayed perfume in pure enjoyment.
I do feel like there might have been reformulations that toned down the richness just a bit, and the florals are barely noticeable if you "search" for them, which might be a good thing for some.
But the best is left at the end, and oh my God, is it gorgeous. I didn't want you to feel scared of wearing something from the '70s, but after a couple of wears, you will start to notice a strange "funk", even at the first spray. I know I asked myself what is that note just outside my reach of getting what it really is, and it hit me.
That funk is a combination of musks, leather, ambers, and dried tobacco. The musk here is not the same one as in Yves Saint Laurent Kouros, so don't worry.
One musk-based fragrance I find similar to this perfume is Jovan Musk. A similar vibe is here, but Classic is to my nose more complex, and pleasant.
It balances on the fine thread of being both clean and dirty, never truly going on either side. This is how it remains for the whole life of the fragrance with three different and distinctive phases.
The overall feeling I get when I wear Lagerfeld Classic is confidence, sexiness, and a little bit of naughtiness.
The scent may feel a bit unisex due to the baby powder type of amber accord, but this shouldn't stop you from trying it and wearing it. The whole niche fragrance world is now unisex, which I support.
So, does it matter the majority of notes are hidden behind the major notes of amber, tobacco, and aldehydes? Nah, it's still great for anyone who wants to explore classic men's perfumery, and you'll get an occasional "hidden" note here and there from time to time.
Some have compared Classic with Shalimar, but if you are looking for something in that kind of style, you are safer with Guerlain Habit Rouge.
The great Karl would be proud to see how good they kept his first-ever fragrance release, and that should be enough for everyone.
A short story of how would I imagine someone wearing Classic:
"It is January 10th, 1992, 8:30 PM. He takes a shower, dresses up, combs his beard with orange-based beard oil, and sprays Lagerfeld Classic which merges with his expensive black leather jacket.
It is cold outside and it has just started snowing, just enough to project his latest perfume to get an occasional look from a passerby, while walking in the crowded streets of an unknown big city, somewhere in the Northern hemisphere.
The club is semi-dark, Nirvana just got big, and their hits are pushing the limits of the DJ's sound system. The air is covered by smoke, and in that perfect moment, he connects his eyes with her.
The night is still young, they chat and dance the night away. Everything is possible. He is Karl Lagerfeld Classic."
Before you buy Karl Lagerfeld Lagerfeld Classic
Let's see which five things you should consider before buying this perfume:
PERFORMANCE
I'm yet to see a modern Eau de Toilette that performs as well as Classic. Depending on your skin chemistry, don't be surprised if you get over 12 hours of performance with a very good projection and scent bubble. I recommend not going over 4 sprays since it could be overkill, and while still being contemporary, some people might find it an old-fashioned style of perfume.
TARGET AUDIENCE AND COMPLIMENT FACTOR
This is a perfume you wear for your own enjoyment and don't think about whether will someone comment on how you smell good. Men and women over 30 can easily pull this one off, and younger consumers should test it out before purchasing to see if it blends well with their body chemistry and personality.
DRESS CODE AND OCCASIONS
The most suitable seasons to wear is Fall and Winter as daytime scent. The work environment, leisure, and special occasions are when Classic feels the best. Dressed up or dressed down, you'll find your own style where you feel it works the best.
UNIQUENESS AND VALUE FOR MONEY
In today's perfume world, Lagerfeld Classic stands as a unique fragrance that if it was released by some niche brand with a much higher price, I wouldn't be surprised if it was a hit. On the other hand, for someone under 30, the uniqueness of creation might not matter with all the dirty, spicy, and powdery vibes it has. Affordable, and well blended, but it has to be tested first.
HOLY GRAIL SCENT RATING
This Scent Grail exclusive rating is a new feature I implemented about a month ago into Five Minute Reviews and is meant to give you a piece of further information about each featured fragrance. I gave Classic a solid B holy grail rating which would be probably an A- if I wasn't trying to stay as objective as much as I can. Is it a blind buy-worthy perfume? Maybe. You wouldn't be losing that much if you gave it a chance. Many other expensive amber fragrances don't hold a candle and are still being sold like hotcakes. So, why not? Now, more than ever, it deserves to be recognized as the prodigy of the 1970s that was ahead of its time.
Conclusion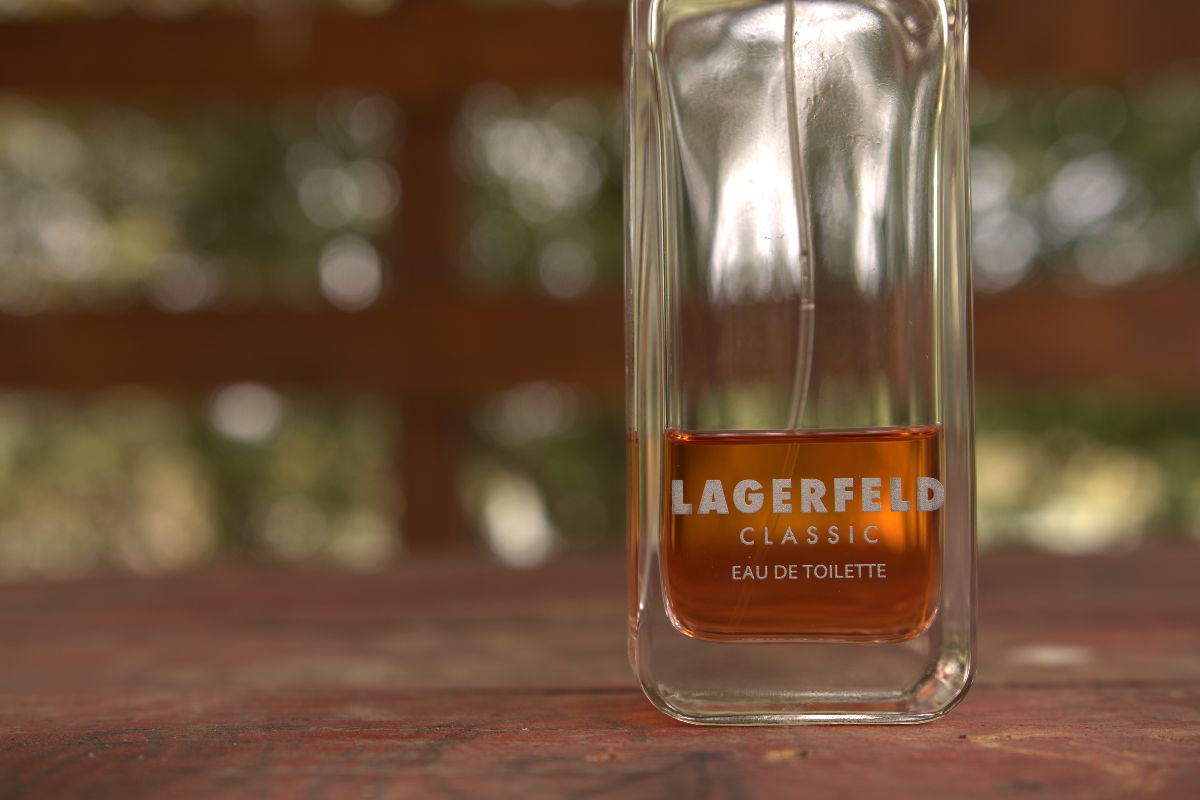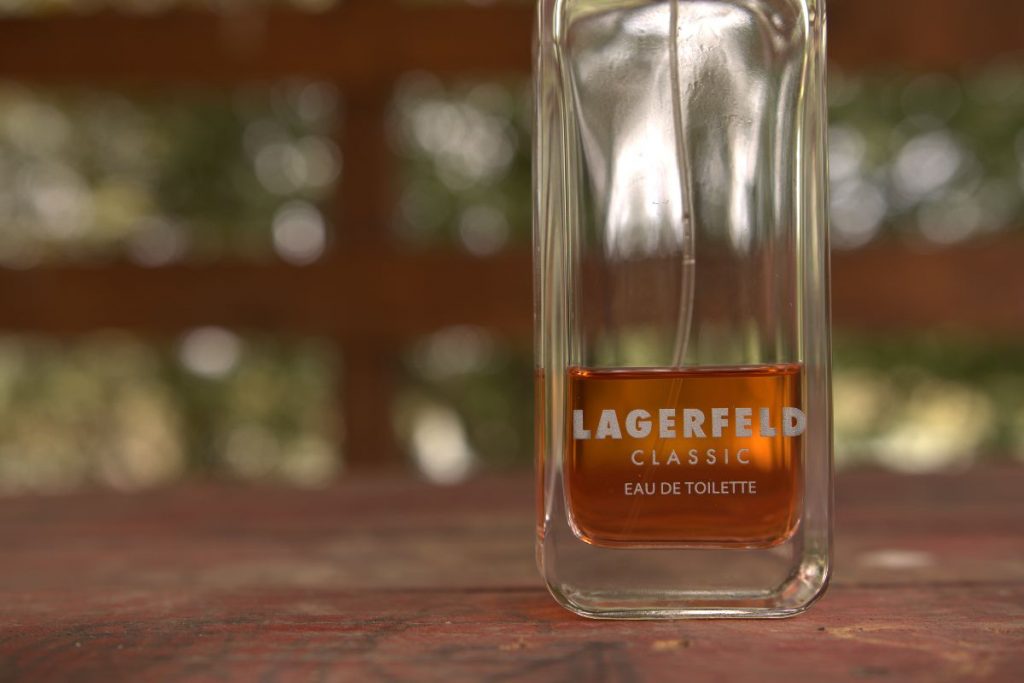 From my testing, the current Coty version of Karl Lagerfeld Lagerfeld Classic is still worth buying, and one shouldn't be bothered too much with the prior Interparfums edition, since it is the same more or less.
You can easily get smaller bottle sizes of gits sets occasionally for less than 20$. Can I guarantee you'll like it? Of course not. But what I can say is there aren't that many old-school scents available today that still get the oriental spicy fragrance genre so well.
What are your thoughts about Zara Vibrant Leather Eau de Parfum? Have you tried it? Do you like it? Let's start a conversation and let me know in the comment section below.
In case you are in doubt whether you should consider buying this fragrance or not, it's always good to take a look at Scent Grail's S.P.A. Signature Factor Guide.
It is easy to use and the most relevant perfume buying guide on the web. This way, you can check out if a particular fragrance is worth checking out, and potentially find your signature perfume.
Find out more Scent Grail articles about perfumery, check out top lists, and other helpful reviews via links below:
REVIEWS
TOP LISTS
SCENT GRAIL LEARNING CENTER
Until next time, have a great time and keep smelling like a million bucks!
Best, Marin!
#scentgrail #scentgrailtribe
Scent Grail on Social Media: Facebook | Twitter | Instagram | Pinterest
Your number one resource for Holy Grail Signature Scents.

– Marin Kristic